We'll Drink to That
Posted on 5/23/2017 12:32:00 PM in Travel Trivia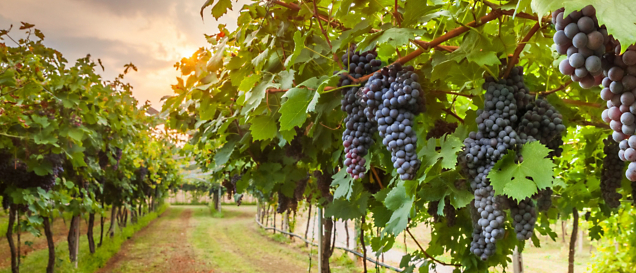 When it comes to wine, France and Italy prove that you can balance quantity with quality.
Question: What two countries occupy only .06% of the land on earth and yet still provide nearly 40% of all its wines?
Answer: France and Italy
You already knew that some of your favorite wines were French or Italian, but did you ever realize just how many? Despite together occupying less than 1% of earth's real estate and facing competition from 70 other wine-producing nations, France and Italy are responsible for almost 1 in 4 bottles of wine consumed worldwide. Combined, they yield a staggering 13 billion bottles of wine every single year. Their shared dominance doesn't make them chummy: they're full-on rivals, both claiming superiority. That's possible because they so often switch places as number one and number two in the Organization for Vine & Wine's annual rankings of biggest wine producer (with Italy holding the top spot for two years in a row).
Surprisingly, both countries' industries have shifted focus in the last few years, increasing their emphasis on exports over domestic sales. That's because the French and Italian people have decreased their household wine consumption dramatically, while also expanding their palates to embrace wines from other countries. Happily for the vintners, Americans have increased their appetite for wine, becoming the world's biggest wine-consuming country by volume. The influence of France and Italy is even more profound at our tables than elsewhere: 8 of the 10 most consumed wines in the U.S. are from these two tiny titans.
Vin or Vino: Comparing the Wine Industries of France and Italy
While many associate wine with the ancient Romans, both Italy and France have been making wine since the Greek era, which means they've been pressing grapes for 3,000 years.
The favored grapes are specific to each country. Italian wines most often feature Sangiovese, Pinot Grigio, Nebbiolo, and Barbera grapes. The most loved French grapes are Cabernet Sauvignon, Merlot, Chardonnay, Syrah, and Pinot Noir.
Centuries after France started using oak barrels to age wine for a smoother finish, Italy is just now following suit, discovering that consumers are willing to pay a higher premium for wines that are less bold and more balanced.
Both countries have official wine classifications (AOC in France and DOC in Italy) to restrict claims of origin to wines truly grown in a specific place. Italy's first (for Vernaccia di San Gimignano) wasn't awarded until 1966, more than a century after France's first (which was Bordeaux).
Italy's Prime Minister Matteo Renzi proclaimed in 2016 that his country produced not just more wine but better wine. When questioned by the media about this challenge, French President François Hollande sniffed, "Ours is more expensive."
Robert Parker, the wine critic known as the "million dollar nose," has examined thousands of wines from around the world, and favors France over Italy: two-thirds of the wines to which he has ever awarded a perfect score have been French.
While Italy holds the top spot for wine production, when it comes to European wine consumption, France is number one and Italy number two—yet another competition sure to last for years to come.
Sip the most beloved wines on earth as you cruise aboard your small ship when you join us for The Rivieras: Italy, France & the Isles.