Sharing your love of travel has never been so rewarding
It's easy to start enjoying the benefits—here's how:
REFER
Inspire friends to reserve any trip, and they'll save $100 instantly
EARN
You'll earn $100 CASH when your first friend reserves, and up to $5900 for eight referrals
REPEAT
Each time another friend reserves, you'll earn more CASH—it's unlimited
NEW! Your friends can now combine their $100 per person new traveler savings with any limited-time savings we may be offering.
You and a friend could both WIN $1000
When new travelers you refer reserve a 2020 Grand Circle River Cruise or Land Tour as their first trip between 10/1/19 and 11/22/19, you'll both be entered in our Fall Sweepstakes to win $1000 each in CASH or travel credits—whether they travel with you or not. We'll be choosing 5 pairs of winners, so you and your friend have 5 chances to win! Learn more, then call us today at 1-800-221-2610.
Refer new travelers and earn up to $5900 in CASH
With our Vacation Ambassador Referral Program, you can earn increasing CASH rewards or travel credits by referring new travelers to our trips. In fact, we offer the most generous rewards package in the travel industry:
Earn increasing CASH rewards for the first seven new travelers you refer who depart within the same calendar year
Earn a FREE TRIP or $4500 CASH for every eighth person you refer—whenever they depart
If you choose travel credits instead of cash rewards, you have two years to apply your credits
Every new traveler you've referred since 1/1/13 will be counted toward your FREE TRIP or $4500 cash reward
As always, your friends will save $100 per person on their first trip when they mention your name and Customer Number. Your referrals can reserve their own trip or join you; either way, the Vacation Ambassador rewards apply.
Referral Program Rewards
| | | |
| --- | --- | --- |
| Number of Friends Referred | Rewards You Earn With Each New Referral* | Total Reward Value |
| 8 | FREE TRIP or $4500 CASH | $5900 |
| 7 | $200 CASH or credit | $1400 |
| 6 | $200 CASH or credit | $1200 |
| 5 | $200 CASH or credit | $1000 |
| 4 | $500 CASH or credit | $800 |
| 3 | $100 CASH or credit | $300 |
| 2 | $100 CASH or credit | $200 |
| 1 | $100 CASH or credit | $100 |
Find tips and tools for sharing your love of travel— and start earning rewards!
Referral Cards
Print your own referral cards so you'll always have some handy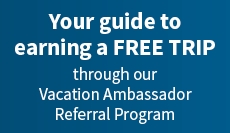 Referral Kit
Print our FREE referral kit today and share your love of travel
We offer the BEST referral program in the travel industry
But don't take our word for it—watch Vacation Ambassadors reveal, in their own words, why they choose to share their love of travel with others.
Vacation Ambassador Stories
Did you know?
Since 2013 ...
1,000
Free Trips Awarded
95,425
New Travelers
$19,100,000
In Total Rewards
"With O.A.T. and Grand Circle, we get a wonderful value and unique activities. We try to post photos on Facebook while we're traveling and we also write a newsletter when we return from a trip that we send to 40-50 of our friends."
Carroll and Basil M.
16-time travelers and 17-time Vacation Ambassadors from Ruidoso, NM
"First we referred my sister and our neighbors… Then, we referred my cousin, and she thanked us for her discount. We were surprised how quickly we earned a free trip!"
Barbara & Raymond G.
12-time travelers and 18-time Vacation Ambassadors from Green Valley, AZ
Frequently Asked Questions
Yes. You do not need to travel with the individuals you refer, and they can travel on any Grand Circle vacation or O.A.T. adventure they choose (even if it's not one you specifically spoke to them about). As long as they mention your name and Customer Number, you'll earn your cash or credit rewards.

Each time you refer a new traveler to Grand Circle or O.A.T., you'll earn increasing Vacation Ambassador Rewards up to a FREE TRIP. New travelers can join you on an upcoming trip or go on their own, and you'll earn rewards either way. See the chart above for details.

Each new traveler instantly receives $100 off the cost of his or her first Grand Circle vacation or O.A.T. adventure simply by mentioning your name and Customer Number when they make their reservation. Plus, new travelers can combine this $100 credit with any limited-time savings we may be offering.

Refer eight travelers who depart after 1/1/13 and you'll earn your choice of a FREE TRIP or $4500 CASH within five weeks of their departure. And you're not limited to just one FREE TRIP—you'll earn it for every additional eight new travelers you refer.

Yes! For every first-time traveler you refer to Grand Circle (or O.A.T.), we'll award you your choice of cash or credit. Note: your default payment selection is set as credit.

If you prefer cash for payment, you will have to initiate a change to your account. Simply sign in to My Account and make your selection, or call us toll-free at 1-800-321-2835 to speak to one of our Traveler Support Representatives.

Credit will be available in your account five weeks after your new traveler's departure. Cash payments are issued in the form of a check and will be mailed within five weeks following your new traveler's departure. You can track your referrals online through My Account.

Please note: To comply with IRS regulations, you will also receive a Form 1099; you are required to provide your Social Security number and report the total refund bonus you earned for any tax year in which you receive $600 or more in cash for referring new travelers or travel on a FREE TRIP.

Yes. The Vacation Ambassador Rewards you earn by referring new travelers may be combined with any existing offers except for our Group Travel Program.

A credit of up to $4500 per household to be used for any trip offered by Overseas Adventure Travel (O.A.T.), Grand Circle Cruise Line, Grand Circle Travel, or Grand Circle Foundation People-to-People trips. This credit can be applied to an already-reserved trip, but will not generate a refund for any money already paid for that reservation. The credit can be used for airfare and air upgrades on base trips and extensions, and must be reserved within one (1) year of earning. The Travel Protection Plan is not included. Any amounts due for excluded items or for the value of the base trip in excess of $4500 shall be the responsibility of the traveler. No refunds shall be rewarded if the price of the trip is less than $4500.

All applicable federal, state and local taxes, license, fees or other costs are the sole responsibility of the traveler. The trip credit is non-transferable; no substitutions, exchanges, or cash redemptions. If the traveler purchases Grand Circle's Travel Protection Plan, the price the traveler will pay for the plan is based on the full price of the trip.

In the event of trip cancellation for any reason, including but not limited to, the health of the traveler winner, cancellation, scheduling conflicts or an event of force majeure, the trip may be rebooked, provided it is still within the one-year redemption window. Grand Circle or OAT's Terms and Conditions, as applicable, associated with the trip apply. The prize restrictions/conditions stated herein are not all-inclusive and may be subject to additional restrictions/conditions, which may be stated in the affidavit and release and/or prize travel documents.
*Please note: Vacation Ambassador Rewards can only be earned for referring New Travelers. A New Traveler is a person who has never traveled with Grand Circle or Overseas Adventure Travel and does not have a current departure reserved with Grand Circle or O.A.T. The new traveler must provide the referring customer's name and Customer Number when they reserve their first trip. To earn CASH rewards shown above for your first 7 referrals, your friends must depart in the same calendar year. To earn a FREE TRIP or $4500, 8 friends must have departed since 1/1/13. As a loyalty benefit, once you've taken ten O.A.T. or Grand Circle trips, you will receive an ADDITIONAL $100 for each friend you refer.
Achieving Antarctica
17-time travelers Ann and Jack D. are among some of our top Vacation Ambassadors.
When asked to describe his recent trip small ship cruisetour to Antarctica, 17-time traveler Jack Donoghue of Beverly, MA, was quick to declare, "I wouldn't call it a trip—I would call it an adventure." He spoke passionately about his experience on Antarctic's White Wilderness, the attentive crew aboard the Corinthian, and the breathtaking landscapes of the White Continent.
Jack would definitely recommend this trip to "someone looking for an adventure," and he's very adept at inspiring others to travel: he and his wife Ann have referred over 60 new travelers to Grand Circle and O.A.T. In fact, they used one of the free trip certificates (valued at $4500) they earned through our Vacation Ambassador Referral Program to help fund this Small Ship Cruise Tour.
Besides actually setting foot on Antarctic ground, Jack considers the time spent aboard the Corinthian as part of the adventure, sailing to and from Antarctica from Ushuaia, Argentina, or the "City at the End of the World." A thrilling part of the voyage was crossing the Drake Passage, a journey often called the "Drake Shake" because of the sometimes rough seas here. Jack emphasized that "safety was the number one concern" throughout the trip, and he underscores how the crew made sure all of the passengers felt comfortable and well cared for. "The crew members would take you by the hand to your seat at dinner, and they would help steady you when you were getting out of the zodiacs onto land. There was no sense of danger, and we felt very safe the whole time."
Jack and Ann were pleasantly surprised by the insightful onboard lectures given each day by their expedition team of explorers, researchers, and naturalists. They helped the couple to spot albatross and other sea birds from the deck, as well as groups of 20-30 humpback whales at a time. Seeing wildlife from the ship was one thing, but arriving on land and coming face to face with penguins and Antarctic seals was an unparalleled experience. Jack compares it to "the difference between visiting Disney's Animal Kingdom and taking an African safari."
He was impressed by the "amazingly blue icebergs," and loved getting close to them during the short zodiac rides from the ship to the shore. Speaking of getting close, the Donoghues also came to appreciate the nimbleness of the Corinthian. "The small ship was better because it could get into smaller spaces. We saw a few other ships and some of them were too large for their passengers to go ashore as much."
When they made landfall on their seventh continent, Jack and Ann felt an enormous sense of accomplishment. They visited two separate research stations, including the Port Lockroy Research Station, where they mailed themselves a postcard from the Penguin Post Office—it only took about a month to reach their home. Jack's best advice for someone interested in traveling to Antarctica is this: "Don't wait to make it your seventh continent—you want to make sure to enjoy it while you're there."
Since their Antarctic adventure, Jack and Ann have kept in contact with the members of their group, sharing photos with one another. Jack's most successful method for referring new travelers is to post photos and stories from his travels on his blog. He adds his Customer Number and contact information at the end of each post for readers to use when they reserve their first trip. Recently, he has created video logs of his trips because they evoke "feelings you can't get out of still pictures."
The Tip of a Lifetime
Sunny S. got a tip from someone she trusted that changed her life. Sunny, an 8-time traveler from Sonora, CA, was about a week away from departing with her husband, Tony, on Grand Circle's Romance of the Rhine & Mosel River Cruise, when she heard from her grandfather. He suggested that Sunny might have a more personal reason than she previously thought to enjoy the Alsace region, one of the destinations on her trip. He believed that their family might have come from there.
The revelation filled Sunny with curiosity, so when her ship arrived in Strasbourg, the Alsatian capital, she made a decision. "I told our Program Director that I'd be missing the days' activities because I needed to do some work. She helped me by finding out that the French archives were just three blocks away from where our ship was docked." It was a lucky tip: Sunny returned with an armful of photocopies and was soon able to trace her family roots to a small village about 13 miles from Strasbourg. "They lived in Duntzenheim in the 1700s, which is now part of France but back then was Germany. They emigrated to Pennsylvania around 1750." Sunny was even able to visit Duntzenheim, an emotional experience that fueled her ongoing passion for genealogy.
The Seidels say that Romance of the Rhine & Mosel was their favorite trip, certainly for the family heritage but also for the "fantastic scenery." But it wasn't the first trip Sunny described as "eye-opening." The couple had previously taken their very first River Cruise with Grand Circle, The Great Rivers of Europe. "It really was an eye opener," said Sunny, "because we hadn't realized the itinerary could be so diverse, yet totally relaxing." The couple has since taken several other River Cruises, and this July will embark on Eastern Europe to the Black Sea.
By now you might say the Seidels are River Cruise experts, so it's no wonder they've been able to refer 17 travelers to Grand Circle. But the couple didn't wait to get eight trips under their belt before tipping off their friends to the joys of river cruising. They convinced seven others to join them on that very first trip. We suggested that Sunny must have some impressive powers of persuasion, but she said that inspiring friends is easy. "People see that we've all been very happy. And when they see how many trips we've taken, that tells them a lot."
Recommended By You
We asked some of our top Vacation Ambassadors which trip they recommend most for first-time travelers and why. From river cruising down Europe's waterways to getting up close and personal with wildlife on an African safari, our Vacation Ambassadors have perfect suggestions for every type of traveler. Do you have your own set of trips you recommend to new travelers? Let us know in an email to [email protected].
Great, Great Rivers
For those interested in cruising, I suggest a river cruise to start with, and The Great Rivers of Europe is the best. There they can start in a great city (Amsterdam or Vienna), unpack only once, and see many great stops along the way. In both cases the transition to foreign travel will be easier. They will get a feel for O.A.T. and Grand Circle, and our great Trip Experience Leaders. They will surely come back.
We would recommend a River Cruise—The Great Rivers of Europe. It's so much easier to only unpack once, especially for an inexperienced traveler.
The last trip we took was The Great Rivers of Europe with my daughter, her husband, our granddaughter and her dad (my son), my sister, who travels with us all the time, and our neighbor across the street. We wanted them to see the highlights. We've taken several River Cruises and that was the best one without a doubt. We celebrated our 63rd anniversary on that trip and Grand Circle treated us so well.
My favorite trip was a River Cruise trip from Vienna to Amsterdam, The Great Rivers of Europe. My two brothers and their wives went with my husband Art and me. We extended our trip to Belgium where my older brother Dick got together with an exchange student that they had sponsored many years before—we got to meet his wife and family.
We have referred so many people because we get people interested in traveling, and they go on trips with us.
Recommending Romance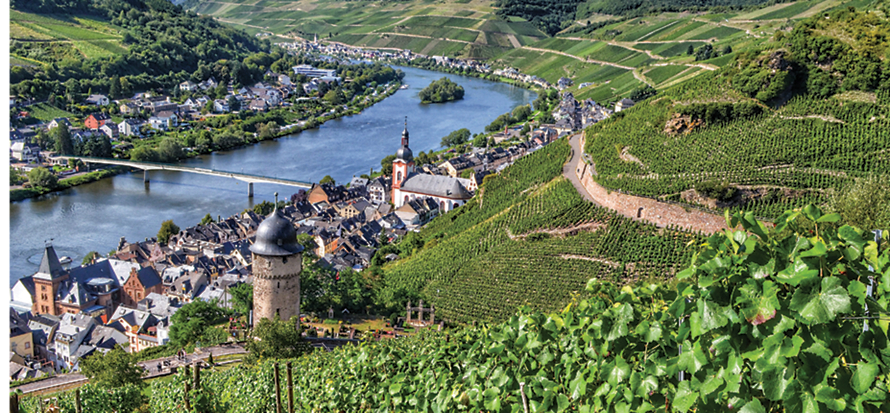 It is difficult to recommend only one of the river cruises when all of them are unique. Romance of the Rhine and Mosel always comes to mind because both times we have taken it, we have experienced different adventures. Speyer was delightful. When we were there on November 11, 2012, we made lanterns and participated in the St. Martin parade in the city with local people. It was nice to learn of local traditions and meet with some of the local people. Last year we enjoyed a ride in a "hay" wagon to the top of a mountain to tour a local vineyard in Zell. There are so many things we have enjoyed on all the river cruises that it is difficult to narrow them down to one.
The American Cemetery in Luxembourg visit always brings tears to my eyes and the feeling of pride and thanksgiving for the soldiers that gave their lives in the war. This was a most inspiring part of our Romance of the Rhine and Mosel cruise. The visit to the courtroom in Nuremberg where the Nazi war trials were held was also a great experience as was the stop at the Remagen Bridge Museum. So many other events that happened in WWII are available on Grand Circle cruises.
Know Your Audience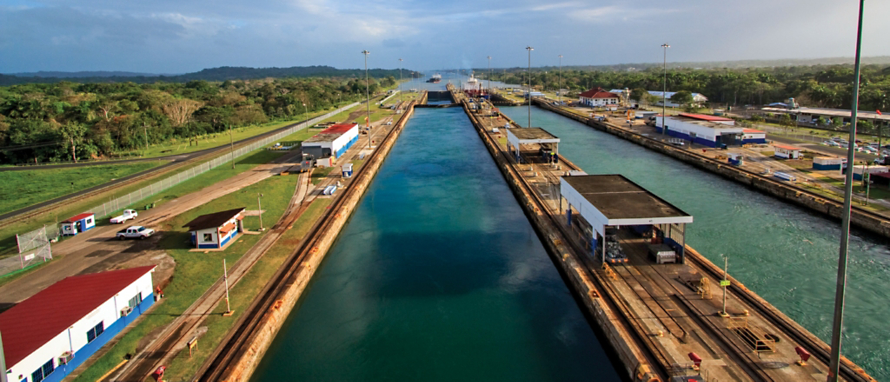 Before recommending any specific places to a new traveler, I would try to find out destinations on their bucket list as well as the type and level of activity they are comfortable with. If I had taken trips that would meet their criteria, I would mention those first. The Panama Canal trip is a good suggestion for those wanting a shorter and closer trip. European trips are perhaps more appealing to those unused to more exotic cultures such as India or China and I would also mention the Croatian trip that I especially enjoyed. The Galápagos Islands or Patagonia are great recommendations for those who like animals and dramatic scenery.
How adventurous and active a person is would need to be considered when recommending a trip. If someone is a little hesitant to travel, a river cruise to Holland & Belgium in Springtime is beautiful. If they enjoy an active trip, then Nepal or Bhutan would deliver a challenging hike. There is nothing that is more of an adventure than viewing wildlife up close on an African safari, hiking the glaciers on a trip to Antarctica, or arriving at Tiger's Nest in Bhutan. China and India will introduce one to ancient cultures and remarkable structures.
For a really new traveler, the Slovenia pre-trip extension added to the Dalmatian Coast trip. We loved the Julian Alps and Zagreb being too far inland to attract huge cruise ship crowds was a plus. Small ship cruising is just our style.