Cairns • Sydney • Queenstown • Rotorua • Auckland
19 Days from only $5095 including international airfare
FROM
$5095
19 DAYS
$269/DAY
including international airfare
17 DAYS FROM $3295 Tour Only
Itinerary Overview
Discover a region of true natural and cultural diversity on our Australia & New Zealand Tour. Few travelers get to visit the South Pacific as affordably and comprehensively as you can with Grand Circle Travel. From Australia's Great Barrier Reef to New Zealand's alpine South Island, you'll find great opportunities for learning and discovery on this popular vacation. And you'll do it up close, as your resident Program Director introduces you to Aussie cattle experts and New Zealand's native Maori—all the engaging people who give this part of the world its deserved reputation for friendliness and good cheer.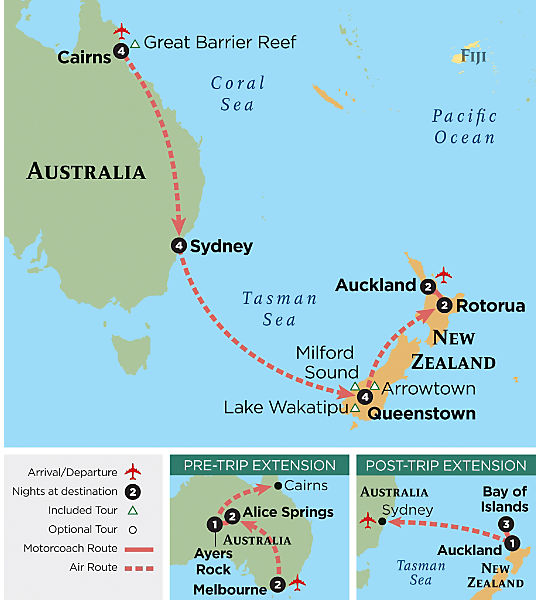 Day-to-Day Itinerary
PRE-TRIP EXTENSION:

Melbourne & the Outback

5 nights from only $1895

More than 50% of our travelers have reserved this extension in 2016

The wonders of stylish Melbourne and the rugged Australian Outback await on this discovery-rich extension. Get to know Melbourne and its elegant English flavor through visits to sprawling gardens and bustling markets. Delight in charming Alice Springs, where you'll tour the Royal Flying Doctor Service, Old Telegraph Station, and the fascinating School of the Air that reaches out to children across the vast Australian interior. And explore mystical Ayers Rock, the red sandstone monolith sacred to the Aboriginal people, where you'll sip Champagne at sunset and allow the serene beauty of the Outback to wash over you.

View Extension Itinerary
You depart Los Angeles today and fly over the Pacific.

Day 2

Cross International Date Line

Crossing the International Date Line westbound, you lose a day as you travel to Australia (you'll gain it back on your return flight).

Day 3

Arrive Cairns, Australia

You'll arrive this morning in Sydney or Brisbane, and a Grand Circle representative will assist you in connecting with your flight to Cairns. On arrival at the airport in Cairns, another Grand Circle representative will meet you and assist with the transfer to your hotel, where you'll meet your fellow travelers, including those who took our Melbourne & the Outback pre-trip extension. The balance of your day is at leisure to relax after your overseas flight before beginning your Australia & New Zealand tour in earnest.

Day 4

Cairns • Farm visit • Hartley's Crocodile Adventures

After breakfast this morning, depart for a local farm, for an exclusive Discovery Series event and a glimpse into rural life in Australia. You'll meet the farmer and chat about the challenges and rewards of day-to-day farm life, and tour the fields to see how the work is done. During you'll visit, you'll also have the opportunity to sample fresh-from-the-farm produce.

Then enjoy some time at leisure to visit beautiful Port Douglas on the Coral Sea. Originally established as a link to the gold fields, Port Douglas is now a favorite Aussie vacation spot. The year-round tropical climate creates a warm and welcoming atmosphere. Perhaps you'll browse the shops lining the marina's boardwalk, or find an enticing restaurant for lunch, which is on your own.

Next, depart Port Douglas for Hartley's Crocodile Adventures for an up-close visit with crocodiles, koalas, and kangaroos. Hartley's is a working crocodile farm located in the Australian Bush. You'll have the opportunity to meet a koala, hand-feed kangaroos in a private enclosure, and watch the crocs at feeding time. You'll also take a boat cruise on Hartley's Lagoon, a natural habitat for the saltwater crocodile. A behind-the-scenes tour of the park will provide you with an informative and entertaining experience with the region's rich array of wildlife and the keepers who care for it.

The rest of the day is yours at leisure. Dinner is included tonight.

Day 5

Cairns • Great Barrier Reef tour • Optional Outer Great Barrier Reef tour

After breakfast, you'll board a high-speed catamaran with a choice between two activities, both of which are located in the Great Barrier Marine Park—a UNESCO World Heritage Site and one of the Seven Natural Wonders of the World. Stretching 1,240 miles, the Great Barrier Reef comprises acres of multicolored coral supporting an array of exotic sea creatures.

One choice is an included excursion, for which you will get off the catamaran at Green Island, a spectacular 6,000-year-old coral cay located in the inner reef. Green Island is approximately 37 acres in size and the only coral cay on the reef with a rain forest growing on it. Home to several bird species and more than 100 native plant species, it is surrounded by magnificent coral gardens. Here you can swim or snorkel among colorful tropical fish and coral formations or behold the underwater world from a glass-bottomed boat. You'll be dazzled by paradise of angelfish, clown fish and riots of lacy anemones as you explore the rocky canyons and fingers of soft and hard coral. After a buffet lunch, enjoy a guided walk on this unique island, followed by free time to make your own discoveries.

Or, join an optional tour to the Outer Great Barrier Reef, a fantastic spot from which to explore this ecological wonderland. You'll board the same high speed catamaran, but instead of disembarking at Green Island, you'll remain onboard to the outer reef, where you'll arrive at a stationary pontoon-style observation post—your base for reef-viewing.

The Outer Barrier Reef provides the best views because it is further from the shore and free from the run off from the rain forests that can cloud the water. Additionally the outer reef supports a more diverse range of marine life than other locations. At the outer reef you can swim or snorkel, probe the lower depths in a semi-submersible vessel, or behold the underwater world from the lower deck of the stationary pontoon. A local reef expert will also be on hand to enlighten you about this unique ecosystem and enhance your experience of the reef. A buffet style lunch is included with this optional tour. You'll return to your hotel in the late afternoon.

Dinner tonight is on your own.

Please note: Weather conditions may affect your marine life-viewing experience. On rare occasions, strong winds or severe weather may prevent your visit to Green Island or the Outer Barrier Reef.

Day 6

Cairns • Optional Tjapukai, Skyrail & Kuranda Village tour • Aborigines Today discussion • Returned Services League dinner

This morning, perhaps you'll join us for an optional Tjapukai, Skyrail & Kuranda Village tour. At Tjapukai Aboriginal Culture Park, you'll watch Aboriginal people perform traditional dances and learn about their rich history and culture in this region of Australia. Later, let them dazzle you with their boomerang skills—perhaps you'll even try your hand at the boomerang yourself. Afterward, ride up the beautiful Whitfield Range in a skyrail gondola to Kuranda, a quaint and picturesque village nestled in one of the Earth's oldest rain forests.

Returning to the hotel later, you'll have some time at leisure before an exclusive Discovery Series discussion about Aborigines Today. A speaker with ties to the local Aboriginal community will share with you the beliefs and contemporary challenges of the continent's first peoples.

Tonight, enjoy an exclusive visit to the Cairns branch of the Returned Services League, which supports veterans and present members of the armed forces. Here, you'll sit down for an included dinner.

This morning, you'll transfer to the Cairns Airport for your flight to Sydney. Upon arrival in Sydney late this afternoon, you'll enjoy dinner at a local restaurant.

After dinner, transfer to your hotel.

Day 8

Sydney & Opera House

After breakfast, get to know Australia's oldest and largest city on a guided tour.

Begin at the Opera House for an exploration of this famous landmark. Opened in 1973 by Queen Elizabeth II, the Opera House is a now-classic example of architecture's innovative Postmodern movement—and its design, engineering, and scope are modern marvels. The building contains 1,000 rooms and five theaters. More than two million visitors each year are entertained by more than 3,000 performances.

Then take a seat in Mrs. Macquarie's Chair, a bench cut into a sandstone rock formation, for panoramic views of Sydney's picturesque harbor, followed by a drive through Sydney's Eastern suburbs to Bondi Beach. Bondi is an Aboriginal word that means "water breaking over rocks." This famous strip of coastline was established as a public beach in 1882, and is home to the oldest surf life-saving club in the world, the Bondi Surf Bathers' Life Saving Club.

After an included lunch at Bondi Beach, you will visit a Sydney opal store, where you will learn about the various types of opals in Australia and how they are produced. You'll then enjoy a special glimpse at the world's largest gem opal when the staff opens their safe to reveal the "Olympic Australis," which weighs in at 17,000 carats.

The rest of your afternoon and evening are at your leisure. Dinner is on your own tonight.

Day 9

Sydney • The Rocks • Sydney Harbor Cruise

You start this morning by riding to the historic "Rocks" area for an exclusive Discovery Series walking tour. Overlooking Sydney's beautiful harbor, the delightful Rocks district of today bears little resemblance to its scandalous incarnation circa 1788. That's when colonial expatriates—primarily English convicts and their families—arrived on the scene and established a lively settlement in this prime location. For the next several decades, the neighborhood's picturesque location amidst sandstone outcroppings (the "rocks" alluded to in its nickname) belied its rough-and-tumble reputation.

However, what was once a bawdy warren of warehouses, taverns, and houses of ill repute is now one of Australia's most charming enclaves, with fine shopping and superb restaurants. As you explore the colorful, cobbled streets lined with bistros and boutiques, your Program Director will regale you with tales of the Rocks' illustrious history.

Then stroll to Circular Quay, a hub of activity at the heart of Sydney's waterfront. Witness the constant flow of ferries and water taxis that transport commuters and day-trippers to their destinations all around the harbor.

Here, you'll board a boat to set off on an included Sydney Harbor cruise, spotlighting the upper reaches of the beautiful Middle Harbor. More than two centuries ago, European settler Captain Phillip proclaimed this the finest natural harbor on Earth; you'll know what he meant as you pass countless sheltered coves, dotted with yachts and lined with elite homes.

Following your cruise, you'll have the afternoon at leisure to explore Sydney and seek out lunch on your own. Later this evening, rejoin your fellow travelers for an included dinner at a local restaurant.

Enjoy an additional day at leisure in Sydney and a chance to get to know Australia's largest and oldest city better. Perhaps you'll use the time to discover attractions in and around sprawling Hyde Park, including St. Mary's Cathedral, the Great Synagogue, and the Australian Museum. You could also visit the world-renowned Taronga Zoo. Or simply relax at one of Sydney's waterfront cafes, and enjoy the view of the sailboats dotting the harbor.

Dinner is on your own this evening; your Program Director will gladly offer dining suggestions.

Day 11

Sydney • Queenstown, New Zealand

After breakfast this morning, depart for the airport, and then fly to Queenstown, your home for the next three days as you start your New Zealand tour.

Upon arrival, you'll transfer to your accommodations and get to know your surroundings with an orientation walk. After the rest of your afternoon at leisure, join fellow travelers for an included dinner at a local restaurant.

Day 12

Queenstown • Lake Wakatipu • Walter Peak Sheep Station • Optional Kawarau Jet-boat Ride

This morning, perhaps you'll discover the spectacular Twin Rivers on a thrilling hour-long optional jet-boat ride. A native New Zealand invention, the jet-boat takes in water and ejects it from the stern under great pressure to create the propulsion. It needs very little room to maneuver, making it capable of handling twisting channels with ease (not to mention impressive moves like 360-degree spins). With a skilled jet-boat driver at the controls, you'll fly through the crystal-clear waters of the Kawarau River, set against the backdrop of the aptly named Remarkables Mountains. Then, skim the shallows of the famous Shotover River, the second-richest gold-bearing river in the world. Please note: The operation of this tour is dependent on the river's water levels.

Or, enjoy a leisurely breakfast and a morning to spend as you wish. Later, you'll then walk to Queenstown's Wharf, where you'll board the TSS Earnslaw, a historic steamship that first launched in 1912. Cruise across Lake Wakatipu to Walter Peak Sheep Station for a guided farm tour.

Since Captain James Cook brought sheep to New Zealand in 1773, sheep farming has grown to be a mainstay of the country's economy. Today, New Zealand (with ten sheep for every person!) is the world's foremost producer of prized, strong wool. At Walter Peak, you'll learn about life on a Queenstown sheep farm, see sheepdogs run through their paces and watch a live sheep-shearing demonstration. To top off your visit, you'll enjoy a traditional English tea.

You'll cruise back to Queenstown and arrive at the hotel mid-afternoon. Spend the balance of your afternoon as you please. Even if you are not inclined to ski, boat, raft, bungee jump, hang glide, horseback ride, or sky dive, you can have fun watching these activities and appreciating the incredible scenery all around you.

The late afternoon is yours to spend as you please before rejoining your fellow travelers for an included dinner at your hotel.

Please note: An alternate vessel will be used during late May through early July 2017, as the TSS Earnslaw will be on annual survey during this time.

Day 13

Queenstown • Milford Sound cruise

Today, enjoy what is sure to be a highlight of your New Zealand tour, during a full-day tour of Milford Sound, hailed by Rudyard Kipling as the "Eighth Wonder of the World." Dense forests, shimmering Lake Te Anau, and a pass known as the "Avenue of Disappearing Mountains" mark your route. Marvel at towering cliffs and the stunning perfect cone of Mitre Peak. You'll see thundering waterfalls, impressive beech forests, and unique flora and fauna as you cruise along Milford Sound's famed fjords, enjoying an included lunch on board.

After your cruise, you'll return to Queenstown by motorcoach, where dinner is on your own.

Day 14

Queenstown • Arrowtown • Winery tour

Today, you'll stroll the main street of charming Arrowtown on a guided tour, which has been faithfully reconstructed with wooden buildings that evoke a bygone era. The town today contains some of the best shops in the country—selling popular products like jewelry, gold nuggets, jade, and woolen goods.

The population of Arrowtown grew to more than 7,000 during the Gold Rush, but has recently settled at around 2,000 residents. Walking around the town, you may mistake your surroundings for a Hollywood movie set—the deserted miners' cottages, historic wooden buildings, and old-time shops appear much as they did during the Gold Rush period.

After an included lunch at a restaurant in town, you'll visit a local winery, sampling vintages and learning about the wine-making process in New Zealand. The oldest existing vineyard here was established in 1851, although New Zealand has been producing wine since colonial times. Most of the vineyards are located near the coast, where the temperate climate allows the grapes to ripen slowly—retaining their vibrant and distinctive flavor.

Return to your hotel late this afternoon, where the rest of the day is yours to spend as you please in Queenstown. You can explore on your own, or reach out to your Program Director for suggested activities. Tonight, enjoy an included dinner at a local restaurant.

Day 15

Queenstown • Rotorua • Optional Te Puia dinner

After breakfast, transfer to the airport for your flight to New Zealand's North Island. Arriving in Rotorua, a small city known for its Maori culture and natural thermal pools, you'll check in to your hotel and enjoy time to unwind. Dinner is on your own tonight.

Or, join an optional evening excursion to Te Puia Cultural Center, featuring a visit to New Zealand's national carving and weaving schools, a tour of natural geysers and thermal pools, and, included in the cost of your optional tour, a traditional dinner with Maori storytelling and entertainment.

Day 16

Rotorua • Ohinemutu community visit • Home-Hosted Dinner

On today's included tour, explore the city of Rotorua with your Program Director, and get to know this gem of New Zealand's North Island better. You'll start by learning more about the local Maori traditions during an exclusive Discovery Series event as you visit the Maori village of Ohinemutu. Here you can admire a Maori Church, as well as a hand-carved meetinghouse built on a marae, an ancient ceremonial site. Enjoy time for lunch on your own and independent discovery this afternoon.

This evening, enjoy a Home-Hosted Dinner with a local family who can tell you about Rotorua's rich culture and their daily way of life during an exclusive Discovery Series event.

Please note: Certain December departures will not include Home-Hosted Dinner due to regional holidays.

Day 17

Rotorua • School visit • Auckland

FOUNDATION VISIT

This morning, you'll visit Kaitao Middle School (when in session), supported in part by Grand Circle Foundation. You'll be greeted by the students with a powhiri, a traditional Maori welcoming ceremony, and have the opportunity to interact with them throughout the morning. Please note: Select departures will visit the school on the previous day of the itinerary. The school visit will not be available during school closures.

After your school visit, transfer by motorcoach to Auckland to continue your discoveries of New Zealand's North Island. Enjoy an included lunch en route.

In Auckland, the "City of Sails," you'll find a fine waterfront, well-used by ferryboats and sailboats of all sizes. Auckland Harbor hosted the exciting 2000 America's Cup Challenge, in which the Kiwis successfully defended their title against the American challengers. The downtown area is a great place to stroll and drop in on the street-level cafes.

This evening, is yours to spend at leisure. Dinner is on your own tonight.

Day 18

Auckland • Harbor cruise

This morning, enjoy a memorable hands-on sailing experience aboard the 50-foot sailboat, Pride of Auckland. As you cruise, you'll enjoy a new perspective of Auckland Harbor, New Zealand's bustling commercial port.

After, you'll enjoy an included tour of the city, offering a closer look at such iconic sights as the Sky Tower, Auckland Harbor, and the America's Cup Village.

Take the afternoon at your leisure. Perhaps you'll visit the Auckland War Memorial Museum or explore the Viaduct Basin, an entertainment area that was once home to the America's Cup. You can take a stroll to mingle with locals and visitors alike at more than 20 restaurants and bars. Or try your luck at the Sky City Casino.

You'll rejoin your fellow travelers at the hotel tonight for a Farewell Dinner.

Day 19

Return to U.S. via Sydney or Brisbane

If you've chosen our post-trip Bay of Islands extension, you'll transfer to Paihia in the morning. Otherwise, you'll transfer early this morning to the Auckland airport for a connecting flight in Sydney or Brisbane before your return flight to the United States. You'll gain a day as you fly east, crossing the International Date Line.
POST-TRIP EXTENSION:

New Zealand's Bay of Islands

4 nights from only $1045

Discover the exotic Bay of Islands: the historical crossroads of European and Maori cultures. Explore one of New Zealand's most unique ecosystems in this subtropical archipelago of nearly 150 islands. Revel in the pristine natural environment and stunning coastal scenery as we travel along crystal-clear turquoise waters, keeping watch for whales, dolphins, marlins, and penguins.

View Extension Itinerary