A community for curious travelers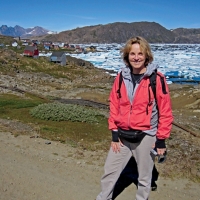 Harriet Lewis
Vice Chairman,
Overseas Adventure Travel
Every traveler is a storyteller—and every journey teaches us not just about the world, but about ourselves. Sharing our stories helps us invigorate our memories … and inspires our fellow travelers to follow in our footsteps.
I created Harriet's Corner to be a space for all of our stories—where I can share tales from my travels, and you can send me yours. Here, you can browse the archives of our popular travel newsletters: our weekly Inside Scoop e-newsletter, which features traveler insights, trivia, and short films—including our featured film of the week below—and our quarterly Dispatches magazine, created for our best O.A.T. travelers.
You'll also find ways to directly connect with your fellow O.A.T. travelers: ask and answer questions on our Travel Forum. Plus, check out a compilation of advice from seasoned female travelers, staff, and guides from around the world in our 101 Tips for Women Travelers booklet.
You can even share photos and videos from your travelers on our Traveler Moments page—every photo you share will be entered in our Photo Contest, with a Grand Prize of a free Grand Circle trip.
Wherever you've traveled, and wherever you wish to journey next, I hope you'll find inspiration here—and I hope you'll inspire me with stories of your own. Email yours to me at [email protected]
Featured Film
Our most popular independent film from last week's edition of Inside Scoop
Angelo the Shepherd
Produced by Cecily Pingree
Delve into eastern Sicily's cultural gems, from wine produced on Mount Etna to elaborate puppets and colorful ceramics.