The Leader in Enriching Cultural Experiences since 1958
You're receiving this message because your web browser
is no longer supported
We recommend upgrading your browser—simply click the button below and follow the instructions that will appear. Updating will allow you to accept Terms and Conditions, make online payments, read our itineraries, and view Dates and Prices.
To get the best experience on our website, please consider using:
Safari (for Mac or iPad Devices)
Update Browser

hungary
Compare Trips
Find the Adventure That's Right for You
Our Activity Level rating system ranks adventures on a scale of 1 to 5 to help you determine if a trip is right for you. See the descriptions below for more information about the physical requirements associated with each rating.
Travelers should be able to climb 25 stairs consecutively, plus walk at least 1-2 miles over some uneven surfaces without difficulty. Walks typically last at least 1-2 hours at a time. Altitude can range from zero to 5,000 feet.
Activity Level 2:
Moderately Easy
Travelers should be able to climb 40 stairs consecutively, plus walk at least 2-3 miles over some uneven surfaces without difficulty. Walks typically last for at least 2-3 hours at a time. Altitude can range from zero to 5,000 feet.
Activity Level 3:
Moderate
Travelers should be able to climb 60 stairs consecutively, plus walk at least 3 miles over some steep slopes and loose or uneven surfaces without difficulty. Walks typically last for 3 or more hours at a time. Altitude can range from 5,000 to 7,000 feet.
Activity Level 4:
Moderately Strenuous
Travelers should be able to climb 80 stairs consecutively, plus walk at least 4 miles over some steep slopes and loose or uneven surfaces without difficulty. Walks typically last for 4 or more hours at a time. Altitude can range from 7,000 to 9,000 feet.
Activity Level 5:
Strenuous
Travelers should be able to climb 100 or more stairs consecutively, plus walk at least 8 miles over some steep slopes and loose or uneven surfaces without difficulty. Walks typically last for 4 or more hours at a time. Altitude can range from 10,000 feet or more.
Hide Acivity Level
PRICE
including international airfare
HIGHLIGHTS & ACTIVITIES IN HUNGARY
*This information is not available for our trip extensions. You must reserve the main trip to participate on this extension.
**This information is not currently available for this trip. Please check back soon.
Recommended Viewing
Watch this video showcasing what makes this country so unforgettable
Sarah's Journey Down the Danube
Submitted by Sarah Young, 21-time traveler from Rogers, Arkansas
Cruise along the scenic Danube River alongside Sarah Y. from Rogers, Arizona and witness some of Eastern Europe's most enchanting cities, including historic Budapest and the quaint seaside city of Constanta.
16:15
Recommended Videos
Watch your fellow travelers' favorite films & videos
Smart Travels with Rudy Maxa: Prague and Budapest
Produced by Small World Productions
Join Emmy Award-winning travel expert Rudy Maxa to discover the Old World splendor of Prague and Budapest.
Great Railway Journeys of Europe: Budapest to Warsaw
Produced by Anika Pilnei and Ian Cross
Discover Eastern Europe by railway and see this complex region in a whole new way.
Danube River Cruise
Submitted by Barbara & Ernest Werren, 29-time travelers from Lakewood, Colorado
Follow along as travelers Barbara and Ernest W. from Lakewood, Colorado visit the famed Hungarian State Opera in Budapest, savor a Home-Hosted Lunch with a local family in Croatia, and enjoy a traditional music performance aboard their river ship.
Budapest, Belvárosi, Nagyboldogasszony, Plébánia
Produced by Andras Deak
Enjoy a stunning aerial view of Budapest, Hungary, as you fly past the towering spires of its many cathedrals.
How to Make Hungarian Goulash
Produced by Epicurious
Watch this professional chef pepper up the perfect Hungarian goulash made from veal, mushrooms, and more.
Hungary: Month-by-Month
There are pros and cons to visiting a destination during any time of the year. Find out what you can expect during your ideal travel time, from weather and climate, to holidays, festivals, and more.
Hungary in January-February
Hungary's core winter months, January and February are the coldest months of the year—and often the wettest, too. Luckily, traditional Hungarian cuisine, which leans toward heavy foods and strong drinks, is the perfect antidote to the season's chill: Sip traditional mulled wine and Pálinka, a Hungarian fruit brandy, to warm up, or dig into heartier fare like harcsa paprikás (a paprika fish stew) or hurka (a type of liver or blood sausage).
As this is the low season, many tourist attractions can be closed, and it's wise to call ahead. But the Hungarian theater season is in full swing during the winter months, making this the best time of year to see an opera or show.
Holidays & Events
January-Mid-February: From the last day of Christmas celebrations on January 6 through Ash Wednesday, Hungary enters a festive, colorful period known as Farsang. Similar to Carnival in other countries, Farsang features masquerade balls, lively parades, and lots of loud noise to scare off winter and welcome spring.
Must See
If you're in Budapest during the winter months, be sure to make a visit to the City Park Ice Rink. This massive open-air ice rink in front of the Vajdahunyad Castle is a popular spot for locals and visitors alike to take advantage of the season's activities.
Hungary in March-April
Spring is one of the best times to visit Hungary: the weather begins to warm up, flowers are in bloom, and many outdoor markets and tourist attractions reopen after the winter's inactivity. At the same time, fewer tourists mean less crowds, less expensive rates, and more room to explore.
Spring festivals, such as the Budapest Spring Festival, are common throughout the country during March and April and are a joyful way to greet the new season.
Holidays & Events
Mid-March: Hungary has three National Holidays each year, of which the March National Holiday commemorates the Hungarian Revolution of 1848. Celebrating Hungary's struggle for freedom and democracy, the holiday is marked by free entrance to Hungary's national museums, a ceremonial speech by the Prime Minister, and pins in the national colors that Hungarians proudly display.
Late March: Each year, Budapest dedicates a day to celebrating the art of French patisserie. On what's known as Macaron Day, bakeries throughout the city display their finest sugary creations, and visitors can learn to make the finicky pastry during an event in Elizabeth Square.
Late March-April: Hungary's largest cultural event, the Budapest Spring Festival celebrates the arrival of spring with a host of musical performances. Over three weeks, take in performances of opera, jazz, folk, and classical music in some of the city's most vaunted performance venues.
Must See
Hungary has a proud and storied tradition of folk art, and at no time is this more visible than at Easter. Colorfully dyed and intricately patterned, Hungarian Easter eggs make beautiful decorations for this spring holiday.
Hungary in May-June
Warm, mild weather continues in May, when many Hungarians can be found taking advantage of the season at outdoor cafes and bars. While June marks the start of summer, it is also the rainiest month of the year—pack a rain jacket and take in the country's lush vegetation and colorful blooms, which benefit from frequent seasonal showers.
Holidays & Events
Mid-June: The Danube Carnival is a two-week celebration of all things dance, taking place along the banks of Hungary's most famous river. The festival features an international dance competition, a Carnival Parade down the Danube promenade, and an elegant evening gala, as well as performances by contemporary and Hungarian folk dancers.
Late June-early July: Beer lovers won't want to miss this one: Sample the finest Czech (and Hungarian) brews at the Czech Beer Festival in Budapest, which features both internationally known brands and craft beers from local microbreweries. Egészségére! (That's cheers in Hungarian.)
Hungary in July-August
The summer months bring plenty of sunshine—and crowds—to Hungary. To celebrate the good weather, many festivals and special events—like live music concerts at City Park and the Budapest Summer Festival on Margaret Island—take place throughout the country. This is also a great time of year to take advantage of Hungary's abundance of outdoor thermal baths and pools.
Holidays & Events
Early July-early August: Each summer, the Vajdahunyad Castle in Budapest hosts a summer music festival in its fairytale-like setting. Performances range from classical to Hungarian folk music.
Mid-August: The Sziget Festival is one of the hippest music festivals in Hungary today. Held on an island in the Danube, the week-long festival has become one of the biggest rock parties in Europe, featuring more than 1,000 performances and nightly firework displays.
August 20: The greatest public holiday of the year, St. Stephen's Day celebrates Hungary's founding with patriotic events and a spectacular fireworks show over the Danube.
Hungary in September-October
The summer months bring plenty of sunshine—and crowds—to Hungary. To celebrate the good weather, many festivals and special events—like live music concerts at City Park and the Budapest Summer Festival on Margaret Island—take place throughout the country. This is also a great time of year to take advantage of Hungary's abundance of outdoor thermal baths and pools.
Holidays & Events
Mid-September: For three days each year, Heroes' Square in Budapest is transformed into a giant racetrack for the National Gallop Festival, a celebration of Hungary's equestrian tradition and the famed Hussar culture.
Early October: Eat, drink, and be merry at one of Hungary's Oktoberfest beer festivals. While smaller than Munich's original Oktoberfest, these festivals have plenty of food, performances, and, of course, beer to keep festival-goers entertained. Events are held throughout the country, but the largest Oktoberfest is in Budapest.
October 23: This National Holiday commemorates the 1956 Hungarian Revolution, when Hungarians overthrew Stalin's oppressive communist regime and appointed Imre Nagy as a liberal prime minister in his place. All shops and public institutions are closed on this day.
Hungary in November-December
With shorter days and colder temperatures, November and December mark the beginning of the low season in Hungary. Snow and rain are frequent in these months, but the country's festive Christmas markets and seasonal good spirits make up for the gloomy weather.
Holidays & Events
November 1: Like many Catholic nations, Hungary celebrates All Saint's Day on the first of November. On this day, Hungarians visit the cemeteries where their deceased family members are buried, decorating their graves and lighting candles in their honor.
November 11: Known as St. Martin's Day, this traditional feast day is celebrated by drinking wine from the new harvest and dining on goose. Many restaurants offer goose specials throughout the month of November, and proudly display their new wines.
December 6: The Christmas season officially begins on December 6 in Hungary, when Mikulás (the Hungarian version of Santa Claus) leaves presents for children in their boots.
Must See
The highlight of the holiday season in Hungary is undoubtedly the nation's elaborate Christmas markets. Two of the best: Budapest Basilica's Christmas markets and the Christmas markets at Vörösmarty Square, which are both known for their elaborate market stalls and bright, cheerful string lights.
Average Monthly Temperatures
Hungary Interactive Map
Click on map markers
below to view information about top Hungary experiences
Click here to zoom in and out of this map
Budapest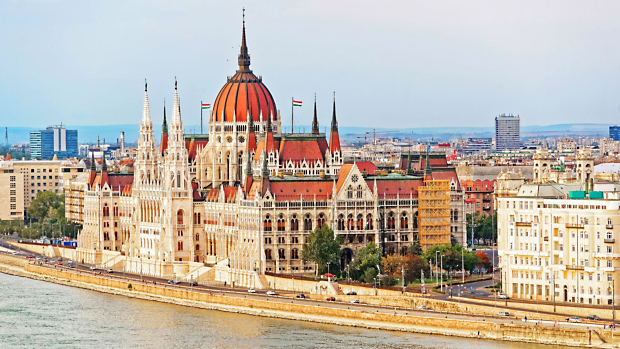 With its grand buildings, elegant architecture, and lavish spas, Budapest oozes old world glamour. This Hungarian capital is strung along both banks of the Danube River, whose waters cleave the city neatly into Buda and Pest. And with stunning bridges sprawling across the scenic Danube, wonders on either side of the city become accessible to explorers seeking to take in the city's European charm. In fact, with plenty of attractions within close proximity, the city's cafe- and shop-lined streets are easily explored on foot.
Both sides of Budapest will come to life during an included walking tour: Take a stroll across one of the city's ornate bridges, or admire the UNESCO-protected fin de siècle architecture, an opulent blend of Art Nouveau and neoclassical styles. The brilliant dome and stately spires of Parliament command attention on the Pest Embankment; on the Buda side, historic Castle Hill affords some of the best views in the city.
Discover Budapest with us on:
Danube River
Europe's second longest river and the longest in the EU, the Danube flows through the heart of Hungary.
A visit to Budapest will bring you in close contact with this ancient waterway. A series of handsome bridges spans the Danube, connecting the city's two halves and creating the Hungarian capital's signature skyline. The magnificent Szechényi Chain Bridge was the first to link Buda and Pest; it is the most famous (and most photographed) bridge in the city, and was considered a wonder of the world at the time of its construction. Visit at night to see the floodlit Szechényi in all her glory as the Danube sparkles below.
In sharp contrast to Szechényi's classic splendor, Elizabeth Bridge stands as a hallmark of modernism. Originally built at the turn of the century, this former emblem of elegance was destroyed during World War II and was replaced with a sleek silhouette during the post-war period; it is now one of the busiest bridges in the city.
Nearby, the diminutive Liberty Bridge is known for its distinctive green color and ornate wrought ironwork. Budapest's shortest bridge is also its most patriotic: Two turuls, the mythological birds of prey and national symbol of Hungary, sit atop Liberty's spires, looking out proudly over the Danube.
Explore the Danube River with us on:
Great Synagogue
As the largest synagogue in all of Europe, Budapest's Great Synagogue lives up to its name. Its fascinating history lies in its centuries of use as a Jewish place of worship, as well as in its very structure.
Built in the mid-1800s, the Great Synagogue speaks to both Moorish and Gothic influences in its architecture. Earthy tones decorate a majestic building featuring ornately carved designs, culminating in medieval towers rising high against Budapest's skyline.
The synagogue not only serves as a place for prayer, but also as a marker of Jewish history in Hungary. Inside, the Jewish Museum houses both relics of Jewish tradition and objects representing daily life for Jews in Budapest. In the building's north wing, the Tree of Life Memorial pays tribute to the Hungarian victims of the Holocaust.
Experience the Great Synagogue with us on:
Hospital in the Rock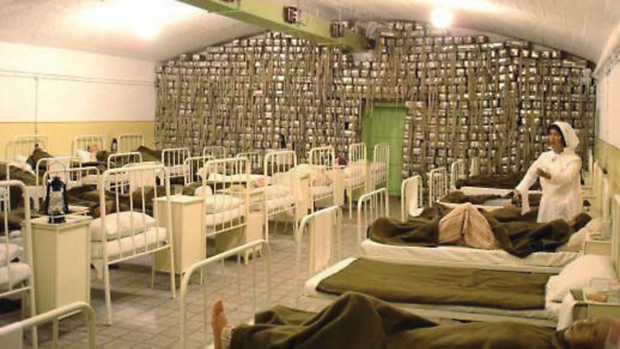 Below Castle Hill in Buda, the Danube's western bank, exists an intricate network of underground caves. In the 1930s, the caves were mapped by engineers and connected to a hospital that tended to scores of sick and wounded soldiers and civilians during World War II, and again during the Hungarian Revolution of 1956. This unique location's function as a place of healing led to its name, the Hospital in the Rock.
But its history didn't end there. In the Cold War era, it was outfitted as a fallout shelter in case of potential nuclear disasters. Though the shelter was fortunately never used, it remains part of the time capsule that reflects this structure's importance as both hospital and safe haven. for Hungarians.
Today, the hospital is a museum, with wax figures in period clothing and vintage medical equipment giving visitors a feel for the intensity of the work performed there.
Experience the Hospital in the Rock with us on:
Featured Reading
Immerse yourself in Hungary with this selection of articles, recipes, and more
ARTICLE
Learn about some of Hungary's rejuvenating spas during the Ottoman occupation, which are still in use today.
ARTICLE
See how the Danube is home to a unique mélange of historical influence that spans nearly 2,000 years.
The Healing Waters of 1,300 Springs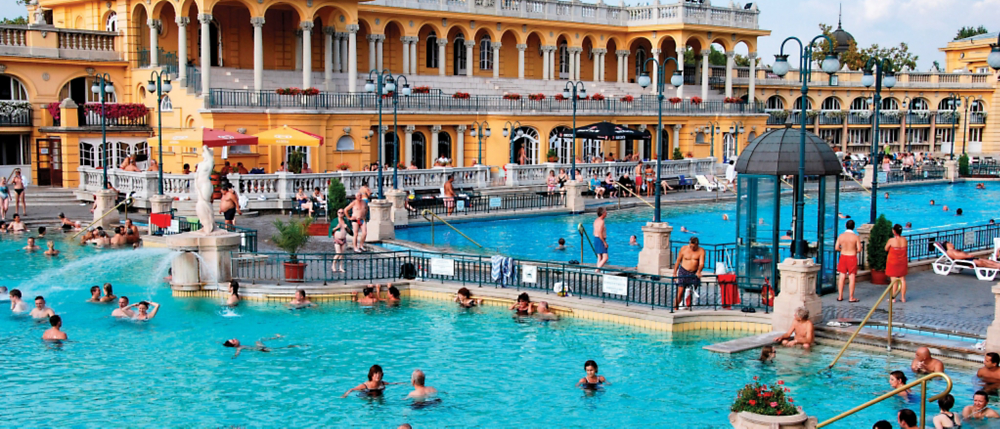 Hungary's rejuvenating spas
by Juraj Varady, Operations Manager, European River Cruises
Few nations can boast of geothermal resources to rival Hungary's: Every day, more than ten million gallons of naturally warm, mineral-rich water pour forth from the springs of Budapest alone. These waters have formed the basis of a spa tradition that stretches back more than 2,000 years.
The Romans first took advantage of the waters' curative and relaxing effect in the first century AD, and ruins of their ancient baths have been found in the Obuda section of Budapest. In the 16th and 17th centuries, Hungary was occupied by the Ottoman Turks, who established Turkish bath houses along the banks of the Danube River in Budapest—where the river water's interaction with a geographic fault results in an especially high concentration of thermal springs. Several of the facilities founded during the Ottoman occupation are still open and in use to this day.
While numerous amenities are available at most Hungarian baths—including foot and body massages, aromatherapy treatments, pedicures, and more—the prime activity is to simply enjoy the waters in outdoor and indoor pools, steam rooms, and saunas. The water emerges from the springs at temperatures ranging from 70 degrees Fahrenheit to nearly 170 degrees, depending on the spring. Chemically, notable deposits of calcium are present in Budapest's thermal waters, along with traces of magnesium bicarbonate, sulphate chloride, fluoride ion, and sodium.
One of the most popular of Budapest's baths is the Gellert Spa, which is located next to the Gellert Hotel. From where your ship is docked, you can get to the Gellert on foot or via inexpensive taxi ride—consult your Program Director for more information. While the springs here have been in use since the 13th century, the current spa was built in 1918, and features impressive Art Nouveau architecture and intricate tile work. There, you can enjoy the use of many indoor and outdoor baths, invigorating steam rooms, and the sauna—along with a private locked stall (called a "cabin") for changing.
In addition to a soothing soak, whichever spa you choose to visit will provide a memorable cultural experience. The locals and fellow visitors are congenial and welcoming, and bathing suits and flip-flops are required. You'll find that observing the families, couples, and friends who gather regularly to recharge amidst the thermal waters is nearly as engaging as the waters themselves.
Flowing through History: The legacy of the Danube River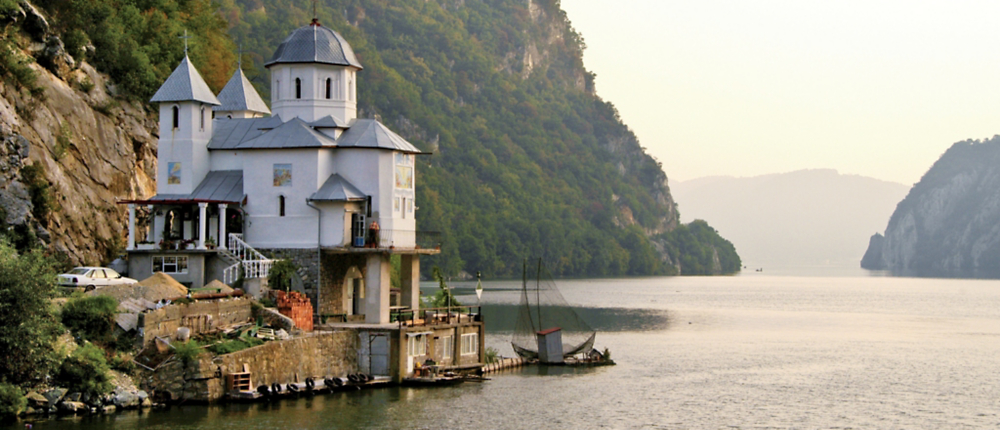 by Laura Chavanne from Currents
It is known as the most "multinational" river in the world, touching ten different countries and passing through four capital cities. It is the second-longest river in Europe (after the Volga), covering more than 1,700 miles from the Black Forest in Germany to the Black Sea in Romania. And ever since Roman times, it has served as both a connector of cultures and a physical boundary between them—facilitating both trade and transport and the preservation of cultural diversity.
More than just the place where "East meets West," the Danube River is home to a unique mélange of historical influence that spans nearly 2,000 years.
The rise and fall of Rome
At the height of the Roman Empire, a series of fortifications known as the Limes Germanicus (Latin for "Germanic Frontier") separated the Roman civilization from the so-called "barbarian" Germanic tribes who lived to the north. The creation of this boundary began around AD 9, when Emperor Augustus was shaken by a devastating Roman defeat at the hands of Germanic warriors.
By the third century AD, the Danube marked Rome's northernmost border—but the empire was already in decline. Some Germanic tribes were permitted to settle south of the river, within Roman territory—but this initial attempt at diplomacy eventually gave way to revolts. Between AD 400 and 454, a wave of Germanic invasions crossed the Danube and infiltrated the weakened empire, which greatly contributed to its complete collapse by AD 476.
Today, the remains of the Limes Germanicus can still be seen along the banks of the Danube. In the center of Regensburg, the ruins of the Porto Praetoria are among the largest remaining Roman constructions in Germany. Dating from AD 179, this gate once marked the path from the Danube River into the Castra Regina military camp. Such dramatic physical evidence may not exist in the great cities of Vienna, Belgrade, and Budapest—yet they all grew out of Roman settlements on the Danube.
Commerce and conquerors
In September 2012, Hungarian archaeologists discovered a curious object at the bottom of the Danube, about 18 miles north of Budapest. Partially buried in mud near the riverbank was the form of a sunken ship—and a medieval-era pot was found among the wreckage. While the wreck has yet to be excavated, archaeologists are hopeful that its contents will offer new insight as to the nature of traffic and commerce along the Danube during the Middle Ages.
Following the collapse of the Roman Empire, the Danube became an important trade route that connected first the Byzantines and later the Ottomans with the kingdoms of Western Europe. It also offered Western Crusaders a pathway to the Holy Land via the Black Sea. And until the 19th century, it was a crucial naval channel for various Central European empires and nations. The Treaties of Paris and Versailles—in 1856 and 1919, respectively—recognized the waterway's significance, promoting free navigation along the river and establishing it as an international waterway.
While it's rare today for a river to be considered international waters, the Danube still retains this designation. All of the countries it flows through or borders—in particular, the otherwise landlocked nations of Austria, Hungary, Serbia, and Slovakia—rely on the Danube for fishing, hydropower, irrigation, and freight. In the 20th century, two canals were completed to help facilitate traffic on the Danube: the Danube-Black Sea Canal, which provided a more direct route to the Black Sea through Romania in 1984; and the Main-Danube Canal, which linked the Danube with the Rhine via Germany in 1992.
Taming the rapids
The German poet Friedrich Hölderlin famously wrote of the Danube's changing personality, calling it "a refreshing, melodious river, sometimes foaming with high spirits, at other times dreaming serenely." Until the 19th century, its spirits foamed notably higher than they do today. A series of dams, locks, and artificial channels has helped to tame its wilder passages—with the most ambitious located along the border between Romania and Serbia.
This channel between the Carpathian and Balkan mountains once threatened sailors with areas of rapids that roiled between narrow gorges. Begun in 1964 and completed in 1984, the Iron Gates hydroelectric project raised the water level by 130 feet. Two dams and two hydroelectric power stations flank this swollen section of river that now flows peacefully through spectacular gorges—which may not be as dramatic as they were before the project, but are beautiful nonetheless.
Connectors of cultures
Just as the Danube is known as the queen of Europe's rivers, Budapest is the undisputed Queen of the Danube. A first-century Roman settlement that later played host to Huns, Mongols, and Turks, Budapest is one of Europe's oldest cities—but in a sense, it is also one of the youngest. Modern Budapest didn't exist until 1873, when historic Buda on the west bank of the Danube joined with industrial Pest on the east under the dual monarchy of Austria-Hungary. From World War II to Soviet occupation and the fall of the Iron Curtain, the city has seen riots and revolution, reclamation and resurrection.
And just as the Danube flows peacefully today, Budapest has thrived under democracy. It is celebrated as one of Europe's most beautiful cities, and an emerging industrial and economic center.
In many ways, the city is a microcosm of the river that flows through it: a cultural connector, linking Eastern and Western Europe … bringing together historical influences from ancient times to the present … and flowing steadily toward the future.