The Leader in Enriching Cultural Experiences since 1958
You're receiving this message because your web browser
is no longer supported
We recommend upgrading your browser—simply click the button below and follow the instructions that will appear. Updating will allow you to accept Terms and Conditions, make online payments, read our itineraries, and view Dates and Prices.
To get the best experience on our website, please consider using:
Safari (for Mac or iPad Devices)
Update Browser

EGYPT
Learn More About Our NEW Egypt Trip
Compare Trips
Find the Adventure That's Right for You
Our Activity Level rating system ranks adventures on a scale of 1 to 5 to help you determine if a trip is right for you. See the descriptions below for more information about the physical requirements associated with each rating.
Travelers should be able to climb 25 stairs consecutively, plus walk at least 1-2 miles over some uneven surfaces without difficulty. Walks typically last at least 1-2 hours at a time. Altitude can range from zero to 5,000 feet.
Activity Level 2:
Moderately Easy
Travelers should be able to climb 40 stairs consecutively, plus walk at least 2-3 miles over some uneven surfaces without difficulty. Walks typically last for at least 2-3 hours at a time. Altitude can range from zero to 5,000 feet.
Activity Level 3:
Moderate
Travelers should be able to climb 60 stairs consecutively, plus walk at least 3 miles over some steep slopes and loose or uneven surfaces without difficulty. Walks typically last for 3 or more hours at a time. Altitude can range from 5,000 to 7,000 feet.
Activity Level 4:
Moderately Strenuous
Travelers should be able to climb 80 stairs consecutively, plus walk at least 4 miles over some steep slopes and loose or uneven surfaces without difficulty. Walks typically last for 4 or more hours at a time. Altitude can range from 7,000 to 9,000 feet.
Activity Level 5:
Strenuous
Travelers should be able to climb 100 or more stairs consecutively, plus walk at least 8 miles over some steep slopes and loose or uneven surfaces without difficulty. Walks typically last for 4 or more hours at a time. Altitude can range from 10,000 feet or more.
Hide Acivity Level
PRICE
including international airfare
HIGHLIGHTS & ACTIVITIES IN EGYPT
*This information is not available for our trip extensions. You must reserve the main trip to participate on this extension.
**This information is not currently available for this trip. Please check back soon.
Egypt: Month-by-Month
There are pros and cons to visiting a destination during any time of the year. Find out what you can expect during your ideal travel time, from weather and climate, to holidays, festivals, and more.
Egypt in January-March
Situated in the desert, Egypt's temperatures remain relatively warm year-round, but the winter months usher in more mild weather and a chance of rain. At times, areas in the western desert even reach freezing. The cooler climate also means peak tourism season—along with Egypt's prime business time—when hordes of people travel to the country's top sites, potentially creating snaking lines and uncomfortable crowds.
Visiting in March allows travelers to avoid much of the winter tourist rush while still enjoying the ideal weather that makes it easier to explore during the day.
Holidays & Events
January 25: On this date each year, patriotic processions take place in honor of Revolution Day, when Egyptians celebrate the beginning of the 2011 uprising that ousted President Hosni Mubarak.
Late February: The Abu Simbel Sun Festival is held twice a year, in late February and late October, when sunlight illuminates the interior of the Abu Simbel Temple, a feature designed by King Ramses II in 1250 BC to mark the day he ascended to the throne and his birthday. Along with viewing the phenomenon, Egyptians hold music and dance performances and enjoy local foods nearby.
Watch this film to discover more about Egypt
Israel, Jordan, and Egypt via Suez Canal
Submitted by William C. Thornton, 20-time traveler from Georgetown, Texas
Follow traveler William T. on his journey through the Middle East.
Egypt in April-June
Temperatures start to climb between the springtime and the start of summer in June—but travelers during this time must be aware of the Khamsin Wind, a blistering hot sandstorm that sweeps across the country for a few days in April and May. The wind can blow at up to 140 kilometers (or about 87 miles) per hour, picking up sand along the way and impeding any sightseeing adventures.
But with warmer weather, the springtime is also an excellent opportunity to sunbathe, swim, snorkel, or scuba dive in the Red Sea region.
Holidays & Events
Late April: Sinai Liberation Day commemorates the withdrawal of the last Israeli soldier from the Sinai Peninsula in 1982 after a 15-year occupation. The patriotic holiday features military air and water shows, concerts, and parades.
April/May: To mark the beginning of spring, Egyptians celebrate Sham al Nessim. On the day after the Coptic Orthodox Church's Easter, people typically spend time outside picnicking and eating the holiday's traditional foods: boiled colored eggs, green onions, lupin beans called tirmis, lettuce, and a salted fish called fesikh.
Must See
The Dahab coral reef in the Red Sea remains a top snorkeling location all year with its distinctive Blue Hole, colorful coral, and rich marine life. But dolphin-watching season in Egypt begins in April, making the late spring and summer months the best time to see dolphins, whether from a boat or swimming alongside them.
Watch this film to discover more about Egypt
Israel, Jordan, and Egypt via Suez Canal
Submitted by William C. Thornton, 20-time traveler from Georgetown, Texas
Follow traveler William T. on his journey through the Middle East.
Egypt in July-September
The dry heat of the scorching summer months in Egypt borders on oppressive and drives many tourists away—though temperatures do start to drop in September. But while the heat leaves people aching for a drink and a rest, it also means the impressive ancient sites, like the Great Pyramids, are far less crowded.
As a respite from the heat, Egyptians and vacationers escape to the Red Sea region, which offers its best snorkeling and scuba diving during these summer months. Under the water lies exotic marine life, colorful coral reefs, and a world-renowned marine sinkhole called the Blue Hole.
Holidays & Events
July 23: Beginning the evening before, Egyptians commemorate the coup d'état that overthrew King Farouk in 1952 on Revolution Day with elaborate festivities planned by the minister of defense that feature military parades and patriotic concerts.
September: The Islamic New Year inaugurates the beginning of the Hijri calendar, which falls in September in 2018. During the celebration, Egypt's streets transform into a public carnival with people of all ages dancing, singing, making music, and enjoying traditional foods and treats sold by vendors.
Must See
For centuries, the Nile River would rise and overflow following rains in the highlands and bring life and water to Egypt's ancient civilization, who attributed the annual cycle to the gods. Even though the river no longer floods due to the building of the Aswan High Dam in 1970, the Egyptian people still recognize the river and its importance with a festive, two-week celebration in early August called Wafaa El-Nil—marked by boat and flower parades, water sports like rowing or windsurfing, and picnicking along the Nile.
Watch this film to discover more about Egypt
Israel, Jordan, and Egypt via Suez Canal
Submitted by William C. Thornton, 20-time traveler from Georgetown, Texas
Follow traveler William T. on his journey through the Middle East.
Egypt in October-December
Egypt's peak tourism season kicks off in December—but already in the preceding months, the summer heat relents, affording a comfortable, yet warm visit. The fall proves to be the ideal time to cruise down the Nile River because temperatures in the country's interior have dropped, making excursions to Egypt's main tourist sites more feasible at any point during the day.
It's a time when the local markets come alive with bustling people and stalls stocked with produce, livestock, and other goods. But the nicer weather also means more tourists have already begun flocking to the popular locales, creating larger crowds.
Holidays & Events
October: Coinciding with October's full moon, the Siyaha Festival in Gebel Dakrur is an opportunity for the members of the Siwan people to celebrate the harvest, settle their conflicts, and renew friendships. Following noon prayer each day, the people gather together for a large feast of traditional foods.
December: In the third month of the Islamic Calendar—December 1 in 2018—the people of Egypt celebrate the birth of the prophet Muhammad during a holiday called Mawlid. Bakeries and sweet shops sell toys made of sugar syrup for children, and the people participate in street processions with chanting, singing, and drumming.
Watch this film to discover more about Egypt
Israel, Jordan, and Egypt via Suez Canal
Submitted by William C. Thornton, 20-time traveler from Georgetown, Texas
Follow traveler William T. on his journey through the Middle East.
Average Monthly Temperatures
Egypt Interactive Map
Click on map markers
below to view information about top Egypt experiences
Click here to zoom in and out of this map
Nile River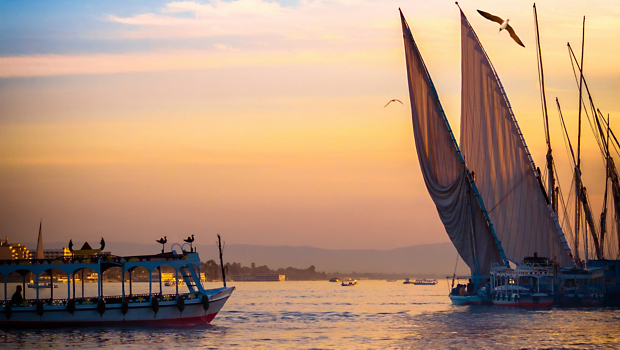 Flowing 4,258 miles from south to north, the Nile is the longest river in the world. It spans eleven countries, including Tanzania, Uganda, and South Sudan, but it is widely regarded as the epicenter of Egypt. With an average annual precipitation of around one inch in most of the country, the Nile River is Egypt's only real water source. It comes as no surprise that most of the country's major cities and historic sites—from Cairo to Luxor—grew up along its fertile banks. South of Luxor, the river's lush banks are lined by palm-fringed villages, ancient temples, and granite quarries whose stones were used to build almost all of ancient Egypt's obelisks and temples. Near Aswan, the southernmost frontier of the ancient Egyptian empire, the shallower waters of the Nile are dotted with islands covered with exotic foliage, including two of the larges: Kitchener's Island and Elephantine Island.
Along with Nile's life-giving waters, the river also serves as a major transportation route, particularly when the basin and surrounding roadways flood. While it's common to see motorized barges today, the traditional mode of transportation is the felucca. With its simple wooden hull and single crescent-shaped sail, these graceful vessels have been zigzagging along the Nile for millennia.
Explore the Nile River with us on:
Cairo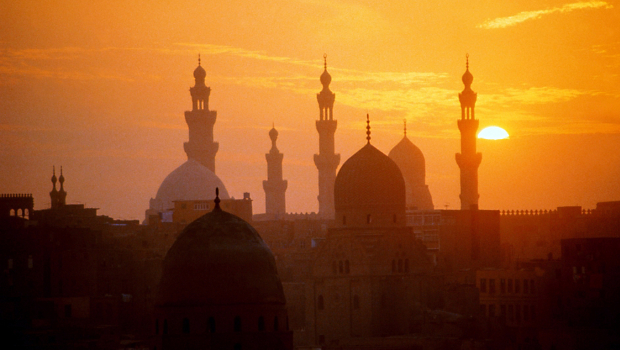 Cairo may call to mind the mighty pyramids, the enigmatic sphinx, and other pharaonic splendors, but the capital of Egypt has come into its own as a modern metropolis in the past couple of centuries. This modernization was achieved in the 19th century when Khedive Ismail came into power. Ismail had a vision that Egypt was part of Europe and Cairo was Egypt's Paris. The romantic appeal of the City of Lights inspired some of Cairo's downtown architectural treasures and was the start of Cairo's transformation from a quaint city to an urban hub.
Now, as one of the largest cities in the world, Cairo has adopted some modern features while maintaining its ancient allure. Just outside of the city center, you'll step back into antiquity during an exploration of Giza's iconic pyramids and sprinkled throughout historic Cairo, a UNESCO World Heritage Site, you'll find more ancient landmarks, including Ben Ezra Synagogue—the oldest Jewish temple in the city—and the Basilica-style Hanging Church, which is located in a Babylonian fortress dedicated to the Virgin Mary. You'll also come face to face with the glimmering gold death mask of the boy king Tutankhamun at the Egyptain Museum and explore the winding labyrinthine pathways of the medieval Khan al Khalili bazaar.
Explore Cairo with us on:
Abu Simbel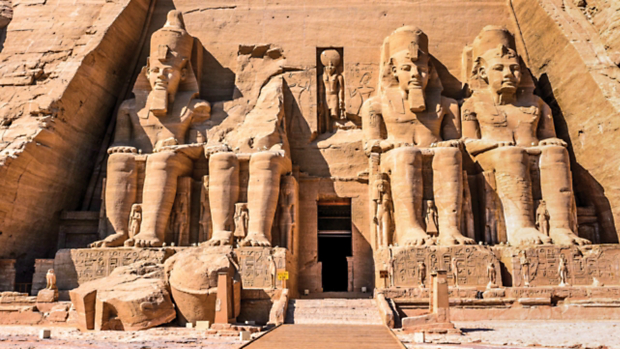 Johann Ludwig Burckhardt, a modern Swiss explorer, discovered Abu Simbel in the early 1800s. Drowning in the desert sands, the only visible features of Abu Simbel that caught Burckhardt's attention were the heads on the King Ramses II statues. Over a century later, Abu Simbel faced drowning again, but this time the destruction would be far worse.
In the 1960s, the Egyptian government's plan to build the Aswan High Dam threatened the existence of Abu Simbel. Lake Nasser, a man-made lake that was created as a result of the dam's construction, would have submerged the ancient temple, but fortunately, UNESCO led a team in relocating Abu Simbel to a nearby site located above water level. Nearly 25,000 workers carefully deconstructed the temple into over 1,000 blocks, each weighing around eleven tons. The blocks were transferred to a cliff where they were put back together out of harm's way. The project took almost five years and millions of dollars to complete.
Simultaneously, the local Nubian people who lived here were threatened as well. Around 17,000 families were displaced as a result of the dam and relocated to another area. While they have faced struggles relocating their lives, the Nubians are making great efforts to preserve their distinct culture.
Explore Abu Simbel with us on:
Giza Pyramid Complex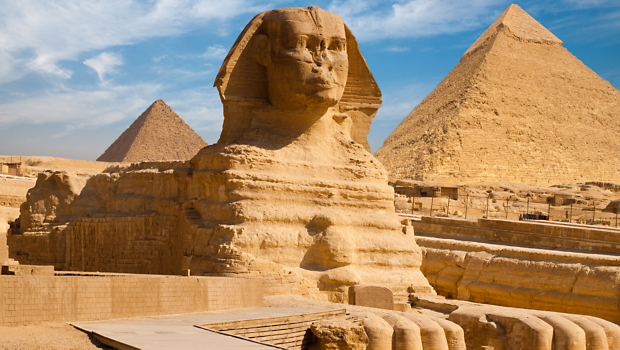 Stretching out across a tawny plateau in the Libyan Desert, the Great Pyramid Complex is one of Egypt's greatest icons, and a UNESCO World Heritage Site. At its heart is the Great Pyramid, which was built around 2560 BC by the Pharaoh Khufu (also known as Cheops). With an apex piercing 481 feet into the sky and three elaborate burial chambers tucked inside its limestone walls, the Great Pyramid is not only the largest pyramid ever constructed, but is also the only one of the Seven Wonders of the Ancient World that remains today.
This impressive structure is flanked by two smaller pyramids—the Pyramid of Khafre and the Pyramid of Menkaure—built to honor Khufu's son and grandson, respectively. These three temples are surrounded by satellite structures, including "queens" pyramids, mastaba tombs, and a workers' village. And then of course, there is the Great Sphinx. With the body of a lion and the head of a man, the Sphinx is believed to represent the Pharaoh Khafre. Built around 2558 BC, this limestone statue is the oldest known monumental sculpture in Egypt.
Explore the Giza Pyramid Complex with us on:
Karnak Temple Complex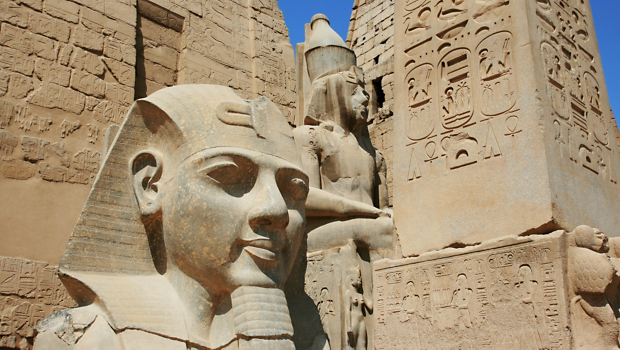 The story of the Karnak Temple Complex is intertwined with that of the ancient Egyptian capital of Thebes. As the city increasingly became ancient Egypt's political and religious center, Karnak became the singular expression of royal power for each passing pharaoh.
Comprised of a vast mix of temples, chapels, pylons, and other buildings, Karnak is the second-largest religious complex in history—only Angkor Wat in Cambodia is larger. Karnak's walls and even its very foundations tell the stories of more than 30 pharaohs who contributed to the complex. The pharaoh Merneptah commemorated his victory over the Sea Peoples, a sea-faring clan of raiders, in hieroglyphics, while the pharaoh queen Hatshepsut reconstructed the complex to change its central focus to her whims. Rameses III had his own hieroglyphic stories carved deeper than previous rulers to ensure his legacy could not be overwritten.
While all ancient monuments in Egypt are windows into the empire's fascinating past, Karnak is like the massive stained-glass tapestries of European cathedrals—complex, multifaceted, and endlessly arresting in its mysterious beauty.
Explore the Karnak Temple Complex with us on:
Aswan
Set along the most enchanting stretch of the Nile, Aswan is an ancient frontier town that Egyptians used as a base for incursions into Nubia and Sudan. One of Egypt's oldest cities and most important port settlements, Aswan was considered by the ancient Egyptians to be the "gateway" to the country, and still functions as such for travelers seeking to visit its modern and ancient wonders. These include the controversial Aswan High Dam (Sadd el-ali), which forever changed the agricultural rhythms of Egypt, and the Aswan and the Philae Temples, which were moved from their previous location (where they were frequently flooded and destined to be submerged by the High Dam) and reassembled in their entirety between 1972 and 1980.
The city's Nubian Museum displays artifacts saved before Lake Nasser flooded the area behind the dam, erasing the traditional homelands of the Nubian people. Once surrounded by nature and living off the land and the Nile River in Aswan (old Nubia), most Nubians are now relegated to a desert life in villages built for them in places like Kom Ombo (new Nubia), where pockets of Nubians are working to preserve their language and culture.
Aswan is also home to the legendary Old Cataract Hotel, whose famous terrace is renowned for its incomparable views of the river at sunset with silhouettes of swallow-tailed feluccas zig-zagging across the Nile and the luxuriant palms of Elephantine Island.
Explore Aswan with us on:
Valley of the Kings
Nestled on the western bank of the Nile River, the Valley of the Kings offers an intimate look into the life and opulence of Egypt's pharaohs. The Valley of the Kings' story is still being told—excavations have been taking place continuously for over 200 years.
While from a distance the Valley of the Kings looks like any other river bank, the inside holds almost unsurpassed archaeological wonders. Between the 16th and eleventh centuries BC, pharaohs, nobles, and their families were entombed in this royal burial ground. The 63 tombs underneath the sand range from a hole in the ground to sprawling underground complexes—one named "KV5" has over 120 chambers. While the walls are covered in the stories of those buried there, you can also see the legacies of ancient Greek and Roman adventurers in their graffiti dating back at least to 278 BC. Though many of the tombs have been robbed over the centuries, the tomb of the eminent King Tutankhamun was found nearly completely intact, giving archaeologists an exhaustive look into the lives of ancient Egyptian royalty.
The Valley of the Kings is an encyclopedic chronicle for the Egyptian experience of death—understanding their journey to the afterlife fosters a deeper understanding of being Egyptian.
Explore the Valley of the Kings with us on:
Featured Reading
Immerse yourself in Egypt with this selection of articles, recipes, and more
ARTICLE
Learn about the Egyptian pharaoh Hatshepsut, one of the first great women rulers in all of recorded history.
ARTICLE
Learn about modern-day Nubian culture and how Nubian civilization once rivaled that of ancient Egypt.
RECIPE
Learn how to make Egypt's national dish with this recipe.
The Woman Who Would Be King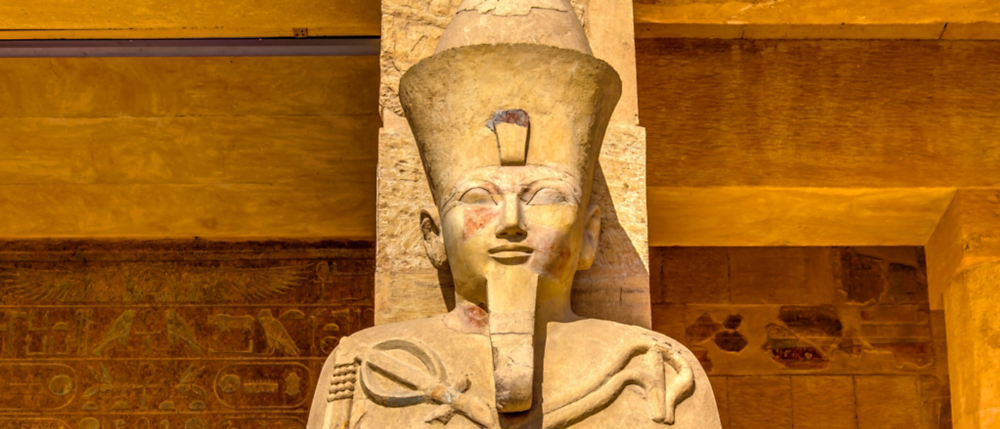 by John Bregoli
Certainly, there have been many extraordinary women rulers throughout history. But long before such powerful figures as Indira Ghandi or Catherine the Great appeared on the world stage—and some 1,500 years before Cleopatra drifted down the Nile—there was Hatshepsut. As a full-fledged pharaoh of Egypt, Hatshepsut ushered in an era of peace and prosperity, and just may have been the first truly great woman ruler in all of recorded history.
Hatshepsut wasn't even Egypt's first female ruler—nor would she be the last. However, she did manage to rule over Egypt during a time when it was extremely rare for a woman to rule the kingdom, and simply unheard of for a woman to boldly assume the exalted title of "pharaoh."
A Woman's Place is in … on the Throne?!
At the time of Hatshepsut's reign, Egypt was well into the 18th Dynasty of the New Kingdom period, so called after the reunification of the country's northern and southern lands. This is also often referred to as the "Golden Age" of Egypt, a time when military conquests of a succession of pharaohs had turned it into the most powerful empire the world had ever known.
Politics and power were not the only arenas where Egypt excelled during this period. It could also boast civic and social advancements that were thousands of years ahead of their time, especially with regards to women. Unlike their contemporaries in Mesopotamia and Greece, Egyptian women enjoyed the same legal and social rights that Egyptian men did. They could own property, hold official positions, and even inherit land and money from parents or husbands. They could even divorce their husbands and live alone if they chose to. Still, there were certain things they couldn't do, such as carry or use weapons and metal tools. And some jobs for women were outright forbidden, such as that of administrator or scribe. After all, Egypt was still a male-dominated society. Just as in most early civilizations, a woman's place was dominated by a need to produce and nurture healthy children to ensure a family's future welfare. So the primary role of women in ancient Egypt, as in throughout the ancient world, was as wife, mother, and child-bearer.
But even with many clearly defined roles for men and women, the social climate of ancient Egypt didn't preclude the rise of powerful women. Long before Hatshepsut's day, there had been several strong and influential queens who proved that women were just as capable in maintaining stability and order in the empire as men. So Egypt was familiar with having a woman as a ruler—but as a pharaoh? Pharaohs were considered the living version of the god Horus. To have a woman pharaoh would go against all social and religious norms. What Hatshepsut had in mind was unprecedented.
Hatshepsut was the eldest daughter of the popular pharaoh Thuthmose I and his Royal Wife, Queen Ahmos. Her father also had a son, but it was by another queen. This boy, Thutmose II, inherited the throne after Thutmose I died. In order to strengthen the royal lineage, Hatshepsut—about 12 at the time—was then married to this Thutmose II, who was her half-brother. Hatshepsut and Thutmose II had one daughter, and when Hatshepsut was apparently unable to produce a male heir, Thutmose II turned to a minor wife, Isis, who did give him a son: Thutmose III.
Walk like a man, talk like a man—and plot like a man
As queen and the "Great Royal Wife" of Thutmose II, Hatshepsut reigned over Egypt together with her husband for 14 years, until he was carried off, presumably by illness. She then became regent for her seven-year-old stepson, ruling the kingdom on his behalf. As Thutmose III approached age 21, however, it became clear that Hatshepsut was in no hurry to relinquish the reins of power to the rightful heir. She wanted to rule in her own right. So, in 1473 BC, she took the bold step of proclaiming herself pharaoh. Thutmose III was not pleased—but more on that later.
To strengthen her claim to the title of pharaoh, Hatshepsut began blurring the gender line. She changed her name to its male form, Hatshepsu, and began referring to herself in writing as both "he" and "she." She took to dressing in men's clothing, had herself depicted as wearing a king's royal headdress, and even donned a false beard! This, too, was not exactly conventional behavior for a woman in ancient Egypt.
If women's rights were equal to those of men in that era of Egyptian history, why then did Hatshepsut go to such trouble to portray herself as a man? Experts disagree, though most today believe that she was establishing herself as the person in charge, not simply the "Great Royal Wife."
She succeeded quite well in that regard. At the time of her death, she was not only the longest-serving female ruler in Egyptian history—she was also one of the most effective. During her 22-year reign (including her term as regent for Thutmose III), she was a prolific builder of magnificent temples and monuments—including one dedicated to herself. And though hers was generally a peaceful rule, she oversaw several successful military campaigns. Not only did she have her nephew, Thutmose III, lead an army into Nubia to fight several wars, but she personally led armies onto the battlefield. This, in itself, was unprecedented in Egyptian history. If anyone had lingering doubts about Hatshepsut's ability to carry out the same duties as a male pharaoh, seeing her at the head of an army surely must have cured them.
Another great achievement of this remarkable woman was in opening up trade routes. In the summer of 1493 BC, she sent a fleet of five ships to Punt (thought to be modern day Somalia). Hatshepsut herself tells us about the success of the voyage in inscriptions on the walls of her temple at Deir el-Bahri. "The ships were laden with the costly products of the Land of Punt and with its many valuable woods," she says, "with very much sweet-smelling resin and frankincense, with quantities of ebony and ivory . . ." Never before in Egyptian history had such an expedition been launched, and traders returned with splendor and riches that helped establish the 18th Dynasty as an era of prosperity.
A Dish Served Cold: Thutmose III's Revenge
As conspicuous as Hatshepsut was in life, in death she was the opposite. She simply disappeared. Her imposing mortuary temple stood empty. And Thutmose III set about erasing any trace that she had ever existed. He had royal documents revised to make it appear that he had inherited the throne directly from his father. He had statues of his stepmother smashed and her cartouches and images erased from all monuments.
His animosity toward his stepmother appears to have been mutual. Hatshepsut had surrounded herself with a network of advisors whose loyalty she trusted. Among them was Senemut, whom some Egyptologists believe was also her lover. Though he had been close to Hatshepsut throughout most of her reign, Senemut appears to have allied himself with Thutmose III—and quickly fell out of Hatshepsut's favor.
Or did they hate each other? That, too, is a mystery. Ancient Egyptians believed that the obliteration of all traces of a person's life led to a horrendous and permanent death ever afterward—and the belief was that that was Thutmose III's intent toward his stepmother.
More recently, though, Egyptologists have begun exploring the possibility that Thutmose III's true motivation was a desire to reestablish Hatshepsut as queen regent rather than king. After all, he was the head of the army, a position granted to him by Hatshepsut herself—and one from which he could have launched a coup, if he had wished it.
Regardless of his intention, the upshot of his actions was that Hatshepsut languished in obscurity until the 19th century, when scholars began deciphering the hieroglyphics on the walls of her mortuary temple. As her story began to emerge, she was portrayed at first as an evil stepmother, wickedly stealing the throne out from under a helpless lad. Fortunately, today she is recognized as the ruler she was: a strong leader, tough but fair, who led her kingdom into an era of peace, prosperity, and artistic flowering. In fact, with her combination of successful military campaigns, great building achievements, and important expansion of trade, Hatshepsut's reign is considered one of the most successful in Egyptian history—not for a woman, for anyone.
As the saying goes, you just can't keep a good woman—or a great one—down.
Chipped Tooth Finally Cracks Mummy Myster
When archaeologist Howard Carter unearthed Hatshepsut's tomb in (appropriately for this female king) the Valley of the Kings in 1903, he was disappointed to find no mummies inside the grand burial site—though perhaps not surprised, given Thutmose III's depredations of his stepmother's memory. As Carter continued his excavations at the site, however, he did unearth another tomb, which came to be known as KV60, almost directly beneath Hatshepsut's mortuary temple.
In KV60, among the coffins of mummified geese, Carter found the mummies of two female humans. One of them was of a small, dainty woman with long, curly white hair comfortably ensconced in a sarcophagus. The other was of a much larger, more buxom woman, found lying ingloriously on the floor. Because the mummies were assumed not to be 'Royal,' they were left where they were until 1989, when the tomb was reopened by Egyptologist Donald Ryan
It was Dr. Zahi Hawass, Egypt's foremost archaeologist, who decided to investigate the possibility that Hatshepsut herself was one of the mummies. But if so, which one was she? And who was the other one?
Not surprisingly, an assumption was made that, if one of the mummies was indeed Hatshepsut, it must be the smaller, more elegant one—especially since she was arranged in a royal pose, with one arm across her breast. That mummy was removed to a third-floor storeroom of the EgyptianMuseum; the larger mummy was left behind in the tomb.
Fortunately, science came to the rescue with sophisticated detection tools such as CT scans and DNA testing. The identification process began in 2007 with CTy scans of both mummies, for comparison with known relatives of Hatshepsut, as well as artifacts known to belong to the female pharaoh.
The clincher, however, was found in a small wooden box containing Hatshepsut's liver (removing internal organs was standard procedure for mummification at the time). This box bearing her cartouche, or seal, also contained a single chipped molar that was a perfect match for a gap in the upper jaw of the larger corpse. DNA testing then proved that that mummy was related to Amos Nefreteri, Hatshepsut's grandmother. The lost king/queen at last was found. The discovery has been touted as the greatest archaeological find in Egypt since the identification of Tutankhamen in 1922.
Nubia: A Lost Kingdom Seeks to Preserve its Past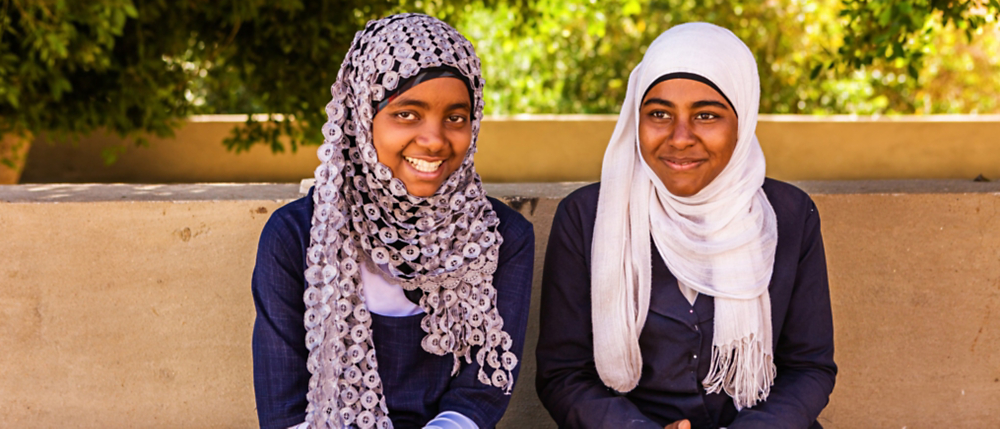 by John Bregoli
More than 5,000 years ago, one of the most advanced and culturally sophisticated cultures that the ancient world had ever seen was blossoming in Africa—and it wasn't just in Egypt. It happened in a land we know today as Nubia.
So where exactly is Nubia? And who are these Nubians?
Nubia refers to a specific region along the Nile that straddles southern Egypt and northern Sudan. It is a land that gave rise to a highly advanced African civilization to rival ancient Egypt in wealth, power, and cultural development. Egyptians called their dark-skinned neighbors to the south "Nubians"—meaning "gold"—due to the abundance of gold and other precious metals in their lands. Over the successive millennia, Nubians were at various time allies and dreaded enemies of the Egyptians (and many would say that this love-hate relationship continues to the present day).
Beginning in about 2,000 BC, Egypt conquered Nubia and dominated its people for some 1,200 years, a period when many aspects of Egyptian culture were adopted by the Nubians. But in 747 BC, Nubia returned the favor and conquered Egypt. Nubian Pharaohs then ruled Egypt for almost a century in what is known as the 25th dynasty (some call it the "Ethiopian Dynasty"). The Nubians' highly successful reign ended in 656 BC, however, when Assyrian armies conquered Egypt.
After the Nubian Pharaohs lost power, they fled Egypt and returned to their southern lands, where they formed the Kingdom of Kush. Now safely isolated from Egypt—which suffered repeated invasions from Assyrians, Persians, and Greeks—the new Nubian kingdom thrived and developed a more distinctly African culture. So much contact with Egypt had already shaped Nubian culture, though, and Nubians worshipped many Egyptian gods, called its rulers Pharaohs, and built Egyptian-style pyramids—lots of them. In fact, there are more pyramids in present day Sudan (homeland of the Kingdom of Kush) than in all of Egypt.
Nubian civilization continued to flourish during six centuries of Roman rule over Egypt, a time when Aswan was Rome's most southerly frontier. Christianity came to Nubia in the fourth century, but in the 15th and 16th centuries (when Arab powers dominated the region), most Nubians converted to a form of Islam. Later, when Sudan officially seceded from Egypt in 1956, Nubia and its people were split between the two countries.
The loss of Nubian history and the suffering of modern-day Nubians—who differ ethnically, linguistically, and culturally from Egyptians—began in the early 20th century, when successive dams built in Aswan by the British began displacing them from their historic homeland. The real loss for Nubia, however, came in the 1960s with the construction of the Aswan High Dam, when the vast reservoir of Lake Nasser basically submerged the entirety of Egyptian Nubia. While priceless Pharaonic temples and monuments were carefully moved piece by piece to higher ground, hundreds of Nubian villages didn't fare nearly as well. Numbers vary, but it appears that more than 135,000 Nubians were displaced. Many left to seek work in Egypt's northern cities, and about 50,000 Nubians were forcibly resettled about 30 miles north of Aswan. More importantly, this resettlement destroyed a way of life. Once surrounded by nature and living off the land and the Nile River in Aswan (old Nubia), most Nubians were now relegated to a desert life in villages built for them in places like Kom Ombo (new Nubia).
The bottom line is that relocation not only made Nubian living more difficult, it has threatened to extinguish Nubian culture. Government-run schools in relocated Nubian villages do not teach Nubian history or languages. Many children may understand Nubian, but they speak Arabic. Although many Nubians are working hard to preserve their language and culture, most can only learn about their proud past through stories from their parents and grandparents.
Sadly, much of the younger generation of Nubians has traded in their traditional dress for jeans and t-shirts. Unfamiliar with aspects of their Nubian heritage, it appears that the new generation of Nubians would prefer to assimilate into Egyptian society or make a go of it in new Nubia–for they have no memories of old Nubia. But older generations of Nubians still cling to the dream of returning to the banks of their beloved Nile.
Recipe: Koshari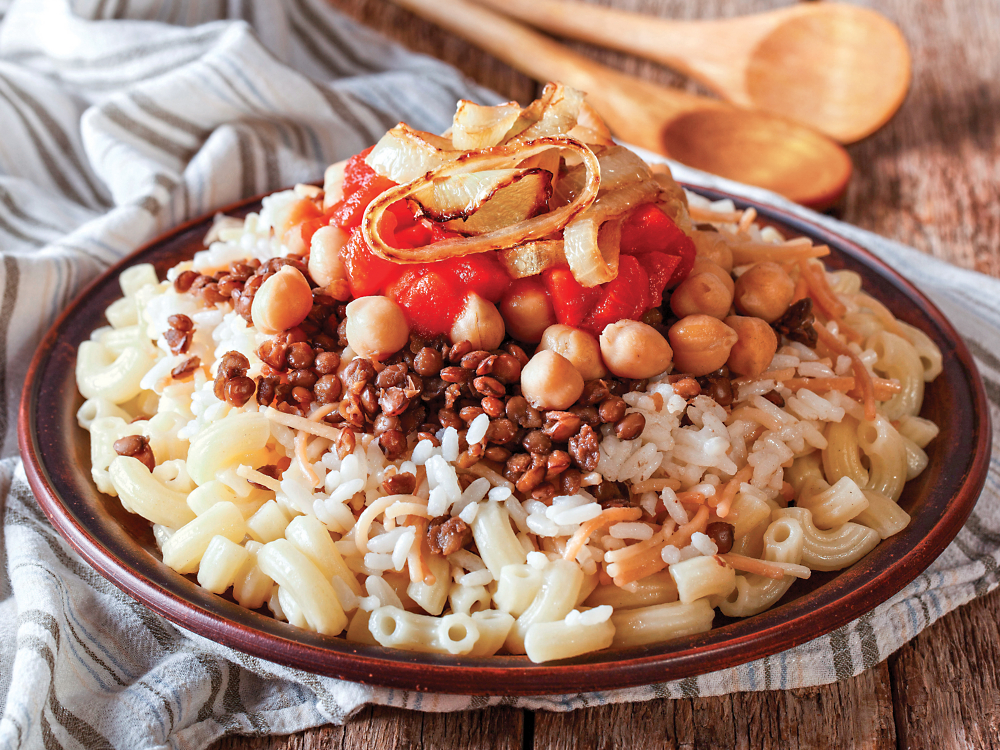 Situated on the Mediterranean Sea in the Fertile Crescent, Egypt boasts a culinary history that is as rich as the land itself, with many of its traditional dishes dating back to the time of the pharaohs. The ancient peoples even documented many of these cooking traditions in wall paintings and carvings. Despite the fact that Egypt sits on an arid desert, its soil historically produced plentiful crops to support the cuisine thanks to a deposit of minerals and nutrients from the Nile River's annual summer flooding. (Note, however, that the building of the Aswan Dam in 1970 put an end to the overflow.)
Egypt also shares a number of culinary traditions with the surrounding eastern Mediterranean countries. While some similarities exist just between the ingredients—such as the use of cumin, dates, or lamb—they often extend to the dishes themselves, from kufta meatballs and falafel to stuffed grape leaves and baklava. Nevertheless, Egypt still maintains a distinct flavor all its own.
Egypt is a vegetarian's dream as most dishes are made with vegetables or legumes because of the high price of meat. Considered Egypt's national dish—if not just its most famous—koshari is a vegetarian meal that could clear out the pantry. Made with rice, noodles, caramelized onions, black lentils, and chickpeas and topped with a spicy tomato sauce, koshari can be found in restaurants or at street carts and should be on every visitor's must-try list.
Ingredients:
3 tablespoons olive oil plus some for sprinkling
1 teaspoon ground cumin
1 teaspoon ground coriander
1 teaspoon paprika
1/2 teaspoon chili powder
1 28-ounce can crushed tomatoes or tomato sauce
Dash of chili or hot sauce
Salt and pepper to taste
2 tablespoons lemon juice
2 medium onions, chopped or sliced
3 cups water
1/2 cup pasta (macaroni, elbow, broken spaghetti, or a mix)
1 15-ounce can chickpeas, drained and rinsed
1/2 cup brown lentils, rinsed
2 tablespoons chopped fresh parsley
Preparation:
Heat one tablespoon of oil in skillet. When hot, add cumin, coriander, paprika, and chili powder. After 30 seconds, add tomatoes or tomato sauce, chili or hot sauce, large pinch of salt, and lemon juice. Simmer for 10 minutes, stirring occasionally, and adjust seasoning to taste.
In a separate skillet, heat two tablespoons of oil. Add onions, salt, and pepper. Stir occasionally, and fry until onions are translucent and golden, about 25 minutes.
In a large pot, bring water and a pinch of salt to boil. Add the rice and cook, covered, for 8 minutes. Then add the pasta, cover, and cook for another 8 minutes or until both are tender. Add the chickpeas, drain mixture, and move to a platter.
At the same time as step 3, bring another pot of salted water to boil. Add the lentils and cook until they are tender, about 20 minutes. Drain and add the lentils to the rice mixture on the platter. Sprinkle the mixture with oil, salt, and pepper.
To serve, top the rice, pasta, chickpea, and lentil mixture with the tomato sauce, caramelized onions, and parsley.
Total Time: 70 minutes