Forgot Your Username?
If you have forgotten your username, please provide your email address in the box below. We'll send you an email with your requested username. If you are having trouble, please call us at 1-800-321-2835.
Email Sent
You'll receive an email in a few minutes. Please check this email to find your requested username.
If you do not receive an email or you are having trouble logging into My Account, please call us at 1-800-321-2835.
Dispatches
This quarterly magazine is filled with notes from the field that celebrate the adventurous spirit of our most experienced O.A.T. travelers. Hear from travelers themselves as they bring their trips to life through letters, stories, photos, and artwork. Other regular features include interviews with our top Trip Experience Leaders, holidays and festivals around the world, book reviews, recipes, and much more.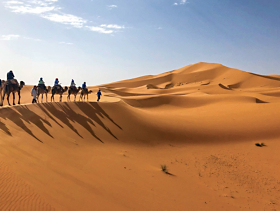 (Vol. 11, no. 3)
Experience Morocco with O.A.T. writer Zack Gross during the observation of Ramadan and discover the range of religious devotion he witnessed on his adventure. Follow along on 16-time traveler Diana White's solo journey through Patagonia and take in the otherworldly-like landscapes that she explored. And find out if a serious fear of heights, a weak ankle, and the threat of altitude sickness will prevent O.A.T. writer Megan Mullin from exploring the ancient Incan city of Machu Picchu.
View Issue
Past Issues