The Leader in Enriching Cultural Experiences since 1958
You're receiving this message because your web browser
is no longer supported
We recommend upgrading your browser—simply click the button below and follow the instructions that will appear. Updating will allow you to accept Terms and Conditions, make online payments, read our itineraries, and view Dates and Prices.
To get the best experience on our website, please consider using:
Safari (for Mac or iPad Devices)
Update Browser

morocco
Get the Details On Our Morocco Adventure
Compare Trips
Find the Adventure That's Right for You
Our Activity Level rating system ranks adventures on a scale of 1 to 5 to help you determine if a trip is right for you. See the descriptions below for more information about the physical requirements associated with each rating.
Travelers should be able to climb 25 stairs consecutively, plus walk at least 1-2 miles over some uneven surfaces without difficulty. Walks typically last at least 1-2 hours at a time. Altitude can range from zero to 5,000 feet.
Activity Level 2:
Moderately Easy
Travelers should be able to climb 40 stairs consecutively, plus walk at least 2-3 miles over some uneven surfaces without difficulty. Walks typically last for at least 2-3 hours at a time. Altitude can range from zero to 5,000 feet.
Activity Level 3:
Moderate
Travelers should be able to climb 60 stairs consecutively, plus walk at least 3 miles over some steep slopes and loose or uneven surfaces without difficulty. Walks typically last for 3 or more hours at a time. Altitude can range from 5,000 to 7,000 feet.
Activity Level 4:
Moderately Strenuous
Travelers should be able to climb 80 stairs consecutively, plus walk at least 4 miles over some steep slopes and loose or uneven surfaces without difficulty. Walks typically last for 4 or more hours at a time. Altitude can range from 7,000 to 9,000 feet.
Activity Level 5:
Strenuous
Travelers should be able to climb 100 or more stairs consecutively, plus walk at least 8 miles over some steep slopes and loose or uneven surfaces without difficulty. Walks typically last for 4 or more hours at a time. Altitude can range from 10,000 feet or more.
Hide Acivity Level
PRICE
including international airfare
HIGHLIGHTS & ACTIVITIES IN MOROCCO
*This information is not available for our trip extensions. You must reserve the main trip to participate on this extension.
**This information is not currently available for this trip. Please check back soon.
Recommended Viewing
Watch this video showcasing what makes this country so unforgettable
ReelEarth: Hope in Marrakesh
Produced by Izabela Cardoso and Fernando Teixeira
Meet a young woman, Asma, and see how the skills taught at Marrakesh's nonprofit Amal Center have helped her and other underprivileged women come together to overcome adversity.
09:47
Recommended Videos
Watch your fellow travelers' favorite films & videos
Old Meets New in Morocco's "Red City"
Courtesy CNN
Let a group of locals, including a female hotel-owner and a writer, take you on a tour of Marrakesh, showing you the city's ancient souks and other hidden gems.
Travelogue: Marrakesh, Morocco 1951
Produced by David Conover & Paul Villanova
See what Marrakesh's popular Jemaa el-Fnaa square and marketplace were like in 1951.
A Trip Through Morocco
Produced by Tom Anders Watkins
In this whirlwind virtual tour, you'll ride a scooter through the Dadès Valley and dance to drumbeats with locals in Djemma El-Fna square.
Morocco: Month-by-Month
There are pros and cons to visiting a destination during any time of the year. Find out what you can expect during your ideal travel time, from weather and climate, to holidays, festivals, and more.
Morocco in December-February
When winter comes to Morocco, it brings dramatically different weather to each unique region of Morocco. In the inland cities like Fez and Marrakesh, days can be warm, with temperatures in the range of 50-60 degrees Fahrenheit, while nights are cool. Along the coasts, winter is mild, but cloudy and rainy. The onset of winter brings fewer visitors to Morocco's sometimes-crowded cities and attractions, and the mild daytime temperatures make exploring comfortable.
Things are slightly different in the Sahara Desert, where days are mild but nights are downright cold, and the High Atlas mountains, where it is truly wintry. There, temperatures drop below freezing, with snow and even skiing—the season for winter sports is brief, however, lasting only a month between the middle of January and the middle of February. Winter sports enthusiasts should be warned that blizzards in the High Atlas can come on suddenly, and ski slopes are rarely groomed.
In February, almond blossoms herald the forthcoming spring season.
Must See
In Morocco's temperate zones, almond trees are a major crop—and in February, they soften a sometimes-harsh landscape with clouds of pink-and-white blossoms. February visitors have the chance to see a more pastoral Morocco, a unique perspective of a country more closely associated with wind-carved desert sands.
Watch this film to discover more about Morocco
Grannies on Safari: Discovering the Wonders of Morocco
Produced by Kathy Monk
Join the Grannies on Safari in Morocco—from the bustling medinas of Fez to the Berber villages of the Atlas Mountains.
Morocco in March-May
Spring is an ideal time to visit many of Morocco's diverse landscapes. In the Sahara, daytime temperatures are warm without the overwhelming heat of the summer. Lucky travelers may witness a far-off sandstorm kicked up by the legendary Sirocco wind (when this wind reaches Europe to the north, it is still carrying Moroccan sand, which it then releases in a red-tinged "blood rain"). In the High Atlas mountains, spring is a perfect time for hiking, with warm days and dramatic waterfalls fueled by melting snow.
Elsewhere in Morocco, the countryside is surprisingly bucolic, as wildflowers and sprouting greenery paint the landscape a rainbow of springtime hues. In cities like Marrakesh and Fez, the narrow and sometimes-crowded medinas have not yet reached summertime capacity, and mild days make exploring enjoyable.
Holidays & Events
May-July: Ramadan falls during the ninth month of the Islamic calendar, which in 2018 straddles the Gregorian calendar's May and June. Muslims fast during the daylight hours, so many restaurants operate during limited hours or close altogether. However, the chance to see families breaking their fast and celebrating together after dark more than makes up for any inconvenience.
Early May: Locals in the Dades Valley, a sea of pink Persian roses, celebrate the rose harvest with a festive—and floral—festival that involves music, dancing, a pop-up souk or market, and the crowning of a Rose Queen.
May: The World Sacred Music Festival brings outdoor concerts of all types of world music to the Fez medina for a week every May.
Must See
With an ideal climate for visiting the desert, spring is the time to watch the sun rise and set over the red-gold dunes of the Sahara.
Watch this film to discover more about Morocco
Grannies on Safari: Discovering the Wonders of Morocco
Produced by Kathy Monk
Join the Grannies on Safari in Morocco—from the bustling medinas of Fez to the Berber villages of the Atlas Mountains.
Morocco in June-August
When summer heat descends on Morocco, some areas remain livable while others are downright hostile. The Sahara desert becomes unbearably hot for everyone except the resident snakes and insects. Marrakesh and Fez are hot too, with highs climbing toward 95 or 100 degrees Fahrenheit. It helps that humidity is low throughout the country, and Moroccan buildings themselves mitigate heat, with thick walls and fountain-studded inner courtyards. Cooler nights, when temperatures drop into the 60s, offer a respite from the sometimes-stifling heat.
Despite the heat, summer is the most popular season for Moroccans themselves to travel, since school is out. Locals and visitors alike head for the two coasts—the Mediterranean in the north, and the Atlantic to the west. Beach towns like Essaouira, Assilah, and Agadir benefit from a cool breeze off the water, and shorelines are crowded all summer long. The High Atlas mountains also remain comfortable, with their high altitude keeping the temperatures moderate.
Holidays & Events
May-July: The Gnaoua World Music Festival enlivens waterfront Essaouira with a mix of traditional sub-Saharan folk music, plus a dash of jazz, pop, and rock for good measure. Two main stages host free concerts, while tickets can be purchased for more intimate shows throughout the small beach town.
June or July: For a month every summer (the timing depends on the year), frenetic Marrakesh steps up the energy even further with the Marrakesh Popular Arts Festival. Fire dancers, snake charmers, storytellers, singers, and entertainers of every stripe descend on the medina for the city's oldest festival, founded by King Mohamed V in 1959 to preserve Morocco's traditional heritage.
Must See
Despite the heat, summer is a rewarding time to visit Morocco—two world-class festivals put Morocco's rich cultural heritage on display, giving visitors a whirlwind introduction to the country's outstanding traditional arts.
Watch this film to discover more about Morocco
Grannies on Safari: Discovering the Wonders of Morocco
Produced by Kathy Monk
Join the Grannies on Safari in Morocco—from the bustling medinas of Fez to the Berber villages of the Atlas Mountains.
Morocco in September-November
In a land of extremes, fall is the one time of year when Morocco's diverse regions reach a happy medium. From the Sahara desert to the High Atlas Mountains, and from the inland cities of Marrakesh and Fez to the Atlantic and Mediterranean coasts, the weather is warm and comfortable—although savvy travelers pack an umbrella in November, Morocco's rainiest month. Overall, fall is an excellent season for mountain hikes and desert trekking.
In the cities, summer crowds have dissipated, making this an easy-going time to explore. South of Ouarzazate, in the oases of the Draa Valley, fall is the season for date-harvesting and celebratory harvest festivals.
Holidays & Events
September: Tanjaz Festival. Held annually for three to five days in September, this international jazz festival takes place in multiple locations in Tangier featuring renowned artists as well as emerging musicians. Workshops are also available throughout the city for those interested in music and dance.
Early October: Erfoud Date Festival. The exact dates (no pun intended) depend on Mother Nature, but for three days every fall, Erfoud celebrates its abundant date harvest with prayers, parades, camel races, and feasting.
Must See
In September, nomadic Berber communities move down from high elevations, where they spend the summer, to the lower slopes of the High Atlas and Rif mountain ranges. Goats, sheep, tents, and entire multi-generational families are along for the trip, but this way of life is quickly vanishing as younger Berbers begin to live more stationary lives in Morocco's cities.
Watch this film to discover more about Morocco
Grannies on Safari: Discovering the Wonders of Morocco
Produced by Kathy Monk
Join the Grannies on Safari in Morocco—from the bustling medinas of Fez to the Berber villages of the Atlas Mountains.
Average Monthly Temperatures
Morocco Interactive Map
Click on map markers
below to view information about top Morocco experiences
Click here to zoom in and out of this map
Tangier
Europe's gateway to Africa, Tangier has guarded the Strait of Gibraltar for centuries. The labyrinth of ancient lanes in the Old Medina twist and turn throughout the city, contained by the walls of a 15th century fortress. This Moroccan enclave has influences from France, Spain, Portugal, and north Africa, mixing to form a thriving cosmopolitan culture that has captivated artists and philosophers the world over.
Tangier's white-walled lighthouse greets visitors, just as it has for over 150 years. Cape Spartal rises 1,000 feet above where the Mediterranean and the Atlantic meet. These panoramic views are in stark contrast to the city center. In the middle of Tangier, the bustling Grand Socco central square offers a cacophony of sight and sound. Here, the souk (market) is a multi-sensory experience with intoxicating aromas of exotic spices wafting through the air, while vibrant fruit stalls and shops selling artisanal goods abound at every turn.
Explore Tangier with O.A.T on:
Featured Reading
Immerse yourself in Morocco with this selection of articles, recipes, and more
ARTICLE
Morocco's lively, but sophisticated aura has inspired countless writers—discover its significance in the literary world.
RECIPE
Is there a more perfect pairing than savory and sweet in the culinary world? Find out for yourself with this recipe for a traditional bastilla.
ARTICLE
Live vicariously through the experiences of an O.A.T associate's memorable adventures in Morocco.
Morocco as Muse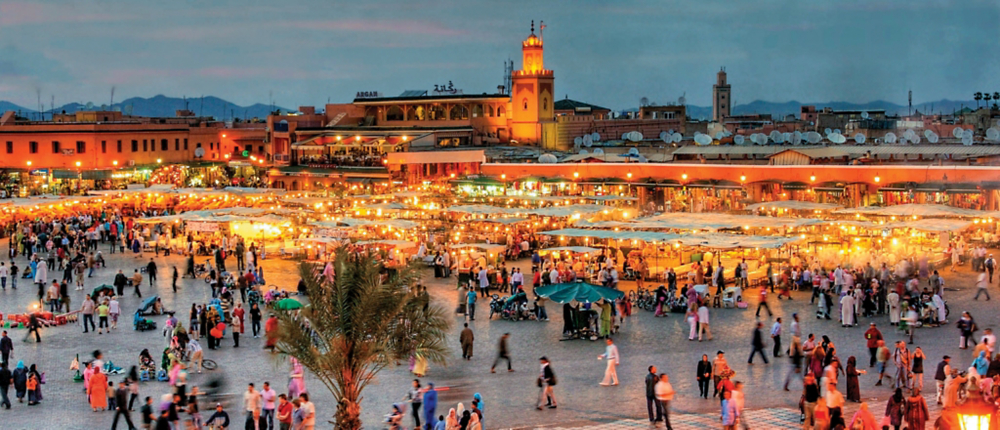 Ex-pat writers in Morocco
by David Valdes Greenwood, for O.A.T.
Paul Bowles, the American ex-pat writer most inextricably associated with Morocco in the minds of many Western readers, once described how it was that he first became hooked on the North African country he would eventually call home. "What I saw … awakened a wish to see more, a wish which seemed to grow even as it was being satisfied." Morocco, with its blend of indigenous Berber traditions, Arab influences, and European arrivals, is at once sophisticated and exotic, a heady feast for the senses with a rhythm all its own. It's no wonder then, that, like Bowles, so many of the 20th century's greatest writers were drawn there.
Marrakesh & Casablanca: Danger and delight
The first Western writer to make a splash with his accounts of Morocco was George Orwell—who found his time in Marrakesh both captivating and troubling. One of the most bustling cities in Africa, Marrakesh is also one of the oldest, continuously inhabited since the end of the Stone Age. Orwell was not an optimist by nature, though he was an idealist at heart. Having fought in the Spanish Civil War and then returned to his native England to treat a neck wound, he moved to Marrakesh to recover on the eve of World War II.
In "Marrakech," a widely re-published 1939 essay known for its vivid description and powerful analysis, Orwell paints a portrait of local life. The essay opens with flies darting after a corpse and ends with black soldiers conscripted by the French, and scenes of poverty and racial inequity follow one upon the next in between. Each scene turns on its injustice: for example, when he feeds pieces of a baguette to a gazelle in a park, a stranger shyly points out that bread would also make a good meal for a hungry human. Even so, the romance of Morocco—camels, orange groves, palm trees—lingers around the edges of his view, beauty as undeniable as the hardship.
The same year as Orwell's essay came out, French writer and pilot Antoine de Saint-Exupéry published accounts of his time flying commercially and for the military in Morocco. Saint-Exupéry was at home wandering the streets of Casablanca, and often holed up in Le Petit Poucet, a popular bar. But his love of Morocco was put to the test when he crashed into the Sahara during a flying race. Instead of leaving Morocco, he used the environs that almost claimed him as the inspiration for his two greatest works: his memoir Wind, Sand, and Stars, and his celebrated children's book, The Little Prince, a few years later.
Tangier & Fez: From the Beats to Bowles
For many Americans, the city that put Morocco on the literary map was Tangier. Allen Ginsberg ... William S. Burroughs … Jack Kerouac. That roster sounds like the syllabus from a class on the Beat Generation of poets and novelists. With their desire to reject the norms of American culture, a shared penchant for recreational drug use, and interest in other traditions, the Beats were drawn to Tangier, which struck them as possessing the right mix of anti-materialism and distance from their own society. Burroughs was the first to arrive of this trio, inviting the others as he came to know them. The bar of the hotel Tanger Inn became the setting for poetry readings, late night debates, and many a drunken hour for the Beats.
Joining them at the bar was at least one new companion, Paul Bowles, who admired the men for their minds but didn't like their writing that much—and never considered himself a Beat. Bowles, author of Sheltering Sky, is well known for his life in Tangier, but he also spent time in Fez, with its medina that ranks as the largest car-free plaza in the world. Fez was Bowles' second home in the desert kingdom, and he often spent weeks or months at a time there throughout the five decades he lived in Morocco.
From the first trip in 1931, he appreciated the way Fez was holding on to the flavor of ancient eras. "Tangier had by no means prepared me for the experience of Fez, where everything was ten times stranger and bigger and brighter. I felt that at last I had left the world behind," he wrote in his autobiography. Again and again, he returned over the years. "Fez was fascinating.… I spent much time wandering in the medina," he wrote. "I love to wander. I love to spend months there …"
In the 1950's, he began a novel set in Fez. "I wanted to write a novel using as backdrop the traditional daily life of Fez, because it was a medieval city functioning in the 20th century." But civil unrest was beginning to crescendo, leading to Moroccan independence. As a result, he chronicled not the preservation of old ways, but the dawn of a modern age. The result was The Spider's House, critically acclaimed as his greatest masterpiece out of more than 30 books.
From this book comes a great description of why Bowles—and his fellow ex-pats—felt a need to capture their Moroccan experience in words and then share them. "The only thing that makes life worth living is the possibility of experiencing now and then a perfect moment. And perhaps even more than that, it's having the ability to recall such moments in their totality, to contemplate them like jewels."
Ex-pat writers in Morocco
Beyond the Tagine
Morocco's exotic meat pie
by Alison Rohrs, from Dispatches
For most Americans, Moroccan cuisine is synonymous with couscous and tagine, a meat-and-vegetable stew that's slow-cooked in a conical clay pot that gives the dish its name. In middle-class Moroccan homes, these two filling dishes are indeed the centerpiece of most meals. But on special occasions, the spectacular palette primer for these main courses can be a feast in itself: a sweet-and-savory pie called bastilla.
Topped with powdered sugar and cinnamon, bastilla disguises itself as a decadent desert. Its flakey pastry is made from layers of warqa dough, which is thinner and more elastic than Greek filo dough or the French millefeuille. Surprisingly, though, this delicate crust gives way to a bold filling of eggs, toasted almonds, and a squab curry infused with saffron, garlic, and ginger.
Ingredients:
Chicken Layer:
1 whole chicken or Cornish game
hens (approximately 2 pounds)
2 large onions, finely chopped
1 cup of parsley, finely chopped
2 Tbsp. of vegetable oil
1 tsp. of ginger powder
1 tsp. of cinnamon powder
1/4 tsp. of turmeric powder
Large pinch of saffron
1 tsp. of salt
1/4 tsp. of pepper
2 cups of water
Egg Layer
6 eggs, beaten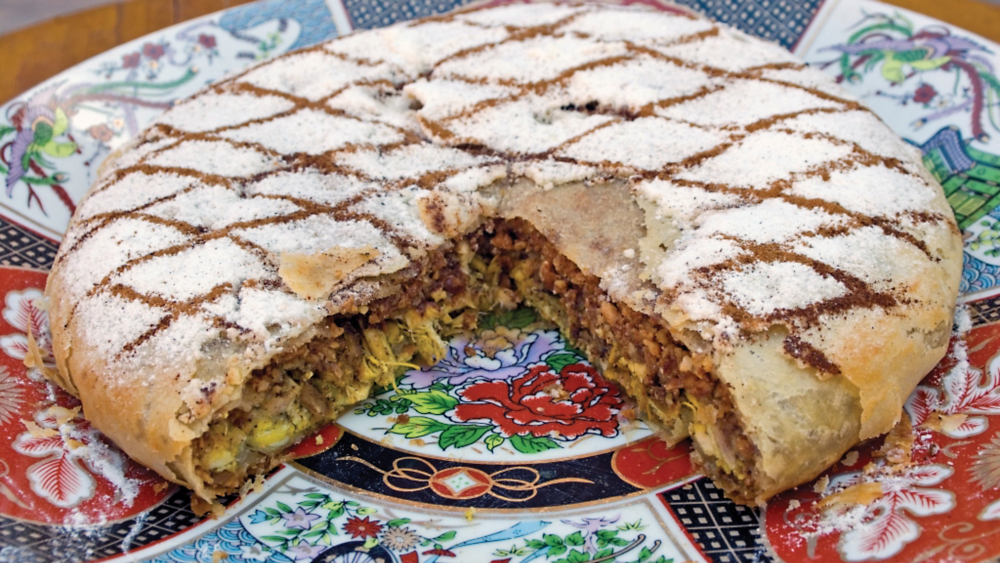 Almond Layer:
10 oz of blanched almonds
4 oz of powdered sugar
2 Tbsp. of orange blossom water
1/4 of a teaspoon of cinnamon
powder
Oil for frying
Pastry:
Filo dough (a substitute for
Moroccan warqa dough)
1 stick of butter, melted
1 egg yolk
Preparation:
Prepare the Chicken Layer:
On high heat, pour the oil in a large pot. Add the onions, parsley, and spices. Mix well. Place the whole chicken on top of the onion mixture. Cover the pot and let the chicken cook for 10 minutes. Then, add water to steam the chicken. To keep the sauce thick, 1-2 cups should suffice. Cover the pot, and let the chicken cook for an additional 30 minutes. When the chicken is cooked, remove it from the pot, but leave the sauce in the pot. Let the chicken cool, and then separate the meat from the bone. Shred the meat into small pieces with your hands.
Prepare the Egg Layer:
Add the 6 eggs to the sauce where the chicken was cooked. Lower the heat, and stir the eggs to incorporate. Do not cover your pan, and let the sauce evaporate. Stir occasionally. The egg mixture should become dry after 10-15 minutes, like scrambled eggs.
Prepare the Almond Layer:
In a separate pan, fry the almonds in the oil until they become golden brown. Remove excess oil from the almonds. (Reserve one tablespoon of the oil from the almonds and mix it into the chicken pieces.) In a food processor, combine the almonds with the powdered sugar, cinnamon, and orange blossom water until the almonds are crushed. The texture should remain coarse.
Fold the Layers into the Pastry:
Brush your baking pan with melted butter. Fold filo pastry sheets into 2 and put 3 layers in the middle of the baking pan. Place folded pastry sheets around the baking pan where 1/3 of their length is overhanging the edge of the pan. Brush the pastry with melted butter. Spread the egg mixture in the middle of the pan. Cover it with 2 layers of filo pastry. Brush the filo pastry with melted butter. Spread the chicken pieces. Cover them with 2 layers of filo pastry. Brush the filo pastry with melted butter. Spread the almond mixture. Cover it with 2 layers of filo pastry. Brush the filo pastry with melted butter. Carefully fold over the filo dough on all sides and brush the top of the pastry with melted butter and egg yolk. Add 3-4 layers of filo dough pastry on top and tuck them in the bottom of the pie. Brush the surface with melted butter and egg yolk.
Bake & Garnish:
Preheat the oven at 350 degrees. Bake the bastilla for 20-30 minutes or until golden brown. Dust the baked bastilla with powdered sugar and cinnamon over the top. Serve warm.
Morocco's exotic meat pie
The Spell of Fez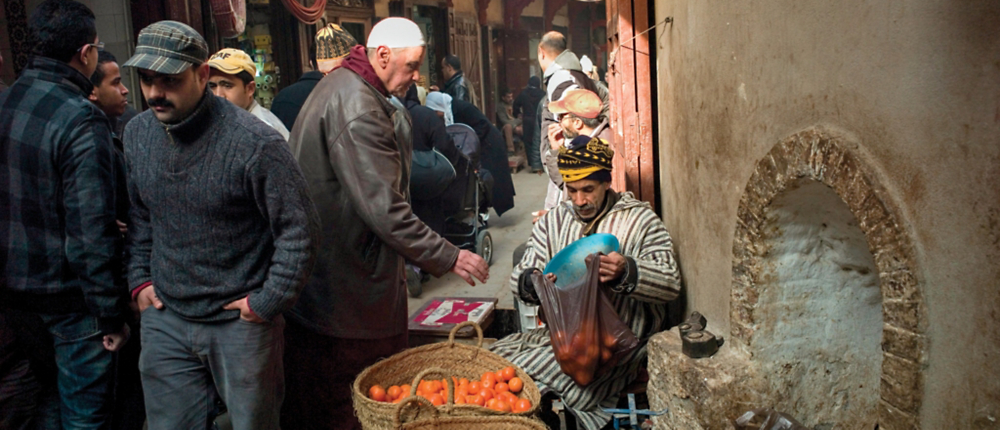 How one O.A.T. associate was left enchanted
by Amanda Morrison, from Dispatches
Early April, 2014, and there's a tranquil stillness in Volubilis—an ancient Roman city of impressively well-preserved ruins. We brave a baking, dry heat to explore what's left of its second- and third-century houses, all of which have intriguing names. The House of Orpheus, god of music. The House of Venus, and the Bathing Nymphs.
Although none of the houses have ceilings, most of them have mosaic-lined floors—they're covered in windswept sand. Inside the House of the Acrobat, our local guide leans over a half-wall, pouring from his water bottle until the tiles below are drenched, and a vivid scene springs to life: an athlete rides in reverse on horseback, clutching a trophy cup, his victory scarf adrift in the wind. In an adjoining room, we wet the contours of a mermaid's tail, its fin a bright aquamarine. We wander from house to house, watering the floors, awakening a pantheon of goddesses and gods.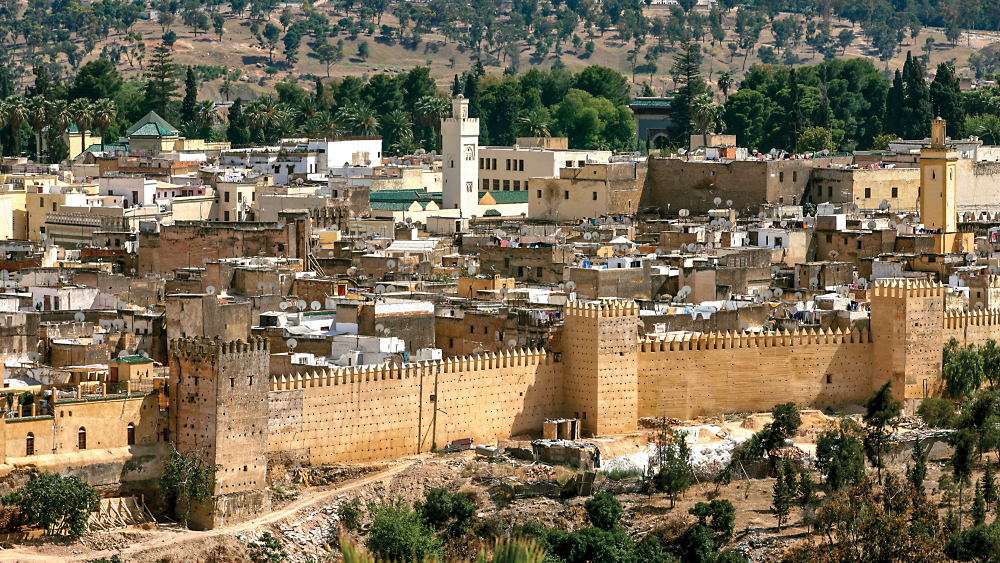 The House of Trust
The next day, I awake in Riad dar Dmana—"The House of Trust"—in Fez. A riad is a Moroccan bed and breakfast, with an inner-facing courtyard where meals are often served. It's time for breakfast, the smell of msemmen—a Moroccan crepe you drizzle with honey—comes wafting under the door of my room.
Descending the stairs, our Trip Experience Leader, Chakib, is taking a headcount of our group—16 of us, from all corners of the States. We're only five days into our trip, and yet we've already established an easy camaraderie. Felice pats a place for me to sit at a cushioned-seat table, where Roberta asks, "Would you care for coffee?" and Jordan suggests, "Try the juice—I think it's tangerine." It's pulpy, freshly squeezed, sweet and cold.
A couple of days ago, in Rabat, Chakib gave us an Arabic language lesson, teaching us a handful of helpful phrases. These included "Yallah," or "Let's go," which he says to us now as we head out the door for a full-day exploration of Fez.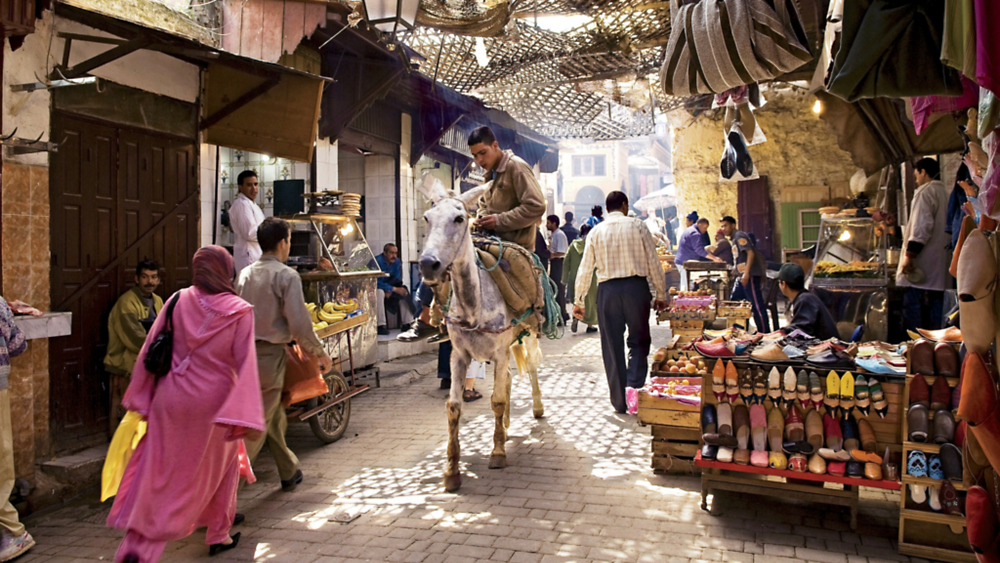 Skirting the edge
We start by driving through the Ville Nouvelle—or New Town—constructed in 1912 when the French occupied this region. We're on Avenue Hassan II, a wide, tree-fringed boulevard replete with stylish storefronts—Chakib describes it as "the Champs-Élysées of Fez." We pass bloom-bursting violet Jacarandas, Seville trees drooping beneath heavily clustered, fiery oranges, and cafés filled with men who are facing the street, nonchalantly sipping mint tea (the national drink), nuss-nuss (half coffee, half milk), or Diet Coke, which, throughout our travels, becomes as ubiquitous as spotting sand in the Sahara. Chakib explains that women still aren't generally welcome in cafés despite Morocco's recent progressive reforms. It's one moment, of many, where I'm reminded I'm far from my home of Boston, where the list of cafés and bars I've been to is longer than a New England winter.
In another section of the city, our bus pulls over. Disembarking, we're introduced to Idriss, our local guide for the day. He's wearing a loose-fitting djellaba, a hooded robe commonly worn throughout the country. He characterizes our surroundings, Fez el-Jedid, as a "newer" part of the city, which is humorous, considering it dates back to 1276.
He leads us into its mellah, or Jewish quarter, where only a few dozen Jewish families remain. We enter the tucked-away, nearly hidden Danan synagogue, which is among the oldest in North Africa. Venturing downstairs, below the Torah Ark, I happen upon a water-beaten bowl above a mikve, or purification bath. Rainwater idles in its basin—the air is exquisitely cool and cavernous.
Afterward, we stroll over to the nearby Royal Palace, with seven magnificent brass doors—one for each day of the week—closed in a commanding row of golden shields. Its knockers are emblazoned with symmetrical 8-pointed stars, which symbolize harmony and paradise in Islam. I resist the urge to knock.
Rejoining our bus, we drive until we reach a steep incline, making our way up a hill topped by massive tombs of the Marinids, the dynasty that led Fez to its Golden Age. We're invited to alight for a panoramic view of the medina, or old city, of Fez el-Bali—a walled-in, wall-to-wall urban apiary founded by Idris I, the grandson of the prophet Muhammad, between AD 789 and 808. Our Idriss describes it as Morocco's cultural keystone, its spiritual center, and handcraft capital of the kingdom. It's a city within a city, the largest medina in Africa, and with an enthusiastic "Yallah!" we're driven straight to its edge, to a point where cars can no longer pass.
Intoxicating scents, sights, and sounds
Just outside of the medina, Idriss tells us to watch our step as we exit the bus. It's daunting to imagine the billions of footsteps that have sculpted this hard-packed ground—uneven as it is, there's a remarkable solidity to it.
Bisecting an unmistakable plume of spoiled milk, the air clears as Idriss guides us through the medina's oldest alleyways, dating back to the ninth century. At some points, they're little more than two feet narrow, flanked by soaring, solid stone, or abraded bricks between which all the mortar's worn out—as if you could jiggle and pull them out like loose teeth. Women in headscarves avert our eyes, ducking into darkened doorways. Little boys in soccer jerseys blithely play in a corroded fountain; upon hearing a camera click, they look at our group reproachfully.
But it's a challenge to not ache to capture everything we're witnessing, especially as we enter the thread-thin paths of the bustling souks, or markets. Imagine an hourglass in which you are a grain of sand, and along every millimeter of glass you pass, there's an archaic storefront, chock to the brim with goods. The souks are divided into sections, but as newcomers, we're unfamiliar with the method to the madness, and as surely as it feels like we've stepped back in time, I only want it to slow down.
Surrounded by produce, we catch briney whiffs from bowls of olives—pitch-black, dark purple, and light green tossed with harissa, a spicy red pepper paste. A heady, iron musk envelops us as we pass camel heads, black-eyed and expressionless on a platter. Bouquets of citrus burgeon from vibrant troves of oranges, apples, and pears. A butcher hoists a live chicken from a basket set on a scale, negotiating with a customer as he reaches for his knife. In a bright, white-tiled stall, silvery sardines glisten beside a heap of prawns, and although we're far from the ocean it smells like we're standing on the shore, gripped by a gust of salty sea air.
The deeper in we go—past laboring brass- and woodworkers, the glittering wares of jewelers, throngs of radiant scarves and babouches, or Moroccan slippers—the more narrow the pathways become. And of the Arabic phrases we learned from Chakib, we now hear "Balak!" or "Get out of the way!" in application as donkeys—"We call them Moroccan Land Rovers," Chakib had said—storm by, a blanket and gigantic bundles strapped to their backs. They incite us to frequently look down and watch our steps. And although its funk and potency hits us first, jet-black rivulets snaking down the gutters of the street tip us off that we've arrived at the dyers' market, and Fez's famous Chouara tanneries.
The stairway we climb is steep and winding. It occurs to me that, without Idriss, I wouldn't have the faintest idea of how to get back to our bus. From the darkened stairwell we advance toward a patch of light, and then we're standing on a terrace, high above colorful honeycombed pools into which sheep, goat, cow, and camel skins are dipped to make leather goods. The smell is righteous—some of the vats contain cow urine and quicklime, water and salt to scald the hairs from the skins; others bracket water and pigeon poop—its ammonia acts as a softening agent; and the most kaleidoscopic of the tubs contain murky yet lustrous dyes derived from plants—mint greens, saffron yellows, poppy flower reds, henna oranges, and indigo blues. It's all intoxicatingly pungent—the distillation of a thousand county fairs. Idriss hands us stems of mint, saying "Crush the leaves and hold them up to your nose," and we do. The relief is instant.
Peering over the railing, we watch as dyers step nimbly along the vats' edges, scaling between tight-ropes and catwalks in diameter. On the roofs of neighboring terraces, soaked hides have been hung or laid to dry. And in the distance, you can spot the peak of the nearby Karaouiyine mosque—its emerald-tiled minaret soars high above the medina, the endpoint of a band of colors you can trace from the dye pools to sky.
Serenity now
Later that afternoon, we've acclimated a bit—sensing an incoming donkey rush by the sudden stamping of feet, and recognizing the grouping of souks more easily, and yet they're just as full of surprise—there seems to be an entire block devoted to nougats, and in an in-between shadowy curve, a man sells baby turtles out of a cardboard box. We've nearly reached sensory overload, and as if Idriss can read our minds, he motions for us to follow him into the Medersa el-Attarine, a former Islamic school.
With the exception of an ablution fountain in the middle of its courtyard, it's an empty, soundless vacuum. Describing the school as "empty," however, says nothing of its artisanship, which is outstanding. Like all religious buildings in Morocco, it features five elements of design: marble, carved cedar, chiseled plaster, calligraphic inscriptions, and zellij, or tilework.
We gaze up and around in wonderment, awed by the incredible attention to detail. The zellij repeats in mesmerizing patterns, and unlike the mosaics of gods, goddesses, and wildlings we encountered in Volubilis, none of this ornamentation depicts animals or humans, as Islamic law forbids it. No icons or idols are to stand between man and Allah, or God.
Idriss tells us that the medersa was established in 1325, and students would come here to study—with the goal of memorizing—the Qur'an, the most religious text in Islam. This could take years, as the Qur'an contains more than 6,000 ayahs (verses) spanning 114 suras (chapters). Some students would move on to become imams, or Islamic scholars and leaders of worship (one of whom we'd have the pleasure of meeting later on in our journey).
I could barely commit our 14-day itinerary to memory before I left for this trip. Although no amount of literature could've truly prepared me for the serenity of this space. It's as if we're standing in the eye of the medina—still and calm.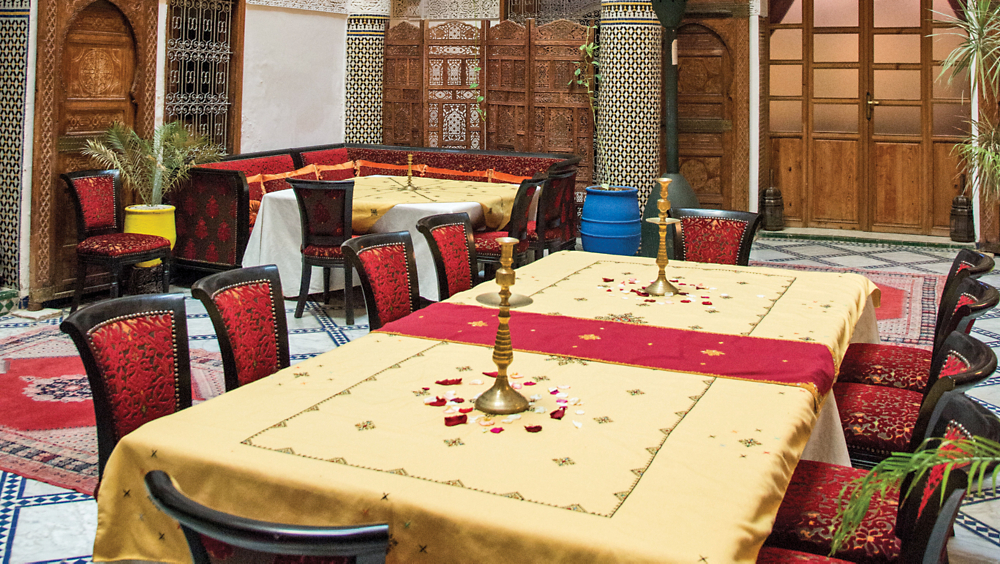 Nightcaps
That night, back at the House of Trust, I share a nightcap in the courtyard with some of my companions—Vijay, Maureen, and Lillian—while sharing reflections about our day. As things wind down, someone mentions having gone up to the roof, which overlooks Fez el-Bali. Wishing everyone goodnight, I decide to check it out for myself.
In the quiet presence of potted plants and patio furniture, the air is refreshingly cool, and glowing flecks of light flicker throughout the darkened medina. To my right, a floodlit minaret will sound the first call to prayer just before dawn. Tomorrow, we'll be taking a long drive south to Erfoud through the Middle Atlas Mountains, and hopefully all of this will start to sink in. I have already seen, and smelled, and felt so much, and I haven't even been to the desert yet …
How one O.A.T. associate was left enchanted