How would you explore the world if nothing was holding you back? Would you relax in the thermal waters in the Tuscan spa town of Montecatini … behold the Great Pyramid of Khufu, the last of the remaining Seven Wonders of the Ancient World … or practice German while sampling Stollen—a traditional fruit bread—in a local home?
You have the freedom to create your own experience, one that's tailored to your needs and fulfills your travel dreams. When you choose Grand Circle as your travel partner, you'll find that traveling "solo" isn't a decision to venture alone. In fact, many of our independent travelers bring their friend, mother, sister, or daughter to share their passion for discovery.
---
The Grand Circle Solo Travel Experience

Hear from a solo traveler on why she explores the world with Grand Circle
Why Travel Solo with Grand Circle?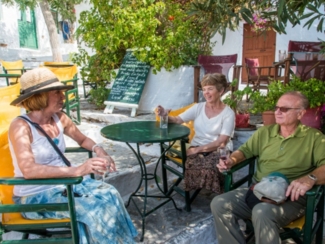 Camaraderie & Community
Whether you join us independently, or bring a friend, sister, or daughter, you'll take comfort in knowing that the size of our groups fosters a sense of camaraderie. So however you choose to travel with us, you'll make life-changing memories with people who share your passion for discovery.
Local Program Directors
Our local Program Directors are natural leaders, ready and eager to make you feel part of the group as they accompany you throughout your entire trip. They're with you every step of the way and take pride in connecting you with members of the communities we visit. Under their guidance, you'll feel included, relaxed, and open to new experiences.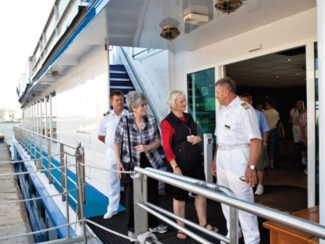 Comfort & Security
Your security is our first priority. With 36 offices around the world, our regional associates know our trips inside and out and can assist you at a moment's notice. Safety is paramount aboard our Grand Circle river ships, too. Ship staff monitors the front desk 24/7 and are always available to advise you about where to go and how to get there. We always reserve safe docking space, often centrally located, and provide local maps at each port of call, clearly labeled with the dock location.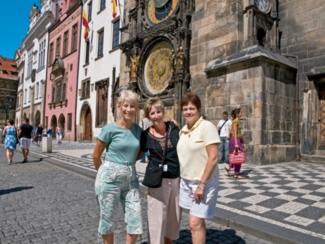 FREE or low-cost Single Supplements
Solo travelers shouldn't have to pay a premium to explore the world, so we offer low-cost Single Supplements on all trips and FREE Single Supplements on all pre- and post-trip extensions. If no single rooms are available, don't let that stop you from traveling—consider bringing a friend, mother, sister, or daughter along to share your experience.
Traveler Stories

Hear from our travelers—in their own words—about what it's like to join Grand Circle on their own or with a friend

Frequently Asked Questions
Aboard Grand Circle Cruise Line's fleet of award-winning ships, we offer several Single Supplement options. With Grand Circle Travel, Single Supplements are FREE on all Grand Circle Tours—and our Norwegian Fjords, Lapland & Finland Voyage Cruise Tour features a low-cost Single Supplement. And whatever your preferred travel style, you'll benefit from FREE Single Supplements on every optional trip extension.

Yes. When you take advantage of our FREE Roommate Matching Program, we'll help you find a same-gender roommate. And if we're unable to find a match, your Single Supplement is FREE.

Absolutely. When you reserve your vacation, you'll receive detailed information about your destination, the Grand Circle travel experience, suggested reading and movies, and more. What's more, your Program Director will reach out prior to your departure—so that you can share your hopes and special requests for the vacation ahead.

Yes. Please visit our active online "Community" section of our website to connect with other travelers within our Travel Forum, and then join us on Facebook!

You'll be in the hands of our expert local Program Directors, who strive to make every traveler—especially solos—feel welcome, comfortable, and included. Whether you need help ordering a meal at a local restaurant or wish to pursue special interests, your Program Director will be ready and happy to assist you.

Travelers who take advantage of our free or low-cost Single Supplements may not combine this benefit with any other special savings, including last minute travel deals and offers. We are committed to supporting our solo travelers in exploring the world, but we can no longer give additional savings to our solo travelers without impacting the overall price of trips for all of our travelers. While travelers taking advantage of free or low-cost Single Supplements may no longer combine this benefit with any other special savings, please keep in mind that you may continue to receive additional savings with our Vacation Ambassador Referral Program, Frequent Traveler Credit program, Multiple Trips Benefit, and Good Buy Plan.
One-on-One Time with Mom along the Rhine & Mosel
Linda Lahti, 12-time traveler, from Negaunee, Michigan
Since I live in Michigan, and my mom, Julia, lives in Alabama, we don't get to see each other that often. Actually, aside from our travels together, we only get together about four times a year. That's why our trips together are so important. Although I enjoy traveling with my husband, there's something special about traveling with my mom (along with the fact that I only need to be in charge of packing one suitcase, rather than two, which happens when I travel with my husband).
When I was younger, my family (I have two older brothers) and I traveled around a lot since my father was in the Air Force. My mom and I have continued to share our love of exploring new places and have since traveled to Australia, Greece, the Netherlands, and on Grand Circle's Romance of the Rhine & Mosel River Cruise.
We've realized that traveling together has given us wonderful opportunities to meet other mothers and daughters traveling in our groups. My mom really wanted to visit Holland to see the beautiful blooming flowers, so we traveled to the Netherlands. During that trip, we met two other mother/daughter pairs—and we all got along so well that during some of our free time, all of the mothers broke off on their own, while all of us daughters went our own way.
My favorite moment occurred during the first evening of our trip. We embarked on our journey on my mom's birthday, but decided to keep this detail to ourselves. That's why, when we were sitting and enjoying our post-dinner conversation in the dining room that first evening, we were incredibly surprised to see a group of servers and ship staff running around our table, carrying a cake with sparklers. The servers placed the cake in front of my mom and began to sing.
I will never forget the joy on her face and how she told me how special she felt when the Captain and all of the staff personally wished her a happy birthday. I wish I had my camera to show others her face … and although I don't have the physical evidence, I know it's something I'll never forget.
My trips with my mom give us a chance to have our special one-on-one time. It's an opportunity to have memories that no one else but we can share. It's just me and her.
Traveling Solo in Eastern Europe
by Vicki Campbell, 6-time traveler from Juneau, Alaska
I've done quite a bit of solo travel over the years, because I often like to be fully independent when I'm in another country. I enjoy branching out on my own, and making quick decisions that aren't as easy to make when you're on a trip with others. I enjoy that type of autonomy.
There are other times, though, when I would like to be taken care of when I travel solo. And Grand Circle does that very well.
I embarked on Grand Circle's Eastern Europe to the Black Sea trip, and found it to be a very comfortable and enjoyable cruise. We had three days in Budapest at the beginning of the trip, which allowed plenty of time for exploration—something I greatly appreciated. I particularly enjoyed soaking in the wonderful hot thermal baths of Sze'cheny, Rudas, and Gellert, taking the funicular, and discovering the Buda side of the city. One of my favorite parts of the trip was attending the opening of a ballet at the main Opera House in the city. I did that on my own, and I liked that the itinerary afforded us the chance to discover things like that independently.
Our Program Director, Boyana, was very bright and eager to please. When I originally made plans to go to the Opera House, I asked the staff about public transportation options. Our boat ended up moving to a different dock, so the route to the Opera House changed. Boyana remembered my request, and found out which subways I should take to get there. I didn't end up needing to take the subway—the opera house was only about a 15-minute walk from where we were docked—but I was so impressed with Boyana's effort. She was always willing to listen and help, and that made a big difference in the quality of the trip.
Grand Circle does a good job of introducing you to the people in the country you're visiting. On this trip, I remember our interaction with Roma people very well. The guides were really good about fostering a discussion around what life is like for the Roma—especially all the prejudice they have encountered. Our guide talked about how such prejudice can be unintentional, but that it still happens all the time. I really appreciated the perspective the discussion provided.
There are many things I enjoy about traveling—exploring on my own, having new experiences, and interacting with the locals among them—but perhaps the most important part for me is fun! I certainly had a lot of that on my Eastern Europe to the Black Sea trip with Grand Circle.
Expecting the Unexpected in Southeast Asia
by Renee Paudler, 7-time traveler from West Linn, Oregon
Voltaire once said, "We must cultivate our own garden." As a master gardener, I can certainly relate to that sentiment in a literal sense—I know the hard work that goes into making a garden look beautiful. Yet there is another meaning there: the idea of working to create the experiences you want to have.
I wanted to see some of the world, but my husband is not a traveler. So I knew that if I wanted to take a trip, I was going to have to take the chance of going solo. I wanted to go to Ireland, and a friend had recommended Grand Circle as a solo-friendly company. So I did my research and liked what I found—especially the free Single Supplement, which is a huge benefit.
I signed up for the Ireland in Depth trip, an exciting journey that visits Emerald Isle destinations like the Burren, Blarney Castle, the Ring of Kerry, and Dublin. I enjoyed seeing the Cliffs of Moher—particularly because my group saw them early in the morning, before the rush of tourist buses arrived. And of course, I especially enjoyed some of the beautiful gardens we saw.
Our Program Director, Sean, was a big reason why I enjoyed the trip so much. He gave 110% every single minute of the trip, and always made himself available. I really appreciated that he didn't treat me differently because I was traveling by myself.
I appreciated having freedom to be on my own while I was traveling, but I also enjoyed the connections I made with my fellow travelers. People were very friendly, often inviting me to join them for a walk or sit with them at their table. And I found that I had quite a bit in common with others on the trip. There were several other ladies traveling single, and there were some other vegetarians like me. Best of all, perhaps, there were other master gardeners on the trip. We had a lot to talk about after seeing some of the beautiful gardens in Ireland.
The trip was such a success that I have another one booked with Grand Circle. This time, I'm off on the Holland & Belgium in Springtime River Cruise. I know I'll enjoy so many parts of the trip, but I can't wait to see the Aalsmeer Flower Market, the largest one in the world. Once a gardener, always a gardener!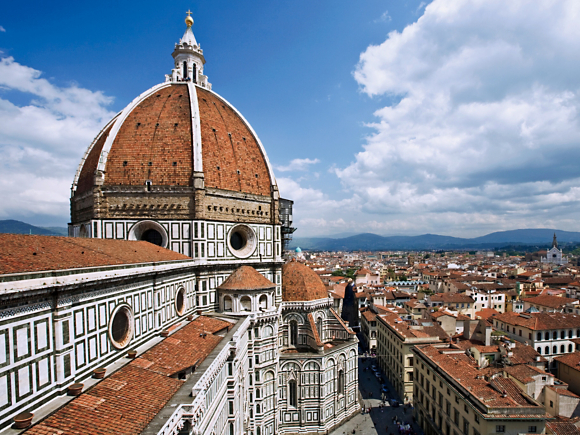 Flying Solo in Florence and Beyond
by Jean Murray, 4-time traveler from Belleair Bluffs, Florida
When I was newly widowed, I challenged myself to go on a trip. As the time approached, I almost talked myself out of it at the last minute, even though I'd have lost the money.
But I went and it was a wonderful self-discovery. I learned that I enjoyed making trips on my own. I already knew I liked to travel. My husband and I traveled extensively over the years. In 1969, we took the kids, who were still small, to Europe for four months. We took many trips when married, but my husband would never have taken a group tour. I think he was afraid he'd have to make small talk with people he didn't know. I'm not great at small talk either, but I like people, and I've enjoyed every trip with Grand Circle.
Though I'd been to Italy, I wanted to go back because I love the people, the architecture, and especially the art. I have a Master's Degree in painting, and taught drawing and painting for many years before I retired. And I'm involved in the local art world in Portland, Oregon. So Italy is naturally of interest to me.
On my Tuscany and the Amalfi Coast trip, there were five single travelers and we bonded immediately. In our free time, we explored together. We went into a lot of churches and the art was wonderful. Having a little group of five meant our outings felt manageable and fun. We even kept in touch after the trip.
I met one woman on the trip who loved Florence like I did. Knowing how I loved the art, our Program Director steered us toward a hotel close to the Uffizi, and at night we could walk right along the river to the gallery. She spent her days taking photographs, while I followed my interest to churches and a synagogue with beautiful interiors.
I'm 81 and surgery a few months ago has slowed me down, so I can't plan as much travel as I'd like. But I'm not done traveling solo! I'm certainly going to see more of the world, because I have learned that I truly enjoy it for myself."