Forgot Your Username?
If you have forgotten your username, please provide your email address in the box below. We'll send you an email with your requested username. If you are having trouble, please call us at 1-800-321-2835.
Email Sent
You'll receive an email in a few minutes. Please check this email to find your requested username.
If you do not receive an email or you are having trouble logging into My Account, please call us at 1-800-321-2835.

UNITED STATES
Compare Trips
Find the Adventure That's Right for You
Our Activity Level rating system ranks adventures on a scale of 1 to 5 to help you determine if a trip is right for you. See the descriptions below for more information about the physical requirements associated with each rating.
Travelers should be able to climb 25 stairs consecutively, plus walk at least 1-2 miles over some uneven surfaces without difficulty. Walks typically last at least 1-2 hours at a time. Altitude can range from zero to 5,000 feet.
Activity Level 2:
Moderately Easy
Travelers should be able to climb 40 stairs consecutively, plus walk at least 2-3 miles over some uneven surfaces without difficulty. Walks typically last for at least 2-3 hours at a time. Altitude can range from zero to 5,000 feet.
Activity Level 3:
Moderate
Travelers should be able to climb 60 stairs consecutively, plus walk at least 3 miles over some steep slopes and loose or uneven surfaces without difficulty. Walks typically last for 3 or more hours at a time. Altitude can range from 5,000 to 7,000 feet.
Activity Level 4:
Moderately Strenuous
Travelers should be able to climb 80 stairs consecutively, plus walk at least 4 miles over some steep slopes and loose or uneven surfaces without difficulty. Walks typically last for 4 or more hours at a time. Altitude can range from 7,000 to 9,000 feet.
Activity Level 5:
Strenuous
Travelers should be able to climb 100 or more stairs consecutively, plus walk at least 8 miles over some steep slopes and loose or uneven surfaces without difficulty. Walks typically last for 4 or more hours at a time. Altitude can range from 10,000 feet or more.
Hide Acivity Level
PRICE
including international airfare
HIGHLIGHTS & ACTIVITIES IN UNITED STATES
*This information is not available for our trip extensions. You must reserve the main trip to participate on this extension.
**This information is not currently available for this trip. Please check back soon.
Recommended Viewing
Watch this video showcasing what makes this country so unforgettable
Equitrekking: Wyoming
Produced by Darley Newman
Saddle up and explore the American West the way it as meant to be seen—on horseback.
Recommended Videos
Watch your fellow travelers' favorite films & videos
Equitrekking: Utah
Produced by Darley Newman
Ride through the national parks of Utah, discovering the hoodoos of Bryce Canyon and more.
Magnificent Bryce Canyon
Produced by Delo Project
Explore every spectacular nook and cranny of Bryce Canyon from high above the majestic landscape.
United States: Month-by-Month
There are pros and cons to visiting a destination during any time of the year. Find out what you can expect during your ideal travel time, from weather and climate, to holidays, festivals, and more.
United States in May-June
In May through June, you find the most moderate temperatures, with wildlife active and flowers in bloom, but nights in the desert can be cold and even dip below freezing in Bryce Canyon. Mother animals begin to emerge with their babies in April and May.
Holidays & Events
May: Old West Days (Jackson Hole)
June: Outdoor Shakespeare performances and music festival season begin (nationwide)
Must See
National parks transform into wet wonderlands after the spring thaw, particularly upper Yellowstone. The melting snow translates into roaring waterfalls at maximum throttle, as well as rushing rivers and creeks. Lakes are at their fullest, yielding post-card perfect reflections in the water.
Watch this film to discover more about United States
Equitrekking: Utah
Produced by Darley Newman
Ride through the national parks of Utah, discovering the hoodoos of Bryce Canyon and more.
United States in July-August
Summer is the busiest and the warmest season, with temperatures peaking above 100 degrees in Zion. Other regions experience heavy rains. In Arches, for example, there can be flooding.
Holidays & Events
July 4: Independence Day is celebrated nationwide with fireworks and barbecues
August: Hot Air Balloon festivals take place throughout South Dakota
Late August-early September: Moab Music Festival (in mystifying red rock venues surrounding Moab, Utah)
Must See
Pretty much every town surrounding Yellowstone has a rodeo of some kind each year. The nearby family-owned Wild West Yellowstone Rodeo in Montana runs all summer, multiple times a week, with barrel races and bull riding. Cody Nite Rodeo runs every night from July through August for a fun introduction to bronco riding and more. July brings the world's largest outdoor rodeo, Cheyenne Frontier Days, to Wyoming, and the Last Stampede rodeo to Montana. Rodeos are a quintessentially-American experience linking the cowboy past to the agricultural communities of today.
Watch this film to discover more about United States
Equitrekking: Utah
Produced by Darley Newman
Ride through the national parks of Utah, discovering the hoodoos of Bryce Canyon and more.
United States in September-October
September through October generally means the start of cooler weather, but sometimes residents and travelers will receive the pleasant surprise of an extended summer. However, when the weather finally does begin to cool down, leaves change across the nation, turning a long drive down a freeway into a breathtaking display of gold, orange, and red hues. The scent of the air changes, letting Americans know it's time to start thinking about Halloween costume ideas.
Holidays & Events
September: Grand Canyon Music Festival
October: Red Rocks Arts Festival (Moab), Great Northwest Oktoberfest
Must See
With cooler weather, kids back in school, and less crowds overall, this is the time of year to visit the National Parks. Wildlife is often visible (as it is elk-mating season) and the foliage can be spectacular, especially in Yellowstone's Lamar Valley, accessible from Montana.
Watch this film to discover more about United States
Equitrekking: Utah
Produced by Darley Newman
Ride through the national parks of Utah, discovering the hoodoos of Bryce Canyon and more.
Average Monthly Temperatures
Featured Reading
Immerse yourself in the United States with this selection of articles, recipes, and more
ARTICLE
Leave nothing but footprints, take nothing but pictures: Learn how to make those pictures as perfect as possible.
RECIPE
Fry up some southwest comfort food with this recipe for Navajo Fry Bread.
ARTICLE
Learn about the perseverant spirit of the Navajo, and the trials they've faced over the years.
ARTICLE
Learn more about the people who blazed the trail toward establishing America's first national park.
Capturing Eden
A how-to guide for photographing the U.S. National Parks
by Julia Hudson & Christina Micek
The National Parks of the United States draw travelers by the millions every year, and it's no wonder. These protected spaces are havens for wild animals, indigenous plants, and landscapes that range from the buttes of Montana to the chasms of the Grand Canyon.
The parks are a dream destination for professional and amateur photographers alike, but the best photography doesn't happen in Photoshop—it happens right there when you click the shutter. To capture the spirit of these iconic locations, and get the most out of your visit, consider these helpful tips.
Know your filters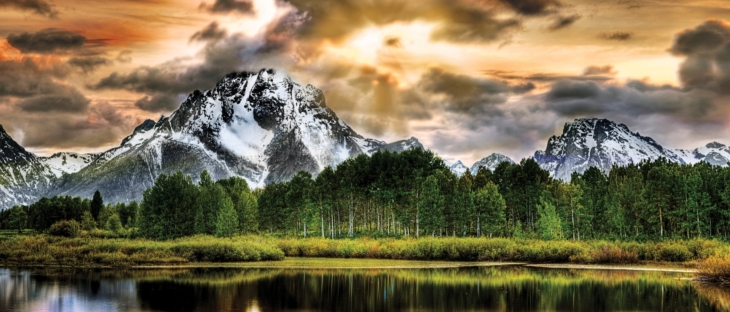 Managing glare in the daytime is a major challenge for many landscape photographers, so you'll want to plan ahead and bring a filter for your camera lens. Filters come in a variety of functions, from protecting the lens from scratches, to blocking ultraviolet light—these invisible rays can end up affecting your final image, producing purple halos or a general haziness. Polarizing filters eliminate the brightness of reflective surfaces such as water, and heighten contrast; beyond these, there are filters for color adjustment, special effects, and graduated exposure (part of the filter is darker than the rest, which is particularly useful when shooting landscapes with sky above). Make sure you practice a bit at home first with your chosen filters, so you don't spend precious travel time figuring them out!
Composition matters
In the National Parks, beautiful photographic subjects are easy to come by—everything from a flower to a canyon can feel particularly moving in the majestic environment of a park. But a photograph can seem flat without the right composition—so it's important to consider how you organize your shot as much as what it contains.
The traditional guideline is known as the "rule of thirds." Basically, the photographer mentally imposes a 3x3 grid on top of the image, and attempts to have something of interest in each of the nine squares. However, don't let this supposed law control your shots; rather, experiment with different positioning and see what interests you. It might mean lying on the ground to get an eye-level photograph of an animal, or it may mean framing an image with a nearby plant, or climbing on a nearby rock. Just remember: In photography, as in travel, the goal is to find a new point of view.
Don't poke the bear
The National Parks are rich habitats for so many animals, and there is nothing that compares with the thrill of spotting bison, mountain lions, or other iconic American creatures in the wild. But a word of caution: You won't want to miss the sometimes quick glimpses of these creatures, so get very familiar with your camera settings and equipment beforehand!
Don't come too physically close to these animals, since their protected status means they aren't necessarily used to coming in contact with people. This is why a telephoto lens is a must, although exactly how long will depend on the skittishness of the animal. If you're planning to travel with a long lens, you'll want to think about bringing a tripod—or, since you'll likely be doing some walking through the parks, a "monopod" that can double as a walking stick. For many travelers, a teleconverter is a good solution—these smaller and lighter lens options are easier to pack and carry.
Try alternating between close-ups of the animal, and wider shots that incorporate its environment. This may require swapping out narrow- and wide-angle lenses, but it's worth it to have a variety of pictures to choose from later.
Capturing the big stuff
The National Parks are full of mountains and other massive subjects. It can be tricky to photograph these without losing some of their majesty, but a well-planned image can convey an impressive sense of grandeur—so it's well worth the effort!
If you're shooting from the base of a mountain, for example, you can emphasize height more dramatically with a portrait, or even a telephoto, lens, which will help you to compress the subject without too much distortion. If you're further away from your subject, you can emphasize distance with a wide-angle lens—our photography team recommends trying a focal length of 20-30mm. A wide-angle lens increases the depth of field, or distance at which the image remains in focus, so your viewer can take in the full scale of the landscape.
Watch the light
Don't forget to consider the angle of the light; if your subject is evenly lit from the front, it can flatten your image (filters will help a lot here, too). Try to take your pictures from the side, or at a time of day when you can see some shadows on the surface—a slightly sideways, or "raking," light is ideal.
Capturing Eden
Recipe: Navajo Fry Bread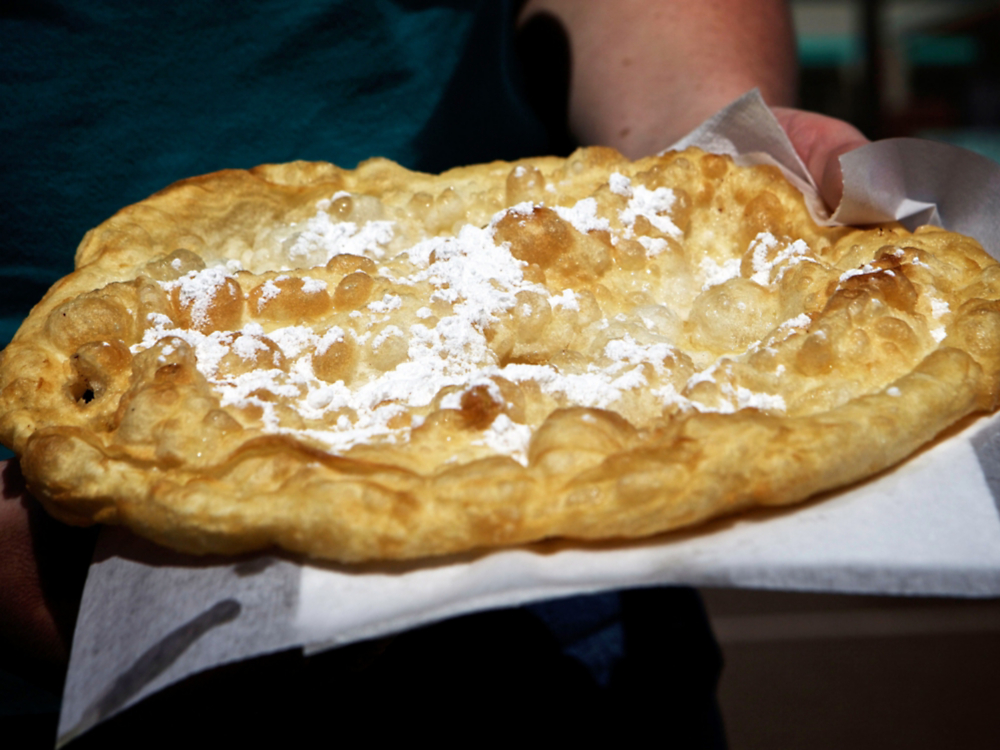 Also known as Indian Fry Bread, this southwestern dish has a somber origin. In 1864, the Navajo people were forcibly removed by the U.S. government from their ancestral homelands in an exodus to New Mexico known as The Long Walk. Finding the land unsuitable for agriculture, the Navajo were required to invent new recipes out of their meager supplies. Needing little more than lard, flour, salt, sugar, and baking powder, Fry Bread quickly became a staple.
Today, the bread holds a sacred place in the Navajo cultural identity, but has also gained widespread appeal throughout the southwest United States, where it's served at state fairs, festivals, and cooked up at home as comfort food for all to enjoy.
Follow along with the recipe below and try it for yourself. With its crispy golden brown exterior and decadently soft, chewy center, it tastes great as a snack on its own, but it's also commonly used as a base for Navajo Tacos. Top the bread with ground beef, beans, onions, green chili peppers, or whatever your favorite toppings may be, and enjoy a new take on taco night. Navajo Fry Bread also makes for an excellent dessert: Glaze it with honey, butter, cinnamon, or powdered sugar, and enjoy it as a light, sweet after-dinner treat.
Ingredients:
1 cup unbleached flour
1/4 teaspoon salt
1 teaspoon powdered milk
1 teaspoon baking powder
1/2 cup water
Vegetable oil for frying (you can also use Crisco or lard instead)
Preparation:
In a large bowl, mix together the flour, salt, powdered milk, and baking powder. Pour the water into the mixture all at once and stir the dough with a fork until it begins to form one large lump. Cover the bowl with a towel or cloth and let it rest for at least 30 minutes.
Powder your hands thoroughly with flour and hand-mix the dough into a ball. Mix the dough well, but don't knead it, your goal is to keep the Fry Bread light as it cooks. Cut the dough into four pieces, then shape and lightly flatten each one into a disk of about 5 to 7 inches in diameter using your flour-covered hands.
In a cast-iron skillet or deep, heavy pot, pour a 1-inch layer of vegetable oil and heat it on your stove top to about 350 degrees F. You can use a cooking thermometer to check on the temperature, or toss a small scrap of dough into the pot and see if it starts to sizzle.
Using metal tongs, gently lower a piece of dough into the oil, taking care not to make a splash. Use the tongs to submerge the dough into the oil, and cook a few minutes until golden-brown, then flip and repeat for the opposite side. Remove the cooked bread onto a paper towel to soak the oil, and repeat the process for the remaining pieces of dough.
Layer your choice of sweet or savory toppings on the bread and serve, or eat it plain as a light fried snack.
Prep Time: 45 minutes
Cook Time : 8 minutes
Servings: 4
Recipe: Navajo Fry Bread
The complex history of the Navajo
From the "long walk" to code talk
By Philip McCluskey, for Grand Circle Travel
In 1864, General James H. Carleton sent a message to Manuelito, the last Navajo chief who had yet to surrender to the US Army. The message was simple: Surrender or face war. "My God and my mother live in the West, and I will not leave them," said Manuelito. "I shall remain. I have nothing to lose but my life."
A bloody and defiant past
Manuelito said these words during one of the most painful times in the history of the Navajo (also known as the Diné, which means "the people")—a period that included the infamous "Long Walk." American forces had killed or captured thousands of Navajo people, and forced the remaining members of the tribe (more than 9,000 people) to march the 300 miles from Window Rock, Arizona to Bosque Redondo Reservation in New Mexico. Starvation, bitter cold, disease, and exhaustion took its toll. Between 200 and 300 people died on the 18-day trek, and more than 2,000 died during the extended incarceration at Bosque Redondo.
Manuelito's defiance was a reflection of Navajo sentiment at the time: anger at the continued takeover of their ancestral lands. The Navajo leader eventually surrendered in 1866—primarily because his people were starving—and was sent to Bosque Redondo where he endured the same terrible conditions as the rest of this people. His commitment to his people never wavered. In 1868, he traveled to Washington, DC and negotiated for a new reservation in his people's traditional homeland. The treaty signed there established the Navajo as a sovereign nation.
Today, the Navajo Nation is one of the largest Native American tribes in the United States. Set on 27,000-square-miles of land stretching across New Mexico, Arizona, and Utah, the Navajo reservation is home to more than 170,000 members of the tribe (the Nation itself has more than 300,000 registered members). The Navajo people are proud of their history—in particular an episode that included helping the very army that had caused them so much pain and grief.
Fighting for the future
It happened during World War II, when the US Army was looking for a form of battlefield communication that was effective yet undetectable by enemy forces. A man named Philip Johnston, who grew up on a Navajo reservation, had the idea to use the Navajo language as a code. As a complex, esoteric language (it was estimated that only 30 non-Navajo could understand the language at that time), Navajo would be undecipherable by enemy forces, Johnston contended. The army was skeptical at first, but eventually approved a pilot program that would include 29 Navajo men.
The program was started with 211 words that were commonly used in the military, which were translated into Navajo. The "code talkers" were drilled again and again on the code—even a minor mistake, after all, could mean the difference between life and death. After the code was in use for a while, it was expanded by an additional 200 words.
The code was used in the Pacific from 1942 to 1945 in battles such as Guadalcanal and Iwo Jima, and successfully befuddled the Japanese. They were unable to decipher what they were hearing, which made the code one of the most important secrets of the war. The code talkers were not officially recognized until 1968—when the program was declassified—but were eventually commended by President Ronald Reagan, who declared August 14, 1982 as "Navajo Code Talkers Day." In 2001, the living code talkers were presented with medals by President George W. Bush.
In his remarks, President Bush said that America was paying tribute to the code talkers and to the "tradition and community that produced such men, the great Navajo Nation." The story of those Navajos, he said, was "a story that all Americans should celebrate, and every American should know."
Like their long-ago leader Manuelito, the Navajo have remained in spite of the many difficulties they have faced—and their story continues to unfold.
The complex history of the Navajo
The Lesser-Known Names of Yellowstone
The people who helped make the world's first National Park a reality
by Philip McCluskey, for Grand Circle
The man most often associated with the founding of Yellowstone National Park is Ulysses S. Grant, the 18th president of the United States. It's understandable; after all, Grant was the man who signed Yellowstone into existence in March 1, 1872, enshrining this two-million-acre plot of land as a "public park … for the benefit and enjoyment of the people."
That day marked the creation of the world's first national park—and the beginning of a new era of conservation, wildlife protection, and tourism that has since taken root all over the world. It's not hard to see why this place was chosen. Yellowstone is geologically fascinating: There are more than 10,000 thermal features in the park, including geysers, mud pots, and fumaroles (fissures that emit steam from under the Earth's crust). The park is also home to scores of mammal species such as bears, bison, moose and mountain lions. And of course, it is a stunningly beautiful landscape of grasslands, rivers, mountains, and waterfalls that has left visitors in awe for more than 140 years.
And while Grant can certainly be credited with officially designating the wilderness as a protected natural playground, he is far from the only one responsible for making this first great American park a reality.
Paradise Found
After hundreds of years in which Native Americans were the sole visitors to this region, John Colter was the first person of European descent to explore it. Colter was a mountain man who was part of the Lewis and Clark Expedition, and spent the winter of 1807-1808 discovering the area now known as Yellowstone on his own. In spite of brutal conditions (including temperatures that often dipped to 30 below zero), Colter made his way hundreds of miles through the unforgiving wilderness. When he returned to civilization, he told stories of geysers and gurgling cauldrons. Many dismissed his descriptions and playfully called the region "Colter's Hell."
After the Civil War, interest in the American West grew, and other people began to see that the area Colter described was more paradise than purgatory. One of them was Nathaniel P. Langford. While he lived a fascinating life during which he was a tax collector and a Montana vigilante, Langford was better known as a member of the famed Washburn–Langford–Doane Expedition to Yellowstone in 1870. He was an active proponent of the idea of national parks—so much so that he would say his first two initials stood for National Park. Langford was chosen the park's first superintendent, and Mount Langford, in the park's Absaroka Range, is named after him.
Establishing America's first national park
While tales of the explorations of this region certainly piqued the interest of Americans, it is difficult to imagine Congress taking the unprecedented action of creating a national park without the members of the Hayden Geological Survey.
The survey's leader was Ferdinand Vandiveer Hayden, a geologist and physician who served as an Army surgeon during the Civil War, eventually rising to be the chief medical officer of the Army of the Shenandoah. After the war, he was named the geologist-in-charge at the United States Geological and Geographical Survey of the Territories, and in 1871 was assigned to do a survey of Yellowstone. Though dozens joined Hayden on the expedition, two men stood out (in addition to Hayden himself) for the impact they would have. They were not geologists, but artists: painter Thomas Moran and photographer William Henry Jackson.
Moran was an illustrator who was recommended to Hayden by the financier Jay Cooke, who spoke of the artist's "rare genius." Moran joined the team and drew 30 different places along their route, which captured the true beauty of the region and later the admiration of Americans. His career took off: Today, one of Moran's paintings, The Three Tetons, can be found in the Oval Office of the White House. The painter was forever linked with the park, and he embraced the connection: he even signed some of his paintings "TYM" for Thomas "Yellowstone" Moran.
Jackson was recruited by Hayden after he'd taken photographs of scenery along the Union Pacific Railroad. As an artist in a relatively new medium, in a place that hadn't seen cameras before, Jackson was able to create stunning photographs of scenery most of the world had never seen. As it had with Moran, the Yellowstone expedition launched Jackson's career—one that would continue for another 70 years until his death in 1942.
Hayden's survey, along with Moran's sketches and Jackson's photography, captured the imagination of the nation and the attention of its legislators. It wasn't long before Congress passed a law to make Yellowstone the first of many national parks, and for the bill to find its way to U.S. Grant's presidential desk.
On that day in 1872, President Grant did indeed make history. But he was merely the last in a long line of intrepid men who helped make it happen.
The Lesser-Known Names of Yellowstone