The Leader in Enriching Cultural Experiences since 1958
You're receiving this message because your web browser
is no longer supported
We recommend upgrading your browser—simply click the button below and follow the instructions that will appear. Updating will allow you to accept Terms and Conditions, make online payments, read our itineraries, and view Dates and Prices.
To get the best experience on our website, please consider using:
Safari (for Mac or iPad Devices)
Update Browser

new zealand
Get the details on our New Zealand vacation
Find out more about the trip, including activity level, pricing, traveler excellence rating, included meals, and more
View 2021 Itinerary Video
From the koalas and kangaroos of Cairns to picturesque Milford Sound, experience fascinating Australia and New Zealand.
19 DAYS FROM $5,195 • $ 274 / DAY
Land Tour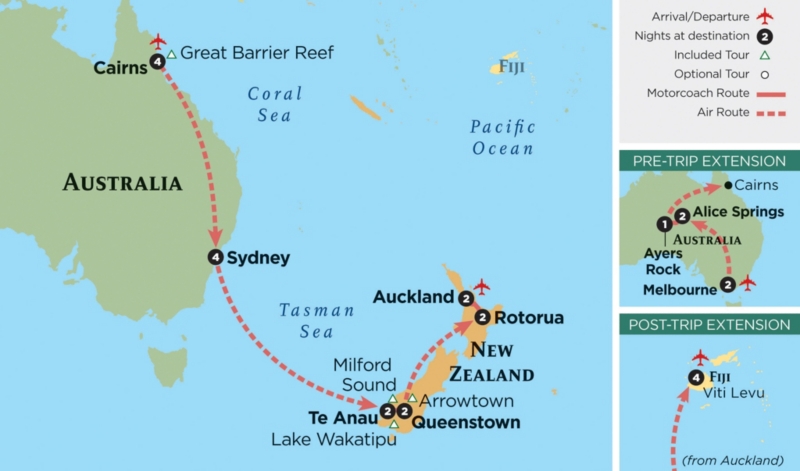 Australia: Cairns, Great Barrier Reef, Sydney | New Zealand: Te Anau, Arrowtown, Queenstown, Rotorua, Auckland
31 meals: 16 breakfasts, 6 lunches, and 9 dinners (including 1 Home-Hosted Dinner)
Cruise the wondrous waters of Milford Sound, an idyllic fjord flanked by thick beechwood forests, rugged mountain peaks, and thundering cascades
Cross Lake Wakatipu on a vintage steamship and visit Walter Peak Sheep Station for a look into life on a New Zealand sheep farm
Learn about the culture and traditions of the Maori during a visit to the village of Ohinemutu, and see how the local tribe lives in harmony with the area's geothermal vents
Trip Details
Find the Adventure That's Right for You
Our Activity Level rating system ranks adventures on a scale of 1 to 5 to help you determine if a trip is right for you. See the descriptions below for more information about the physical requirements associated with each rating.
Travelers should be able to climb 25 stairs consecutively, plus walk at least 1-2 miles over some uneven surfaces without difficulty. Walks typically last at least 1-2 hours at a time. Altitude can range from zero to 5,000 feet.
Activity Level 2:
Moderately Easy
Travelers should be able to climb 40 stairs consecutively, plus walk at least 2-3 miles over some uneven surfaces without difficulty. Walks typically last for at least 2-3 hours at a time. Altitude can range from zero to 5,000 feet.
Activity Level 3:
Moderate
Travelers should be able to climb 60 stairs consecutively, plus walk at least 3 miles over some steep slopes and loose or uneven surfaces without difficulty. Walks typically last for 3 or more hours at a time. Altitude can range from 5,000 to 7,000 feet.
Activity Level 4:
Moderately Strenuous
Travelers should be able to climb 80 stairs consecutively, plus walk at least 4 miles over some steep slopes and loose or uneven surfaces without difficulty. Walks typically last for 4 or more hours at a time. Altitude can range from 7,000 to 9,000 feet.
Activity Level 5:
Strenuous
Travelers should be able to climb 100 or more stairs consecutively, plus walk at least 8 miles over some steep slopes and loose or uneven surfaces without difficulty. Walks typically last for 4 or more hours at a time. Altitude can range from 10,000 feet or more.
Hide Acivity Level
PRICE
including international airfare
HIGHLIGHTS & ACTIVITIES IN NEW ZEALAND
*This information is not available for our trip extensions. You must reserve the main trip to participate on this extension.
**This information is not currently available for this trip. Please check back soon.
Recommended Viewing
Watch this video showcasing what makes this country so unforgettable
ReelEarth: The Green Tie
Produced by Dean Whitehead
Encounter a young woman in New Zealand's North Island as she works toward her dream of winning the coveted Green Tie award at the Tarata Sheep Dog Trials.
Recommended Videos
Watch your fellow travelers' favorite films & videos
Smart Travels with Rudy Maxa: New Zealand's North Island
Produced by Small World Productions
Follow along with Emmy award-winning travel expert Rudy Maxa as he kayaks, hikes, and bikes through New Zealand's North Island, journeying from Auckland to the Bay of Islands to Hawkes Bay.
Smart Travels with Rudy Maxa: New Zealand's South Island
Produced by Small World Productions
Join Emmy award-winning travel expert Rudy Maxa as he reveals the scenic gems and deep-rooted Maori traditions of New Zealand's South Island.
Lupe
Produced by Valeria Rocha Moreno
Discover a woman's passion for travel as she leads you through her new, but temporary, New Zealand home—Wellington.
New Zealand: Month-by-Month
There are pros and cons to visiting a destination during any time of the year. Find out what you can expect during your ideal travel time, from weather and climate, to holidays, festivals, and more.
New Zealand in December-February
Due to the island nation's location in the Southern Hemisphere, New Zealand experiences summer when we're experiencing winter in the Northern Hemisphere. Delight in balmy summer weather in New Zealand between December and February. This is an ideal time to take in the variety of ocean activities that the South Pacific offers.
Unfortunately, with warmer weather comes larger crowds. Summer is peak tourist season in New Zealand, which means that you should plan ahead and expect beaches and major cities to be crowded.
Holidays & Events
Throughout December: the Timaru Festival of Roses showcases beautifully designed gardens, live music, and theater acts
February 6: Waitangi Day celebrates the founding document of New Zealand, which was signed on February 6, 1840
Late January: Auckland Anniversary Day is celebrated on the last Monday of January. This holiday is dedicated to the arrival of New Zealand's first governor and co-author of the Waitangi Treaty, William Hobson
Late January: International Buskers Festival is celebrated annually and brings together individuals from across the globe to showcase their diverse range of talents, including

acrobatics,

juggling and comedy acts
Must See
Sample some of New Zealand's local wines and savor traditional flavors at the annual Marlborough Food and Wine Festival. This gastronomic celebration was the first of its kind and is the oldest food and wine festival in New Zealand. Enjoy wine from 40 vineyards and food from 25 vendors, all while taking in musical entertainment from the event's main and acoustic stages.
If you're looking for something a little sportier, the South Pacific tournament series for rugby sevens takes place over the summer. The game is similar to traditional rugby, except seven players make up a team instead of up to 15. The sport was founded in 1883 and continues to be one of New Zealand's most popular pastimes.
Watch this film to discover more about New Zealand
Overseas with David Conover: Conservation in New Zealand
Produced by Compass Light Productions
Discover the conservation efforts being taken by locals to protect New Zealand's beloved wildlife on a journey from the South Island's western coast to Christchurch.
New Zealand in March-May
Take advantage of the comfortable autumn weather, enjoy fewer crowds, and watch your travel dollar go further in March through May. At the beginning of the season, soak up warmer temperatures and by the end of autumn, enjoy a pleasant cool down. As the weather transitions from summer to autumn, watch the landscape brighten up with colorful foliage. In major cities, trees will most likely turn a bright yellow, and while orange and red hues aren't typical of foliage in New Zealand, you may spot these warm colors here and there. A cruise on Lake Wakatipu or an exploration of the area around the lake is a true sign of the changing seasons as the landscape around the lake turns a brilliant shade of yellow.
Holidays & Events
Early March: Golden Shears Sheep-Shearing Competition is an annual event that has been held since 1958
May: At Bluff Oyster Festival-goers enjoy live music and oyster shucking competitions
Must See
Balloons over Waikato is a popular New Zealand festival that attracts thousands of visitors to the city of Hamilton every year. The week-long event showcases spectacular hot air balloons that ascend over the city and dot the sky. If you're curious to see New Zealand from above yourself, various cities, including Auckland, offer hot air balloon rides. Float above mountains and valleys as you take in the crisp autumn air.
Watch this film to discover more about New Zealand
Overseas with David Conover: Conservation in New Zealand
Produced by Compass Light Productions
Discover the conservation efforts being taken by locals to protect New Zealand's beloved wildlife on a journey from the South Island's western coast to Christchurch.
New Zealand in June-August
During the winter months, the South Island is dusted with snow and the North Island is drenched with rain. While cooler temperatures provide a nice contrast to the hot summer heat, rain can hinder outdoor activities and snow can make commuting difficult. Fortunately, in the winter months little to no crowds make for a more enjoyable experience.
Although this may not be the best beach weather, a visit to Abel Tasman National Park is ideal this time of year as you'll get to hike and sightsee your way through the lush landscape and scenic beach undisturbed. Milford Sound also provides a better experience in the winter as there is less rainfall in Fiordland National Park and more wildlife viewing opportunities. Penguin and seal sighting are more common when the temperatures drop. If you're seeking out a warm retreat from the cold temperatures, hot springs abound. Surround yourself with the beauty of nature and enjoy a New Zealand winter from the warmth of a thermal pool.
You may want to take advantage of Queenstown's many exciting winter activities. The South Island city lives up to its title as the adventure capital of the world with activities like snowboarding, mountain climbing, bungy jumping, and more.
Holidays & Events
Late June: Queenstown Winter Festival brings together an eclectic mix of entertainment

—from firework shows to dog derbies, comedy shows, skiing, and more

June 15: Matariki is the start of the new year for the Maori people of New Zealand
Must See
Winter is one of the best times to witness the wild wonders of New Zealand's underwater wildlife. Watch whales breaching and dolphins porpoising out of the ocean along the coast of the South Island in Kaikoura. If you're looking to immerse yourself even more in nature, consider taking a dip in Rotorua's thermal pools, which provide visitors with an unparalleled New Zealand winter experience.
Watch this film to discover more about New Zealand
Overseas with David Conover: Conservation in New Zealand
Produced by Compass Light Productions
Discover the conservation efforts being taken by locals to protect New Zealand's beloved wildlife on a journey from the South Island's western coast to Christchurch.
New Zealand in September-November
The renewed vibrancy of spring arrives in September and remains through November. Witness baby lambs hopping through fields of fresh blooms and lush grass, but don't be surprised if a rogue snow shower springs up in the South Island in September.
This season ushers in comfortable temperatures that are perfect for an array of outdoor activities. Make the most of the leftover snow and take advantage of the warmer temperatures by skiing or snowboarding. If you're looking for an activity more aligned with springtime, white water rafting is popular this time of year as the rapids are fuller and faster.
Holidays & Events
Late October to early November: Taranaki Rhododendron Festival is New Zealand's longest running garden festival with 47 thoughtfully designed gardens and live music
Must See
New Zealand is home to around three million people and 60 million sheep, which only increases once newborn lambs arrive in the spring. Newborn orcas are also common this time of year and can be spotted swimming in pods, or in groups of 5-30 whales, in Wellington Harbour.
Watch this film to discover more about New Zealand
Overseas with David Conover: Conservation in New Zealand
Produced by Compass Light Productions
Discover the conservation efforts being taken by locals to protect New Zealand's beloved wildlife on a journey from the South Island's western coast to Christchurch.
Average Monthly Temperatures
New Zealand Interactive Map
Click on map markers
below to view information about top New Zealand experiences
Click here to zoom in and out of this map
Auckland
Auckland—a picturesque city where boats bob in the harbor, a dormant volcano serves as the city's backdrop, and the Sky Tower rises over 1,000 feet above the city. This "City of Sails," home to 1/3 of the nation's population, is the eighth most livable city in the world, a ranking based on healthcare, culture, environment, and education by the Economist Intelligence Unit. Here, you'll find an eclectic selection of cuisine, music, and art—a prominent influence on each comes from the Maori and Polynesian groups that live here.
Similar to other New Zealand cities, Auckland originated as a Maori settlement in 1350. Due to Auckland's rich soil and geographical features as an isthmus, European explorers moved into the area and began to colonize the land. Today, the vibrant multicultural city proudly displays its European and Maori roots, as well as other cultural influences, making it one of the most diverse cities in the world.
Auckland - A Tranquil City
Produced by Siyamalan Subramanian
Watch this time lapse film for a glimpse of the subtle grace and beauty of Auckland, New Zealand.
Experience Auckland with us on:
Milford Sound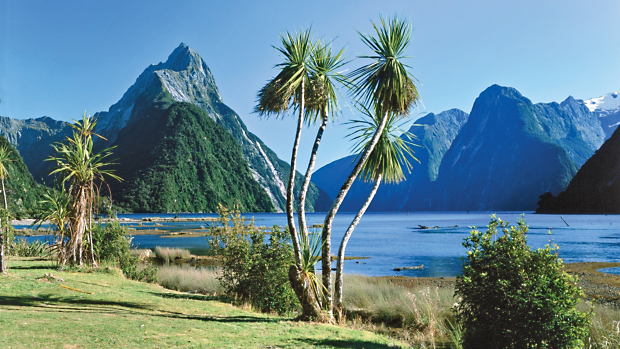 Milford Sound rightfully earns the "Eighth Wonder of the World" title from Rudyard Kipling as the natural phenomenon winds for ten miles around towering mountains and rugged cliffs, which seemingly rise out of the tranquil waters. Milford Sound, located in Fiordland National Park on the South Island, opens up into the Tasman Sea. The sound, actually a fjord, was carved by retreating glaciers that left valleys to be filled in with water from the ocean.
Surrounding the fjord are cliffs that rise 3,900 feet into the air, year-round waterfalls, and animal-like mountains. The Elephant, said to resemble the head of an elephant, and the Lion, known for its feline characteristics, both tower over the waterway at over 4,000 feet tall, but the most commanding presence is the Mitre Peak. At over 5,500 feet high, Mitre Peak is one of the world's tallest peaks. These natural wonders can be enjoyed by boat, kayak, helicopter, or on foot. Follow 33 miles of the Milford Track on foot from Lake Te Anau to Milford Sound. This trail provides a unique perspective of the landscape leading up to Milford Sound—travel through valleys, over mountain passes, and past waterfalls.
Experience Milford Sound with us on:
Queenstown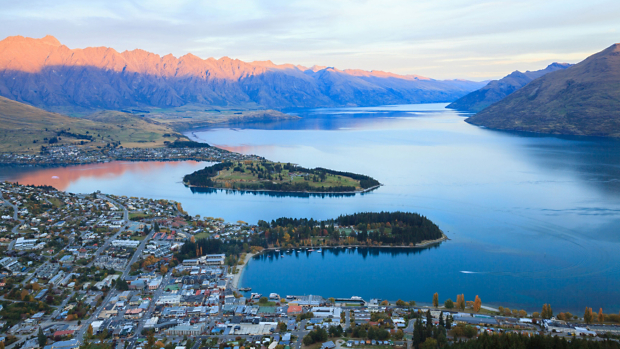 Queenstown has always been a fast-paced city. When settlers arrived in the 1850s and discovered the land was replete with gold nuggets, a population boom occurred and the government deemed the town "fit for a queen"—where the name Queenstown originated.
Today, Queenstown is just as fast-paced and is for the truly adventurous—it is the adventure capital of the world after all. There's no shortage of thrilling activities here as it boasts myriad landscapes, perfect for a variety of adventures. Water ski or jet boat on Lake Wakatipu or snowboard or mountain bike on The Remarkables Mountains—and for the brave of heart, Queenstown also offers sky diving and bungy jumping. In fact, the world's first commercial bungy company, AJ Hackett, jumped onto the scene in Queenstown. But if you're looking for more relaxed pacing, Queenstown has other activities too, including golf, wine tastings, fishing, and sightseeing.
Experience Queenstown with us on:
Rotorua
Geothermal geysers spout steam and water into the air in a fantastic display of nature at work … bubbling mud pools, verdant valleys, and turquoise waters contrast to create a wonderland of natural splendor. Waimangu Volcanic Valley's unusual landscape was sculpted by the 1886 eruption of Mount Tarawera, which gave way to sites like Frying Pan Lake, one of the largest hot springs in the world, and Inferno Crater, whose bright blue waters stand out from the rest of the landscape.
The town of Rotorua was established by the New Zealand government in the 1880s, but was originally settled by the Maori people. It is believed that the Maoris have inhabited this land for about a thousand years and continue to live here today—more than 1/3 of the city's population is Maori. The indigenous group carries on beloved traditions, including hangis, or feasts that are prepared underground.
Experience Rotorua with us on:
Featured Reading
Immerse yourself in New Zealand with this selection of articles, recipes, and more
ARTICLE
Learn more about the proud people who inhabited New Zealand before the Kiwis.
RECIPE
Maori bone carving is more than just a beautiful art form. Discover the deeper significance of this custom.
ARTICLE
In the 19th and early 20th centuries, Maori women in New Zealand weren't encouraged to participate in public life. But that never stopped Whina Cooper.
ARTICLE
Get a glimpse into Maori culture—from tracing their ancient genealogy to learning how this indigenous group has thrived.
ARTICLE
No matter where you go in New Zealand, the forces of nature are close by with its multitude of geothermal wonders.
Meet the Maori
New Zealand's first people (that we know of)
by Bob Hammerling
It's tempting to think of the Maori as New Zealand's indigenous people, but in fact, they're colonists too. Some time around AD 1300, those who would become the Maori paddled from Polynesia in a fleet of wakas, or ocean-going canoes, arriving at the land that they would name Aotearoa (roughly translated as "land of the long white cloud") which we now call New Zealand.
Before long, Maori tribes had moved inland from the shores and established a thriving culture spread all across the young island nation.
Understanding the Maori's cultural roots
Deeply important to traditional Maori culture is the concept of mana, a spiritual measure of a person's status and authority. Mana is derived from nature, and an individual can only carry it, never create it. It can be accumulated by righteous living over the course of one's life and is passed down through generations. Thus, Maori revere their elders and take great interest in whakapapa, or genealogy, tracing their roots as they connect to not just their ancestors but to all nature, including the land and sky, all the way back to the beginning of creation.
Socially, the Maori place heavy focus on community—an individual is a member of their community first and foremost, and the group exists to serve its members. Although bonds within a tribe are powerful, intertribal conflict was common in Aotearoa's early history. In fact, warfare played an important part in early Maori culture, and archaeologists have unearthed nearly 7,000 pa, or fortresses, across the country.
Maori culture is deeply connected to nature, and this is reflected in their faith. In contrast to many western religions, in which divine beings exist in a supernatural realm separate from our own, Maori gods inhabit the natural world. Resources in the days of Aotearoa were exploited with great caution, and only with the blessing of tohungas, or priests, who spoke with the voice of the gods to communicate their will.
When worlds collide: First contact with Europe
The first encounter between the Maori and Europeans was brief and bloody: The Dutch explorer Abel Tasman was the first European to set eyes upon New Zealand in 1642, but he never made it ashore. As four of his crew attempted to row to land aboard a small boat, they were rammed—for reasons which aren't fully understood—by a Maori war canoe. The four sailors' deaths christened the waters with the name "Murderers Bay" (now known under the friendlier moniker "Golden Bay") and Tasman eventually sailed away, never to return.
More than a century later, Europe came back: This time under the British flag of Captain James Cook in 1769. Around 1800, British settlement of New Zealand was well under way. As the sun rose over another corner of the British Empire, Maori culture faced a crisis: Their people were ravaged by new diseases, alcohol, and fierce intertribal warfare, made bloodier with the arrival of European muskets. Many Maori became further distanced from their cultural roots due to the arrival of Christian missionaries, who succeeded in converting many people to their religion.
Waitangi and war: Resisting the British
In 1840, the British sought to formally gain sovereignty over New Zealand and to make the Maori citizens under the crown with the Treaty of Waitangi, signed by representatives of Great Britain and several hundred Maori chiefs.
The treaty is considered to be the founding document of modern New Zealand, but its validity is a source of debate to this day. Significant differences existed between the English and Maori translations of the treaty—chiefly around the notion of the transfer of "sovereignty," a concept which was not fully understood by Maori society at the time. To put it concisely, many Maori felt tricked: They didn't know they were signing their land and independence away.
Before too long, disagreements between the Maori and pakeha, or European settlers, led to conflict and outright war, symbolized by the iconic image of Chief Hone Heke (one of the treaty's first signatories) chopping down the British Flag flying over the Bay of Islands. The Maori would ultimately lose the war, resulting in a further decline of Maori culture, up until the beginning of the 20th century.
The Maori today: A rising cultural tide
The 19th century marked a low point for the Maori, but much progress has been made since. Young Maori leaders like Apirana Turupa kicked off the 1900s with a cultural renaissance, helping the Maori make great strides economically, politically, and socially.
Subsequent years have seen such strides as the election of Maori members of Parliament, a renewed interest in Maori language and culture (both among the Maori and the world at large), the legal investigation into dispossession of Maori lands following the scandals of the Treaty of Waitangi, and more.
Modern New Zealand has also witnessed the revival of traditional Maori arts, including carving, weaving, tattooing, and dancing. Famously, the New Zealand All Blacks, the national rugby team, opens each match with the fearsome haka, a traditional Maori war cry. To face the haka is often seen as a badge of honor even for opposing teams.
One can't ignore the challenges the modern Maori faces: While some still live in traditional tribal lands, vastly more have dispersed into the cities, where they generally face economic disparities compared to their paheka neighbors. While the Maori may have come a long way from their Polynesian roots, history has shown that they're here to stay.
Bone Carvings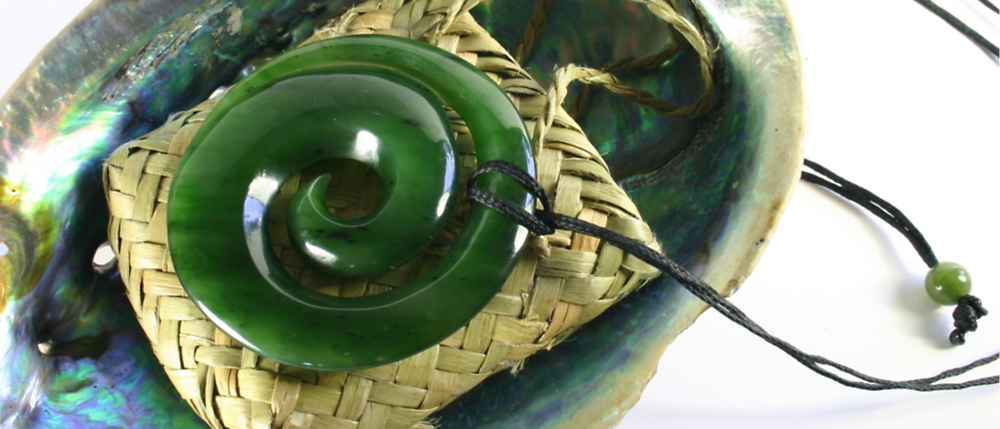 A Traditional Art Form Ingrained in Maori Culture
by Jennifer Sullivan, for O.A.T.
Before Europeans came into contact with the Maori, the indigenous tribes of New Zealand had no knowledge of written language. The ancient Maori iwi (tribes) were steeped in folklore that was passed down orally from ancestor to descendant. Mythical tales, family histories, and cultural values became part of each person who heard them and retold them. These oral traditions shaped Maori character and culture.
To help preserve these stories, the Maori used objects of humble origins. Over time, the weaving of cloth and baskets, and the carving of bone and jade, grew into intricate art forms that recorded legends, genealogies and tribal histories. It could take years to finish just one bone carving when engraving it using a stone tool. The resulting amulets became heirlooms, handed down for centuries, and were considered taonga, "treasure."
As a taonga was reverently passed from one generation of elders and great warriors to the next, it grew even more sacred. The wearer became a part of it, and it became a part of the wearer. Each new owner added a new story that now belonged to the talisman, and it was believed that—if given and received with love—it absorbed a measure of the spirit of everyone who handled it. A carving that has been passed down in a family or tribe and worn over many generations is a very precious and powerful gift.
Material and Meaning
All the way up until the latter part of the 20th century, the bones of whales were traditionally used to make bone carvings. The Maori's relationship with whales has been an integral part of their society for centuries and features heavily in their mythology and everyday life. Whales are said to be the children of the god of the oceans, Tangaroa. Many legends have the cetaceans guiding sea-faring humans. Some stories even chronicle the creatures escorting the original Maori as they made the journey across the water from their ancestral homeland to Aotearoa (New Zealand) eons ago. Today, due to conservation and trade regulatory efforts, most carvings are made with cattle bone. However, whalebone is of significantly higher value for many reasons: it is considered to be more beautiful, it has cultural and historical significance, and it is scarce. Whalebone is available but rare. If it is found—washed up or unearthed—or if a whale is stranded and unable to be saved, then by New Zealand law the material belongs to the Maori hapū (clan) in whose territory it is found.
A Matter of Design
Maori bone carvings are usually worn as pendants. They are made up of one or more common traditional symbols that have very specific meanings; most incorporate aspects of mythology. How these motifs are connected and interact with each other tells a story and plays heavily into a particular piece's unique nature.
The following design elements are three of the most common:
Koru–The Spiral
The koru's spiral form suggests a fern frond, unfurling in the spring, bursting forth with new life. It represents perpetual movement, growth, positive change, awakenings and new beginnings, as well as spirituality and peace. It is sometimes interpreted as nurturing, so when it appears interlocked with other symbols it can also signify a strong and loving family bond.
Tiki–The First Man
Polynesian myths and legends surrounding tiki suggest that he was the first man on Earth. The Maori tiki is derived from this lore. He is associated with fertility and birth, so you will often see him with his hands placed on his loins. More importantly, he is considered a remembrance of forebears. Tiki is a repository of ancestral wisdom, spirituality, and strength. When worn, he is thought to be lucky and to ward off evil spirits. The wearer is believed to enjoy inner balance and a clear mind.
Hei Matau–The Fishhook
The development of this age-old tool—the fishhook—into one of the most common symbols in Maori art belies its centrality to the life of its people. Fishing was crucial to the ancient population. Thousands of years ago, fishhooks were worn around the neck so as not to be lost. As ages progressed, the wearers began carving images into them, making them more and more elaborate until they became priceless ornaments, rife with symbolism. The hei matau is a favorite even for non-Maori New Zealanders, as it has come to represent New Zealand in general.
A Worldwide Sensation
This is a venerable, ancient, local art form, with a fascinating and rich history. It is a token of memorable times spent in New Zealand that has traveled home with people from all over the world. Should you want one, there are many talented, dedicated, local artists who can sell you a truly authentic piece of the islands' vibrant culture.
Mother of the Maori
Whina Cooper's unlikely rise to heroism
Lyette Mercier, from Dispatches
In the 19th and early 20th centuries, Maori women in New Zealand weren't encouraged to participate in public life. But that never stopped Whina Cooper. Born Hohepine Te Wake in 1895, Whina never shied from forging her own path, becoming a pioneering tribal leader and eventually being granted the title Te Whaea o te Motu ("Mother of the Nation") from her fellow Maori women.
Whina (short for "Josephine," the Christianized version of her first name) was the first daughter of tribal elder Heremia Te Wake and his second wife, Kare Pauro Kawatihi. She had four half-brothers and three half-sisters from her father's first marriage.
She was attracted to politics even as a child. In her obituary, British newspaper The Independent noted, "She defied convention and Maori tradition from an early age, eschewing games with other children to listen to tribal elders debating ownership of land." Her father recognized her keen intellect and leadership skills and favored her over his sons, beginning a lifelong rift between Whina and her siblings.
Maori culture is community based, with local tribes gathering in the marae (sacred meeting space) to decide everything from ownership rights to engagements. At the turn of the century, women were barred from speaking in the marae. But this disenfranchisement did not stop Whina from becoming a local leader.
At 18, she organized civil disobedience to keep a British farmer from draining a swamp that the local tribes used for shell fishing. While Whina's father challenged the farmer's lease in court, Whina and a group of young people came at night to fill in the drainage ditches that were dug during the day. Eventually they were charged with trespassing, but by that time the farmer's lease had been revoked and the swamp was saved.
A few years later, Whina eloped, without the approval of the community. She and her husband were exiled from their home and forced to live off the land until the priest who had married them heard of their circumstances. He advanced them a loan, allowing them to purchase Whina's late father's house and the general store in their hometown.
Whina proved to be such an astute businesswoman that she was able to pay off the priest's loan in just three years. She also opened a post office, another store in town, and two branch stores in neighboring towns. She returned to public life, building a medical clinic and a community center that allowed women to speak in meetings.
While collaborating with New Zealand's national government in a program to create Maori farming collectives, Whina met Bill Cooper, a fellow Maori politician. Romance blossomed, and when Whina's first husband died in 1935, she moved in with Cooper. As she was also pregnant with Cooper's child at the time, the scandal once again ostracized her from the community. Once again, she slowly rebuilt her standing, eventually serving on her tribe's executive committee from 1946 to 1952.
After Bill Cooper died in 1949, Whina sought a fresh start in Auckland, where she immediately became involved in Maori causes. She joined the first conference of the Maori Women's Welfare League in 1951 and was elected president. During her time leading the league, she initiated programs to improve housing for Maori immigrants to New Zealand cities, and addressed racial discrimination in housing, employment and health services.
Whina remained involved in local and national politics until 1974, when her failing health led her to declare her exit from public life. That vow lasted all of one year, until she was persuaded to be the face of a campaign fighting to preserve Maori ownership of their traditional lands. The 80-year-old, arthritic Whina Cooper led a 1,000-kilometer march from the far north of the country to Parliament to deliver a petition signed by 60,000 Maori natives.
Whina continued to be active until her death at age 98 in 1994. In 1990, she spoke at the opening ceremony of the Auckland Commonwealth Games, reminding her listeners of the purpose of the Treaty of Waitangi—and, indeed, of her own life as an activist: "…so that we could all live as one nation in Aotearoa."
Land of the Long White Cloud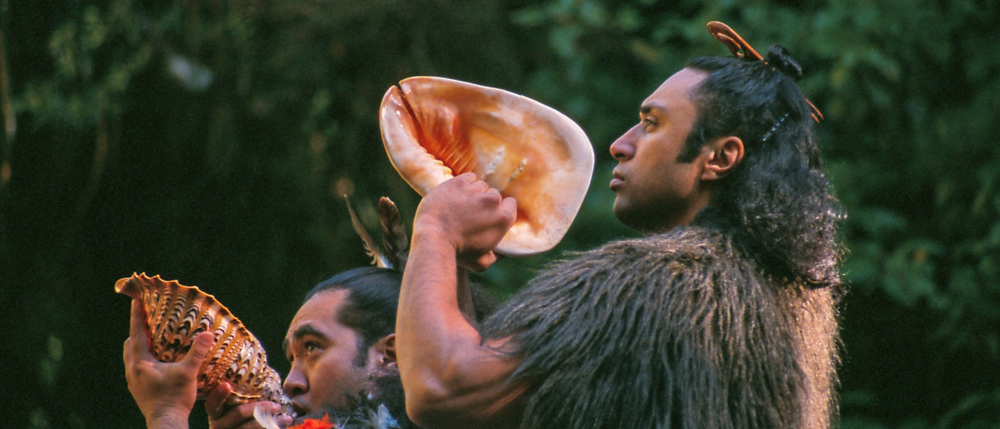 The culture & traditions of New Zealand's Maori people
by Pavi Kulatunga
Here's how the world began: Ranginui (the Sky Father) and Papatuanuku (the Earth Mother) once were locked together in a tight embrace. Their children, however, were tired of living in darkness and violently pushed their parents apart to separate the Earth and the Sky. Rangi and Papa still yearn for each other, though, as can be seen by Rangi's tears falling as raindrops and the mist rising from the body of the Earth.
This legend is part of the rich mythology of the Maori, the indigenous people of New Zealand. Though the country's oldest inhabitants, they are not native to these islands. It is thought that they migrated to New Zealand from French Polynesia, traveling over the vast sea by canoe. Leading the way was said to be the mythical Polynesian navigator Kupe, who is believed to have arrived on New Zealand's shores around 950 AD.
Though the Maori today reside throughout New Zealand, the early settlers preferred the North Island, with its warmer climate and easier access to the rest of civilization. They named their new home Aotearoa—the "Land of the Long White Cloud."
Looking back to the future (or forward to the past)
Not much else is known about the early days of the Maori in New Zealand. There is no written record because theirs is an oral tradition. While scholars and many others may dismiss oral histories as unreliable, to O.A.T. Trip Experience Leader David Hill, this method of recording the past is remarkable. "Most people can't even name their own great-grandparents," he says. "The Maori can recite their genealogy back 1,000 years. That ability to remember and recite oral histories is profound."
The importance of oral history is rooted in a uniquely Maori way of looking at the world. For the Maori, the past isn't something that's already happened and can be forgotten. Instead, it's something that still lies ahead. It's the future that the Maori put behind them, since it's something that can't be seen or evaluated. The past, on the other hand, can offer guidance and instruction.
Whakapapa, or genealogy, is a fundamental part of this concept. Named for broad, flat rocks that can be stacked, Whakapapa refers to the layers of relationships that define each individual.
Strength in unity
Language is one key reason why the Maori have been successful while other indigenous people have not. Like Native Americans, Native Canadians, and the "First Peoples of Australia," for example, the Maori consist of several tribes. Uniquely, however, all Maori tribes share a common language and a central authority.
"The Maori are a more cohesive community because of their common language," David explains. "Australia's indigenous people have a wonderful culture, but because they lacked a common language, they didn't have the same potency. They couldn't organize to resist."
The Maori, by contrast, have been able to get back much of the land that had been confiscated from them by European explorers throughout the 17th to 19th centuries. In some cases, they are using the land for enterprises that help them to establish themselves in the mainstream. For example, many of the traveler services OAT uses on the South Island are Maori-owned and operated. According to David, the reconciliation effort has been so successful, native people from other countries around the world look at New Zealand as a model.
Practicing mana
"One reason the Maori have become an active and vigorous part of the mainstream is because of their character," David says. "It's a non-material culture, where the greatest value is mana."
The concept of mana, so central to Maori philosophy, may be described as authority or guardianship. Mana can be earned throughout a person's life through acts of wisdom, compassion, and courage. It can also be taken away by transgressions. David further explains that Maori society is divided into two classes: ordinary Maori (in fact, the word Maori itself means "ordinary person"), and the Rangatira, the class of the chieftains. People may move between classes during their lives based on their actions. To illustrate the concept of mana, David tells a true story from the early 1800s, of Te Rauparaha, who became leader of the Ngati Toa tribe—a very small tribe—and Te Wherowhero, a Rangatira who was chief of the Waikito, a very powerful tribe that wanted to drive the Ngati Toa tribe out of its territory:
A legendary warrior, Te Rauparaha and his forces managed to overwhelm the much larger army. Though he could have vanquished Te Wherowhero, he approached the other leader instead and offered to let him go home. Te Wherowhereo, however, knew that, if he did so, his mana would evaporate. He made a counter-offer to Te Rauparaha: Send your warriors to face me, one by one. Now it was Te Rauparaha who would lose mana if he said no. When 50 of his men had been killed or wounded, Te Rauparaha halted the battle and retreated.
An Enduring People
By the beginning of the 21st century, the Maori population had risen to 600,000, about 14% of the total population on New Zealand. This is not to say that contemporary Maori people do not face discrimination and other problems associated with minorities, especially in urban settings where their rates of unemployment, crime, and poverty are higher than that of the general pakeha (European) population. Still, with so many more Maori people assimilating into the mainstream New Zealand lifestyle, there is a generally more widespread celebration of maoritanga—all things Maori.
"When you visit, you get the feeling that the Maori are really part of New Zealand life," says 9-time traveler Nancy Belis from Denver, Colorado. "A lot of modern nations don't cherish the past. But the Maori are an integral part of Kiwi culture, and that's admirable."
Forces of Nature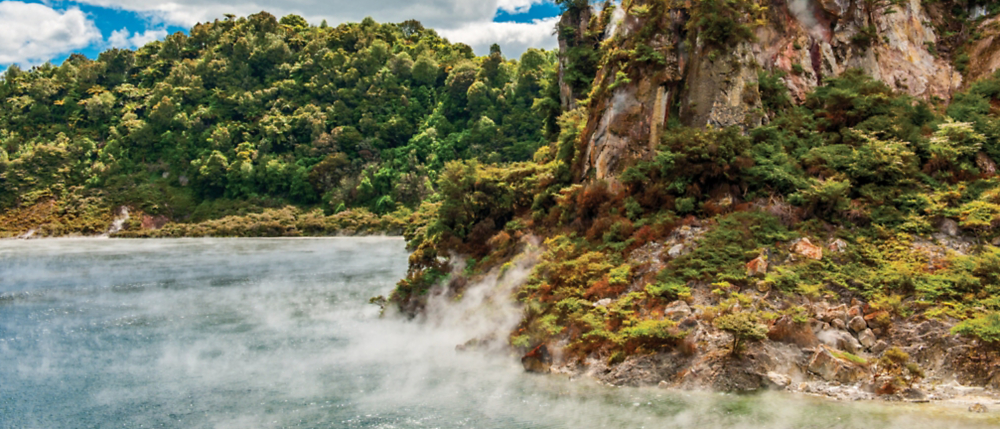 New Zealand's geothermal wonders
Jenna Thomas, from Dispatches
No matter where you go in New Zealand, the forces of nature are close by. Even in cosmopolitan Auckland, no less than 48 volcanoes dot the city skyline—nearly all of which are long-dormant. Outside the city, the North Island's idyllic landscape hides a secret: molten lava bubbles just underneath the gently rolling hills and bucolic green meadows.
In Rotorua, the layer between our world and the fiery underworld is especially thin. It lies in the middle of the Taupo Volcanic Zone—a swath of land that includes some of the world's most active volcanoes. Here, the landscape is pocked with holes where black mud boils, and the unmistakable odor of sulfur permeates the air. Looking out across Lake Rotorua, hundreds of steam columns rise from vents along the shore. In nearby valleys, geysers erupt like clockwork (the Lady Knox geyser, ever-punctual, goes off at 10:15 every morning).
Here on the southern edge of the Pacific's Ring of Fire, not all geothermal activity is quite so forbidding. Deep in the forest, bubbling springs emerge from the Earth's surface at the perfect temperature for a long, warm bath. In the Waimangu Volcanic Valley, there are serene pools of lime green, Tiffany blue, pale yellow, and citrusy orange water. The world's only geothermal caves are found here—caverns that hide warm springs in their depths, far below the Earth's surface.
According to Maori legend, the hot pools were a gift to their ancestor, Ngatoroirangi, one of the first Maori explorers in New Zealand. He found himself freezing on a mountainside one night as a blizzard approached, and begged his sisters, far away in his Polynesian homeland, to send warmth. The "baskets of fire" they sent to their brother appeared as hot lava, undoubtedly warm enough to save him from freezing to death and thus securing his legacy among the Maori.
Ever since, the Maori have enjoyed a pleasant, if wary, relationship with their bubbling geothermal neighbors. Some of the first Europeans in this area were surprised to see just how interwoven the hot springs and mud baths were with Maori daily life—so much so that villages were literally built upon active geothermal fields. "Gentleman explorer" JH Kerry Nichols wrote of the Maori villages he encountered, "Bathing here seems to be second nature, and the women and girls arrange afternoon bath-parties just as we might assemble our friends at afternoon tea." Village homes were warmed with geothermal steam, warm patches of ground served as ovens, and Nichols found "a small graveyard situated among boiling springs and steaming fissures … as if the volcanic fires below were just ready to burst forth and swallow up the living with the dead."
As close as the Maori live to the geothermal field, they know about its dark side. There is a pool called Tikiteri, or Hell's Gate—named after the Maori princess who threw herself into the boiling waters to escape an abusive husband. The Champagne Pool, with its festive bubbles and bright colors, is 160 degrees Fahrenheit and laced with arsenic. But neither of them can match the danger of the sleeping giant, Mount Tarawera.
Just after midnight on June 10, 1886, Maori villagers and European settlers awoke to feel the earth trembling. A thundering roar heralded the eruption of nearby Mount Tarawera, as a flaming column of lava and ash pummeled the surrounding hillsides. The lava buried an entire village, killing the 120 Maori people who lived there. The Pink and White Terraces, delicate silica cascades that had drawn tourists to New Zealand from around the world, were utterly destroyed. The eruption was over within hours, but a gaping, 10-milelong rift that formed during the eruption serves as a lasting reminder of Tarawera's fury.
These days, scientists closely monitor geothermal activity in the Taupo Volcanic Zone, even sending drones to retrieve data and images from active calderas—but the hot pots and steam vents are still full of surprises. Last fall, two geothermal eruptions burst unannounced out of Lake Rotorua. Geysers of steam and boiling water were reported as high as 90 feet above the lake's surface. No matter how far technology advances, nature still has the last word in Rotorua.