Forgot Your Username?
If you have forgotten your username, please provide your email address in the box below. We'll send you an email with your requested username. If you are having trouble, please call us at 1-800-321-2835.
Email Sent
You'll receive an email in a few minutes. Please check this email to find your requested username.
If you do not receive an email or you are having trouble logging into My Account, please call us at 1-800-321-2835.

NEW ZEALAND
Get the details on our New Zealand vacation
Find out more about the trip, including activity level, pricing, traveler excellence rating, included meals, and more
Trip Itinerary
From the koalas and kangaroos of Cairns to picturesque Milford Sound, experience fascinating Australia and New Zealand.
19 DAYS FROM $5,195 • $ 274 / DAY
Grand Circle Tour
Australia: Cairns, Sydney | New Zealand: Te Anau, Queenstown, Rotorua, Auckland
31 meals: 16 breakfasts, 6 lunches, and 9 dinners (including 1 Home-Hosted Dinner)
Cruise the wondrous waters of Milford Sound, an idyllic fjord flanked by thick beechwood forests, rugged mountain peaks, and thundering cascades
Cross Lake Wakatipu on a vintage steamship and visit Walter Peak Sheep Station for a look into life on a New Zealand sheep farm
Learn about the culture and traditions of the Maori during a visit to the village of Ohinemutu, and see how the local tribe lives in harmony with the area's geothermal vents
Trip Details
Find the Adventure That's Right for You
Our Activity Level rating system ranks adventures on a scale of 1 to 5 to help you determine if a trip is right for you. See the descriptions below for more information about the physical requirements associated with each rating.
Travelers should be able to climb 25 stairs consecutively, plus walk at least 1-2 miles over some uneven surfaces without difficulty. Walks typically last at least 1-2 hours at a time. Altitude can range from zero to 5,000 feet.
Activity Level 2:
Moderately Easy
Travelers should be able to climb 40 stairs consecutively, plus walk at least 2-3 miles over some uneven surfaces without difficulty. Walks typically last for at least 2-3 hours at a time. Altitude can range from zero to 5,000 feet.
Activity Level 3:
Moderate
Travelers should be able to climb 60 stairs consecutively, plus walk at least 3 miles over some steep slopes and loose or uneven surfaces without difficulty. Walks typically last for 3 or more hours at a time. Altitude can range from 5,000 to 7,000 feet.
Activity Level 4:
Moderately Strenuous
Travelers should be able to climb 80 stairs consecutively, plus walk at least 4 miles over some steep slopes and loose or uneven surfaces without difficulty. Walks typically last for 4 or more hours at a time. Altitude can range from 7,000 to 9,000 feet.
Activity Level 5:
Strenuous
Travelers should be able to climb 100 or more stairs consecutively, plus walk at least 8 miles over some steep slopes and loose or uneven surfaces without difficulty. Walks typically last for 4 or more hours at a time. Altitude can range from 10,000 feet or more.
Hide Acivity Level
PRICE
including international airfare
HIGHLIGHTS & ACTIVITIES IN NEW ZEALAND
*This information is not available for our trip extensions. You must reserve the main trip to participate on this extension.
**This information is not currently available for this trip. Please check back soon.
Recommended Viewing
Watch this video showcasing what makes this country so unforgettable
Smart Travels with Rudy Maxa: New Zealand's South Island
Produced by Small World Productions
Join Emmy award-winning travel expert Rudy Maxa as he reveals the scenic gems and deep-rooted Maori traditions of New Zealand's South Island on a journey from Abel Tasman National Park and Nelson to Queensland.
Recommended Videos
Watch your fellow travelers' favorite films & videos
Smart Travels with Rudy Maxa: New Zealand's North Island
Produced by Small World Productions
Follow along with Emmy award-winning travel expert Rudy Maxa as he kayaks, hikes, and bikes through New Zealand's North Island, journeying from Auckland to the Bay of Islands to Hawkes Bay.
Lupe
Produced by Valeria Rocha Moreno
Discover a woman's passion for travel as she leads you through her new, but temporary, New Zealand home—Wellington.
New Zealand: Month-by-Month
There are pros and cons to visiting a destination during any time of the year. Find out what you can expect during your ideal travel time, from weather and climate, to holidays, festivals, and more.
New Zealand in December-February
Due to the island nation's location in the Southern Hemisphere, New Zealand experiences summer when we're experiencing winter in the Northern Hemisphere. Delight in balmy summer weather in New Zealand between December and February. This is an ideal time to take in the variety of ocean activities that the South Pacific offers.
Unfortunately, with warmer weather comes larger crowds. Summer is peak tourist season in New Zealand, which means that you should plan ahead and expect beaches and major cities to be crowded.
Holidays & Events
Throughout December: the Timaru Festival of Roses showcases beautifully designed gardens, live music, and theater acts
February 6: Waitangi Day celebrates the founding document of New Zealand, which was signed on February 6, 1840
Late January: Auckland Anniversary Day is celebrated on the last Monday of January. This holiday is dedicated to the arrival of New Zealand's first governor and co-author of the Waitangi Treaty, William Hobson
Late January: International Buskers Festival is celebrated annually and brings together individuals from across the globe to showcase their diverse range of talents, including

acrobatics,

juggling and comedy acts
Must See
Sample some of New Zealand's local wines and savor traditional flavors at the annual Marlborough Food and Wine Festival. This gastronomic celebration was the first of its kind and is the oldest food and wine festival in New Zealand. Enjoy wine from 40 vineyards and food from 25 vendors, all while taking in musical entertainment from the event's main and acoustic stages.
If you're looking for something a little sportier, the South Pacific tournament series for rugby sevens takes place over the summer. The game is similar to traditional rugby, except seven players make up a team instead of up to 15. The sport was founded in 1883 and continues to be one of New Zealand's most popular pastimes.
Watch this film to discover more about New Zealand
Overseas with David Conover: Conservation in New Zealand
Produced by Compass Light Productions
Discover the conservation efforts being taken by locals to protect New Zealand's beloved wildlife on a journey from the South Island's western coast to Christchurch.
New Zealand in March-May
Take advantage of the comfortable autumn weather, enjoy fewer crowds, and watch your travel dollar go further in March through May. At the beginning of the season, soak up warmer temperatures and by the end of autumn, enjoy a pleasant cool down. As the weather transitions from summer to autumn, watch the landscape brighten up with colorful foliage. In major cities, trees will most likely turn a bright yellow, and while orange and red hues aren't typical of foliage in New Zealand, you may spot these warm colors here and there. A cruise on Lake Wakatipu or an exploration of the area around the lake is a true sign of the changing seasons as the landscape around the lake turns a brilliant shade of yellow.
Holidays & Events
Early March: Golden Shears Sheep-Shearing Competition is an annual event that has been held since 1958
May: At Bluff Oyster Festival-goers enjoy live music and oyster shucking competitions
Must See
Balloons over Waikato is a popular New Zealand festival that attracts thousands of visitors to the city of Hamilton every year. The week-long event showcases spectacular hot air balloons that ascend over the city and dot the sky. If you're curious to see New Zealand from above yourself, various cities, including Auckland, offer hot air balloon rides. Float above mountains and valleys as you take in the crisp autumn air.
Watch this film to discover more about New Zealand
Overseas with David Conover: Conservation in New Zealand
Produced by Compass Light Productions
Discover the conservation efforts being taken by locals to protect New Zealand's beloved wildlife on a journey from the South Island's western coast to Christchurch.
New Zealand in June-August
During the winter months, the South Island is dusted with snow and the North Island is drenched with rain. While cooler temperatures provide a nice contrast to the hot summer heat, rain can hinder outdoor activities and snow can make commuting difficult. Fortunately, in the winter months little to no crowds make for a more enjoyable experience.
Although this may not be the best beach weather, a visit to Abel Tasman National Park is ideal this time of year as you'll get to hike and sightsee your way through the lush landscape and scenic beach undisturbed. Milford Sound also provides a better experience in the winter as there is less rainfall in Fiordland National Park and more wildlife viewing opportunities. Penguin and seal sighting are more common when the temperatures drop. If you're seeking out a warm retreat from the cold temperatures, hot springs abound. Surround yourself with the beauty of nature and enjoy a New Zealand winter from the warmth of a thermal pool.
You may want to take advantage of Queenstown's many exciting winter activities. The South Island city lives up to its title as the adventure capital of the world with activities like snowboarding, mountain climbing, bungy jumping, and more.
Holidays & Events
Late June: Queenstown Winter Festival brings together an eclectic mix of entertainment

—from firework shows to dog derbies, comedy shows, skiing, and more

June 15: Matariki is the start of the new year for the Maori people of New Zealand
Must See
Winter is one of the best times to witness the wild wonders of New Zealand's underwater wildlife. Watch whales breaching and dolphins porpoising out of the ocean along the coast of the South Island in Kaikoura. If you're looking to immerse yourself even more in nature, consider taking a dip in Rotorua's thermal pools, which provide visitors with an unparalleled New Zealand winter experience.
Watch this film to discover more about New Zealand
Overseas with David Conover: Conservation in New Zealand
Produced by Compass Light Productions
Discover the conservation efforts being taken by locals to protect New Zealand's beloved wildlife on a journey from the South Island's western coast to Christchurch.
New Zealand in September-November
The renewed vibrancy of spring arrives in September and remains through November. Witness baby lambs hopping through fields of fresh blooms and lush grass, but don't be surprised if a rogue snow shower springs up in the South Island in September.
This season ushers in comfortable temperatures that are perfect for an array of outdoor activities. Make the most of the leftover snow and take advantage of the warmer temperatures by skiing or snowboarding. If you're looking for an activity more aligned with springtime, white water rafting is popular this time of year as the rapids are fuller and faster.
Holidays & Events
Late October to early November: Taranaki Rhododendron Festival is New Zealand's longest running garden festival with 47 thoughtfully designed gardens and live music
Must See
New Zealand is home to around three million people and 60 million sheep, which only increases once newborn lambs arrive in the spring. Newborn orcas are also common this time of year and can be spotted swimming in pods, or in groups of 5-30 whales, in Wellington Harbour.
Watch this film to discover more about New Zealand
Overseas with David Conover: Conservation in New Zealand
Produced by Compass Light Productions
Discover the conservation efforts being taken by locals to protect New Zealand's beloved wildlife on a journey from the South Island's western coast to Christchurch.
Average Monthly Temperatures
New Zealand Interactive Map
Click on map markers
below to view information about top New Zealand experiences
Click here to zoom in and out of this map
Auckland
Auckland—a picturesque city where boats bob in the harbor, a dormant volcano serves as the city's backdrop, and the Sky Tower rises over 1,000 feet above the city. This "City of Sails," home to 1/3 of the nation's population, is the eighth most livable city in the world, a ranking based on healthcare, culture, environment, and education by the Economist Intelligence Unit. Here, you'll find an eclectic selection of cuisine, music, and art—a prominent influence on each comes from the Maori and Polynesian groups that live here.
Similar to other New Zealand cities, Auckland originated as a Maori settlement in 1350. Due to Auckland's rich soil and geographical features as an isthmus, European explorers moved into the area and began to colonize the land. Today, the vibrant multicultural city proudly displays its European and Maori roots, as well as other cultural influences, making it one of the most diverse cities in the world.
Auckland - A Tranquil City
Produced by Siyamalan Subramanian
Watch this time lapse film for a glimpse of the subtle grace and beauty of Auckland, New Zealand.
Experience Auckland with us on:
Milford Sound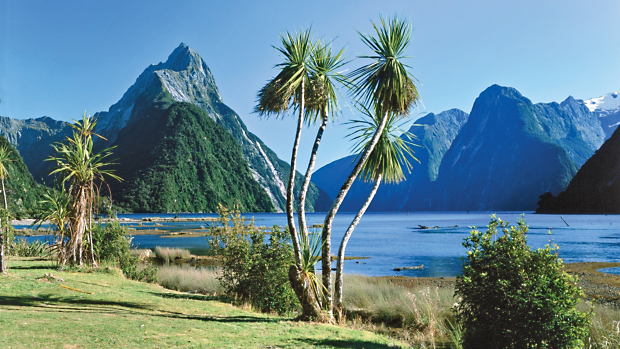 Milford Sound rightfully earns the "Eighth Wonder of the World" title from Rudyard Kipling as the natural phenomenon winds for ten miles around towering mountains and rugged cliffs, which seemingly rise out of the tranquil waters. Milford Sound, located in Fiordland National Park on the South Island, opens up into the Tasman Sea. The sound, actually a fjord, was carved by retreating glaciers that left valleys to be filled in with water from the ocean.
Surrounding the fjord are cliffs that rise 3,900 feet into the air, year-round waterfalls, and animal-like mountains. The Elephant, said to resemble the head of an elephant, and the Lion, known for its feline characteristics, both tower over the waterway at over 4,000 feet tall, but the most commanding presence is the Mitre Peak. At over 5,500 feet high, Mitre Peak is one of the world's tallest peaks. These natural wonders can be enjoyed by boat, kayak, helicopter, or on foot. Follow 33 miles of the Milford Track on foot from Lake Te Anau to Milford Sound. This trail provides a unique perspective of the landscape leading up to Milford Sound—travel through valleys, over mountain passes, and past waterfalls.
Experience Milford Sound with us on:
Queenstown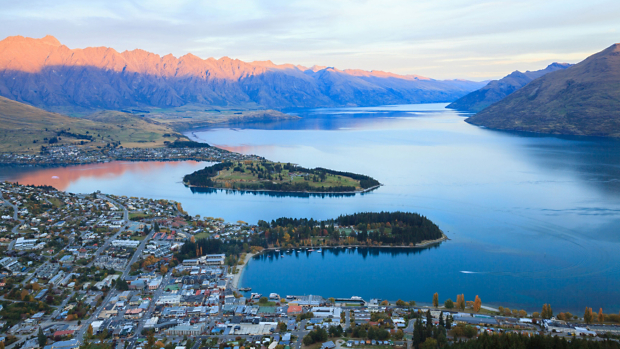 Queenstown has always been a fast-paced city. When settlers arrived in the 1850s and discovered the land was replete with gold nuggets, a population boom occurred and the government deemed the town "fit for a queen"—where the name Queenstown originated.
Today, Queenstown is just as fast-paced and is for the truly adventurous—it is the adventure capital of the world after all. There's no shortage of thrilling activities here as it boasts myriad landscapes, perfect for a variety of adventures. Water ski or jet boat on Lake Wakatipu or snowboard or mountain bike on The Remarkables Mountains—and for the brave of heart, Queenstown also offers sky diving and bungy jumping. In fact, the world's first commercial bungy company, AJ Hackett, jumped onto the scene in Queenstown. But if you're looking for more relaxed pacing, Queenstown has other activities too, including golf, wine tastings, fishing, and sightseeing.
Experience Queenstown with us on:
Rotorua
Geothermal geysers spout steam and water into the air in a fantastic display of nature at work … bubbling mud pools, verdant valleys, and turquoise waters contrast to create a wonderland of natural splendor. Waimangu Volcanic Valley's unusual landscape was sculpted by the 1886 eruption of Mount Tarawera, which gave way to sites like Frying Pan Lake, one of the largest hot springs in the world, and Inferno Crater, whose bright blue waters stand out from the rest of the landscape.
The town of Rotorua was established by the New Zealand government in the 1880s, but was originally settled by the Maori people. It is believed that the Maoris have inhabited this land for about a thousand years and continue to live here today—more than 1/3 of the city's population is Maori. The indigenous group carries on beloved traditions, including hangis, or feasts that are prepared underground.
Experience Rotorua with us on:
Featured Reading
Immerse yourself in New Zealand with this selection of articles, recipes, and more
ARTICLE
Learn more about the proud people who inhabited New Zealand before the Kiwis.
RECIPE
Regulated by federal law and celebrated in an official nationwide competition, meat pies are serious business in Australia. Learn to prepare a basic version with this recipe.
RECIPE
This sweet Australian treat is worth the sticky fingers. Follow this recipe and try it for yourself.
ARTICLE
From prison colony to paragon of democracy: Trace the progress of this island nation through history
ARTICLE
Learn about modern-day Nubian culture and how Nubian civilization once rivaled that of ancient Egypt.
RECIPE
In the 19th and early 20th centuries, Maori women in New Zealand weren't encouraged to participate in public life. But that never stopped Whina Cooper.
Meet the Maori
New Zealand's first people (that we know of)
by Bob Hammerling
It's tempting to think of the Maori as New Zealand's indigenous people, but in fact, they're colonists too. Some time around AD 1300, those who would become the Maori paddled from Polynesia in a fleet of wakas, or ocean-going canoes, arriving at the land that they would name Aotearoa (roughly translated as "land of the long white cloud") which we now call New Zealand.
Before long, Maori tribes had moved inland from the shores and established a thriving culture spread all across the young island nation.
Understanding the Maori's cultural roots
Deeply important to traditional Maori culture is the concept of mana, a spiritual measure of a person's status and authority. Mana is derived from nature, and an individual can only carry it, never create it. It can be accumulated by righteous living over the course of one's life and is passed down through generations. Thus, Maori revere their elders and take great interest in whakapapa, or genealogy, tracing their roots as they connect to not just their ancestors but to all nature, including the land and sky, all the way back to the beginning of creation.
Socially, the Maori place heavy focus on community—an individual is a member of their community first and foremost, and the group exists to serve its members. Although bonds within a tribe are powerful, intertribal conflict was common in Aotearoa's early history. In fact, warfare played an important part in early Maori culture, and archaeologists have unearthed nearly 7,000 pa, or fortresses, across the country.
Maori culture is deeply connected to nature, and this is reflected in their faith. In contrast to many western religions, in which divine beings exist in a supernatural realm separate from our own, Maori gods inhabit the natural world. Resources in the days of Aotearoa were exploited with great caution, and only with the blessing of tohungas, or priests, who spoke with the voice of the gods to communicate their will.
When worlds collide: First contact with Europe
The first encounter between the Maori and Europeans was brief and bloody: The Dutch explorer Abel Tasman was the first European to set eyes upon New Zealand in 1642, but he never made it ashore. As four of his crew attempted to row to land aboard a small boat, they were rammed—for reasons which aren't fully understood—by a Maori war canoe. The four sailors' deaths christened the waters with the name "Murderers Bay" (now known under the friendlier moniker "Golden Bay") and Tasman eventually sailed away, never to return.
More than a century later, Europe came back: This time under the British flag of Captain James Cook in 1769. Around 1800, British settlement of New Zealand was well under way. As the sun rose over another corner of the British Empire, Maori culture faced a crisis: Their people were ravaged by new diseases, alcohol, and fierce intertribal warfare, made bloodier with the arrival of European muskets. Many Maori became further distanced from their cultural roots due to the arrival of Christian missionaries, who succeeded in converting many people to their religion.
Waitangi and war: Resisting the British
In 1840, the British sought to formally gain sovereignty over New Zealand and to make the Maori citizens under the crown with the Treaty of Waitangi, signed by representatives of Great Britain and several hundred Maori chiefs.
The treaty is considered to be the founding document of modern New Zealand, but its validity is a source of debate to this day. Significant differences existed between the English and Maori translations of the treaty—chiefly around the notion of the transfer of "sovereignty," a concept which was not fully understood by Maori society at the time. To put it concisely, many Maori felt tricked: They didn't know they were signing their land and independence away.
Before too long, disagreements between the Maori and pakeha, or European settlers, led to conflict and outright war, symbolized by the iconic image of Chief Hone Heke (one of the treaty's first signatories) chopping down the British Flag flying over the Bay of Islands. The Maori would ultimately lose the war, resulting in a further decline of Maori culture, up until the beginning of the 20th century.
The Maori today: A rising cultural tide
The 19th century marked a low point for the Maori, but much progress has been made since. Young Maori leaders like Apirana Turupa kicked off the 1900s with a cultural renaissance, helping the Maori make great strides economically, politically, and socially.
Subsequent years have seen such strides as the election of Maori members of Parliament, a renewed interest in Maori language and culture (both among the Maori and the world at large), the legal investigation into dispossession of Maori lands following the scandals of the Treaty of Waitangi, and more.
Modern New Zealand has also witnessed the revival of traditional Maori arts, including carving, weaving, tattooing, and dancing. Famously, the New Zealand All Blacks, the national rugby team, opens each match with the fearsome haka, a traditional Maori war cry. To face the haka is often seen as a badge of honor even for opposing teams.
One can't ignore the challenges the modern Maori faces: While some still live in traditional tribal lands, vastly more have dispersed into the cities, where they generally face economic disparities compared to their paheka neighbors. While the Maori may have come a long way from their Polynesian roots, history has shown that they're here to stay.
Recipe: Australian Meat Pies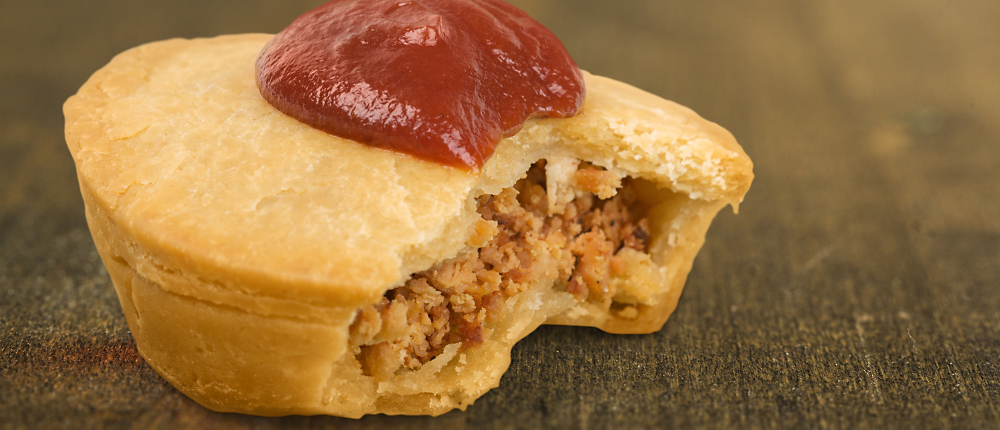 The meat pie is perhaps the most iconic Aussie snack food. While the concept of meat-filled pastry is a British invention that dates to medieval times, Australians have embraced the dish and made it their own, consuming "hand warmers" by the truckload at football, rugby, and cricket matches. Informal debates rage around whether the tomato sauce (what we call ketchup) should be chilled or at room temperature, and applied bite-by-bite or all at once.
In 1990, the gauntlet was officially thrown down at the first Great Aussie Meat Pie Competition—now an annual event. The goal, according to its website, is "to provide a national platform for quality pie improvement, product innovation, and skill enhancement." Media coverage after a win can launch a previously unknown producer into a million-dollar business.
While the old-fashioned minced beef and gravy will always reign supreme, federal law dictates that the "meat" in a pie can be beef, buffalo, camel, deer, hare, rabbit, sheep, or even kangaroo—and can include snouts, ears, tendons, and tongue. By law, every commercially sold pie must contain at least 25% meat—and skimping will not win a pie any awards in official competition: points are awarded for a higher meat-to-pastry ratio.
This recipe makes about 12 individual mini-pies in a standard-sized muffin tray—a perfect size for a snack or appetizer. You can scale it to fit any pie pan you'd like; just adjust the size of the crusts accordingly.
Ingredients
2 Tbsp olive oil
1 onion, diced
1 lb 80/20 ground beef
1 Tbsp cornstarch
3/4 cup beef stock
1/4 cup ketchup
2 tsp ground black pepper (or to taste)
2 Tbsp Worcestershire sauce
1/3 cup barbecue sauce
1 tsp Vegemite or Marmite (optional)
2 sheets frozen pie dough
1 sheet frozen puff pastry
Salt, to taste
1 egg, beaten
Ketchup, for serving
Preparation:
Heat oil in a large skillet over medium-high heat. Sauté onion until softened, then remove. Brown the ground beef in batches, taking care to not overcrowd the pan. Return all beef and onion to the pan, and season to taste with salt.
In a small bowl, mix cornstarch and a splash of stock to form a paste.
Add stock, ketchup, pepper, barbecue sauce, Worcestershire, and Vegemite/Marmite (if using) to the skillet.
Add cornstarch paste and stir to combine. Reduce heat to low and simmer until thickened, 10-15 minutes.
Preheat oven to 420 degrees Fahrenheit.
While beef mixture cools, cut the dough for the pie bases and lids. If using a muffin tin, you'll need 12 4-inch circles of pie dough and 12 2-inch circles of puff pastry. Use a small plate, tin can, or cup as a guide.
In a non-stick muffin tray, line each tin with a circle of pie dough, pressing down gently. Fill each with beef mixture, and top with puff pastry, "gluing" the top to the base with a bit of water on your finger.
Brush the tops with egg wash and bake for 25-30 minutes or until golden brown.
Serve as the Aussies do: topped with ketchup!
Servings: 12 mini-pies
Recipe: Sticky Date Pudding
One of the many great things about traveling is getting to sample the foods that define and enrich each country—the traditional favorites that both locals and visitors alike devour with delight. A favorite dessert among the Aussies—and one that "mums" across this South Pacific country bake with love—is their sticky date pudding. Actually a super-moist cake, sticky date pudding is a warm and (as the name implies) sticky dessert that is deliciously drizzled with caramel sauce and often served with a dollop of ice cream or whipped cream on top. Follow along with the recipe below to make your own satisfying after-dinner treat.
Ingredients:
¾ cup pitted dates

1 cup hot water

½ tsp. baking soda

2 Tbs. butter

¾ cup superfine sugar

2 eggs

½ tsp. vanilla extract

¾ cup sifted self-raising flour

Sauce
2/3 cup brown sugar

½ cup cream

2 Tbs. butter

½ tsp. vanilla extract
Preparation:
1. Pre-heat oven to 350 degrees.


2. In a medium saucepan, cover pitted dates with hot water and bring to a boil. Reduce heat and simmer for three minutes.


3. Add baking soda to dates, then remove pan from heat and let cool.


4. In a mixing bowl, cream butter and sugar until light and fluffy. Blend in eggs one at a time.


5. Pour cooled dates into bowl with butter and sugar mixture, and add vanilla extract. Stir.


6. Gently fold in flour, stirring lightly.


7. Pour mixture into greased muffin tins to create individual puddings and bake for about 30 minutes. Cake is done when a toothpick inserted into the center comes out clean.


8. For the caramel sauce, combine brown sugar, cream, butter, and vanilla extract in a saucepan and bring to a boil. Reduce heat and simmer, stirring until smooth—about three minutes.


9. Pour a small amount of caramel sauce over baked puddings and return to oven until the sauce is bubbly—about two to three minutes.


10. Serve individual puddings with remaining caramel sauce drizzled over top. The pudding is great served hot with ice cream or whipped cream, but can also be served cold.


Servings: 6
The Rise and Emergence of Australia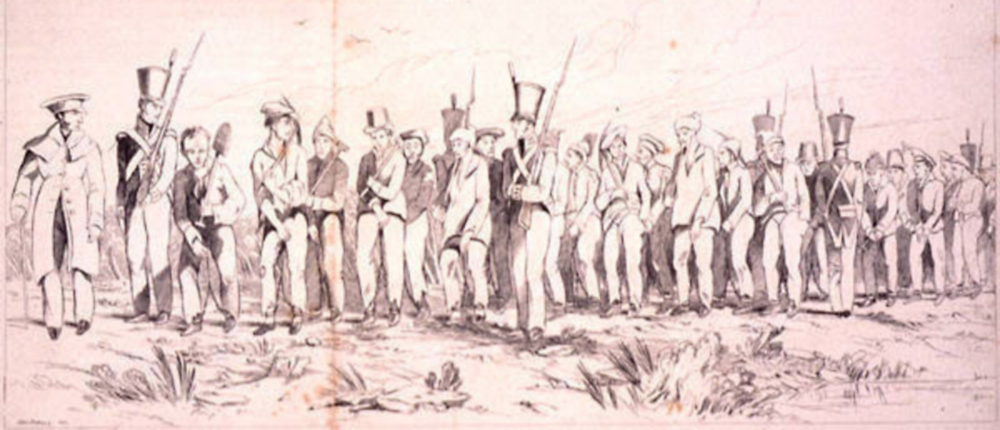 How Sydney's penal colony transformed into one of the freest countries in the world
by Pamela Schweppe, for Grand Circle
Thrust from an urban setting into an inhospitable wilderness, the convicts had to quickly overcome adversity just to stay alive.
Transport yourself to the London of the 1780s. Under the English Penal Code, known colloquially as the "Bloody Code," more than 200 crimes are punishable by death. Perhaps you are hungry and desperate and turn to pickpocketing to survive, or maybe you're a soldier guilty of insubordination. Which would you prefer: being put to death, or being transported to the underbelly of the world, where you will be left to fend for yourself? Or are these two options essentially the same thing? For many British convicts in the late 18th century, being exiled to Australia may have seemed like a death sentence—and for many, it was. At the time, London was the most populous city in Europe, having grown to 800,000 people. Crime was rampant—so much so that it was unwise to venture out after dark. What to do with all the criminals had become a major issue. Prisons were scarce and overcrowded, so transporting prisoners to remote lands had become the preferred alternative to execution. During the 17th and 18th centuries, roughly 60,000 prisoners were sent to North America. When Britain lost the Revolutionary War, however, they also lost a vast continent on which to deposit convicts, so a new site needed to be sourced.
It happened that, in 1768, Lieutenant James Cook had been commissioned by King George III to explore the South Seas. In 1770, his ship, the HMS Endeavor, became the first European vessel to touch the eastern shores of Australia. The place where the ship landed is now called Botany Bay. On August 18, 1786, a decision was made to develop a convict settlement at Botany Bay. On May 13, 1787, the First Fleet set sail from English shores. The fleet consisted of eleven ships: two naval ships, six convict ships, and three supply ships. On board were roughly 1,500 passengers, of whom around 800 were convicts. As it turned out, the voyage did not end at Botany Bay. On arrival on January 20, 1788, the leader of the expedition, Captain Arthur Phillip—soon to become Australia's first governor—determined that the unprotected waterfront plus a lack of green fields and fresh water made the site unsuitable. The fleet sailed on to Port Jackson—better known today as Sydney Harbor—where permanent anchor was made. The date was January 26, 1788.
A typical day for Australia's first European settlers
Conditions for those first European settlers were harsh. Scurvy and dysentery were rampant. Thrust from an urban setting into a wilderness, the convicts were responsible for finding a way to sustain themselves with food and shelter. Crops were sparse, and much of the livestock was lost. Still, Governor Phillip quickly arranged for the new settlers maximize their skills, whether farmers, shepherds, carpenters, nurses, or record keepers. Days were long and rigorous, and yet the convicts enjoyed a measure of freedom that would never have been afforded to them in London. Still, the mortality rate was high among the new settlers, who waited impatiently for more food to arrive with the Second Fleet. The next ship to arrive, however, was not what the colonists expected. Crimes against Australia's indigenous people, the Aborigines, reached an extreme when an eight-year-old Aboriginal girl was raped. In response, British Home Under-Secretary Evan Nepean decided that the behavior of the men of the new penal colony would be improved with the arrival of more women, so he ordered that 225 women from prisons throughout England be sent to Australia aboard the Lady Juliana.
The special plight of women
For some of the female prisoners aboard the Lady Juliana, transportation to the new penal colony was ironically freeing—a chance to cast aside social strictures and carve out a new life. For most women, however, being sentenced to Sydney Cove was tantamount to being forced into prostitution. Even though most of the women transported were guilty of a first offence (as opposed to multiple offences for most of the men)—and that usually a misdemeanor—they were assumed to be vulgar, low-class women with loose morals. Sexual abuse usually commenced even before arrival in Australia—aboard the very ships that took them there. Besides, with men assigned the tasks of farming, manufacturing, and construction, there were few jobs left over for women. There was little demand for servants, and factory jobs were scarce. With little incentive for men to marry, even the respectability of marriage was out of reach for most women, and for decades, those who did marry still could not escape the stigma of being considered a prostitute.
From penal colony to, simply, a colony
As the years went by, the focus of the settlement turned from punishment to colonization. By 1810, convicts were building roads, bridges, hospitals, and public buildings. Some were even gaining their freedom. Free citizens also began arriving in 1793, increasing the proportion of free citizens and adding to the demand for democratic change. Real reforms were enacted under Lieutenant-General Sir Richard Bourke, the ninth governor of New South Wales (1831-1837). Governor Bourke began waging a campaign against excessive punishment and inhumane treatment of the convicts, and also began granting rights to free convicts, including the right to own property. In 1850, transportation to Australia as a form of punishment was abolished. In all, approximately 165,000 convicts had been transported to Australia aboard 806 ships. The colony was now self-sustaining. Today, January 26 is celebrated as Australia Day, a national holiday comparable to America's Fourth of July. Is there irony in the fact that the U.S. observes its birthday on the signing of the Declaration of Independence, whereas the Aussies mark the anniversary of the arrival of prisoners? Perhaps not, when you consider that the brash and easygoing character we associate with the Australian people is founded on a band of convicts who had ample reason to cherish and pursue the very notion of freedom.
Nubia: A Lost Kingdom Seeks to Preserve its Past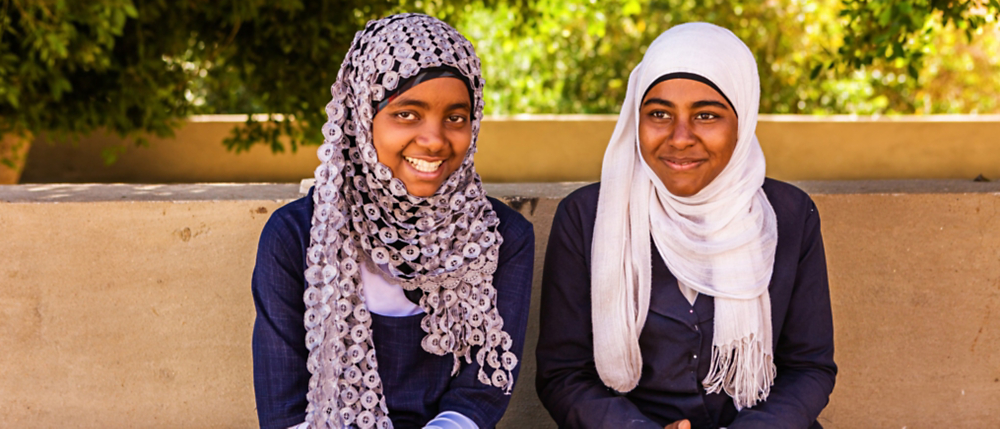 by John Bregoli
More than 5,000 years ago, one of the most advanced and culturally sophisticated cultures that the ancient world had ever seen was blossoming in Africa—and it wasn't just in Egypt. It happened in a land we know today as Nubia.
So where exactly is Nubia? And who are these Nubians?
Nubia refers to a specific region along the Nile that straddles southern Egypt and northern Sudan. It is a land that gave rise to a highly advanced African civilization to rival ancient Egypt in wealth, power, and cultural development. Egyptians called their dark-skinned neighbors to the south "Nubians"—meaning "gold"—due to the abundance of gold and other precious metals in their lands. Over the successive millennia, Nubians were at various time allies and dreaded enemies of the Egyptians (and many would say that this love-hate relationship continues to the present day).
Beginning in about 2,000 BC, Egypt conquered Nubia and dominated its people for some 1,200 years, a period when many aspects of Egyptian culture were adopted by the Nubians. But in 747 BC, Nubia returned the favor and conquered Egypt. Nubian Pharaohs then ruled Egypt for almost a century in what is known as the 25th dynasty (some call it the "Ethiopian Dynasty"). The Nubians' highly successful reign ended in 656 BC, however, when Assyrian armies conquered Egypt.
After the Nubian Pharaohs lost power, they fled Egypt and returned to their southern lands, where they formed the Kingdom of Kush. Now safely isolated from Egypt—which suffered repeated invasions from Assyrians, Persians, and Greeks—the new Nubian kingdom thrived and developed a more distinctly African culture. So much contact with Egypt had already shaped Nubian culture, though, and Nubians worshipped many Egyptian gods, called its rulers Pharaohs, and built Egyptian-style pyramids—lots of them. In fact, there are more pyramids in present day Sudan (homeland of the Kingdom of Kush) than in all of Egypt.
Nubian civilization continued to flourish during six centuries of Roman rule over Egypt, a time when Aswan was Rome's most southerly frontier. Christianity came to Nubia in the fourth century, but in the 15th and 16th centuries (when Arab powers dominated the region), most Nubians converted to a form of Islam. Later, when Sudan officially seceded from Egypt in 1956, Nubia and its people were split between the two countries.
The loss of Nubian history and the suffering of modern-day Nubians—who differ ethnically, linguistically, and culturally from Egyptians—began in the early 20th century, when successive dams built in Aswan by the British began displacing them from their historic homeland. The real loss for Nubia, however, came in the 1960s with the construction of the Aswan High Dam, when the vast reservoir of Lake Nasser basically submerged the entirety of Egyptian Nubia. While priceless Pharaonic temples and monuments were carefully moved piece by piece to higher ground, hundreds of Nubian villages didn't fare nearly as well. Numbers vary, but it appears that more than 135,000 Nubians were displaced. Many left to seek work in Egypt's northern cities, and about 50,000 Nubians were forcibly resettled about 30 miles north of Aswan. More importantly, this resettlement destroyed a way of life. Once surrounded by nature and living off the land and the Nile River in Aswan (old Nubia), most Nubians were now relegated to a desert life in villages built for them in places like Kom Ombo (new Nubia).
The bottom line is that relocation not only made Nubian living more difficult, it has threatened to extinguish Nubian culture. Government-run schools in relocated Nubian villages do not teach Nubian history or languages. Many children may understand Nubian, but they speak Arabic. Although many Nubians are working hard to preserve their language and culture, most can only learn about their proud past through stories from their parents and grandparents.
Sadly, much of the younger generation of Nubians has traded in their traditional dress for jeans and t-shirts. Unfamiliar with aspects of their Nubian heritage, it appears that the new generation of Nubians would prefer to assimilate into Egyptian society or make a go of it in new Nubia–for they have no memories of old Nubia. But older generations of Nubians still cling to the dream of returning to the banks of their beloved Nile.
Mother of the Maori
Whina Cooper's unlikely rise to heroism
Lyette Mercier, from Dispatches
In the 19th and early 20th centuries, Maori women in New Zealand weren't encouraged to participate in public life. But that never stopped Whina Cooper. Born Hohepine Te Wake in 1895, Whina never shied from forging her own path, becoming a pioneering tribal leader and eventually being granted the title Te Whaea o te Motu ("Mother of the Nation") from her fellow Maori women.
Whina (short for "Josephine," the Christianized version of her first name) was the first daughter of tribal elder Heremia Te Wake and his second wife, Kare Pauro Kawatihi. She had four half-brothers and three half-sisters from her father's first marriage.
She was attracted to politics even as a child. In her obituary, British newspaper The Independent noted, "She defied convention and Maori tradition from an early age, eschewing games with other children to listen to tribal elders debating ownership of land." Her father recognized her keen intellect and leadership skills and favored her over his sons, beginning a lifelong rift between Whina and her siblings.
Maori culture is community based, with local tribes gathering in the marae (sacred meeting space) to decide everything from ownership rights to engagements. At the turn of the century, women were barred from speaking in the marae. But this disenfranchisement did not stop Whina from becoming a local leader.
At 18, she organized civil disobedience to keep a British farmer from draining a swamp that the local tribes used for shell fishing. While Whina's father challenged the farmer's lease in court, Whina and a group of young people came at night to fill in the drainage ditches that were dug during the day. Eventually they were charged with trespassing, but by that time the farmer's lease had been revoked and the swamp was saved.
A few years later, Whina eloped, without the approval of the community. She and her husband were exiled from their home and forced to live off the land until the priest who had married them heard of their circumstances. He advanced them a loan, allowing them to purchase Whina's late father's house and the general store in their hometown.
Whina proved to be such an astute businesswoman that she was able to pay off the priest's loan in just three years. She also opened a post office, another store in town, and two branch stores in neighboring towns. She returned to public life, building a medical clinic and a community center that allowed women to speak in meetings.
While collaborating with New Zealand's national government in a program to create Maori farming collectives, Whina met Bill Cooper, a fellow Maori politician. Romance blossomed, and when Whina's first husband died in 1935, she moved in with Cooper. As she was also pregnant with Cooper's child at the time, the scandal once again ostracized her from the community. Once again, she slowly rebuilt her standing, eventually serving on her tribe's executive committee from 1946 to 1952.
After Bill Cooper died in 1949, Whina sought a fresh start in Auckland, where she immediately became involved in Maori causes. She joined the first conference of the Maori Women's Welfare League in 1951 and was elected president. During her time leading the league, she initiated programs to improve housing for Maori immigrants to New Zealand cities, and addressed racial discrimination in housing, employment and health services.
Whina remained involved in local and national politics until 1974, when her failing health led her to declare her exit from public life. That vow lasted all of one year, until she was persuaded to be the face of a campaign fighting to preserve Maori ownership of their traditional lands. The 80-year-old, arthritic Whina Cooper led a 1,000-kilometer march from the far north of the country to Parliament to deliver a petition signed by 60,000 Maori natives.
Whina continued to be active until her death at age 98 in 1994. In 1990, she spoke at the opening ceremony of the Auckland Commonwealth Games, reminding her listeners of the purpose of the Treaty of Waitangi—and, indeed, of her own life as an activist: "…so that we could all live as one nation in Aotearoa."