Forgot Your Username?
If you have forgotten your username, please provide your email address in the box below. We'll send you an email with your requested username. If you are having trouble, please call us at 1-800-321-2835.
Email Sent
You'll receive an email in a few minutes. Please check this email to find your requested username.
If you do not receive an email or you are having trouble logging into My Account, please call us at 1-800-321-2835.

THE NETHERLANDS
The Netherlands Interactive Map
Click on map markers
below to view information about top experiences in the Netherlands
Click here to zoom in and out of this map
Amsterdam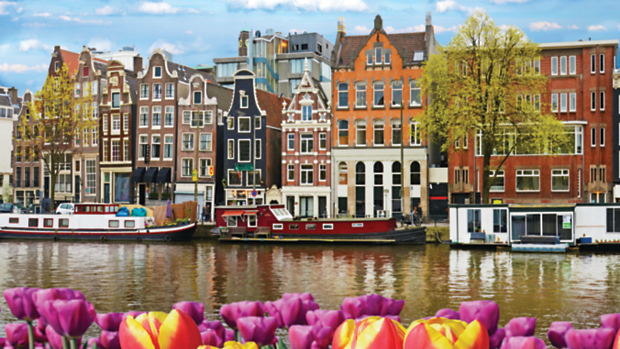 It's a city that Netherlanders took back from the sea. It's a place where CEOs heading to corporate meetings and friends getting together for coffee both travel by bicycle … the site of relentless innovation, whether that means the development of cutting edge technology or the brewing of an unconventional beer… an artist's paradise, complete with The Van Gough Museum as well as the Hermitage Amsterdam, where works classic and modern can both be admired … but most of all, it's where gezellig, or coziness, is a higher law.
When locals aren't peddling their way around the city, you may find them cruising the famous, 400-year-old canals. Amsterdam gets its name from the medieval Dutch aeme stele redamme, or "watery dam," as it was once a vast swamp with sparse patches of dry land. Manmade canals were dug to give it structure and control the flow of water, and by the late 1500s, Amsterdam had gone from a quagmire of wetlands to a thriving and populated center for trade. The system of waterways gained complexity throughout the 16th and 17th centuries, leading to the creation of what's now known as the "canal district," a lively area layered with crescent-shaped canals.
Today, Swampland is probably the last thing that comes to mind when one thinks about Amsterdam. Instead, it's characterized by undeniable historical and modern charm. A large part of this charm may be the brown cafes, or traditional Dutch pubs. Named for their dark wooden paneling and neutral-toned décor, this where locals and weary travelers alike come to feel welcome and find good conversation among friends and strangers. Perhaps this is precisely where the elusive sensation of gezellig emanates from.
Experience Amsterdam with us on:
Kinderdijk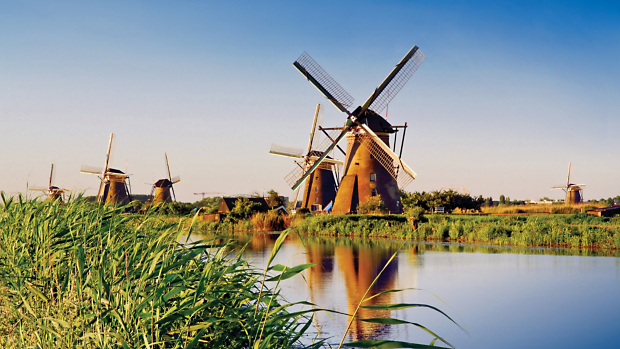 Before the 19 famed windmills of Kinderdijk were erected, there was water, and a lot of it. The first settlers of this region built their homes atop sand dunes to mitigate the damage of floodwaters, but eventually descended to more vulnerable grounds where the soil was fertile. Over centuries, many different strategies of keeping dry were implemented including dykes and ditch systems. The event that sparked the cry for a permanent solution occurred on a stormy night in 1421 and is now known as Saint Elizabeth's flood. It wreaked havoc on the community, destroying the dykes and killing thousands of people. Legend has it that in the wake of the incident, a cradle drifted to the banks, kept afloat by a cat balancing atop it and preventing water from getting in. Inside the cradle was a sleeping baby, perhaps giving Kinderdijk, or "Children's Dyke," its name.
The public's answer to this travesty was a system of windmills and pumps. The wind's power was harnessed to drain the water, and the excess was collected in basins. This way in times of flooding, the water could be contained, but in times of drought, it could be released back into the soil. Time and technological advances improved the system, and while some of the windmills are still utilized today, two diesel-fueled pumping stations are now the main resource used to keep the water level in check. The windmills achieved UNESCO World Heritage status in 1997.
Even though Kinderdijk locals no longer depend on the windmills, many are still interested in preserving and caring for the once vital structures. Some of them even function as compact and charming homes for their keepers. Today, the town of Kinderdijk is simply and quintessentially Dutch, where locals and travelers alike enjoy eating at mom and pop bakeries, cycling picturesque paths, hiking below sea level, and ice skating in the winter.
Experience Kinderdijk with us on:
Nijmegen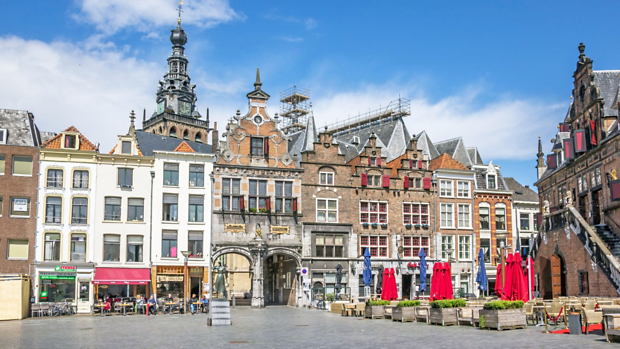 One would be hard-pressed to pin an identity on the city of Nijmegen, as it's both the oldest city in the Netherlands with a rich medieval center and a hip college town. While youthful energy emanates from Honigcomplex which houses coffee roasters, microbreweries, and modern art displays, a short distance away one can behold historical and even ancient sites such as Sint Stevenskerk, a 15th century gothic church, or the 8th century ruins of Charlemagne's palace at Valkhofpark.
A notable story from the city's rich history comes from the battle of Nijmegen during World War II. Operation Market Garden was an attempt by the Allied army to seize nine bridges with land and air invasions that would provide a path into Germany. The bridge in the center of Nijmegen was one of the most vital to secure, which became evident to German forces, causing them to fiercely defend it. Despite their attempt to blow the bridge, Allied forces eventually managed to take it, and British tanks were able to make their way into Germany. However, the army's failure to secure the final bridge over the Rhine river meant that this mission was overall unsuccessful.
Despite the destruction that World War II brought upon the Netherlands and much of Europe, turmoil isn't immediately evident in the exuberant city today. Visitors can enjoy a four-day walking festival in the summer, a variety of history and art museums, and music and cultural festivals throughout the year.
Experience Nijmegen with us on:
Dordrecht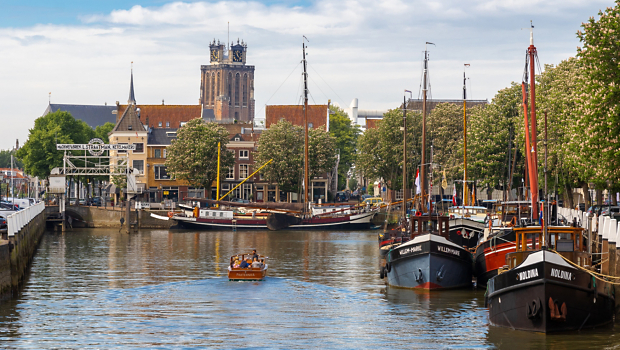 A NEW destination for 2020, Dordrecht holds the distinction of being one of the oldest cities in the Netherlands, and one of the six important trade cities in Holland. The town's longevity—it was founded in 1220—and its strategic position made it a major stop in the wine trade and one of the most powerful regions in the Netherlands up until the late 16th century. Visitors to this charming port town today can witness remnants from this golden era, as many well-preserved buildings from this period remain.
Experience Dordrecht with us on:
Featured Reading
Immerse yourself in the Netherlands with this selection of articles, recipes, and more
ARTICLE
A visit to the renovated Rijksmuseum in Amsterdam is a true journey into the past. Find out how for yourself.
ARTICLE
It may be known as "the Venice of the North," but this section of the country has an identity all its own. See why.
RECIPE
In the Netherlands, people flip for their favorite breakfast—pannekoeken. A light, thin pancake that can be served sweet or savory, pannekoeken are easy to whip up and can be filled with whatever you wish.
ARTICLE
Learn how the Netherlands' oldest city helped turn the tide of war after the Germans invaded in 1940.
ARTICLE
Discover the colorful story of the world's largest flower park, which is only open for eight weeks each year.
A Journey Through Time
The reinvention of the Rijksmuseum
by Tom Mashberg from Currents
A great museum offers more than just masterpieces. It offers visitors a voyage back in time, a rare chance to see how life was lived when the finest recording instrument at hand was the paintbrush.
So a visit to the renovated Rijksmuseum in Amsterdam is a true journey into the past. The museum not only houses an unmatched collection of iconic national masterpieces—among them Rembrandt's The Night Watch and The Syndics of the Drapers' Guild, and Vermeer's The Milkmaid—it contains thousands of paintings, drawings, and intricate objects that altogether re-create the history of the Netherlands in rich and enveloping detail.
Not a bad achievement for a national museum that gets far less attention than its legendary counterparts in London, Paris, and Rome. It took ten years and $480 million to create this combination showcase and time machine, and a lot of typical Dutch ingenuity. From 2003 until its completion, the project was beset by funding delays, asbestos removal, and a bizarre legal battle over bicycle access to its grand inner courtyard. There was even a major flooding episode, a bit of apt irony for a country that was in essence a sea-saturated inland swamp before its clever inhabitants, beginning in the Middle Ages, engineered their ingenious system of dikes and floodgates. (Part of the museum is 25 feet below sea level.) The result is a structure transformed from a severe, gloomy old castle to a luminous, fairy-tale-style palace.
The reimagined Rijksmuseum sits before a great green lawn where Dutch families lounge and take in the sun. From afar, it is imposing yet inviting, part grand old edifice and part gingerbread mansion. There's a tall archway over the entrance, tidy brickwork topped by a series of tastefully peaked turrets, and giant atrium windows that run across the roofs of the central pavilion and its two great wings. The museum draws you toward it even on a sunny day—you can foresee that the interior will be full of sunbeams and air. This museum is no longer a voyage into a fusty realm of dimness and shadows. It's a vaulting, ethereal structure that perfectly illuminates the past.
The features include pale stone floors from Portugal, interior facades interspersed with niches, windows and plinths, and two immense white chandeliers. There are 45,000 square feet of exhibition space.
Not just Rembrandt
One hardly thinks of visiting a Dutch museum without imagining a sumptuous buffet of Rembrandts, topped off with some Van Gogh, and a lustful look at the blue and white pottery treasures known as Delftware.
All that is possible (although there is just a single Van Gogh self-portrait). But the new Rijksmuseum seeks to serve up more—it aims to tell visitors the story of the Netherlands from the Middle Ages to the 20th century. Curators have accomplished this feat by displaying 8,000 of the museum's one million works in a chronological succession across four floors and 80 galleries (illuminated by the large atriums and by fresh, contemporary LED lighting). Beyond its finely detailed oil paintings, the exhibits include sculpture, drawings, prints, photographs, jewels, porcelain, Delftware, furniture, tapestries, model ships and dollhouses.
The twist is that the paintings, historical objects and other forms of art are displayed side-by-side in their original context, offering a natural, complimentary juxtaposition of art and culture that highlights the 800-year story of the Netherlands. Fine Renaissance art, for instance, might be seen alongside furniture, craft items, and even machinery from the era. There is a strong focus on the Middle Ages, with paintings intermingling with gold and silver church treasures, delicate religious sculptures, early panel painting, large-scale sculptures, complex altarpieces, objects by silversmiths and goldsmiths, delicate ivory carvings, and colored majolica pottery.
Throughout the centuries, the Dutch traveled far and wide on their speedy barques and schooners and explored all corners of the world, leaving imprints from the East Indies to the Thames River to the island of Manhattan. The Netherlands was a crossroads for Christians, Jews, Asians, and Africans, and that melding of culture and science makes Dutch art unique. The museum has a large collection of paintings showing the Dutch navy routing English and Spanish warships in smoky, fiery contests in the English Channel and along the Atlantic coast.
In a wing fitted out for the purpose, the Rijksmuseum displays special collections of porcelain, silver, jewels, glass and ceramics, mechanical inventions, and simple and elaborately decorated weapons and model ships.
This is not a place for contemporary art. The closest one comes is the giant red and white "I amsterdam" sign that sits outside the front of the 19th century facade, and a few rotating installations like the 47,000 black stars painted onto the ceiling of an antechamber by a British artist, Richard Wright, which were meant to be whitewashed after a short exhibition.
Golden Era
More than 30 galleries are dedicated to the glories of the 17th century—the Golden Age, when the young mercantile republic now called Holland led the world in trade, science, military exploits, and the arts. At the heart of the museum is the spectacular Gallery of Honor, where the most famous masterpieces by Frans Hals, Jan Steen, Johannes Vermeer, and Rembrandt van Rijn are assembled. The gallery leads visitors to a space dedicated to Rembrandt's great, controversial, and misunderstood masterpiece The Night Watch.
The Dutch masters of the Golden Age flourished at a time when the public clamored for a new kind of art: authentic, almost documentary-style scenes from everyday life. Realism, precision, and beauty in painting were skillfully blended by these men at a time when the emerging and prospering middle classes, eager to decorate their homes with more than just portraits of pious figures from the past, commissioned personal portraits as well as landscapes and street scenes.
The style became known as "genre painting," and it suited the tastes of the industrious, inventive Calvinists and Mennonites who were then dominating world trade while perfecting the windmill, breeding tulips, and creating the microscope, the telescope, and the doughnut. Tiresome, predictable older paintings—images of saints, biblical parables, and scenes from history—fell out of fashion. The Dutch embraced illustrations showcasing tailors, cobblers, kettle makers, artisans, knife sharpeners, and blacksmiths, usually depicted laboring amid their workaday mess. Paintings and prints of such scenes were affordable and plentiful and showed the fullest range of city life—from dockworkers, mendicants, and foreign travelers to physicians, children, and dogs.
In the span of one century, hundreds of skilled Dutch artists produced tens of thousands of paintings, drawings, and etchings. Some were near-photographic-quality portraits that showed every crease and wrinkle; others became known as "tronies," paintings and drawings of stereotypical characters like the beer-swilling drunkard or the noble peasant farmer. In essence, they created the first large marketplace for art for the masses. In doing so they achieved two things: They spread their fame across Europe by demonstrating a fealty to detail that stunned their contemporaries, and they created works that are just as popular today because they offer viewers a precise look at the Dutch clothing, food, people and events from more than 350 years in the past.
It's no wonder then that the museum's central, shimmering Gallery of Honor features nothing but masterworks from that time. Among them: The Night Watch (1642) and The Jewish Bride (c. 1665-69) by Rembrandt, along with one of his 50-odd self-portraits, from 1628, when he was in his early 20s; The Milkmaid (1660) and Woman Reading a Letter (1663) by Vermeer; The Burgomaster of Delft and his Daughter (1655) by Jan Steen; Portrait of a Couple by Frans Hals (1622); and a pyramid of Delftware flowers and a precise, fastidious dollhouse from the later part of the century.
The Night Watch
The focal point of this hall of fame is The Night Watch, considered Rembrandt's greatest masterpiece. The painting, about 15 feet by 12.5 feet, suffered many centuries of indignity after it was first unveiled under its original name, The Officers and Shooting Company of Captain Frans Banning Cocq and Lt. Willem van Ruytenburch. The shooting company was a group of town fathers who patrolled city streets during the latter stages of the Eighty Years' War (1568-1648), when Holland was under attack by Spanish armies.
The work was a sensation—because of its amazing size, its virtuoso use of light and shadow (chiaroscuro, a hallmark of Rembrandt's work), and the fact that the figures are shown in motion rather than standing or seated (as in the static painting The Syndics of the Drapers' Guild, made famous by the Dutch Masters brand cigar box). The Night Watch was met with howls of protest by the men who commissioned it, who felt it rendered them more as cockeyed troubadours than as dignified musketeers.
The poor reception led many to call the work, foolishly, Rembrandt's greatest failure. The painting was shunted about, covered with dark varnish, and cut so it could fit on a rear wall of the Amsterdam Town Hall in 1715. It was even rolled around a cylinder for a time and stored in a wooden crate. It required major restoration work in 1975, but critics long felt it was poorly displayed at the old Rijksmuseum because of bad lighting.
Clearly, the refreshed painting, now suffused with excellent LED lighting, hangs in a setting that is tranquil yet glorious. It is protected by unique non-reflective glass similar to that seen in the Louvre and the Musee d'Orsay in Paris, prompting curators to boast that "through technology you see the truth of art." One might also say that The Night Watch and the other great works in the refurbished Rijksmuseum represent the fine art of telling the truth about one nation's fabled past.
The reinvention of the Rijksmuseum
Holland: Exploring the Identity of the Netherlands' Most Famous Region
by Carley Thornell from Currents
It's rare for most of a country to refer to itself by a misnomer, but the Netherlands is unique in countless ways. Just as well known for its quaint windmills and colorful tulips as its salacious nighttime culture, even many Dutch people refer to their country as "Holland"—though that region technically only comprises two of the Netherlands' twelve provinces. It may be known as "the Venice of the North," but this central-western section of the country has an identity all its own.
What's in a name?
The most developed part of the country during the Dutch Golden Age of the 1600s, Holland and its businessmen traditionally dominated foreign trade thanks to the region's waterways and shipping capabilities. The word Holland became synonymous abroad with the country and stuck. Her countrymen are no dummies: The name Holland is used in international promotion because it's still best known that way worldwide—even the Netherlands' board of tourism markets itself as Holland.com. 2013 was an exciting year for visitors and countrymen alike, as it marked the 400-year anniversary of Amsterdam's canal ring, or grachtengordel, a UNESCO World Heritage Site. For centuries, the water coursing through these channels has been the lifeblood of a vibrant city—a unique feat of structural engineering built in the 17th century, when immigration soared, to foster both economic prosperity and quality of life in the Netherlands' capital. These concentric half-circles form a fingerprint, a manifestation of the city's unique identity as a beautiful setting for pedestrians and bicyclists alike. Connected by 1,500 bridges, more than 2,000 houseboats dot the scape, a picturesque solution to potential overcrowding and one of the most remarkable parts of Amsterdam.
Creation of a culture
Amsterdam's population boom began with the 1585 fall of nearby Antwerp, Belgium, to Spain's King Philip II, who gave Protestants two years to reconvert to Catholicism. The large exodus of those unwilling to convert included many skilled craftsmen and rich merchants—which flooded Amsterdam with prosperity. But the city was also rich in personal freedom, and though there was persecution of religions other than Protestantism, enforcement was at times lax.
The new, strong Dutch Republic exceeded expectations. It surprised many that a nation not based on a monarchy or religion could be so successful. During the Dutch Golden Age of the 17th century, the Netherlands dominated world trade and had a vast colonial empire thanks to its strong navy. The country also has the oldest stock exchange in the world, started in 1602 by the Dutch East India Company.
But the market most people associate with Holland has to do with a simple flower—which has come to symbolize both a country and the perils of speculative trading. "Tulipomania" was the bubble and resulting pop when trading of the pretty plants reached a fever pitch in the 1630s. People of every economic level owned and bred tulips, which thrive in the Netherlands' temperate springtime climate. But, their bulbs can't be moved until summer, so purchasing them became speculative, hence the term windhandl: a wind trade, in which no actual product is traded. If the value dropped before the bulbs changed hands, the price agreed to at signing had to be paid. That's exactly what happened in 1637 when prices suddenly plummeted. This new world economy skewed the boundaries between the classes, as all of society's ranks could purchase and trade—especially after shock of the mania subsided and flowers were more affordable. The Dutch learned their lesson about being fiscally conservative, while still cultivating the vibrant hues that dot the landscape today.
Beautiful mind
Give them their colorful flowers, but the art of the Dutch Golden Age was far more pragmatic. The rise of the new middle class gave way to the proliferation of austere portraiture by such artists as Rembrandt, and simple scenes of everyday life, like Vermeer's The Milkmaid. Along with a museum dedicated to one of its most famous native sons, Vincent Van Gogh, Amsterdam prides itself on being a world-class art city. Visitors to Rijksmuseum, the "State Museum" in English, are in for a treat when it reopens late this year or early next after ten years of rebuilding. The exterior also features some modern art, a large, sans serif sculpture along the front façade reading "I Amsterdam," once a marketing slogan and now a catchphrase throughout the city indicative of local pride.
Lots brewing
Given its location, Amsterdam's cuisine and waterside culture are inextricably linked. Heineken's world headquarters is here and Amstel beer was named after the Amstel canal, both using the clean current coursing through the canals for brewing. And the annual celebration of Flag Day, or Vlaggetjesdag, derives its names from the hundreds of little flags festooning the fishing boats that catch the first herring of the season, Hollandse nieuwe—a local delicacy that is hotly anticipated each year in late spring. Dairy products have always been a diet staple here, and the countryside's lush meadows and peacefully grazing cattle help make the Netherlands one of the world's largest exporters of cheese, butter, and powdered milk.
Booming business
Though import restrictions will likely prevent you from taking home Gouda cheese, travelers can still get special documentation to bring back the region's famed blossoms—and a trek to Bloemenmarkt on the Singel Canal makes for a lovely afternoon. The picturesque floating flower market along canal banks lined with 17th-century architecture is an interesting juxtaposition when the sun goes down, as the crimson hues of tulips are overtaken by scarlet vibes coming from windows in this part of the Walletjes Red Light District. So named for the lights turned on to signify that the brothels are open for business, the legalized sex trade has been an accepted part of Amsterdam's culture since the 15th century. The city is also famed for its coffeehouses, where the sale and smoking of marijuana is sanctioned, but like the progressive government of 400 years ago, it's a system that seems to work: Holland's rate of hard drug use is one of the lowest in Europe, violent crime is low, and taxes on hash benefit health care. That's not to say either of these elements are without their drawbacks, yet rather than conceal the existence of its oft-touted "hookers and hash," Amsterdam owns it as part of its unique identity.
Like the building of canals so many years ago, it's the sort of forward-thinking solution that makes its people proud to say "I Amsterdam."
Recipe: Dutch Pannenkoeken
Ingredients:
2 eggs
2 cups milk
1/2 teaspoon salt
2 cups flour
Pat of butter (for pan)

Optional Ingredients (to add to batter):
Chopped bacon (thinly sliced)
Mushrooms (thinly sliced)
Shredded cheese
Apples (thinly sliced)
Raisins
Cinnamon and sugar
Preparation:
In a large bowl, beat the eggs until foamy. Add milk and salt; whisk to combine. Slowly add the flour while continuing to whisk until the batter is smooth.
Heat a 10-inch pan over medium heat. Add pat of butter to coat the pan.
Add 1/2 cup of batter to the pan and swirl it around to coat its surface. If using additional ingredients, sprinkle them on top of the wet batter. Cook each pannekoek (single pancake) over medium heat until the batter just begins to solidify and releases easily from the pan—approximately 2-3 minutes.
Flip the pannekoek and cook for an additional 1-2 minute on the second side, until light golden in color.
Remove the pannekoek from the pan and place on a platter. You may keep your stack of pannekoeken warm in the oven while you finish making the rest.
Total Time: 30 minutes
Servings: 8 pannekoeken
The Battle to Free Nijmegen
How the Netherlands' oldest city helped turn the tide of war
by Martin Kratkoczky, Operations Manager, Grand Circle Cruise Line
Visitors to Nijmegen, which lays claim to being the Netherlands' oldest city, may not be able to recognize the horrors of war that the city once endured—and from which it has since recovered—at first glance. But if one looks closely at the center brickwork on the tower of 800-year-old Saint Stephen's Church, it will be clear that the structure is younger than its historic age. Though lovingly restored, this detail of Saint Stephen's tells the tale of World War II and its aftermath.
When the Germans invaded the Netherlands in 1940, riverside Nijmegen was the first city to fall. The Germans fortified the region with anti-tank guns, anti-aircraft guns, and 300 troops armed with artillery. But the people of the city found themselves under siege not only from the occupiers on the ground, but by their intended defenders from the air, when Allied planes—thinking they were above a German city—errantly bombed Nijmegen in 1944. The city was devastated, with 750 civilians lost, and countless buildings like Saint Stephen's destroyed.
Later that same year, the Allies launched Operation Market Garden, an attempt to protect the series of bridges over the Maas, Waal, and Rhine rivers, which would allow British troops access to forces already in the Netherlands and close the noose around the Nazis. Realizing this, the Germans tried to blow up these bridges, but that plan was thwarted by the Dutch resistance—namely, Dutch hero Jan van Hoof, who is said to have snipped the wires to the explosives.
The efforts of van Hoof and other brave Allies helped turn the tide of the war. And in 1944, the successful liberation of Nijmegen by British and American forces allowed the Allies a foothold for further progress across the Rhine.
Nijmegen, like many European cities, threw itself into rebuilding, often using original plans and traditional materials to restore the flavor of centuries past, while erasing most evidence of its recent suffering. Today, it is better known as the site of the International Four Day March, a tradition started in 1909, in which 47,000 participants (now representing more than 60 nations) walk 30-50 kilometers a day for four days in a row and are rewarded at the end with gladiolas from spectators and a royal medal. It is perhaps fitting that the city's greatest tradition celebrates one of its proven virtues: endurance.
How the Netherlands' oldest city helped turn the tide of war
Keukenhof: the Greatest Flower Show on Earth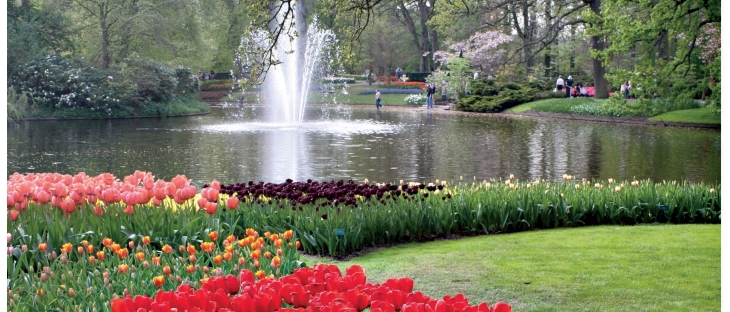 The colorful story of the world's largest flower park
by Steven Marinot, Program Director, The Netherlands
Although it's open only eight weeks each year, Keukenhof is the ideal setting to take in spring with all of your senses. Revel in endless waves of ethereal colors. Listen to tranquil birdsong. Savor the intoxicating aromas of millions of fragrant blossoms. A visit to the world's largest flower park in full bloom is an experience you won't soon forget.
Situated on nearly 80 acres of what were once 15th-century hunting grounds in Lisse, Holland, Keukenhof (literally, "kitchen garden") earned its name when the area became a source of herbs and vegetables for the castle kitchen of Countess Jacoba van Beieren. In 1949, flower growers and exporters held the first outdoor flower exhibition here and it has been an annual event ever since.
Hand-planted beauty
Remarkably, the gardeners at Keukenhof hand plant some seven million flower bulbs in more than 1,600 varieties each year. In an intricately layered gardening process, crocuses are planted on top of early-blooming tulips atop late-blooming tulips. This way, the gardens are planned to remain full throughout the season—though sometimes nature has other things in mind.
Numbering 4.5 million, tulips clearly dominate at Keukenhof, but each year a changing array of other plant species also raise their petals to the sky—including daffodils, hyacinths, azaleas, rhododendron, dahlias, begonias, amaryllis, crocuses, and alstroemerias.
The show indoors
Specially designed pavilions showcase a stunning kaleidoscope of blossoms—from freesia, chrysanthemums, iris, and roses, to the more exotic orchids and bamboo. During the exhibition's final week, Keukenhof unveils the world's largest indoor display of lilies in 300 colorful varieties.
Trees are another important aspect of Keukenhof. Beech Lane, an avenue of beech trees dating to the 1840s, represents the legacy of German landscape architect J.D. Zocher. You might try to find your way through a hedge maze with ten-foot-high shrub walls or the 700-tree labyrinth.
Mother Nature isn't the only artist at Keukenhof. A sculpture trail, windmill, sundials, and fountains add a human touch to the beauty of the surroundings.
The colorful story of the world's largest flower park
The Netherlands: Month-by-Month
There are pros and cons to visiting a destination during any time of the year. Find out what you can expect during your ideal travel time, from weather and climate, to holidays, festivals, and more.
The Netherlands in March-May
When spring arrives in the Netherlands, the temperature slowly begins to increase and the year's first blossoms poke their brightly colored heads up from the freshly thawed earth.
Holidays & Events
April 13: The Bloemencorso flower parade features elaborate floats decorated with flowers running a 25-mile route from Noordwijk to Haarlem.
April 27: King's Day celebrates the birth of King Willem-Alexander across the Netherlands with nationwide open air markets where many locals sell used goods, partake in games, and enjoy outdoor concerts. Revelers don the color orange in honor of the Netherlands' ruling House of Orange-Nassau.
Must See
Keukenhof, the largest and most revered flower park in the world, features over seven million bulbs. The gardens showcase a magnificent display of tulips, roses, hyacinths, lilies, and many more varieties. Located in the heart of Bulb Region in Lisse, Keukenof attracts over a million visitors every year and is opened annually from March to May.
Watch this film to discover more about the Netherlands
Smart Travels with Rudy Maxa: Amsterdam and the Netherlands
Discover Amsterdam by canal, meet the locals, and delight in the Netherlands' charms alongside Emmy award-winning travel expert Rudy Maxa.
The Netherlands in June-August
Summer is mild in the Netherlands and this time of year is the sunniest, with nearly 6 hours of sunshine possible per day. The evenings may still be chilly, and a light jacket or layers may be needed.
June is known as the wettest month of the year, with rainfall decreasing as the summer goes on. Typically, beaches open in July with locals and tourists alike enjoying the natural splendor across the region.
Holidays & Events
June: The Holland Arts Festival in Amsterdam features concerts, theatrical performances, dances, and more from June through July. Date range varies each year.
July: In Rotterdam for three days, the North Sea Jazz Festival presents an assortment of international jazz performers. The festival's dates change from year to year.
Must See
The International Fireworks Festival, Scheveningen, features magnificent firework displays on two weekends in August off the coast of The Hague in Holland. Onlookers can witness these fantastic shows along the beach boulevard or from a restaurant or beach club pavilion.
Watch this film to discover more about the Netherlands
Smart Travels with Rudy Maxa: Amsterdam and the Netherlands
Discover Amsterdam by canal, meet the locals, and delight in the Netherlands' charms alongside Emmy award-winning travel expert Rudy Maxa.
The Netherlands September-October
Fall paints the Netherlands in a palette of autumnal color, with gold and orange hues taking over. Sunlight hours begin to wane this time of year, decreasing to nearly two hours of daylight throughout the region. As the temperature begins to drop, the evenings can become cold. Seasonal dishes are enjoyed, featuring ingredients like pumpkins and chestnuts, and as October marks the start of game season, venison and duck can also be found on regional menus.
Holidays & Events
September: In Scheveningen, the kite festival features demonstrations of vibrantly-colored and imaginatively-shaped kites that dance across the sky. Onlookers can watch, or join in events such as a stunt kiting workshop.
October: One of the largest literature and music festivals in Europe, Crossing the Border combines visual arts, film, music, and literature for several days in The Hague. Exact dates vary each year.
Must See
Every second weekend of September, the Open Monumentendag, or Heritage Day, is celebrated with thousands of historical sites across the Netherlands open to the public, free of charge.
Watch this film to discover more about the Netherlands
Smart Travels with Rudy Maxa: Amsterdam and the Netherlands
Discover Amsterdam by canal, meet the locals, and delight in the Netherlands' charms alongside Emmy award-winning travel expert Rudy Maxa.
The Netherlands in November-December
While the winter months in the Netherlands feature cold temperatures, snowfall is typically not abundant. Canals and lakes may freeze in the northern part of the region, making ice skating on natural ice a popular activity. If there is a dusting of snow, the views of the landscape are spectacular and Christmas markets in towns throughout the Netherlands appear as if from a winter wonderland.
Holidays & Events
December 5: On St. Nicholas' Eve parties and gatherings are held, playing games where children are given riddles that contain clues to find presents for them left by Sinterklaas. On this evening, children leave a shoe by the fireplace or window in hopes that it will be filled with small gifts or candy.
Must See
Each November, the legendary figure of Sinterklass journeys from his home in Spain to the Netherlands to spread cheer and joy, bringing gifts for the local children. Upon his arrival, there is a boat parade through Amsterdam, and during this procession, candy and sweet treats are strewn about to the children. His arrival marks the official beginning of the holiday season.
Watch this film to discover more about the Netherlands
Smart Travels with Rudy Maxa: Amsterdam and the Netherlands
Discover Amsterdam by canal, meet the locals, and delight in the Netherlands' charms alongside Emmy award-winning travel expert Rudy Maxa.
Average Monthly Temperatures
Compare Trips
Find the Adventure That's Right for You
Our Activity Level rating system ranks adventures on a scale of 1 to 5 to help you determine if a trip is right for you. See the descriptions below for more information about the physical requirements associated with each rating.
Activity Level 1:
1 2 3 4 5
Easy
Travelers should be able to climb 25 stairs consecutively, plus walk at least 1-2 miles over some uneven surfaces without difficulty. Walks typically last at least 1-2 hours at a time. Altitude can range from zero to 5,000 feet.
Activity Level 2:
1 2 3 4 5
Moderately Easy
Travelers should be able to climb 40 stairs consecutively, plus walk at least 2-3 miles over some uneven surfaces without difficulty. Walks typically last for at least 2-3 hours at a time. Altitude can range from zero to 5,000 feet.
Activity Level 3:
1 2 3 4 5
Moderate
Travelers should be able to climb 60 stairs consecutively, plus walk at least 3 miles over some steep slopes and loose or uneven surfaces without difficulty. Walks typically last for 3 or more hours at a time. Altitude can range from 5,000 to 7,000 feet.
Activity Level 4:
1 2 3 4 5
Moderately Strenuous
Travelers should be able to climb 80 stairs consecutively, plus walk at least 4 miles over some steep slopes and loose or uneven surfaces without difficulty. Walks typically last for 4 or more hours at a time. Altitude can range from 7,000 to 9,000 feet.
Activity Level 5:
1 2 3 4 5
Strenuous
Travelers should be able to climb 100 or more stairs consecutively, plus walk at least 8 miles over some steep slopes and loose or uneven surfaces without difficulty. Walks typically last for 4 or more hours at a time. Altitude can range from 10,000 feet or more.
Hide Acivity Level
PRICE
including international airfare
HIGHLIGHTS & ACTIVITIES IN THE NETHERLANDS
*This information is not available for our trip extensions. You must reserve the main trip to participate on this extension.
**This information is not currently available for this trip. Please check back soon.
Recommended Viewing
Watch this video showcasing what makes this country so unforgettable
The Millers' European River Cruise
Submitted by Charles Miller, first-time traveler from Mokena, Illinois
Join Charles M. from Mokena, Illinois as he discovers everything from Vienna's St. Stephen's Cathedral and Nuremberg's Zeppelin Arena to the fairytale castles nestled on the cliffsides of Europe's romantic rivers.
23:47 | 313 views
Recommended Videos
Watch your fellow travelers' favorite films & videos
Adventure from Amsterdam to Vienna
Submitted by Carol Epstein, 26-time traveler from St Pete Beach, Florida
Discover three of Europe's most charming countries, from the winding canals of the Netherlands to the historic city squares of Austria through the eyes of Carol E. from St. Pete Beach, Florida.
Cruising the Canals of Amsterdam
We've been working with independent international filmmakers to provide you with videos that portray the people, culture, and lifestyles of the countries you're interested in visiting. We believe this video offers a unique perspective on Amsterdam.
Ching & Chuck's Rhine and Mosel Adventure
Submitted by Charles & Ching Schueddig, 22-time travelers from Naples, Florida
Follow along with travelers Ching and Chuck S. from Naples, Florida as they visit charming European sites and cities from the lively Marktplatz of Basel to the historic town center of 2,000-year-old Nijmegen—the Netherlands' oldest city.
Great Rivers of Europe
Submitted by Sheila Knox, 19-time traveler from Modesto, California
Experience the medieval cities and charming towns of Austria, Germany, and the Netherlands from Vienna to Amsterdam as you join traveler Sheila K. from Modesto, California on her River Cruise.
The Artistic Side of Amsterdam
We've been working with independent international filmmakers to provide you with videos that portray the people, culture, and lifestyles of the countries you're interested in visiting. We believe this video offers a unique perspective on Amsterdam.