The Leader in Enriching Cultural Experiences since 1958
You're receiving this message because your web browser
is no longer supported
We recommend upgrading your browser—simply click the button below and follow the instructions that will appear. Updating will allow you to accept Terms and Conditions, make online payments, read our itineraries, and view Dates and Prices.
To get the best experience on our website, please consider using:
Safari (for Mac or iPad Devices)
Update Browser

france
Compare Trips
Find the Adventure That's Right for You
Our Activity Level rating system ranks adventures on a scale of 1 to 5 to help you determine if a trip is right for you. See the descriptions below for more information about the physical requirements associated with each rating.
Travelers should be able to climb 25 stairs consecutively, plus walk at least 1-2 miles over some uneven surfaces without difficulty. Walks typically last at least 1-2 hours at a time. Altitude can range from zero to 5,000 feet.
Activity Level 2:
Moderately Easy
Travelers should be able to climb 40 stairs consecutively, plus walk at least 2-3 miles over some uneven surfaces without difficulty. Walks typically last for at least 2-3 hours at a time. Altitude can range from zero to 5,000 feet.
Activity Level 3:
Moderate
Travelers should be able to climb 60 stairs consecutively, plus walk at least 3 miles over some steep slopes and loose or uneven surfaces without difficulty. Walks typically last for 3 or more hours at a time. Altitude can range from 5,000 to 7,000 feet.
Activity Level 4:
Moderately Strenuous
Travelers should be able to climb 80 stairs consecutively, plus walk at least 4 miles over some steep slopes and loose or uneven surfaces without difficulty. Walks typically last for 4 or more hours at a time. Altitude can range from 7,000 to 9,000 feet.
Activity Level 5:
Strenuous
Travelers should be able to climb 100 or more stairs consecutively, plus walk at least 8 miles over some steep slopes and loose or uneven surfaces without difficulty. Walks typically last for 4 or more hours at a time. Altitude can range from 10,000 feet or more.
Hide Acivity Level
PRICE
including international airfare
HIGHLIGHTS & ACTIVITIES IN FRANCE
*This information is not available for our trip extensions. You must reserve the main trip to participate on this extension.
**This information is not currently available for this trip. Please check back soon.
Recommended Viewing
Watch this video showcasing what makes this country so unforgettable
Rhone River Cruise from Paris to the Cote d'Azur 2011
Submitted by Paula Ice, 14-time traveler from Sequim, Washington
Take in the captivating sites of France—from the Eiffel Tower lit up at night to the Mediterranean coast in Nice—when you join traveler Paula I. from Sequim, Washington on her River Cruise Tour.
Recommended Videos
Watch your fellow travelers' favorite films & videos
Smart Travels with Rudy Maxa: Paris
Produced by Small World Productions
Join Emmy award-winning travel expert Rudy Maxa to preview Paris's iconic sights and sophisticated customs.
Rouen to Giverny - 2018
Submitted by James & Gail Graham, 6-time travelers from Mashpee, Massachusetts
Cruise down the Seine with travelers James and Gail G. from Mashpee, Massachusetts as they witness charming sites such as Châteaux Gaillard and Monet's gardens in Giverny.
France on The Seine: Paris to Normandy
Submitted by Carol Epstein, 26-time traveler from St Pete Beach, Florida
Follow along with traveler Carol E. from St. Pete Beach, Florida as she's greeted by a vivid rainbow on her first day in Paris, sees iconic sites such as the Eiffel Tower and the Arc de Triomphe, and witnesses the striking memorials on the beaches of Normandy.
France: Month-by-Month
There are pros and cons to visiting a destination during any time of the year. Find out what you can expect during your ideal travel time, from weather and climate, to holidays, festivals, and more.
France in March-April
As the locals bid adieu to the cold winter months and the countryside begins to awaken, spring is the best time to visit this enchanting region. Tourists have not yet descended and with local markets opening for the season and the hillside starting to bloom, you'll have easy access to true local highlights. The increasing sunshine makes it a great time to hike the Pyrenees and you can benefit from longer days and mild temperatures for outdoor activities. 
Holidays & Events
Must See
Easter is celebrated with ornately crafted white and dark chocolate displays in candy shops and bakeries across the country. Exquisite works of art, these chocolate eggs, rabbits, and even bells make their way into windows of the confiseries throughout the region, while church bells ring out, filling the air with their chime on Easter morning. 
Watch this film to discover more about France
French Crepes
Produced by Epicurious
Learn the secrets behind making French crepes—complete with sugar, lemons, Nutella, and bananas.
France in May-June
The azure waters of the Riviera are just heating up and the sun is gaining strength: summer kicks off on the Riviera in June. The locals aren't on holiday yet, making this the ideal time to take advantage of the lighter crowds and optimal weather for seeing highlights or enjoying the coast at your leisure. There are many celebrations and holidays to witness this time of year, as the countryside is alive and flourishing. Visitors to Paris will find these sunny days perfect for exploring its many neighborhoods or simply sitting at an outdoor cafe, taking in the bustle of everyday life around you.
Holidays & Events
May 1: May Day; also known as Labor Day
May 8: Victory in Europe Day
Held Annually in May: Cannes Film Festival
Must See
Commemorating the D-Day landing, the French host various memorial ceremonies for the anniversary of the Allied Landings on June 6. Parades, reenactments, and remembrances mark the day.
Watch this film to discover more about France
French Crepes
Produced by Epicurious
Learn the secrets behind making French crepes—complete with sugar, lemons, Nutella, and bananas.
France in July-August
Tourism is in full swing and with the temperatures at their warmest, summer is at its peak too. The lavender fields in Provence are in their full glory; as are the outdoor markets. Some establishments may close in August, as this is the time many locals take vacation—especially in Paris. The South of France swells with locals streaming to it for holiday.
Holidays & Events
July 14th: Bastille Day; the french celebrate the storming of the Bastille—a turning point of the French Revolution—with parades, outdoor celebrations and fireworks. 
Month of July: Tour de France finishes
Watch this film to discover more about France
French Crepes
Produced by Epicurious
Learn the secrets behind making French crepes—complete with sugar, lemons, Nutella, and bananas.
France in September-October
September may officially signal summer's end in the northern hemisphere, but in France, fair weather tends to linger through mid-October. Visitors can still enjoy relatively warm daytime temperatures of between 60° to 70° Fahrenheit and longer store hours—but without the crowds that summertime typically draws. While rain can be more common as the seasons change, sunshine is still plentiful in autumn, and the crisp blue skies provide a lovely contrast to the fiery leaves that appear as fall progresses.
Holidays & Events
First Sunday in October: Nuit Blanche (White Night) festival; Parisians party from dusk until dawn during this free all-night celebration of art, music, and theater.
Late September: Fashion Week; for one week perennially posh Paris becomes even more stylish when world-renowned clothing designers descend on the French capital to debut their collections for the upcoming spring/summer season. This bi-annual event is the last of the so-called "Big 4" fashion weeks to take place in the U.S. and Europe each year.
Must See
For French wine enthusiasts, Christmas comes in early September, when the grape harvest typically begins. Across the country, vineyards are flooded with grape pickers, and the streets teem with tractors transporting the fresh crop to the presses. While many châteaux close to visitors during this busy season, spirits are high, festivals abound, and the air is rich with the scent of grapes.
Watch this film to discover more about France
French Crepes
Produced by Epicurious
Learn the secrets behind making French crepes—complete with sugar, lemons, Nutella, and bananas.
France in November-December
Cold weather begins to creep into France in November, days grow shorter, and rain and snow are common. As locals head indoors to escape the chill, many small-town shops and restaurants opt for shorter hours, or close for the season entirely. On the plus side, tourists rarely flock to France in the winter months, making it an ideal time to visit the country's more famous sites, which may be crowded during other seasons. What's more, the dimmer days and falling snow create a beautiful backdrop for the festive decorations and glimmering lights that spring up during the holiday season.
Holidays & Events
November 11: Armistice Day
December 25: Christmas
Must See
Christmas in France is a decidedly elegant affair, and the merriment lasts for weeks leading up to the main event. The City of Lights shines even brighter during the holidays, when trees are festooned in lights and shimmering Christmas carousels pop up in nearly every neighborhood. And in the east, near neighboring Germany, stylish Christmas markets abound, full of artisan food and traditional toys. No matter where you are in France, you're sure to find a dazzling array of holiday pastries, including the most famous: decadent bûches de Noël (yule log), a rolled chocolate sponge cake filled with cream, frosted in buttercream, and adorned with sugar holly and meringue mushrooms.
Watch this film to discover more about France
French Crepes
Produced by Epicurious
Learn the secrets behind making French crepes—complete with sugar, lemons, Nutella, and bananas.
Average Monthly Temperatures
France Interactive Map
Click on map markers
below to view information about top France experiences
Click here to zoom in and out of this map
Paris
Often referred to as the "City of Lights," the French capital is one of Europe's most stunning and influential metropolitan centers. With renowned landmarks like the Eiffel Tower, Notre Dame, Champs-Elysées, Arc de Triomphe, and Basilica of the Sacre Coeur, as well as world-famous art museums—including the Louvre, Musee d'Orsay, and Musee National d'Art Moderne—the scale of its historic and cultural influence remains unmatched. Combine that with the romance, style, and je ne sais quoi that define all things Parisian, and it's no wonder this city is one of the world's leading travel destinations.
Discover Paris with us on:
Strasbourg
While the city of Strasbourg was once a free republic—and now the capital of France's Alsace wine-making region—it came under the rule of Germany several times during the 19th and 20th centuries. World War II restored the city to France, and it's now the seat of the European Parliament. Today, Strasbourg offers visitors a rich blend of French and German culture and history. While here, be sure to sample a meal of choucroute (sausage) and flammekueche (flatbread topped with creme fraiche, onions, and bacon), accompanied by a glass of local Riesling or Gewurztraminer—two of the varietals for which the region is so well known.
Discover Strasbourg with us on:
Rouen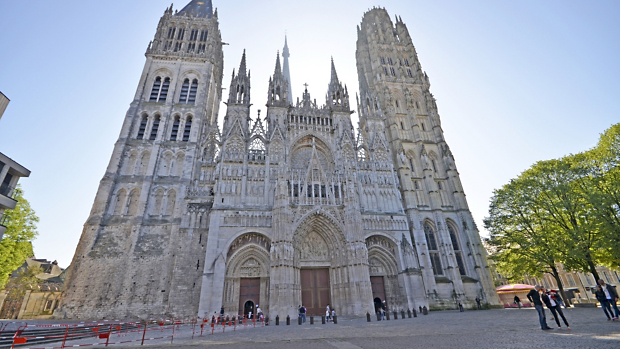 Rouen is an important commercial city with a distinguished history dating to pre-Roman times. But it is more "infamous" as the city where young Joan of Arc was imprisoned, tried for heresy, and burned at the stake. Here stands the 14th-century abbey where she was sentenced to death, and the Market Square where her execution took place in 1431. Rouen is also known for its wonderful Gothic Notre Dame Cathedral, whose facade has graced more than 30 Monet paintings. Having rented rooms across from the cathedral in 1892, Monet often painted several canvases simultaneously, capturing seasonal nuances of light and weather that played across its intricate stone veneer.
Discover Rouen with us on:
Lyon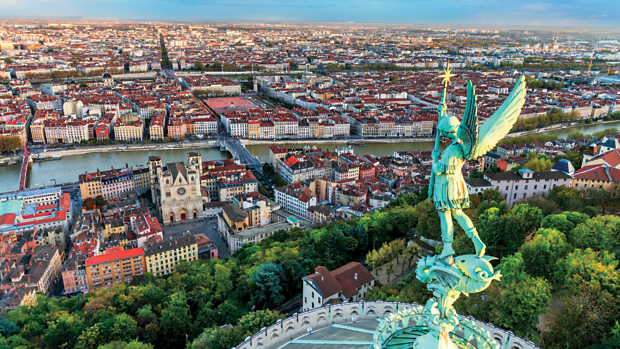 Nestled between Paris and Marseille, historic Lyon is recognized as a UNESCO World Heritage Site. Once the capital of Gaul under the Romans, Lyon flourished as a Renaissance-era trading center based on its prolific silk industry. Old Lyon, once hidden behind medieval ramparts, is home to impressive buildings, such as the City Hall, Basilica of Fourviere, and magnificent St. Jean Cathedral—built between the twelfth and 15th centuries. Lyon is also known as a gastronomic center (it may help that two of France's best-known wine-growing regions are nearby), and its local markets offer local flowers, fresh produce, and art—making it a microcosm of the enchanting Provence region.
Discover Lyon with us on:
French Riviera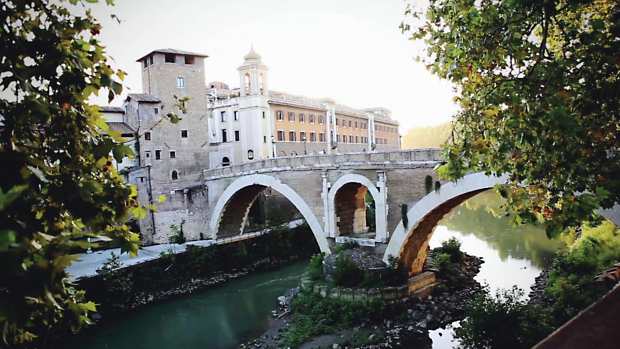 Soak up the sun and spot the stars in the French Riviera. Strung along 71 miles of azure coastline, this is the glamour capital of France, where grand hotels line fashionable seaside promenades, mega-yachts dock next to fishermen unloading the day's catch, and the gently lapping waters of the Mediterranean sparkle invitingly.
For a chance to walk the red carpet, visit Cannes. This formerly sleepy fishing village transforms into a playground for the ultra-rich each year during the Cannes Film Festival. Take in a film, amble along La Croisette—Cannes's glitzy promenade—and keep a lookout for celebrity sightings.
As the French Riviera's largest city and unofficial capital, Nice is sure to delight with its world-class art museums, stellar dining, and old-world decadence. Explore the lively markets or wander through the narrow alleys and cobblestone lanes of the historic Old Town, perhaps stopping for a warm bowl of bouillabaisse, the region's famous fish stew, along the way.
Discover the French Riviera with us on:
Provence
France's Provence region evokes images of lavender fields, infinite rows of purple stretching toward the horizon. And while Provence is indeed possessed of iconic pastoral landscapes, it's also a region rich with history, art, and fine cuisine. Once a part of Roman Gaul, ancient Romans left their mark on Provence—from monuments to vineyards. Some of these ancient structures remain, such as the amphitheater in Arles, similar to Rome's Coliseum.
Provence was also a favorite spot for artists like Renoir, Chagall, and Matisse—each chasing the region's unique light to fill their canvases. Provence's fine cuisine is also an art form in itself, taking its cues from Mediterranean staples like olive oil, tomatoes, garlic, and—of course—wine.
Discover Provence with us on:
Featured Reading
Immerse yourself in France with this selection of articles, recipes, and more
ARTICLE
Travel through the city's many highlights and discover the history of Europe's cultural crossroads.
ARTICLE
Find out how Monet, Renoir, and several others created a revolution in French aesthetics in 1874.
ARTICLE
See how France's freedom fighters risked their honor and their lives for a cause greater than themselves.
Strolling Strasbourg
Discover the history of Europe's cultural crossroads
by Shannon Levi, Senior Vice President, Grand Circle Cruise Line
Strasbourg is one of the world's five great canal cities, along with Venice, Amsterdam, Bruges, and Bangkok. Strasbourg's Grand Isle (Great Island) is a UNESCO World Heritage Site, the first time an entire city center was so designated (1988), and couldn't be prettier. The Old Town is quite large, but you can spend an entire day walking it, unlike the 45- to 90-minute Old Towns that abound in Europe.
There seem to be as many German as French speakers in the city, and its streets and bridges are all listed bilingually. The houses are primarily half-timbered, with herringbone braces, trusses, mortise and tenon joints, and upper story jetties that beetle o'er base. On many a block, you fancy yourself strolling through a Grimm's fairy tale, mesmerized by the bygone ambiance. A great many rooftops have one, two, or even three rows of tiny windows—square, rectangular, half-almond, looking like embrasures for firing guns and arrows, or else like winking eyes. The effect is both winsome and eerie.
The city's name means "crossroads," and indeed Strasbourg is where the Latin and Germanic cultures have intersected for millennia. Strasbourg's impeccable location has lent itself toward human settlements dating far back into the Bronze Age, and it was tussled over by Allemani, Huns, Franks, the Holy Roman Empire, France, and Germany for two millennia, but it remains the veritable center of Europe today—culturally and politically, if not quite geographically.
After the Thirty Years War, Louis XIV annexed the city, but exempted it from the Revocation of The Edict of Nantes, and so Protestants and Catholics were able to coexist with relative tolerance. (I say "relative" because one cannot overlook a dark chapter in the 1340s when Strasbourg's Jews were subjected to a harsh pogrom, having been mercilessly blamed for the ravages of the Bubonic Plague.) For the next several hundred years, Strasbourg continued building its reputation as an open intellectual and cosmopolitan center. Strasbourg was where Johannes Gutenberg hid to perfect his moveable type in secret, but its greater claim to scientific and cultural fame arose hand-in-hand with its university, then and still one of the finest in Europe, and the largest in France. Famous grads include Louis Pasteur, Albert Schweitzer, and several Nobel Prize laureates.
During the French Revolution, Strasbourg's status as a Free City was abolished, and it was placed under the draconian rule of a revolutionary cabal. It was during this period, at a dinner hosted by the new mayor, that de Lisle composed France's national anthem, La Marsellaise. Strasbourg regained its independence, along with the rest of Alsace-Lorraine, with the World War I armistice, but was invaded by France only days later. Except for the German Occupation in World War II, it has remained a part of France ever since.
But it is also—explicitly—owned by Europe as well. It is the home of the Council of Europe, the European Parliament, the European Court of Human Rights, the European Commission for Navigation of the Rhine, and others. Some of these institutions are housed in Renaissance palaces in the European Quarter, while others flank either side of a broad canal, in absolutely wonderful modern complexes designed by Richard Rogers in the mid-1990s. Le Grand Isle is thus known as "The Capital of Europe."
So now that we've covered the back story, let's move to what is front and center the principal delight of Strasbourg: exploring. The canal tour is spectacular, and if you are lucky enough to catch good weather and an uncovered boat, you'll be snapping photos incessantly. Around the section known as Petit-France, several of the passages left all of six inches between the gunwhales and the outstretched hands of people on the bridges and canal banks. After passing the cathedral, the canals become a bit broader, and while not as exquisitely picturesque as the dense tangle around Petit-France, the rest of the waterfront cityscapes are memorable indeed, even as you pass into the modern section by the various EU organizations.
Be sure to make it back for dinner in Petit-France, as the district comes to life each night with its narrow streets, ancient timbered houses, and bustling riverfront cafes, serving up world-renowned choucroute (essentially sauerkraut, but typically dressed up with smoked meats, bacon, caramelized onions, and other savories), spaetzle (fried egg noodles), pork sausages, toile de jute (pig knuckle and gravy over spaetzle, and decidedly more delicious than that description sounds), and foie gras, washed down with delicious regional rieslings, gewürztraminers, and tokays. The local beers, Kronenbourg and Erdinger, are perhaps not up to the same rarefied standards as the multitude of German offerings on the far side of the Rhine, but they are superior to most American premium beers. And if you work up a thirst during your peregrinations, the local Kronenbourg Brewery offers a popular afternoon tour.
Of course Stasbourg's most famous attraction is the Liebfrauenmünster zu Straßburg, or Cathédrale Notre-Dame-de-Strasbourg. France and Germany have wrestled over it for centuries—though now it is an icon of reconciliation between them. For 250 years it was the tallest building in the world. For my money, it is the finest Gothic structure in the world, and one of the half dozen prettiest cathedrals ever built. It is justifiably renowned, alongside Rouen and Chartres and Koln, as one of the masterpieces of Gothic architecture and engineering.
Begun in 1176, and completed in 1439, the cathedral represented the apex of pre-Renaissance engineering, architecture, and art. During the French Revolution, in their counter-revolutionary battle against the Jacobins, Les Enragés attempted to topple its great spires, which they felt undermined the new French spirit of liberte, egalite, et fraternite. The horrified citizenry responded by undertaking the construction of Phrygian caps atop the spires, mollifying the revolutionary zeal of their detractors by way of offering employment to their poorest citizens.
The interior is dark and sparse, in comparison to the ornate pink sandstone of its exterior. Yet it is suffused by eerily romantic light cascading through its magnificently tall and slender stained glass windows. While most of the interior is older than the façade, sporting a number of earlier Romanesque features, the pulpit is a splashy Renaissance affair, as is the immense organ.
The most famous piece is the Horloge Astronomique, a technological wonder whose uncanny accuracy was unsurpassed until the advent of the modern computer. It can effortlessly produce the dates of Easters past and future by tracking the phases of the moon for centuries. It also predicts equinoxes, leap years, lunar and solar eclipses, the positions of several planets, and other astronomical events, and can even be used as a calculator of sorts for various arcane mathematical functions. The Horloge springs to life at 12:30pm every day, and each hour a different series of animated characters parades by, enacting various routines. The most popular scene is at the highest level, where once a day the twelve Apostles walk a semi-circular path past a likeness of Christ, depicted as a rooster, who crows three times.
In the cathedral parvis (courtyard in front of the church), there are frequently street performers and exhibitions of one sort or another. (During my visit, there happened to be a rally for antique Triumph sports cars.) In the evenings, they beam changing patterns of multi-colored klieg lights up at the cathedral itself, which takes on a breathtaking array of ambiences accordingly.
Strasbourg boasts several other marvelous churches which span centuries of varying European architectural styles, including Saint-Etienne, Saint-Thomas (featuring an organ that was played by Mozart), Sainte-Madeleine, Saint-Pierrele-Jeune-Protestant (whose underpinnings date to the seventh century), and Saint-Pierre-le-Vieux-Catholique. But the secular masterpieces are equally compelling. The Palais Rohan is a marvel of German Renaissance opulence, and houses three museums. It is a splendid example of classic Baroque architecture, vaguely reminiscent of both the Louvre Palace and Versailles, with a grand appartement fronting onto the River Ill, and a petit appartement overlooking its partitioned courtyard.
The renowned Ponts Couverts, a covered bridge spanned by four towers, is one of the loveliest on the continent, not to mention Strasbourg. It adjoins the historic Vauban fortifications (Barrages Vauban) which were originally built in the 17th century as a weir for the waters of the Ill, but which now house a gallery of sculpture and a viewing terrace. This is your best vantage point from which to capture the Ponts Couverts—just be sure to set the camera to wide-angle to capture the breadth of the beauty.
Strasbourg's many museums are divided up by era and category, making it difficult to narrow your choice (but wonderful to justify repeat visits). La Musee des Beaux Arts (housed in the Palais Rohan) and La Musee de l'Art Moderne et Contemporain are perhaps the two most renowned and great starting points. The latter displays works by modern masters from 1870 onwards, including Bracques, Chagall, Arp, Picasso, Ernst, Kandinsky, and others.
But the greatest pleasure is to sip an aperitif, then enjoy a fine Alsatian meal, then sip a digestif, down on the canals of Petit-France—one of the most indelible Old-World experiences you will ever have. And to think, I discovered Strasbourg's charms serendipitously … At the end of my travels along the Rhine and Mosel, my companion and I had unexpected extra time to visit one more destination, and spontaneously decided to head from Wertheim to Strasbourg. It was one of the better decisions I've made. As we sat there at sunset on the banks of Petit-France, sipping and sighting, my friend observed: "This is as good as it gets." Truer words are rarely spoken. Notwithstanding my penchant for falling in love with a new city every year, I can say unabashedly that Strasbourg is a keeper.
French Impressionism: An Art Form is Born
A revolution in French aesthetics
by Grand Circle Cruise Line staff
Challenging the artistic standards established by Paris' Academy of Fine Arts, a group of Paris-based artists organized an independent exhibition of their work in 1874. There, Monet, Renoir, Pissarro, Degas, and several others presented paintings that relied on sunlight, motion, and color to express the fleeting nature of life's everyday moments … Describing Monet's Impression, Sunrise in a satirical review, art critic Louis Leroy wrote: "Since I was impressed, there had to be some impression in it … and what freedom, what ease of workmanship!" And with that, the revolutionary art movement found its name. Throughout your The Seine: Paris to Normandy River Cruise, you'll visit a number of sites that inspired the Impressionists' unique vision.
Monet's Giverny
Contrary to Friedrich Nietzsche's contention that "an artist has no home in Europe except in Paris," the father of Impressionism actually found his artistic home—and heart—in the gardens of Giverny. Located at the gateway to Normandy, this ancient village and its scenic environs became Monet's frequent plein-air ("outdoor") studio and muse beginning 1883—inspiring his series of haystacks and water lilies, among others. While he often traveled and worked in other settings, Monet always returned to his beloved Giverny, and eventually died there in 1926.
Auvers-sur-Oise
Although Vincent van Gogh was a Dutch Post-Impressionist with a truly individual style, his groundbreaking work—particularly his bold use of color in later years—reflects the influence of French Impressionism. Like his slightly older contemporaries, Van Gogh found great inspiration and comfort in the beauty of the French countryside—spending one of his most prolific periods at Arles in Provence. In 1890, Vincent moved to bucolic Auvers-sur-Oise where, after several months of productivity, he ended his turbulent life. His devoted brother Theo, a Parisian art dealer, died soon after, and they now lie side-by-side in Auvers-sur-Oise.
Rouen
Nestled in a small city square, Rouen's French Gothic Notre Dame Cathedral was originally constructed in the 13th century. Between the 15th and 17th centuries, its ornate Tour de Buerre ("Butter Tower") was added—reputedly financed by a tax on wealthy citizens who consumed butter and milk during Lent. In the 1870s, a new 500-foot iron spire made it the tallest building in France. And in the 1890s, Monet immortalized the cathedral forever, painting its intricate façade some 30 times in different light and seasons of the year. Today, Rouen's cathedral—and Monet's impressions of it—are among France's best-loved treasures.
Honfleur
For centuries, sailors enjoyed Honfleur's idyllic location at the junction of the Seine River and English Channel. And with the advent of painter Eugene Boudin's Saint-Simeon artists' colony in the mid-1900s, this enchanting port town won favor among generations of artists as well. Just as Boudin did before him, Monet and his associates flocked to Honfleur, attracted by the brilliant play of light and shadows in the harbor. Today, work by Boudin and other locals who influenced the Parisian Impressionists can be found at Honfleur's Boudin Museum.
D-Day & the French Resistance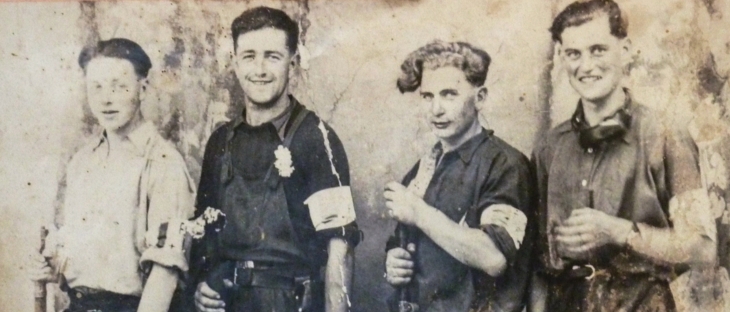 France's freedom fighters on the inside
by Pamela Schweppe
It's a funny thing about heroes. More often than not, they're just ordinary folks who suddenly find themselves in extraordinary circumstances, called upon to risk their honor and their lives for a cause greater than themselves. That's certainly the case for the men and women of World War II's French Resistance. Catholics, Jews, communists, anarchists—they came from all economic classes and all walks of life to participate in one of the greatest movements of mass resistance of all time.
The event that shocked the nation
It all began in May 1940, when German forces rolled across Belgium and France. In June, Philippe Pétain, then Vice Premier of France, requested an armistice with Germany. Under the terms of the armistice, Germany would control northern and western France, including Paris. Pétain would be put in charge of a Nazi-approved government controlling the central and southern regions of the country, then known as Vichy France.
The armistice had many unpalatable provisions, including surrender of all Jews living in France, the disbanding of most of the French Army, an injunction against resistance, and even a requirement that France pay for its own occupation. Nevertheless, France formally surrendered to Germany on June 22.
The people of France were shocked by Germany's easy victory, and General Charles de Gaulle, addressing the nation from London, urged his countrymen to fight back. Still, early efforts at resistance were disorganized and ineffectual. It wasn't until November 11 that the first real act of defiance occurred—when high school youths publicly celebrated France's World War I victory over Germany at Paris's Arc de Triomphe.
Gradually, various Resistance groups began to form. Those whose focus was killing their German oppressors were called maquis. Others chose non-violent methods, such as publishing underground newspapers, broadcasting anti-occupier radio programs, and cutting phone and rail lines.
Soon after the occupation began, in July 1940, British Prime Minister Winston Churchill announced a new organization known as the Special Operations Executive (SOE), whose mission was to advance the war by means of espionage, sabotage, and resistance in occupied Europe. Many of France's resistance groups joined forces with the SOE to harass the German occupiers, disrupt communications, and help Allied soldiers and airmen escape capture. It was dangerous work, as those who were even suspected of resistance were tortured or sent to concentration camps, and it was not unheard of for entire villages to be destroyed as a warning to others.
"Full victory—nothing else"
It became increasingly clear, however, that an Allied invasion was the only path to French freedom. In January 1943, at the Casablanca Conference in Morocco, Churchill and U.S. President Franklin D. Roosevelt began planning what would become the largest amphibious military operation in recorded history. Code named Operation Overlord, it is better known today as D-Day. Beginning at 6:30am on June 6, 1944, nearly 7,000 boats hit the beaches along a 50-mile stretch of the coast of Normandy. Those vessels carried soldiers from the United States, Great Britain, Canada, and many other Allied nations, all of whom arrived determined to carry out the order of the commander of the operation, General Dwight D. Eisenhower: "Full victory—nothing else."
In all, roughly 156,000 Allied troops landed on the Normandy beaches that morning. Of those, 73,000 were American. While 83,115 British and Canadian troops landed on beaches code named Gold, Juno, and Sword, the Americans sent 23,250 and 34,250 respectively to beaches codenamed Utah and Omaha. The remaining 15,500 were airborne troops.
It was Omaha (dramatized in the gripping opening sequence of Steven Spielberg's Saving Private Ryan) that saw the most brutal engagement of World War II. The American troops who launched themselves full-tilt into the might of the German military were met with a deafening barrage of German gunfire. As the Nazis fired from secure pillboxes dug in high above the open beach, Allied soldiers were mowed down while exiting the boats and wading to shore.
In time, some doggedly made it to the ridge overlooking the beach, finding shelter from the hail of enemy bullets. Over the course of the next four hours, Allied troops managed to capture the beach and pry out the German troops massed there. More than a thousand Allied troops died on Omaha Beach alone.
On the ground, behind the scenes
Ultimately, the Germans were defeated in one of the greatest turning points of the war. It was one of the major successes of World War II—and the first cross-Channel military landing to be successful in more than 800 years.
It might not have happened without the support of the French Resistance.
By the time D-Day occurred, France had been occupied for four years. At that point, the number of people involved in the various French resistance groups was estimated at 100,000—up from 40,000 just a year earlier. Britain's SOE supplied equipment and training, and, in 1943, America's Office of Strategic Services (OSS) began sending agents to aid the effort, as the concept of an invasion of Normandy began to take shape.
In return, the French Resistance provided intelligence reports that were critical to the mission's success. Even those who had previously supported the Vichy government began to join in the Resistance movement. In May 1944 alone, 60 intelligence cells of the resistance movement sent 3,000 written and 700 wireless reports to the Allies.
Acts of sabotage by the French Resistance also advanced the Allied plan. Between April and May 1944, while Allied bombers were busy destroying 2,400 railway engines, Resistance members demolished another 1,800, in addition to attacking bridges, roads, and especially rail lines throughout the country, crippling the Germans' ability to transport equipment and supplies across France. By targeting rail lines throughout the country, the Resistance helped to confuse the Germans about where the attack would actually occur, leaving them expecting an invasion on the Pas-de- Calais beaches north of Normandy.
In the days leading up to D-Day, German forces in Normandy outnumbered the Allied troops massing for the invasion, so it was also critical for the French Resistance to prevent German reinforcements from reaching the beaches. Most notably, Germany's powerful SS 2nd Panzer Division was based in Toulouse, a city in the Languedoc province of southwest France. Disruption of the rail line prevented this important division from reaching Normandy for eleven days, giving the Allies time to establish the beachhead that would enable them to advance further into the countryside after the invasion.
The Allies communicated with the commanders of the Resistance by means of coded radio messages, each directed to a different Resistance cell in order to help protect them from reprisal. On June 5, 1944, the BBC broadcast the opening words of a poem by Paul Verlaine, "Les sanglots longs des violons de l'automne/ Blessent mon coeur d'une langueur monotone" ("Long sobs of autumn violins / wound my heart with a monotonous languor"). When these words were said twice, Resistance leaders knew the Allied invasion would occur within 48 hours.
Subsequent messages such as "Les des sont sur le tapis" ("The dice are down"), "Il fait chaud a Suez" ("It is hot in Suez"), "Le chapeau de Napoléon est dans l'arène" ("Napoleon's hat is in the arena"), "John aime Marie" ("John loves Marie"), "La Guerre de Troie n'aura pas lieu" ("The Trojan War will not take place"), and "La Flèche ne passera pas" ("The Arrow will not get through") let the various Resistance cells know it was time to escalate their acts of sabotage. Rail lines, water towers, factories, and ammunition stockpiles were destroyed, and all German lines of communication were cut. The invasion was about to begin.
When the fatal day arrived, French Resistance members remained active participants, giving American and British military commanders vital information about German defensive positions. Even French citizens who weren't involved in the Resistance movement gave directions to the Allies and kept them informed about where the German troops were posted.
The price of Resistance
Nazi retaliation against the Resistance was swift and brutal. On June 9, 1944, there were hundreds of hangings and murders at the hands of the Germans. The next day, 642 men, women, and children in the village of Oradour-sur-Glane were slaughtered, and the village was burned.
Still, the Resistance fought on. In June and July, a group of maquis fought valiantly against a battalion of 10,000 German soldiers and was defeated, and when the Allies marched toward Paris and the south of France, the Resistance was by their side.
Even with the high price paid by so many Resistance members, its numbers continued to strengthen. From within its ranks grew an organized fighting force known as the French Forces of the Interior (FFI) that, by October 1944, grew to 400,000. It was the base from which France rebuilt its army to 1.2 million soldiers by VE Day (May 8, 1945). And all because of people whose acts of bravery weren't inspired by dreams of glory. Rather, they were ordinary people living at an extraordinary time, who circumstances called upon to help reclaim their country.
France's freedom fighters on the inside