Forgot Your Username?
If you have forgotten your username, please provide your email address in the box below. We'll send you an email with your requested username. If you are having trouble, please call us at 1-800-321-2835.
Email Sent
You'll receive an email in a few minutes. Please check this email to find your requested username.
If you do not receive an email or you are having trouble logging into My Account, please call us at 1-800-321-2835.
ENGLAND
Compare Our Trips
Trip Itinerary
Gain insight into the advantages of traveling off the beaten path in spectacular, storied Britain.
16 DAYS FROM $3,595 • $ 225 / DAY
Grand Circle Tour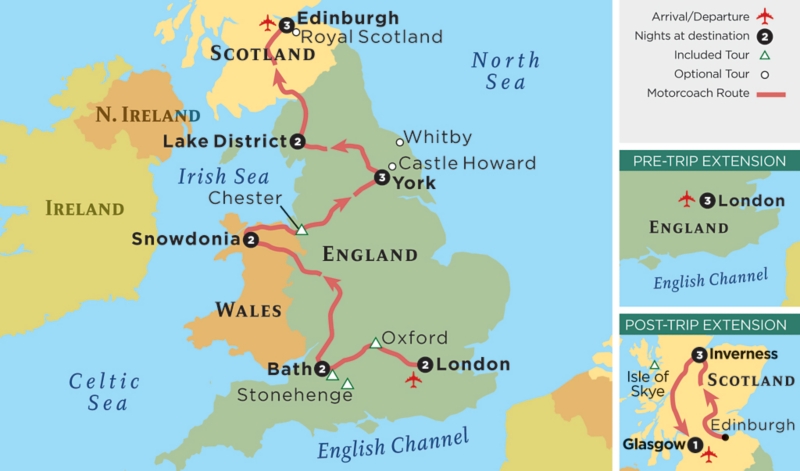 England: London, Bath, York, Lake District | Wales: Snowdonia | Scotland: Edinburgh
23 meals: 14 breakfasts, 2 lunches, and 7 dinners (including 1 Home-Hosted Dinner)
Immerse yourself in England's diverse history in the city of York
Absorb the tranquil pastoral beauty of the Lake District
Ponder the enigma of ancient Stonehenge

Wander among storied halls of learning at Oxford University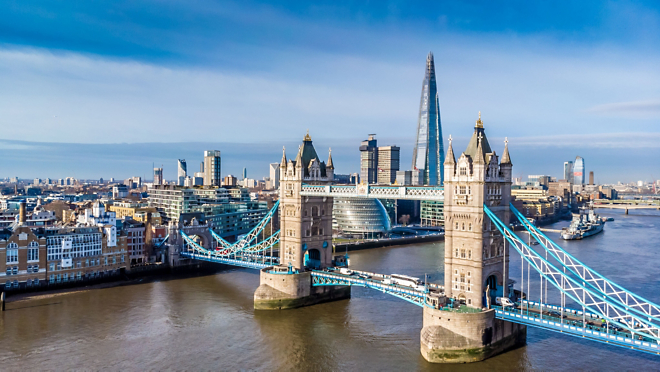 ;
3 NIGHTS FROM $695
Witness iconic Parliament and Westminster Abbey, a UNESCO World Heritage Site.
Seek out the trappings of history at the Tower of London and Tower Bridge
View the changing of the guard at Buckingham Palace

Explore full access to the city to explore independently with your included 2-day London Transport Pass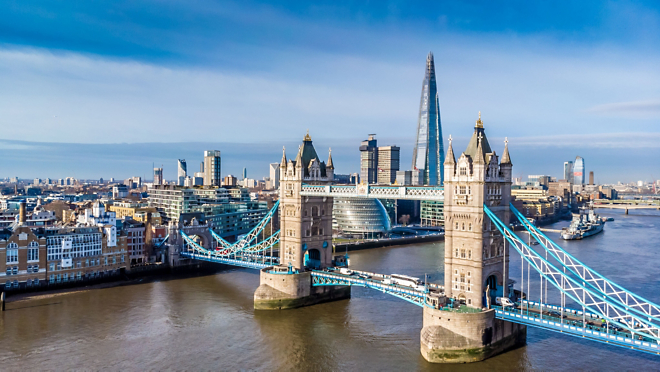 Not Applicable*
Not Applicable*
Witness iconic Parliament and Westminster Abbey, a UNESCO World Heritage Site.
Seek out the trappings of history at the Tower of London and Tower Bridge
View the changing of the guard at Buckingham Palace

Explore full access to the city to explore independently with your included 2-day London Transport Pass
Compare Trips
Find the Adventure That's Right for You
Our Activity Level rating system ranks adventures on a scale of 1 to 5 to help you determine if a trip is right for you. See the descriptions below for more information about the physical requirements associated with each rating.
Travelers should be able to climb 25 stairs consecutively, plus walk at least 1-2 miles over some uneven surfaces without difficulty. Walks typically last at least 1-2 hours at a time. Altitude can range from zero to 5,000 feet.
Activity Level 2:
Moderately Easy
Travelers should be able to climb 40 stairs consecutively, plus walk at least 2-3 miles over some uneven surfaces without difficulty. Walks typically last for at least 2-3 hours at a time. Altitude can range from zero to 5,000 feet.
Activity Level 3:
Moderate
Travelers should be able to climb 60 stairs consecutively, plus walk at least 3 miles over some steep slopes and loose or uneven surfaces without difficulty. Walks typically last for 3 or more hours at a time. Altitude can range from 5,000 to 7,000 feet.
Activity Level 4:
Moderately Strenuous
Travelers should be able to climb 80 stairs consecutively, plus walk at least 4 miles over some steep slopes and loose or uneven surfaces without difficulty. Walks typically last for 4 or more hours at a time. Altitude can range from 7,000 to 9,000 feet.
Activity Level 5:
Strenuous
Travelers should be able to climb 100 or more stairs consecutively, plus walk at least 8 miles over some steep slopes and loose or uneven surfaces without difficulty. Walks typically last for 4 or more hours at a time. Altitude can range from 10,000 feet or more.
Hide Acivity Level
PRICE
including international airfare
HIGHLIGHTS & ACTIVITIES IN ENGLAND
*This information is not available for our trip extensions. You must reserve the main trip to participate on this extension.
**This information is not currently available for this trip. Please check back soon.
Recommended Viewing
Watch this video showcasing what makes this country so unforgettable
Our England, Scotland & Wales Adventure with GCT
Submitted by Ching & Chuck Schueddig, 22-time travelers from Naples, Florida
Join fellow travelers Ching and Chuck S. from Naples, Florida as they take in London's Big Ben, Buckingham Palace, and more before visiting England's ancient sites like Stonehenge and York Minster.
Recommended Videos
Watch your fellow travelers' favorite films & videos
England, Scotland & Wales
Submitted by Carol Epstein, 26-time traveler from St Pete Beach, Florida
Join traveler Carol E. from St. Pete Beach, Florida to see the iconic sites of Great Britain, including the London Eye, Stonehenge, and Edinburgh Castle.
ReelEarth: Coming Together in Merton, England
Discover how a community in the small town of Merton, England came together to celebrate the life of a local philanthropist following her tragic passing.
Smart Travels with Rudy Maxa: London
Experience quintessential London when you follow Emmy award-winning travel expert Rudy Maxa around the iconic city.
The Morris Men
With bells, bowler hats, and a playful spirit, England's Morris Men dance their way into your heart.
Curious About ... London
Discover London's historical gems—from St. Paul's Cathedral's detailed dome to the Temple Church's stone effigies.
England: Month-by-Month
There are pros and cons to visiting a destination during any time of the year. Find out what you can expect during your ideal travel time, from weather and climate, to holidays, festivals, and more.
England in January-February
Shorter days, overcast skies, and cold temperatures are the hallmark of winter in England. Snow falls in the northern and more mountainous regions, while cities like London see slightly milder temps, with lows of 37⁰F and highs of 44⁰F. The British are no strangers to blustery weather, however, and make the most of this chilly season by enjoying its outdoor skating rinks, visiting one of the country's many museums or art galleries, or simply staying cozy at a local pub. Winter is also a great time for travelers, as there will be fewer crowds and better prices—from theater tickets to "out-of-season" rates on many attractions. 
Holidays & Events
January 1: New Year's Day
Mid-February: Style mavens and runway models flock to the capital to strut their stuff during London's Fashion Week, which hosts some of the biggest names in the industry.
February: Also known as Pancake Tuesday, Shrove Tuesday is celebrated the Tuesday immediately preceding the Catholic observance of Ash Wednesday with a feast of, what else? Pancakes.
Must See
During the month of February, all of England turns its attention to the rough-and-tumble sport of rugby. The Six Nations Championship—an international competition between England, France, Ireland, Italy, Scotland, and Wales—is held during this month each year, and is widely thought to be among the world's greatest rugby tournaments. If you happen to be visiting England during these matches, let yourself get swept up in the nationwide fervor and passion as the British cheer their team on to victory. 
Watch this film to discover more about England
Travelogue: Paris, France and London, England 1957
See 1957 London and Paris through the eyes of an amateur filmmaker as he captures his family's international travels.
England in March-April
Spring officially arrives in England during March and April, and with it comes warmer temperatures, sunny skies, and flower-filled landscapes. Daffodils make their appearance in March while fruit trees blossom and bluebells bloom in late April. Not only is the weather pleasant this time of year, but places like the Isle of Scilly are still off-season, so you can enjoy the first flowers of spring without the crowds. 
Holidays & Events
Early March: Bath Literature Festival; an annual festival held this time of year which hosts a variety of novelists, poets, journalists, and more.
March-April: Easter Sunday is a Christian holiday recognized nationwide by the largely Christian population—nearly all non-essential businesses will be closed on this day.
Watch this film to discover more about England
Travelogue: Paris, France and London, England 1957
See 1957 London and Paris through the eyes of an amateur filmmaker as he captures his family's international travels.
England in May-June
The warm and sunny weather continues in May and June, and with it comes the start of peak season. Both literally and figuratively, England bursts into life during these months: Public parks and manicured gardens revel in their colorful bounty, and rooftop bars and beer gardens attract thirsty Londoners for a cold pint.
Holidays & Events
May 1: England's May Day celebration marks the unofficial start of summer. Thought to originate thousands of years ago in a pagan Roman ritual, May Day today is celebrated throughout the country with colorfully festooned Maypoles and Morris dancing, a traditional folk dance typically performed by a group of male dancers sporting leg bells and sticks.
Late May: The Chelsea Flower Show—sponsored by the Royal Horticultural Society—is a mesmerizing display of rare blooms and avant-garde gardening designs that are sure to inspire seasoned gardeners and hobbyists alike.
Late June-Early July: Each June, tennis fans from around the globe descend on a London suburb for the world's oldest—and to many, most prestigious—tennis tournament: Wimbledon. Watch famed players strive for glory on the grass courts, and keep an eye out for members of the Royal family, who are known to frequent their box during high profile matches. 
Must See
While Her Majesty was technically born in April, her birthday is officially celebrated on the second Sunday of June with the Trooping the Colour. During this spectacular military parade, uniformed guards on foot and on horseback march down The Mall to Buckingham Palace, the Royal Air Force participates in a fly-by above the palace, and a 41-gun salute is fired in adjacent Green Park to mark the occasion. If you happen to be in London for the Trooping the Colour, you won't want to miss this sumptuous display.
Watch this film to discover more about England
Travelogue: Paris, France and London, England 1957
See 1957 London and Paris through the eyes of an amateur filmmaker as he captures his family's international travels.
England in July-August
With the heat of the summer months comes a spike in tourism, both from European countries as well as the United States and elsewhere. July and August are some of England's busiest months for the country's streets, pubs, and tourist sites. The weather is hot, but it's also humid and may rain from time to time. It's advisable to pack shorts and umbrellas.
Holidays & Events
Late August: London's biggest street festival dances its way through the streets of Notting Hill each year for the Notting Hill Carnival, a celebration of the city's strong Caribbean and Afro-Caribbean community. The raucous festivities feature colorfully-costumed dancers, street performers, and large crowds of tourists and Londoners ready to make merry.
Watch this film to discover more about England
Travelogue: Paris, France and London, England 1957
See 1957 London and Paris through the eyes of an amateur filmmaker as he captures his family's international travels.
England in September-October
As September rolls around, with it comes what is typically the year's first bout of cooler weather, with temperatures dipping down to 60-70 degrees. Also around this time, the fall foliage begins to show its colors, casting an air of idyllic, autumnal bliss over residents and visitors alike. With the mild-to-cool weather, and the postcard-ready scenery, many birdwatchers and hikers consider this the most favorable time of year to venture outside the cities and explore England's great outdoors. 
Holidays & Events
Mid-September: Each year, the 10-day Jane Austen Festival is held in celebration of the famous author. Book-signings, celebrations, performances, and more bring people together in honor of the famous novelist. 
Watch this film to discover more about England
Travelogue: Paris, France and London, England 1957
See 1957 London and Paris through the eyes of an amateur filmmaker as he captures his family's international travels.
England in November-December
Widely considered the off season, the winter months turn England a cold, dreary gray. Though, for some, this is the most magical time to visit. November snows blanket the far-less-crowded streets and decorate homes much like the icing atop gingerbread houses. Though the exact timing varies each year, by the end of the month, the famed Oxford Street is usually ablaze in festive lighting displays in honor of the Christmas season. By December, a dizzying array of Christmas markets has sprung to life, filling people's hearts with fond memories, cups with mulled wine, and stomachs with bratwurst and other delicious treats. And because of the decrease in both tourism and temperature during these months, it is an ideal time to explore the museums and theater productions that make up England's world-renowned arts scene in your free time.
Holidays & Events
November 5: Guy Fawkes Night is an annual celebration of the failure of the 1605 Gunpowder Plot, an unsuccessful attempt to assassinate England's King James I and Ireland's King James VI. 
November 11: This marks the annual memorial day for troops who lost their lives in the line of duty.
Must See
Every year since 1947, the city of Oslo, Norway donates a Christmas tree to Britain, which is in turn put on display in Trafalgar Square. A symbol of appreciation for their support during World War II, the tree transforms the square into a festive winter wonderland where carolers sing, people gather in delight, and twinkling lights help to ring in the Christmas season. Around this time, the Geffrye Museum also welcomes visitors to its annual Christmas Past exhibition, a set of eleven rooms decorated to represent Christmas traditions throughout various historical periods. 
Watch this film to discover more about England
Travelogue: Paris, France and London, England 1957
See 1957 London and Paris through the eyes of an amateur filmmaker as he captures his family's international travels.
Average Monthly Temperatures
England Interactive Map
Click on map markers
below to view information about top England experiences
Click here to zoom in and out of this map
City of Westminster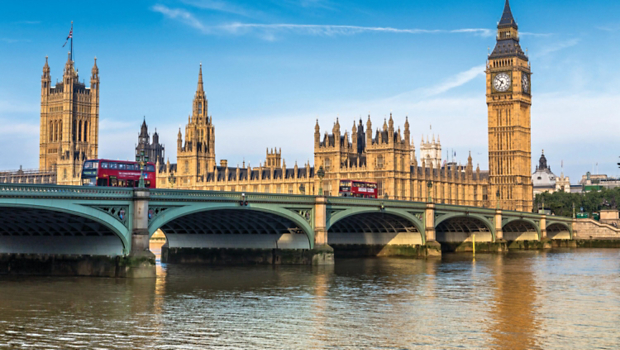 The history and power of the United Kingdom is concentrated in the one-mile area of Westminster, whose photogenic skyline is dominated by the iconic clock tower Big Ben and the gothic spires of the Houses of Parliament. Set along the winding River Thames, Parliament—known interchangeably as the Palace of Westminster—is the seat of British democracy and is open to all visitors who would like to attend debates in the House of Commons or House of Lords and admire the vaulted architecture.
Step across Parliament square to discover British history entombed in Westminster Abbey. From Mary Queen of Scots to Charles Darwin, Chaucer to Dickens, many of the great heavyweights in British history, politics, and arts are buried here. Every British monarch since 1066 has had their coronation in the Abbey, and it continues to play a major role in royal affairs: in 2011, it was the setting for Will and Kate's wedding.
A short walk across the lovely gardens and pond of St James's Park is Buckingham Palace, home to the British monarchy since 1837. Get there early to witness the pomp and pageantry of the Changing of the Guards, and maybe even catch a glimpse of the Queen herself—a raised flag above the palace will let you know she's home.
Experience City of Westminster with us on:
Hampton Court Palace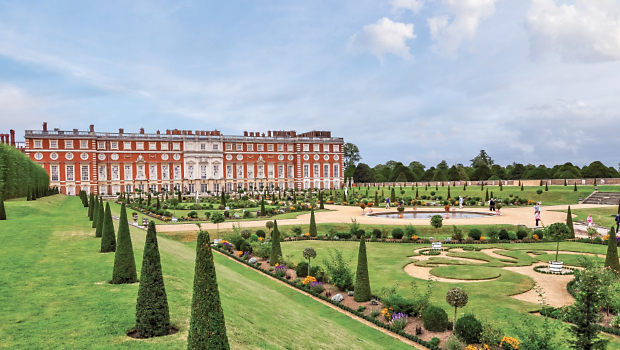 A fusion of Tudor, Baroque, and Gothic architectural styles, Hampton Court Palace is one of the biggest royal residences in Europe. Built in the early 16th century, Cardinal Wolsey wanted to create a palace that matched the splendor of its counterparts at The Vatican. Encompassing over 60 acres of gardens, six acres of grounds, and one of the largest collections of work from the Renaissance masters, Hampton Court allows modern-day visitors to step into the grandeur that was 16th-century English royal life.
Often the most important room in a palace, the Great Hall is where Henry VIII would have meals and company. Deeper in the heart of the palace, the Chapel Royal features breathtakingly intricate golden-trim woodwork, often called one of the most magnificent chapels in Britain. The Chapel was a destination for the greatest English composers of the time, and now anybody may attend religious services there. Since its construction, the Chapel has housed one of the longest-running all-male choral music traditions.
Experience Hampton Court Palace with us on:
London Museums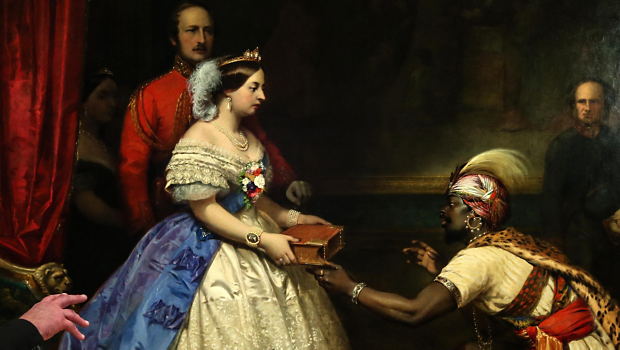 London is home to an astonishing array of world-class museums that offer something for everyone. Whether you're a history buff or transportation enthusiast, a visit to one of the city's museums is the perfect way to spend a free afternoon—and as an added bonus, most are free.
Art lovers should go to the National Gallery in Trafalgar Square; guarded by magnificent stone lions, this museum houses one of the largest collections of European art in the world. Stop by the East Wing to take in the 18th-century English greats—Gainsborough, Turner, and Constable all have pieces here.
Or step back in time in the British Museum. This imposing Bloomsbury fixture is dedicated to history, art, and culture, and contains century-spanning artifacts from around the globe. Under the museum's iconic glass roof, you can see the Rosetta Stone up close, mingle with Egyptian mummies, or gaze upon the controversial Elgin marbles.
For a more experimental dose of art, take a stroll along the South Bank to one of London's newest and most popular museums, the Tate Modern. Housed in the former Bankside Power Station, the Tate is a darling of industrial design and is visited annually by more than five million people. Inside, you'll find an expertly-curated collection of modern art, including pieces by Matisse, Rothko, Warhol, and Pollock.
Experience London Museums with us on:
Stonehenge
It's not often that the world's imagination is held captive by a bunch of big rocks. Yet the allure of Stonehenge, erected upon a flat green expanse in the Wiltshire countryside, is undeniable.
Stonehenge's tranquil locale enchants today's visitors with the same mystical presence that must have possessed its original architects 5,000 years ago. Even amidst the throngs of tourists that flock to the site daily, Stonehenge seems to grant observers a private audience, inviting them to ponder the question that's confounded laypeople and scholars alike for centuries: How on earth did they build this … and why?
Theories abound as to why Neolithic Britons dragged 4-ton megaliths over hundreds of miles to construct this mystifying stone circle. Was it an astral calendar? An ancient burial ground? A site for human sacrifice? A landing pad for aliens?
After centuries of research, experts haven't agreed on an answer, but two things are certain: It probably wasn't built by aliens, and to truly appreciate this ancient wonder, you have to see it for yourself.
Smart Travels with Rudy Maxa: English Countryside
Discover the English countryside with Emmy award-winning travel expert Rudy Maxa to witness the sights that have inspired for centuries.
Experience Stonehenge with us on:
Featured Reading
Immerse yourself in England with these articles
ARTICLE
Find out more about the history, culture, and etiquette of this undeniably British tradition.
ARTICLE
Discover the long history and diverse cultural influences of York, one of England's most singular cities.
ARTICLE
Serve these authentic English treats the next time you sit down for tea.
ARTICLE
While the historic origins of this cake recipe are a bit unclear, there's no question that it's a favorite of Queen Elizabeth II. Follow along with this recipe and try it for yourself.
ARTICLE
Learn about recently unearthed discoveries at Stonehenge and other archaeological findings.
Tea time: a British Tradition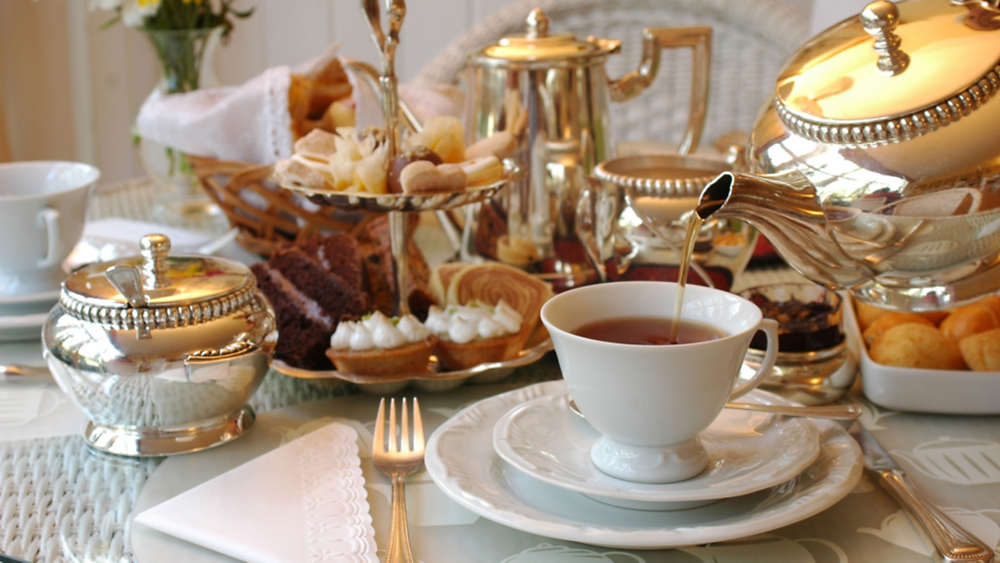 by Meredith Rommelfanger for Insider
"Care for a cuppa?" Tea time is a quintessentially English tradition dating back to the 17th century, when tea officially replaced ale as England's national drink. In fact, this much-loved tradition is an important part of daily life throughout the United Kingdom.
A taxing history
The English East India Company formally introduced tea to England in the early 1600s; however, it was expensive and highly taxed. Tea's popularity didn't increase until 1662 when England's ruler, King Charles II, married Catherine of Braganza of Portugal. When Catherine arrived on English soil, she brought with her a chest full of tea. This resulted in tea becoming the official beverage of the High Court. After the nobles endorsed this ritual, tea's popularity soon swept across England's blue-blooded society.
During the 18th century, tea's popularity spread throughout many British colonies. Parliament saw an opportunity to benefit from the drink's increasing status and monopolized trade with the English East India Company—mandating that its colonies import tea directly from England. This practice of levying high tariffs on imported goods helped finance military operations to support the expansion of the British Empire. Of course, many American colonists objected to this tax (especially since it was levied without colonial representation in British government), and in 1773 they expressed their objection by throwing a large shipment of tea into Boston Harbor—the infamous "Boston Tea Party."
Though it was the royal family who deemed drinking tea a fashionable custom, the term "afternoon tea" is credited to one person, Anna Maria Russell, Duchess of Bedford. She regularly invited friends to join her for tea in the afternoon—when she also served elegantly plated sandwiches, dainty cakes, and assorted sweets. If the weather was congenial, she would have them take their tea outdoors, usually to the garden.
By the dawn of the Victorian era, afternoon tea was a routine social activity among aristocrats—and it wasn't long before the custom became fashionable among all walks of life. During the latter part of the Industrial Revolution, depending on your "station," you might find yourself enjoying a cup of tea at the end of your workday, usually accompanied by platters of affordable meat, breads, and cheeses.
A lesson in etiquette
An important aspect of tea-drinking culture is the protocol around the act itself, which is why its preparation is taught in British schools. The first rule to remember is to stir your tea by swishing it back and forth without letting the spoon hit the sides of the cup. When you're finished stirring, gently rest the spoon behind the cup under the handle on the right side of the saucer. And when you're ready to drink, raise (at the same time) the saucer in one hand and the cup in the other.
You'll find more than 150 kinds of tea sold in London's famed Harrod's department store—the varieties of tea are endless, including favorites like Earl Grey, Darjeeling, Oolong, and Green. However, the staple in Britain remains English Breakfast tea.
Traditionally, tea is served with cucumber, smoked salmon, or egg and watercress sandwiches (with the crusts removed), as well as baked goods like savory scones with Devonshire clotted cream and crumpets with raspberry jam. Other examples include Battenberg cake covered in marzipan and cut to display its distinctive pink and yellow interior, and Victoria sponge cake, named Queen Victoria.
These days, tea is more popular than ever in America. Healthier lifestyles have led people to drink teas for their restorative properties. Many American teahouses and hotels even serve afternoon tea, which has become a relaxing social activity. Since the 17th century in Britain, this "quintessentially English" tradition has become a familiar custom among people the world over.
Pinkies up in Great Britain
Then & Now: York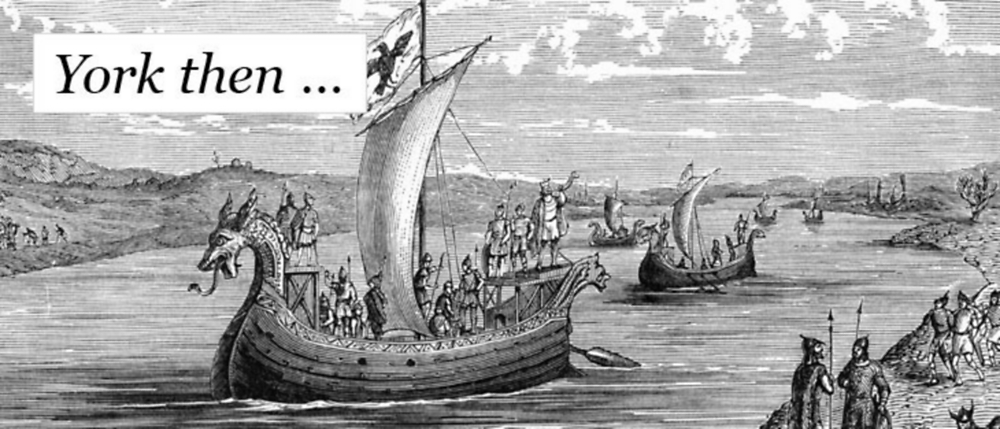 Delve into York's living history
Recipe: English Scones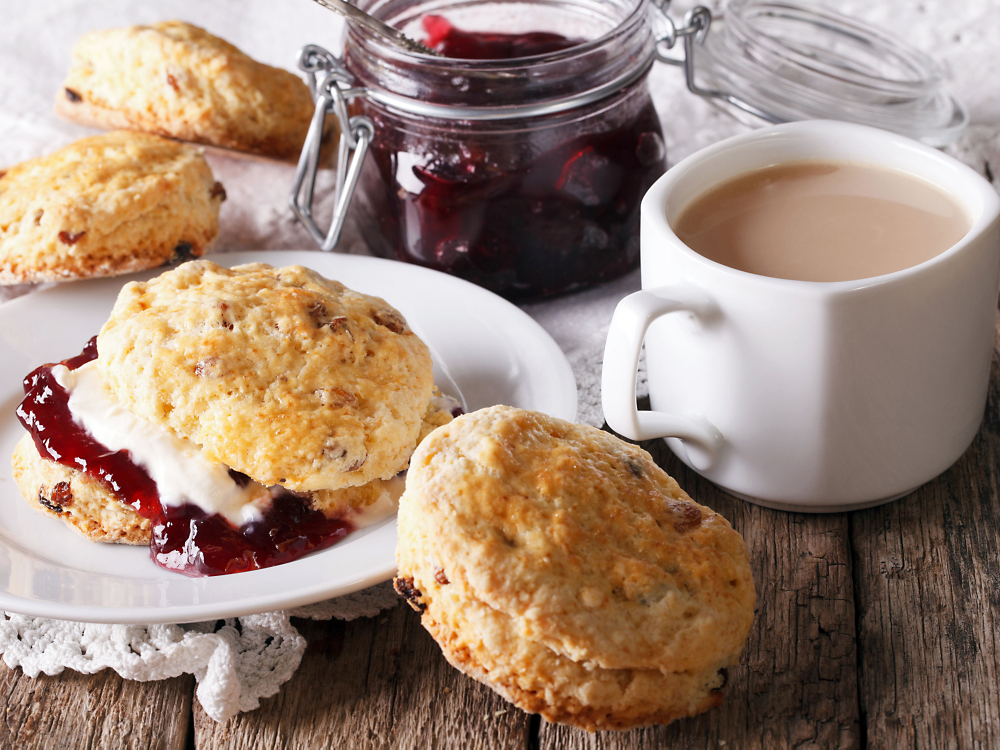 English scones are a classic part of the British tea time tradition. They are typically served at "Cream Tea," a light afternoon snack between lunch and dinner, but they're enjoyable at any time of day.
The English scone is the smaller, understated cousin of its American counterpart. Whereas American scones are often loaded with sweet fillings and sugar, the English scone is savory and plain, a smooth canvas upon which you paint the flavors of your choice. A proper English scone is enjoyed with fruit jam and clotted cream, but if you can't find the latter, room temperature butter serves as a fine substitute (although no Englishman would ever admit it).
Ingredients:
2 cups unbleached all-purpose flour
2 Tbsp sugar
4 tsp baking powder
1/2 tsp salt
3 Tbsp cold unsalted butter
2/3 cup milk
1 egg yolk beaten with 1 Tbsp milk (to glaze)
Strawberry jam and Clotted Cream (to serve)
Combine the flour, sugar, baking powder, salt, and butter in a medium bowl. Use your hands to break the dry mixture up until it reaches the consistency of fine breadcrumbs.
Stir the milk into the mixture with a wooden spoon, stopping once the lumps disappear from the dough.
Use flour to powder the dough, and apply a light layer to your countertop as well, to avoid sticking. With a floured rolling pin, flatten the dough into 1-inch thick round.
Cut the dough into 2-inch circles with a cookie cutter (reform and flatten the dough as needed), and place onto a greased and floured baking sheet.
Preheat your oven to 425 F, and let the scones rest for 15 minutes.
Brush the scones with the egg yolk and milk mixture, and then immediately bake for 12-15 minutes, until firm and golden.
Remove from the oven and allow to cool before serving. If you prefer softer scones, you can cover them with a towel while they cool. For a firmer texture, leave open to the air.
Prep Time: 25 minutes
Cook Time : 12 minutes
Servings: 8
Enjoy a taste of English tradition
Recipe: Queen Elizabeth Cake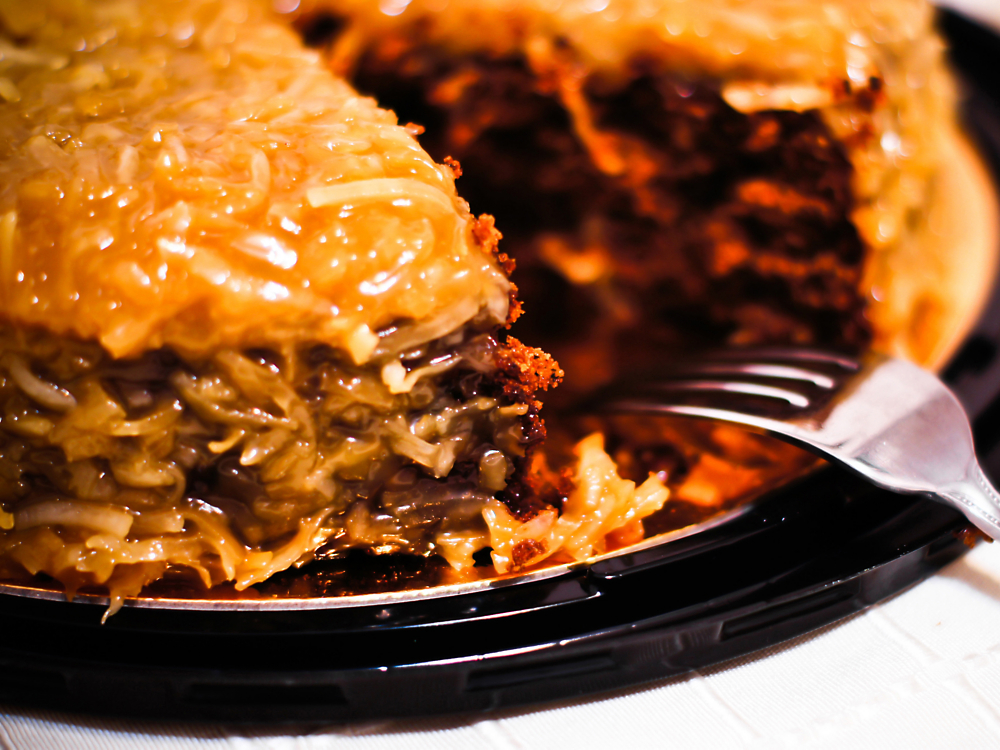 On February 6, 1952, Queen Elizabeth II, Britain's longest reigning monarch, first took the throne. Her father, King George VI, passed away in his sleep after a long illness—and as the eldest of his two daughters, Princess Elizabeth was next in line to succeed him.
She was on tour with her husband, Philip, in Kenya at the time, having already begun to stand in for her father at public appearances. She had yet to return home when the Accession Council first proclaimed her succession to the throne; a second meeting was held on February 8, during which Elizabeth took oath. Additional proclamations followed in Australia, Canada, New Zealand, and South Africa. The Queen's official coronation, however, would not take place until June of 1953, after the obligatory mourning period for her father.
While history can't say for sure that Queen Elizabeth Cake originated with the coronation ceremony—it may have been created for that of the Queen Mother—the cake enjoyed a surge in popularity, appearing in many magazines and coronation-themed cookbooks that year. Often, the recipe included a request from the Queen that it not be shared freely, but sold for charitable purposes. This practice has fallen by the wayside, and we share an adaptation of the original 1953 recipe here. We don't think Elizabeth II will mind.
Ingredients:
For the cake:
1 cup chopped dates
1 tsp baking soda
1 cup brown sugar
1/4 cup butter
1 egg, beaten
1 tsp vanilla extract
1 1/2 cups flour, sifted
1 tsp baking powder
1/2 tsp salt
1/2 cup chopped pecans or walnuts
For the icing and topping:
5 Tbsp brown sugar
5 Tbsp cream
2 Tbsp butter
2 cups unsweetened shredded coconut
Preparation:
Combine dates and baking soda, and cover with 1 cup boiling water. Let stand while you prepare the cake batter.
Preheat oven to 350 degrees Fahrenheit. Butter and flour a 9x12 cake pan.
In a large bowl, mix butter and sugar until creamy. Add egg and vanilla. Beat well.
Add flour, baking powder, salt, date mixture, and nuts. Mix well.
Pour batter into pan and transfer to preheated oven. Bake 25 to 30 minutes, until golden brown on top.
For the icing, mix the brown sugar, cream, and butter in a small saucepan. Bring to a boil and cook three minutes.
Turn out cake onto a platter. Pour icing over and spread evenly. Sprinkle with shredded coconut.
Servings: 10-12
Try a cake fit for a Queen
Prehistoric traces in Great Britain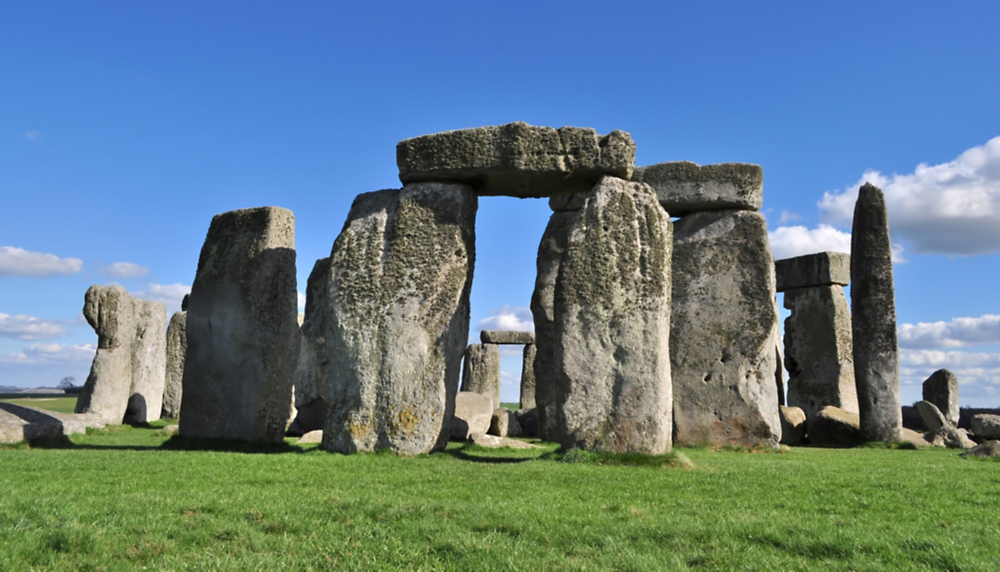 by Danielle Ossher
Methodical stone circles both large and small, hefty dolmens (portal tombs), burial grounds and mounds, artifacts, and more—remnants of Great Britain's earliest settlers remain evident to this day. Steadfastly preserved sites and well-curated museums in both England and Ireland give travelers and locals alike a unique peek into an ancient time, while ongoing archaeological exploration and research continue to unveil new discoveries and insights.
Stonehenge's family of shrines
As one of the world's most iconic sites, Stonehenge has long been accompanied by an impressive collection of adverbs—ethereal, powerful, mystical, captivating. The monolithic stone ring and collection of other Neolithic and Bronze Age monuments that dot the Wiltshire, England, landscape are shrouded in more questions than answers. And that's where cutting-edge techniques and unrelenting curiosity come in.
Last year, archaeologists set out to fully uncover what was hiding within its landscape—and found this singular monument is set among 17 other Neolithic shrines. Utilizing a combination of different instruments, the team created a three-dimensional map that provided unprecedented insight into Stonehenge's surrounds, reaching three meters deep and spanning 12-square-kelometers (or 1,250 football fields). While in-depth research remains underway, these new findings will help shed light on the evolution and story of this ancient site.
Ancient Ireland's on display
The Emerald Isle is also home to several notable Neolithic sites, including the teetering Poulnabrone dolmen tomb and the megalithic Drombeg stone circle (or The Druid's Altar). But when wandering the country to witness a dozen monuments isn't an option, the permanent Prehistoric Ireland exhibit at the National Museum of Ireland in Dublin is an excellent alternative.
Spanning the earliest traces of human settlement to the Late Bronze Age (7000-500 BC), the exhibit provides an overarching, in-depth look into ancient times through artifacts, and antiquities, and even a reconstructed Passage Tomb. Also on display in other exhibits are the Clonycavan Man and Oldcroghan Man, two well-preserved Iron Age bodies unearthed in 2003 just 25 miles apart, as well as a 4000-year-old necklace worn by the early kings, which was found in a Dumpster after a 2009 robbery.
New discoveries into an ancient world