The Leader in Enriching Cultural Experiences since 1958
You're receiving this message because your web browser
is no longer supported
We recommend upgrading your browser—simply click the button below and follow the instructions that will appear. Updating will allow you to accept Terms and Conditions, make online payments, read our itineraries, and view Dates and Prices.
To get the best experience on our website, please consider using:
Safari (for Mac or iPad Devices)
Update Browser
CANADA
Get the Details On Our Canada Trips
Compare Trips
Find the Adventure That's Right for You
Our Activity Level rating system ranks adventures on a scale of 1 to 5 to help you determine if a trip is right for you. See the descriptions below for more information about the physical requirements associated with each rating.
Travelers should be able to climb 25 stairs consecutively, plus walk at least 1-2 miles over some uneven surfaces without difficulty. Walks typically last at least 1-2 hours at a time. Altitude can range from zero to 5,000 feet.
Activity Level 2:
Moderately Easy
Travelers should be able to climb 40 stairs consecutively, plus walk at least 2-3 miles over some uneven surfaces without difficulty. Walks typically last for at least 2-3 hours at a time. Altitude can range from zero to 5,000 feet.
Activity Level 3:
Moderate
Travelers should be able to climb 60 stairs consecutively, plus walk at least 3 miles over some steep slopes and loose or uneven surfaces without difficulty. Walks typically last for 3 or more hours at a time. Altitude can range from 5,000 to 7,000 feet.
Activity Level 4:
Moderately Strenuous
Travelers should be able to climb 80 stairs consecutively, plus walk at least 4 miles over some steep slopes and loose or uneven surfaces without difficulty. Walks typically last for 4 or more hours at a time. Altitude can range from 7,000 to 9,000 feet.
Activity Level 5:
Strenuous
Travelers should be able to climb 100 or more stairs consecutively, plus walk at least 8 miles over some steep slopes and loose or uneven surfaces without difficulty. Walks typically last for 4 or more hours at a time. Altitude can range from 10,000 feet or more.
Hide Acivity Level
PRICE
including international airfare
HIGHLIGHTS & ACTIVITIES IN CANADA
*This information is not available for our trip extensions. You must reserve the main trip to participate on this extension.
**This information is not currently available for this trip. Please check back soon.
Watch this film to discover more about Canada
Curious About... Montreal
Explore Montreal—our pre-trip extension—and discover how France has influenced this Canadian city.
Recommended Videos
Watch your fellow travelers' favorite films & videos
Birds of the Okanagan
We've been working with independent international filmmakers to provide you with videos that portray the people, culture, and lifestyles of the countries you're interested in visiting. We believe this video offers a unique perspective on Western Canada.
Vancouver and Victoria, British Columbia
One of our favorite travel experts is Rudy Maxa, star of his own Emmy Award-winning series on public television. With his conversational insights and wry wit, watching Rudy's videos feels like you're exploring alongside a good friend. We hope you enjoy this unique perspective on Vancouver and Victoria!
Going Local: Vancouver
Try the street food, catch a crab, and immerse yourself in this locals-only look at Vancouver.
Curious About ... Victoria, British Columbia
Indulge your curiosity about the British traditions of Victoria, British Colombia on our post-trip extension, witnessing the city's diverse architectural designs and enjoying a tea ceremony fit for a queen.
Montreal's artistic hub
We've been working with independent international filmmakers to provide you with videos that portray the people, culture, and lifestyles of the countries you're interested in visiting. We believe this video offers a unique perspective on Montreal.
Canada: Month-by-Month
There are pros and cons to visiting a destination during any time of the year. Find out what you can expect during your ideal travel time, from weather and climate, to holidays, festivals, and more.
Canada in January-March
With six times zones crossing the continental divide, there are no universal expectations for seasonal weather in Canada. Victoria will always be more moderate than Banff and the perfect month in Montreal might be rainy season in Vancouver. In general, January and February are the height of winter for Canada, with literal arctic blasts in the interior and snowfall that can be measured in feet, not inches.
Holidays & Events
January 1: New Year's Day
Third Monday in February: Family Day
March 12: Commonwealth Day
Must See
The Quebec Ice Carnival lures Montreal residents and global travelers alike for days of music, food, ice sculptures, and even igloo hotels. The festivities by day are family friendly and the revelry ramps up after dark, when the city is aglow with events geared toward adults. It's the biggest event of the winter season and an experience that warms the spirit (if not the fingers and toes).
Watch this film to discover more about Canada
Journey Into Atlantic Canada: Nova Scotia
A dramatic blend of black and white and color cinematography highlights the natural beauty of Nova Scotia.
Canada in April-June
Spring is an ideal time to visit much of Canada. The crowds are fewer—most skiers headed home, but most summer visitors not yet arrived—so prices are the best all year. Trees are budding and baby animals are being born, so nature is at its most attractive without having to battle heat or cold. By May, tourist season is underway, but still not in full swing.
Holidays & Events
Last Monday preceding May 25: Victoria Day/National Patriots Day
May: Ottawa Tulip Festival
June 24: Quebec National Holiday
Must See
Montreal International Jazz Festival fills the stages of the Quartier des Spectacles with twelve hours of concert programming every day for ten days. Throngs flock to indoor and outdoor venues to take in tunes by jazz greats, up-and-coming artists, and world music legends. As it turns 40 in 2019, the festival is expanding, adding concert "hubs" in neighborhoods all over the city.
Watch this film to discover more about Canada
Journey Into Atlantic Canada: Nova Scotia
A dramatic blend of black and white and color cinematography highlights the natural beauty of Nova Scotia.
Canada in July-August
From coast to coast, this is peak travel season, with the most visitors and sunniest weather. Temperatures can rise into the 90s for much of the country, though it's naturally cooler in the Maritimes and Vancouver.
Holidays & Events
July 1: Canada Day
Early August: British Columbia Day and Alberta Heritage Day
July-August: Celebration of Light--a grand, three-night firework display over English Bay in Vancouver
July: Calgary Stampede
Must See
Since 1912, the Calgary Stampede has been the showpiece of Canada's western culture that takes place in July, with an epic rodeo at its heart ... but the events continue beyond trick roping and bronco riding. Concerts, fireworks, parades, a midway, and agricultural education events round out the offerings during the ten-day event.
Watch this film to discover more about Canada
Journey Into Atlantic Canada: Nova Scotia
A dramatic blend of black and white and color cinematography highlights the natural beauty of Nova Scotia.
Canada in September-October
Fall foliage is in full effect at this time of year, which can often be warm by day depending on whether Canada is experiencing an extended summer. However, nights will bring with them a familiar chill. In higher elevations, snowfall begins and winter gets its earliest start. It's best to layer clothing when ascending to higher altitudes.
Holidays & Events
First Monday of September: Labour Day
First Monday of October: Thanksgiving
Must See
Nova's Scotia's picturesque Cape Breton becomes a cultural hub during the Celtic Colours International Festival in October. For nine days, dozens of dances and nearly 50 concerts, plus community events and traditional dinners are held across Cape Breton, a feast for the senses only enriched by the spectacular fall foliage.
Watch this film to discover more about Canada
Journey Into Atlantic Canada: Nova Scotia
A dramatic blend of black and white and color cinematography highlights the natural beauty of Nova Scotia.
Canada in November-December
While it's rarely below freezing in Vancouver, the rest of Canada can see temperatures drop below zero as winter digs in. Snowfall can be significant, even outside the mountains.
Holidays & Events
November 11: Remembrance Day (varies by territory)
December 25: Christmas Day
December 26: Boxing Day
Must See
The Luminaria festival in Edmonton, Alberta is a magical two-night celebration of the influence of Asia on western Canada. The paths of Kurimoto Japanese Garden are illuminated by the light of thousands of candles.
Watch this film to discover more about Canada
Journey Into Atlantic Canada: Nova Scotia
A dramatic blend of black and white and color cinematography highlights the natural beauty of Nova Scotia.
Average Monthly Temperatures
Canada Interactive Map
Click on map markers
below to view information about top Canada experiences
Click here to zoom in and out of this map
Banff National Park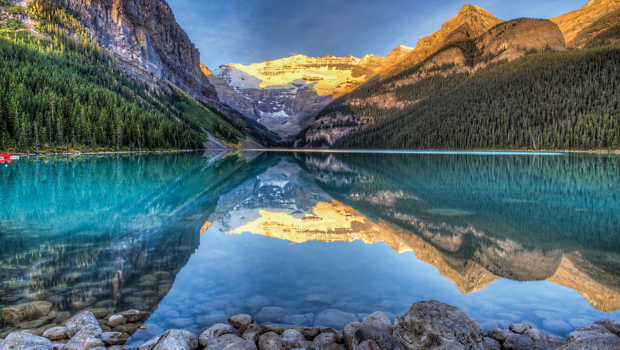 There's a reason three million visitors a year make the trek to Banff National Park. Canada's first national park, now part of the Canadian Rockies UNESCO World Heritage Site, is dense with scenic vistas, memorable drives, and hiking opportunities. Beneath a backdrop of towering Rocky Mountain peaks, caribou, moose, and black bear roam the verdant forests, drink from glacial lakes, and ascend craggy cliffs. The density of nature is powerful here: a single drive along the Tunnel Mountain loop brings you past multiple summits, Lake Minnewanka, Two Jack Lake, and the enigmatic hoodoo rock formations, perhaps spotting elk and deer as you go.
Nestled within the park, the iconic mountain town of Banff is home to historic hotels, quaint shops, and delightful restaurants. For two centuries, Banff has attracted climbers wanting adventure, painters seeking inspiration, and countless travelers who appreciate its serenity. Its crown jewel is Lake Louise, a pristine lake whose waters are famously turquoise in color; you might think you were in the Caribbean were it not for glacier-dotted mountains wrapping around you on all sides.
Experience Banff National Park with us on:
Athabasca Glacier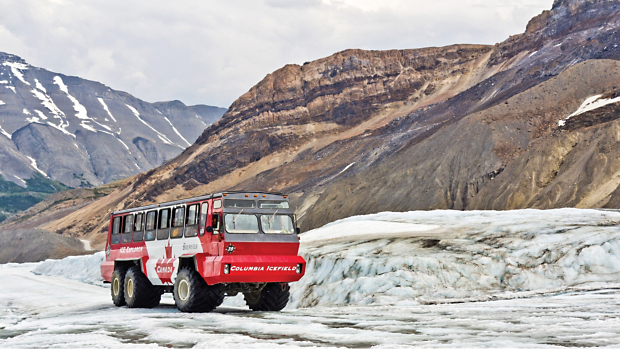 Because it is the most easily reached of the six glacial "toes" in the Icefield, Athabasca is the most visited glacier in North America, and for most visitors, it is their primary introduction to the Icefield. Straddling Jasper and Banff National Parks, the Icefield is the largest mass of ice in the Rocky Mountains and crosses the continental divide. Melt waters from the year-round wonderland of ice and snow (22 feet of new snowfall annually) flow outward to the Arctic, as well both the Atlantic and Pacific oceans. It beckons skiers, climbers, and the most adventurous hikers, ready to fill their lungs with cool mountain air.
Climate change has not been kind to the glacier, which is receding at a rate of 16 feet every year, a pace expected to speed up. Knowing that Athabasca could be lost within a generation or two has only increased the desire of many visitors to experience it--often boarding Ice Explorers, vehicles specially designed to traverse glaciers.
Experience Athabasca Glacier (Jasper National Park) with us on:
Prince Edward Island
Called home by Mi'kmaq, French-Acadian, Scottish, and Irish settlers over time, Canada's smallest province is perhaps its most charming too. PEI, as the locals call it, has a timeless feel, with its farms and fishing villages. Nicknamed "Spud Island" for its agricultural heritage, it's also a hotspot for prized oysters, still harvested one small boatload at a time from the chilly water. But perhaps its most famous export is the irrepressible Anne of Green Gables, the Lucy Maud Montgomery character whose books have inspired movies and TV series (and many a country wedding at the site upon which the book was based).
For such a small island, there's plenty to discover. Sandstone cliffs rise above red-sand beaches and lush gardens bloom with flowers in spring and summer. You can watch for bird life in salt marshes or sink your toes in the shifting sands of "mobile" dunes (which appear and disappear thanks to tide, wind, and plant growth). PEI's National Park is home to 400 species of plants and 300 species of birds, most famously including the endangered piping plover (a tiny treasure half the size of a deck of cards). Just a bridge away from the mainland of Canada, PEI is a world unto itself.
Experience Prince Edward Island with us on:
Whistler, British Columbia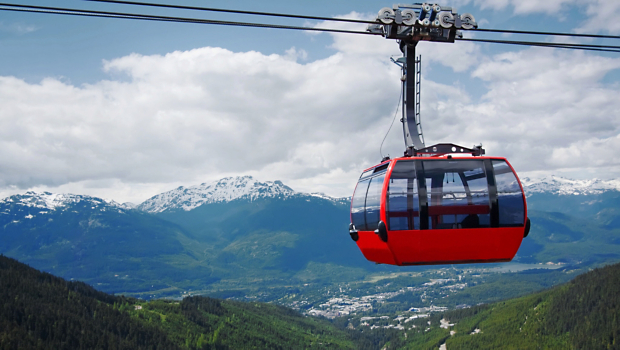 Follow the Sea to Sky Highway in Canada, and you'll find Whistler, a resort town to fall in love with. Flanked by the Whistler and Blackcomb mountains, the town is a natural launch pad for skiers, who have an epic 8,000 acres of slopes to enjoy. As the 2010 Olympics venue, its profile as a winter sports mecca was raised even more, making it one of the most popular ski resort towns on Earth. (You might be surprised to know it's not named for whistling winds on mountain slopes, but for the noise made by its furry marmot inhabitants.)
Whistler's delights are not remotely limited to wintertime. Hikers flock to the slopes when spring turns them green and cyclists seek out the lung-pumping thrill of ascending routes. For those who don't mind heights, the Peak to Peak Gondola offers the world's highest (a 1,400-foot rise from ground level) gondola ride and its longest (nearly three miles). Those preferring a gentler pace fish for three kinds of trout and three species of salmon in the local rivers. In fact, with so many choices, summer visitors now outnumber their wintry counterparts. All year round, the shops and restaurants outlining the winding lanes of the alpine-style village encourage travelers to relax and bask in the spell of Whistler.
Experience Whistler, British Columbia with us on:
Vancouver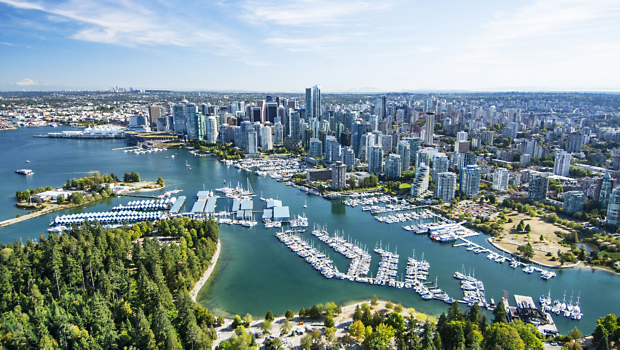 Vancouver has it all when it comes to nature: Set along the Pacific ocean, it is replete not only with beaches but also with mountain views and thriving forests. In fact, a forest was the inspiration for Canada's first urban park, Stanley Park, set aside in 1889. In opening the park (which bears his name) Lord Stanley proclaimed it would be for the "use and enjoyment of all people of all colors, creeds, and customs for all time." It has accomplished that goal ever since, with visitors hiking amid its evergreens, lingering in the formal rose garden, cycling or strolling along the seawall, and relaxing on its beaches.
Within the city proper, each neighborhood has its own personality, from the beach culture of West Town to the hip environs of Yaletown, with its many lounges and restaurants. Historic, lamp-lined Gastown was allegedly named after the flatulence of the riverboat captain who first opened a saloon here, but its aesthetic is far more genteel and lovely. Vancouver's Chinatown is the second largest in North America and one of the city's oldest neighborhoods, boasting a colorful China Gate, the first true Ming-dynasty-style Chinese Garden outside China, and a Chinese cultural center. All of Vancouver's residents enjoy the most moderate climate in Canada, with little snow fall and a spring that comes early to lure them outside once again.
Experience Vancouver with us on:
Featured Reading
Immerse yourself in Canada with this selection of articles, recipes, and more
ARTICLE
If you're a fan of the novel, then you won't want to miss these famous locations on Prince Edward Island.
ARTICLE
Meet the varied creatures that call these famed landscapes home.
ARTICLE
Learn more about the legendary ship that earned Nova Scotia a place in the annals of maritime history.
ARTICLE
Combine two Canadian staples into one delicious dish with this easy-to-follow recipe.
The Anne of Green Gables Guide to Prince Edward Island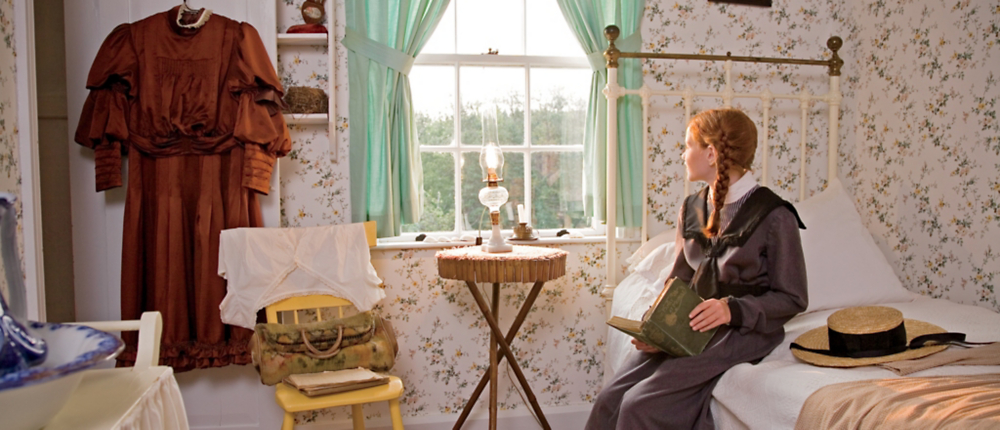 Three can't-miss sites for any L.M. Montgomery fan
by Victoria Welch
An idyllic town on Canada's Prince Edward Island … a charming young girl with an incredible imagination … a lovely white house with green trim. For more than a century, this has been a winning combination for millions of readers, each of whom has fallen under the spell of Anne Shirley, the plucky, flame-haired girl at the heart of L.M. Montgomery's Anne of Green Gables.
But what many readers don't realize is that the words above actually describe Lucy Maud Montgomery herself. The worlds of the celebrated author (known as Maud to her family and friends) and her most famous heroine are closely paralleled—and visiting Maud's special places on P.E.I. today yields incredible insights to any Anne fan.
"Hallowed ground": The Cavendish Home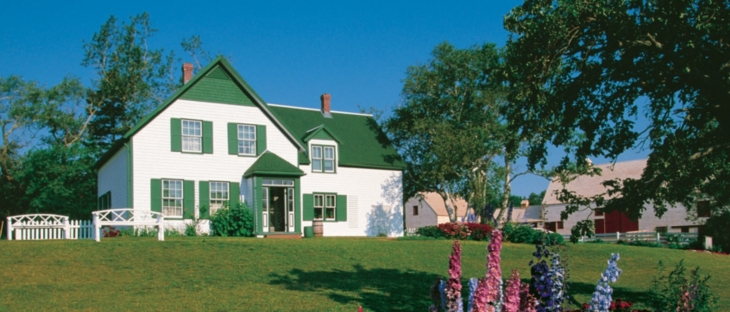 The bucolic community in which Anne grows up, Avonlea, is a fictitious town … technically. Much of the village's vibrant color and charm comes from Cavendish, a small community of less than 300 people perched along P.E.I's. northern coast.
Maud's readership knows well that Anne Shirley arrived in Avonlea as an orphan, but many don't realize that the author's road to Cavendish was similarly paved with family tragedy. She was transferred to her maternal grandparents' custody as a youngster, after her mother died and her father decided to travel west.
It was under their care that Maud grew and developed her vivid imagination, creating a cast of characters that became her imaginary friends throughout her childhood. While she would move on to pursue her education and a career as a schoolteacher, she returned to the Cavendish home in 1902, where she cared for her then-widowed grandmother until her death in 1911. Maud said of the property, "It is and ever must be hallowed ground to me," and it was in that family home that she dove into the bright and complex life of Anne Shirley.
While that house no longer stands, the foundations and property of Maud's childhood home is now a Canadian National Historic Site. LM Montgomery's Cavendish Home is still tended by members of her extended family, and the site features information about the site's significance.
The setting: Green Gables Heritage Place
About a quarter mile from the Cavendish Home lies a house that any Anne fan would know at first sight, from the white clapboards to the green shutters to the unmistakable dark green gabled roof. While today it's known as Green Gables Heritage Place, Maud knew it as the home of her relatives, David Jr. and Margaret Macneil. While she never lived on the farm herself, she fell under its spell while visiting and exploring the surrounding lands.
Those familiar with Anne's adventures and misadventures (known in her parlance as "scrapes") can see just how strong an influence the real Green Gables had on the fictitious. Visitors to the farm can explore a floor plan labeled to show each of the character's rooms—Anne and Marilla on the second floor, sweet Matthew on the first—and venture outside to find some of Anne's (and Maud's) favorite outdoor spaces. Lover's Lane and the Haunted Wood? Both are present and accounted for, and today visitors will often find an enthusiastic red-haired young lady ready to greet them and show them around.
"The wonder castle": Anne of Green Gables Museum
Many of Maud's readers smile upon thinking of the Lake of Shining Waters, the body of water described early in Anne of Green Gables. It revealed much about Anne's character that, upon hearing it was known simply as Barry's Pond, she renamed it in style befitting its beauty.
Today, the lake can be found about 13 miles to the west of Green Gables farm—in nearby Kensington. It's a key part of any visit to the Anne of Green Gables Museum at Silver Bush, a home built by John and Annie Campbell (Maud's uncle and aunt) in 1872. Maud also found this property enchanting, referring to it as "a big white beautiful house smothered in orchards that was the wonder castle of my childhood."
This house served as a key location in Maud's non-Anne life: It was there that she married minister Ewan Macdonald, and she went on to set several of her novels in this house. This location offers a particularly rich look into the life of the author herself, with photographs and artifacts from Maud's life that showcase not only the writer's personality, but also the early 19th-century setting in which a beloved author was developed.
Three can't-miss sites for any L.M. Montgomery fan
The Canadian Rockies' iconic inhabitants
by Danielle Ossher
Jagged snow-laced peaks, ethereal crystalline lakes, and densely lush forests converge in scenes of awe-inspiring beauty throughout the Canadian Rockies. And within these pristine natural landscapes live a varied abundance of wildlife—from the smallest to most imposing of creatures.
The myriad animals that call this striking mountain range home share footing in defining the scenes that allure so many: visitors inspired to experience the magnificent sites themselves, and to perhaps be as lucky as to spot a few famed locals in their most natural of habitats. For many, the sight of bald eagles circling high over salmon-laden rivers and bighorn sheep clinging steadfastly to nearly-sheer cliff sides are equally as iconic as the most quintessential scenic snapshot.
National Park Staples
The idyllic landscapes of Banff and Jasper, and the expanse between the two, are a bounty of sighting opportunity—black bears, elk, bighorn sheep, moose, and bald eagles are all prevalent here. In fact, both national parks are home to 53 species of mammals alone, along with a diverse array of small mammals, birds, and fish, while Maligne Lake and Icefields Parkway also boast their own chance encounters.
Bears are unarguably the main attraction (Banff and Jasper even have online Bear Reports), and mid-April to mid-June is prime season for catching a glimpse of both the black and grizzly, as their post-hibernation hunger draws them out for feeding. But they're not the only heavy hitters: Moose can be found lake- and streamside, as well as in the forests, collecting a meal of twigs and leaves, and keen-eyed observers who place their gaze upward will spot bighorn sheep effortlessly maneuvering cliff faces.
The Red River
Each fall, British Columbia's Fraser River takes on a vibrant crimson hue imbued by the salmon run—and sockeye salmon have long played an important role for other local wildlife like bears and eagles, the First Nations people, and the provinces' economy at large because of this annual occurrence. (Sockeye earned the moniker from Anglicization of the Halkomelem word suk-kegh, meaning "red fish.")
The third most common species of wild Pacific salmon, sockeye make their way from salty ocean waters to return to the fresh water from where they once migrated. Once here, they'll spawn as their final act. The normally blue-and-silver fish become a vibrant combination of bright-red bodies with green heads to mark the occasion (both male and female). The annual salmon run can bring millions of sockeye to the Fraser River and its tributaries—2010, the largest salmon run in nearly a century, saw upwards of 30 million.
The Whistlers
Half of the renowned Whistler-Blackcomb ski destination, the imposing Whistler Mountain has an unmistakable air of challenge. Yet this 2010 Winter Olympics site is, in truth, named such for a much less commanding reason—the hoary marmot.
While the small stature of these ground squirrels may not be grounds for notice, their distinctive noise demands it. Dubbed "the whistler," and even "whistle pigs," the hoary marmot emits a high-pitched noise as a warning to its fellows to approaching danger. These marmots thrive in the grassy tree lines along Whistler's slopes, and their echoing cries inspired the name change from London Mountain in the 1960s.
The Canadian Rockies' Iconic Inhabitants
Canada's Champion: The Bluenose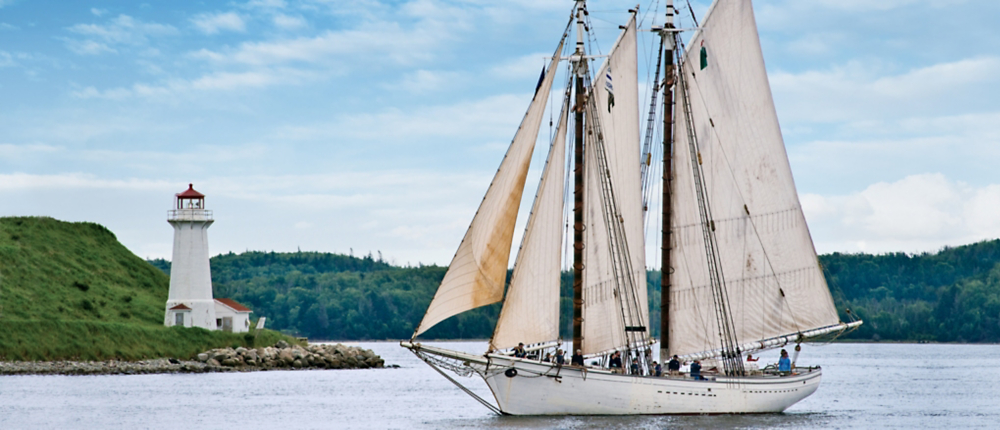 An enduring symbol of Nova Scotia's maritime heritage
by Bob Hammerling
If you look at the back side of a Canadian dime, you'll see a ship. It's not just any old vessel—it's the image of the Bluenose, a famous fishing schooner and a celebrated icon of Nova Scotia's close ties to the sea.
To truly understand the Bluenose's place in Canadian history, you first need to know about the competition that set the stage for its success.
The Fisherman's Trophy: Racing for glory
The story of the Bluenose begins in 1919, when a race for the America's Cup—a prominent sailing event for well-to-do yachters—was postponed by a 23-mile per hour gale. The deep-sea fishermen of Nova Scotia—to whom such a wind was little more than a stiff breeze—scoffed at the news, and sought to prove their superiority over the upper crust pleasure boating crowd by starting their own racing league. Thus, the Halifax Herald North Atlantic Fisherman's International Competition—the Fisherman's Trophy, for short—was born.
In contrast to the America's Cup, the Fisherman's Trophy was no upper crust frivolity for wealthy yacht owners: It was a chance for hard working fishing ships to earn bragging rights over their rivals. To be eligible to race, each ship had to work at least one season in the treacherous waters of the Grand Banks (a fish-rich region of the sea off of Newfoundland).
The chief rivalry for the Fisherman's Trophy was between the sailors of Lunenburg, Nova Scotia, and Gloucester, Massachusetts, who both claimed to be home to the finest deep-sea fishing fleets the world had to offer. The inaugural race was held in 1920, and Gloucester took the trophy home. With its ego wounded, Lunenburg began preparing its response.
Enter Bluenose
In 1921, the Lunenburg shipbuilding company of Smith & Rhuland finished construction of a sleek and practical schooner that would go on to become legend. They named her Bluenose, a nickname given to the Nova Scotian people, and, after a season of work hauling record-breaking amounts of fish from the Grand Banks (to both establish its eligibility in the league, and to fund its own entrance fee), it would represent Canadian sailing prowess and secure Nova Scotia's place in the annals of maritime history.
Her captain was Angus Walters, an expert sailor who put the Bluenose through her paces with aplomb, winning her first Fisherman's Trophy handily against the Gloucester captain—Marty Welch of the Elsie—who had shamed the Nova Scotians just one year earlier. Bringing the trophy back to Canada, the Bluenose was an instant celebrity.
She would continue to impress over her 17-year racing career, winning the Fisherman's Trophy again and again, most famously against her chief rival, the Gertrude L. Thebaud, captained by Ben Pine, another Gloucester man. Although the Thebaud did manage a victory over the Bluenose once in the Lipton Cup, an American-sponsored race off the coast of Gloucester, in the Fisherman's Race, the Bluenose was undefeated: "The wood ain't growin' yet that'll beat Bluenose," boasted Captain Walters.
The Bluenose's fame made it an ambassador of Canada's goodwill, and in 1935, she sailed across the Atlantic to attend the Silver Jubilee of King George V of Great Britain as a national representative. On the way home she encountered a terrible storm. Hurricane-force winds assailed the ship, flooding the decks and knocking her down for a full five minutes. But Bluenose wasn't ready to die: She simply righted herself, limped home, dusted herself off, and continued to win races.
In 1938, Bluenose won its last Fisherman's Trophy, once again going up against Gloucester's Thebaud. In the final moments of the final race of a best-of-five series, Captain Walters urged the Bluenose on, "One more time old girl, just one more time," setting a record-breaking pace and securing the trophy, as well as the ship's place in history.
With its racing days behind it, the Bluenose finished its days in humility, doing the work it was built for—fishing. In 1942, she was sold—over the protests of Captain Walters, who could do nothing to stop it—to the West Indian Trading Company, where she worked for four years before striking a reef and sinking off the coast of Haiti in 1946.
Keeping the tradition of the Bluenose alive
Although the ship was sunk, it was not forgotten. In 1963, Smith & Rhuland dusted off the Bluenose's blueprints and built the ship once again—in fact, some of the same builders who constructed the original vessel had their hand in the construction of the new ship, christened the Bluenose II. For its inaugural voyage, Captain Walters took the helm and sailed the ship into the West Indies, where her mother spent her final days.
Today, the ship rests in its home city in Lunenberg, where visitors can look upon it, and, during the summer, join it as it sets out to sea to reminisce about the last days of the age of sail.
Canada's Champion: The Bluenose
Recipe: Canadian maple salmon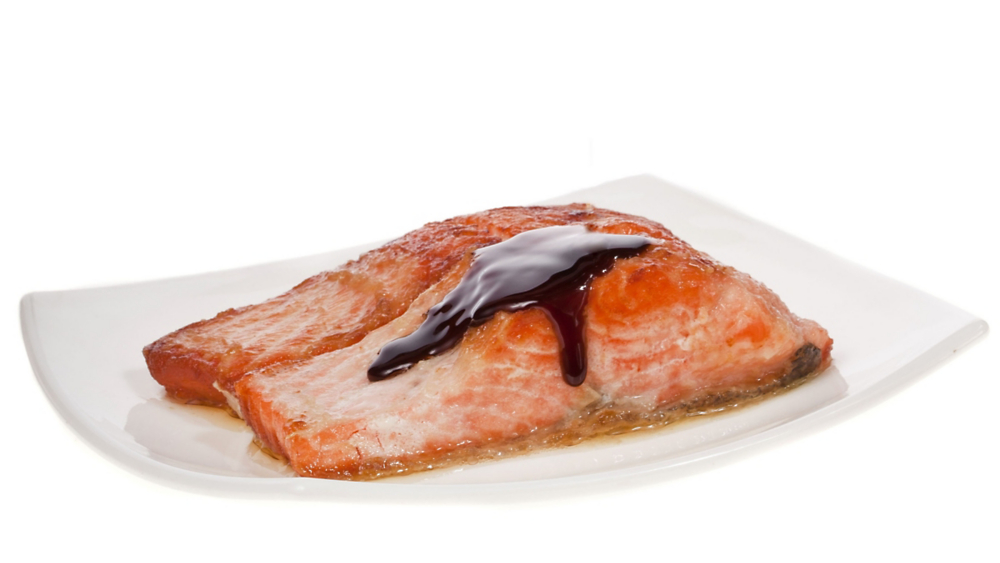 from Harriet's Corner
While Canada exports the world's seventh-largest amount of fish and other seafood products, it also keeps more than enough within its borders for seafood to be a significant staple in any Canadian's diet. And despite the regional differences one might expect in such an expansive nation, Canadians from coast to coast list salmon among their favorite fishes to serve come dinnertime.
What could be more Canadian than combining this suppertime standby with another iconic ingredient? When it comes to maple syrup, Canada is king. With more than seven million gallons of the sweet stuff produced in Canada each year, this nation dominates when it comes to maple syrup export—it makes up 80 percent of the world's exports, with the U.S. providing that last 20 percent. And while many first think of pouring maple syrup over pancakes or French toast, it can also add a special kick to baked goods, meats—even your morning coffee.
This dish will complement the flavor of salmon—particularly bountiful in the Pacific Northwest—with that of Canada's liquid gold.
Ingredients
1/4 cup maple syrup
2 Tbs. soy sauce
1 clove garlic, minced
1/4 tsp. garlic salt
1/8 tsp. black pepper, ground
1 lb salmon
Preparation
In a small bowl, mix maple syrup, soy sauce, garlic, garlic salt, and pepper.
Place salmon in a shallow glass baking dish, then coat with the maple syrup mixture. Cover the dish and let the salmon marinate in the refrigerator for 30 minutes, turning once.
Preheat oven to 400 degrees Fahrenheit.
Place baking dish in the oven and bake, uncovered, for 20 minutes or until easily flaked with a fork.
Servings: Serves four.