Voted Condé Nast Traveler's 2019 Readers' Choice Awards Top 5 River Cruise Lines
Join us aboard our 86- to 162-passenger river ships and discover what makes Grand Circle Cruise Line an award-winning company—13 years in a row!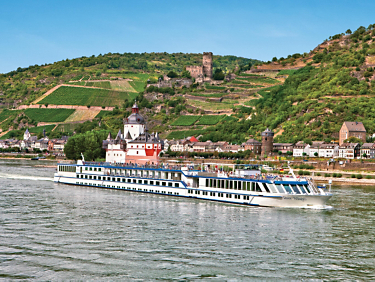 Intimate size, warmer atmosphere
While other cruise companies are focusing on larger European river ships, our fleet features vessels of a smaller size, ranging from 86-162 passengers with groups of 38-45.
Privately owned for a more personalized experience
All of the vessels on our River Cruises are privately owned and operated by Grand Circle Cruise Line. That means we manage every aspect of your journey—from your English-speaking crew to your meals—to meet your expectations. Our expertly trained staff works to ensure that you feel well taken care of 24 hours a day—from the gracious restaurant maitre d' and the ship's hotel manager to the hard-working housekeeping staff. Plus, our local Program Directors are eager to share their special insights with you during Exclusive Discovery Series onboard events.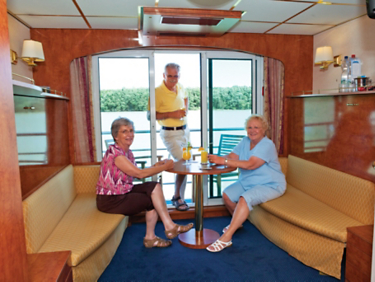 Relax in your comfortable cabin
River cruising is the most carefree way to travel, and the Grand Circle Cruise Line fleet features comfortable, intimate accommodations with the amenities of a hotel and the convenience of unpacking just once. All of our onboard accommodations are outside cabins with river views, so you're able to enjoy the scenery while you sail.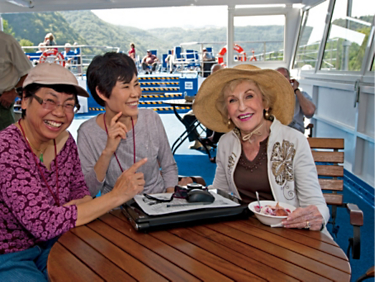 Make new friends in our common spaces
Settle into a comfortable armchair with a book or cup of coffee in our spacious, window-lined lounge, or capture the riverside scene by taking photographs and enjoying the fresh air on our open-air Sun Deck. Many of our river ships feature a small library, an ideal space to read about upcoming destinations, or stay in touch with friends and family with our complimentary wireless Internet.
You won't find big, high-priced revues on our entertainment roster, but our ships do offer engaging activities—and sometimes, local musicians—to enhance your evenings onboard. And once you get to know your fellow like-minded American travelers, you'll enjoy this camaraderie in the lounge—whether it's for a game of cards or an after-dinner nightcap.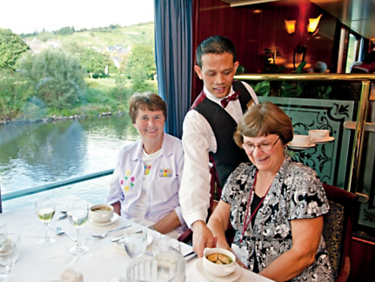 Scenic views and inspired cuisine
Savor regional specialties while passing by picturesque landscapes in our window-lined dining room. In addition to destination-inspired dishes, our comprehensive menu also includes familiar American fare. Fresh, local ingredients are delivered to the ship regularly, so you can count on the finest cuisine at every meal; we're also happy to cater to special dietary needs. Since the atmosphere onboard is always friendly and relaxed, the dress code is "smart casual."
So much is included
From all of your accommodations to our guided tours on land, you can feel confident knowing so much is included during your cruise. Not only will you enjoy most—if not all—of your meals as part of your trip experience, but onboard house beer, house wine, and soft drinks are complimentary all day long on our privately owned ships.