Israel: Tel Aviv, Jaffa, Haifa, Tiberias, Golan Heights • Egypt: Suez Canal, Giza Pyramids, Luxor & Valley of the Kings • Jordan: Aqaba, Wadi Rum, Petra, Madaba, Mount Nebo, Dead Sea, Bethany Beyond the Jordan • Allenby Bridge Border Crossing • Israel: Jerusalem
EXPLORE IN SMALL GROUPS OF 25 ABOARD OUR PRIVATELY OWNED 89-PASSENGER M/V CLIO—OPERATED BY GRAND CIRCLE CRUISE LINE
17 Days from only $8095 including international airfare
FROM
$8095
17 DAYS
$477/DAY
including international airfare
16 DAYS FROM $7095 Small Ship Adventure Only
Pre-trip: Palestinian Discovery
5 nights from: $995 Single Supplement: FREE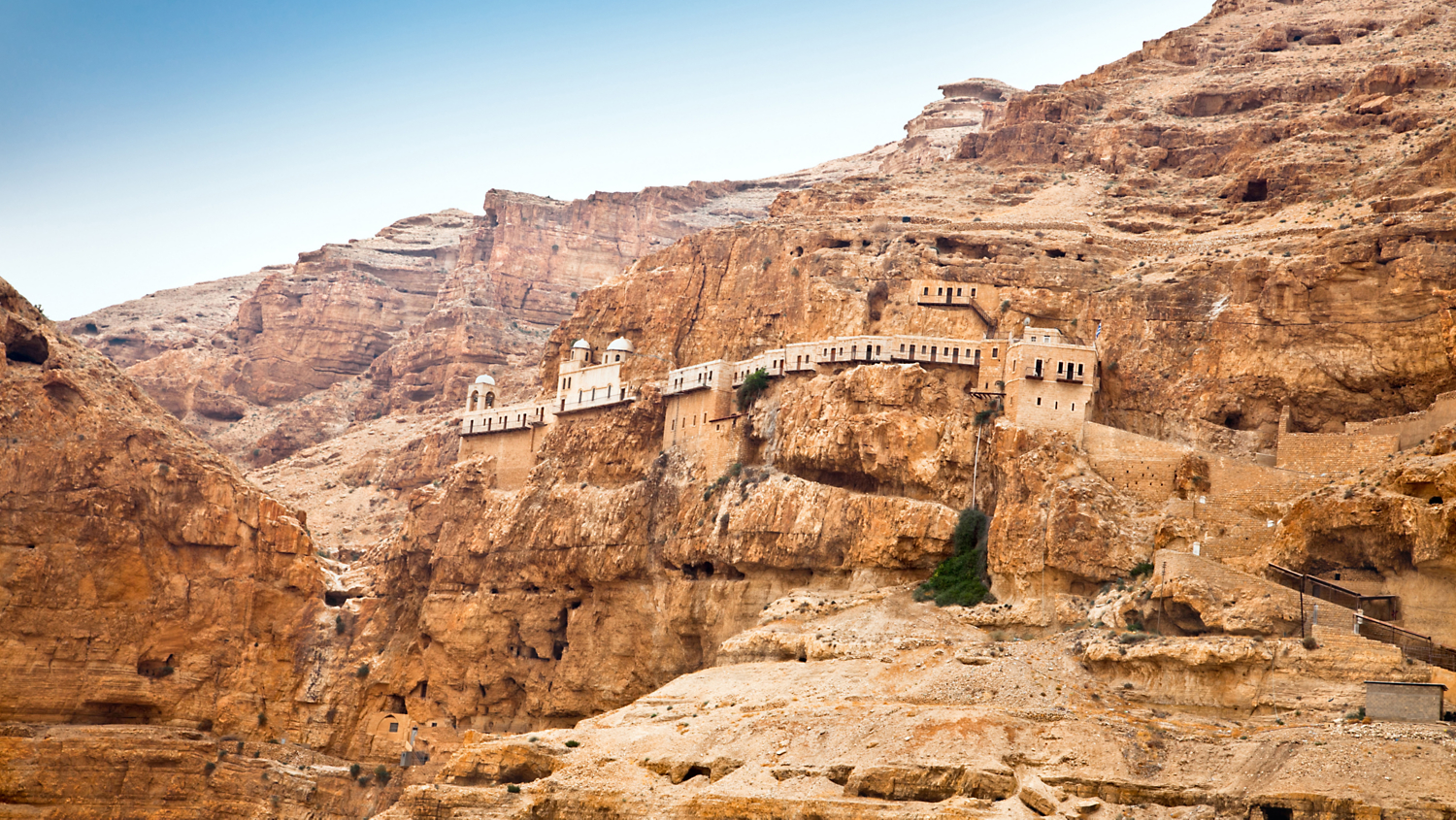 Journey beyond the headlines to discover the great natural beauty, timeless sites, and proud and resilient spirit of the Palestinian Territories. From the terraced city of Battir to the holy city of Bethlehem, this region encompasses some of the most revered religious sites and archaeological treasures in the world.
It's Included:

Accommodations for 5 nights
13 meals: Daily breakfasts, 3 lunches, and 5 dinners
Included tours: Ramallah & Sabastia • Nablus • Hebron & Battir • Mar Saba Monastery • Bethlehem • Bethany • Jericho
Services of a local Trip Leader
Gratuities for local guides and motorcoach drivers
All transfers
Fly from U.S. to Tel Aviv, Israel.

Day 2

Tel Aviv • Ramallah, Palestininan Authority

Upon arrival in Tel Aviv today, you'll be met at the airport and transferred to your hotel in Ramallah, Palestinian Authority, where you'll share a Welcome Drink and Welcome Dinner with your fellow travelers.

Day 3

Ramallah • Sabastia • Nablus

After breakfast, embark on a walking tour of Ramallah, literally "God's Hill." A vibrant West Bank cultural center, as well as administrative headquarters of the Palestinian Authority, Ramallah is a harmonious city set on a major crossroads of the West Bank. Your tour today includes visits to a local food market and Yasser Arafat's memorial.

Early this afternoon, continue on to the village of Sabastia, an ancient royal city in the Samarian hills, which contains the ruins of six successive cultures stretching back 10,000 years. Before exploring the impressive archeological collection here, perhaps you'll sample musakhan, a traditional Palestinian dish of chicken and onions, as you pause for lunch in a local restaurant.

Finally, you'll discover the nearby city of Nablus, one of the largest Palestinian cities. Here, you'll stop to visit the ruins of a temple and citadel on Mount Gerizim, where Samaritans come to make an annual Passover sacrifice.

Return to Ramallah for the evening, and enjoy dinner in a local restaurant tonight.

Day 4

Ramallah • Hebron • Battir • Jericho

This morning, you'll journey to the divided West Bank town of Hebron, referred to in Judaism as the City of the Patriarchs because it is where the religion's founders are said to be buried. Hebron is also one of the Four Holy Cities of the Jewish faith (along with Jerusalem, Tiberias, and Sefad). Today, it is the most populous city on the West Bank.

Here, you'll explore the Cave of the Patriarchs, a site revered by Muslims, Jews, and Christians alike, as it is believed to be the final resting place of Abraham, Sarah, Jacob, Rebecca, and Leah.

Next, you'll visit Jewish colonists, and learn about life in what the Palestinian Authority considers occupied territory. Then, it's on to Battir, a Palestinian settlement renowned for its 4,000-year-old stone terraces—a cleverly designed irrigation system that is still in use today. Following a traditional lunch with a family here, you'll have the opportunity to see more of Battir's remarkable landscape during an included tour and free time.

This evening, you'll transfer to your hotel in Jericho, where you'll enjoy dinner.

Day 5

Jericho • Mar Saba • Bethlehem • Bethany

This morning you'll depart for the monastery of Mar Saba. Built by the Greeks in 478 AD, it is one of the world's oldest monasteries, and is still in use today by approximately 20 monks. After free time to hike in and around this desert compound, you'll travel to Bethlehem, a holy place for Christians, Jews, and Muslims alike. An important Palestinian stronghold and cultural center, it is also believed by Christians to have been the birthplace of Jesus, and the Jewish faith holds that it was David's childhood home and site of his coronation as King of Israel.

Upon arrival, you'll enjoy lunch on your own before visiting some of the city's most important historical sites, including the Church of the Nativity, built over a cave where Christ was believed to have been born. Your discoveries conclude today in Bethany, a small first-century village on the southeastern slope of the Mount of Olives to visit a 2,000-year-old dwelling thought to be the house of Lazarus, whom Jesus is said to have raised from the dead.

Return to your hotel early this evening, where you'll enjoy dinner with your fellow travelers.

Please note: Many ancient traditions are still observed at Mar Saba, including a restriction against women entering the main compound. From the neighboring Women's Tower, however, all travelers can enjoy splendid views of the complex, with its view overlooking the Kidron Valley.

Day 6

Jericho • Mount of Temptation

After breakfast, set off to explore the ruins of the ancient city of Tel Jericho, before traveling just north to visit Hisham's Palace, a 150-acre desert castle built by members of the Umayyad dynasty early in the eighth century AD. Although the palace was destroyed by an earthquake in AD 747, its ruins still yield treasures of Islamic art and architecture. You'll explore the old synagogue and other fascinating remains of the complex and admire its exquisite mosaics.

Following lunch in a local restaurant, you'll travel by cable car to the peak of the Mount of Temptation, believed to be the site where the devil tempted Jesus during his 40-day fast. This vantage point also offers sweeping views of the Jordan Valley and the Dead Sea.

This afternoon, you'll embark on a walking tour of the heart of Jericho, the oldest known continuously inhabited city in the world and—at 853 feet below sea level—the lowest town on Earth. According to legend, Joshua, an apprentice of Moses and leader of the Israelites, conquered the city around 1400 BC in his quest to lead his people into the Promised Land. Now dominated by its Arab population, Jericho is a quiet and verdant city, with refreshing natural springs and café-lined streets. Delight in the serenity of Jericho during free time this afternoon before joining your fellow travelers for a Farewell Dinner.

Day 7

Jericho • Tel Aviv, Israel

After breakfast, transfer to Tel Aviv to begin your Suez Canal Crossing: Israel, Egypt, Jordan & the Red Sea adventure.