Italy: Florence, Lucca, Portoferraio • France: Bastia • Italy: Marina di Carrara, Porto Venere, Cinque Terre, Santa Margherita Ligure, Portofino • France: Nice, St. Paul de Vence, Cannes, Saint-Honorat Island
CRUISE COMFORTABLY IN SMALL GROUPS OF 25 ABOARD OUR PRIVATELY OWNED 50-PASSENGER M/V ARETHUSA
Post-trip: Torino & Lake Maggiore, Italy
5 nights from: $1295 Single Supplement: FREE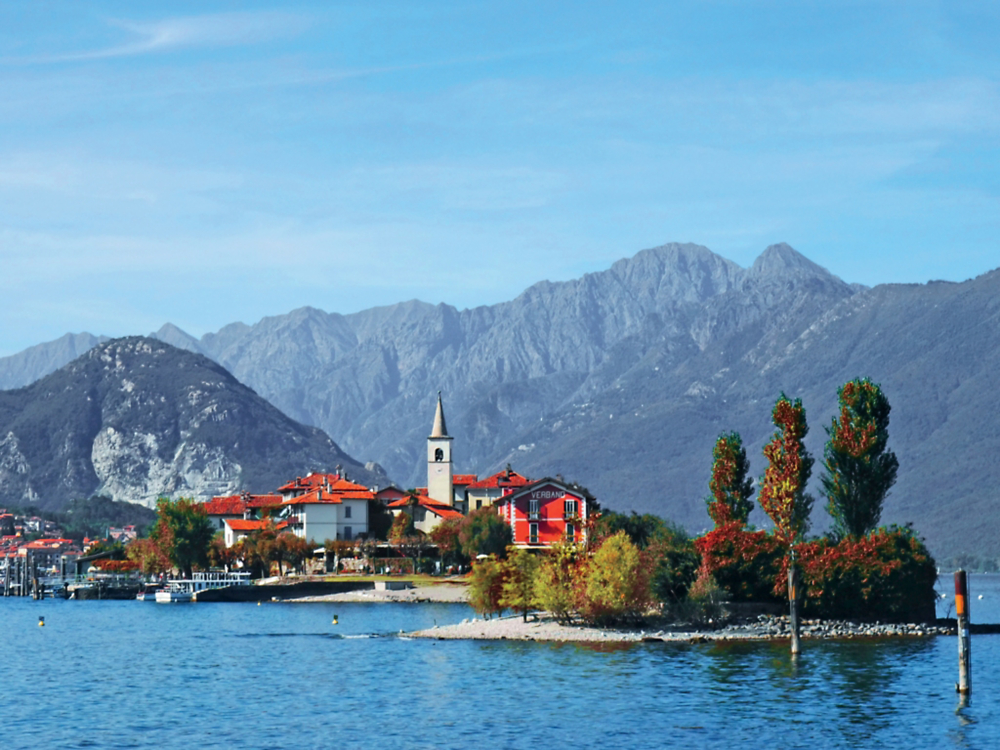 The mighty Italian Alps watch over some of the most memorable locales on Earth. Torino, a cultural hub nestled on the River Po … Stresa, a thousand-year-old resort town on the shore of crystalline Lake Maggiore … and silvery Lake Orta, which Balzac described as a "grey pearl in a green jewel box." You'll discover all these and more as you stroll ancient streets and boat on the placid waters of Italy's Alpine north.
It's Included:

Accommodations for 5 nights
6 meals: Daily breakfasts and 1 dinner
Included tours: Torino • Lake Orta • Borromean Islands
Dedicated services of a local Program Director
Gratuities for local guides and motorcoach drivers
All transfers
Day 1

Cannes, France • Torino, Italy

After breakfast this morning, travel overland to Torino (Turin).

Arriving in Torino late this afternoon, enjoy a walk around the vicinity of your hotel with your fellow travelers. Surrounded by the Alps and nestled on the banks of the Po River, Torino is a city steeped in Italian culture and, as the home of Fiat, known for its love of cars. Nicknamed "the Capital of the Alps," it's a metropolitan hub of finance, education, and arts for the entire region.

This evening, dinner is on your own.

In a guided city tour this morning, you'll witness the blend of rococo, baroque, and art nouveau architecture for which Torino is known. Among the sites you'll take in, surely the Mole Antonelliana is the most striking. This museum is the world's tallest. You'll take an elevator ride up to the top of the 548-foot structure, leading you to a gallery where you'll revel in one of the best views of Torino.

This afternoon, enjoy time for discoveries on your own. Perhaps you'll visit the Roman-built Palatine Towers, remnants of the ancient city gates. Or visit the Turin Cathedral, known for the controversial and much-debated shroud bearing an image of what proponents say is a crucified Jesus.

Enjoy dinner on your own this evening.

Day 3

Torino • Lake Orta • Stresa

Today we visit romantic Lake Orta, one of the smallest sub-Alpine lakes, but one which makes a lasting impression. Its praises have been sung by authors from Balzac to Browning, and Nietzsche even claimed that one visit to Lake Orta changed his life. Here, we visit San Giulio Island by boat, strolling among its pastel-colored buildings, a few of which have endured since the days of fourth-century Saint Julius, for whom the island is named.

After free time on your own for lunch, continue overland to Stresa. For more than a millennium, Stresa has occupied a supreme location on the shores of Lake Maggiore, the longest lake in Italy. By the 15th century, Stresa was a hub for the fishing industry, and by the 18th, it was a well-loved retreat for Europe's aristocracy. In the 20th century, Hemingway used Stresa and Lake Maggiore as some of the settings in A Farewell to Arms, but the town is just as well-known for a plan to take up arms: During the years preceding World War II, Italy, France, and the U.K. made a pact here to contain the Nazis.

After a guided walk, dinner is on your own this evening.

Day 4

Stresa • Optional Lake Como tour

Join us for an optional visit to Lake Como this morning. Begin your visit here in red-roofed Como, a busy port town occupied since the Bronze Age. After a light lunch, board a boat for "the pearl of the lake," the resort town of Bellagio. Enjoy a discovery walk of Bellagio, with its lakeside promenade and cobblestone streets, before free time on your own here.

Or, remain in Stresa for a day at leisure. Perhaps you'll enjoy a 20-minute cable car ride to the 4,500-foot peak of Monte Mottarone. You might also step off your gondola en route for a visit to a botanical garden specializing only in Alpine flowers. Or simply stroll along Lake Maggiore, enjoying the Mediterranean climate and mountain views.

Dinner is on your own this evening.

Day 5

Stresa • Borromean Islands

Exploring Lake Maggiore by boat is the best way to experience its true nature. Today you do just that as we set off for the Borromean Islands at the western end of the lake. You'll skim the placid waters first to Isola Bella (also known as Isola Borromeo), where a massive 17th-century summer palace is joined by terraced gardens that together fill up the tiny isle. Then, on a humbler note, we visit the tiny fishing village on Isola dei Pescatori, the only inhabited island—with just three dozen residents.

Tonight, enjoy a Farewell Drink, followed by a Farewell Dinner at a local restaurant.

Day 6

Stresa • Return to U.S.

Today, you'll transfer to the airport in Milan for your return flight home.
Please note: This extension only available on select departures. Ask our Travel Counselors for details. Call 1-800-221-2610. Torino & Lake Maggiore is as a post-trip extension on the Florence to Cannes itinerary and a pre-trip extension on the Cannes to Florence itinerary.