Italy: Florence, Lucca, Portoferraio • France: Bastia • Italy: Marina di Carrara, Porto Venere, Cinque Terre, Santa Margherita Ligure, Portofino • France: Nice, St. Paul de Vence, Cannes, Saint-Honorat Island
CRUISE COMFORTABLY IN SMALL GROUPS OF 25 ABOARD OUR PRIVATELY OWNED 50-PASSENGER M/V ARETHUSA
Pre-trip: NEW Bologna, Italy & San Marino
5 nights from: $1245 Single Supplement: FREE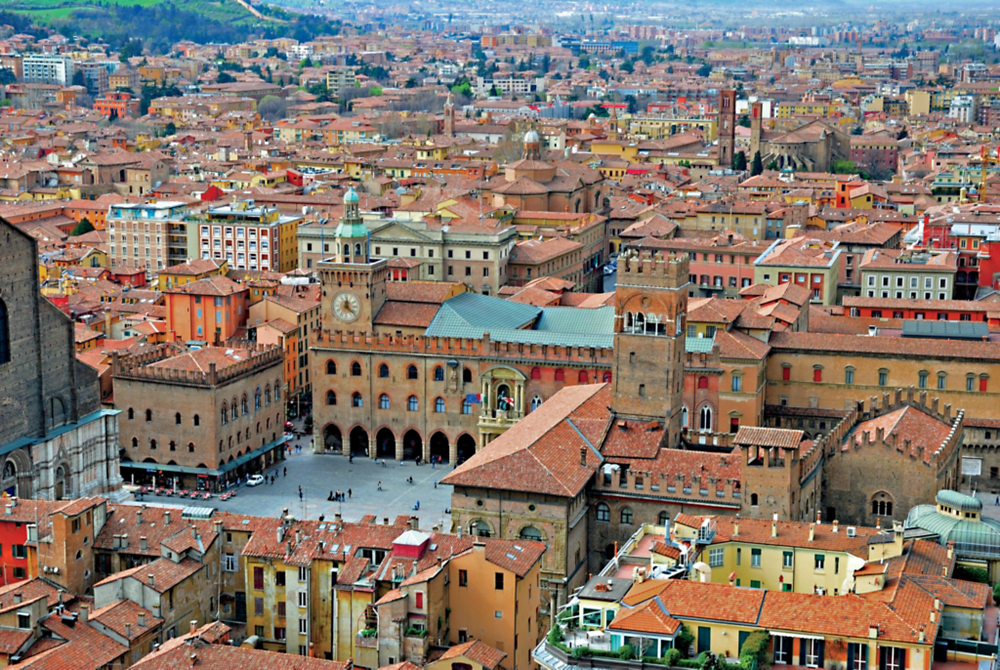 New for 2017, infuse your understanding of life along The Rivieras by immersing yourself in two time-tested cultural hotspots. First, see why Italy's brightest minds have gathered in Bologna, the original university town and a city of porticoes and towers. Then, add another stamp to your passport by visiting San Marino, the proud microstate first formed in the fourth century and today surrounded on all sides by Italy.
It's Included:

Accommodations for 5 nights
8 meals: Daily breakfasts, 2 lunches, and 1 dinner
Included tours: Bologna • Cervia • Savignano • San Leo • Anghiari
Exclusive Discovery Series event: Crossbow association meeting
Dedicated services of a local Program Director
Gratuities for local guides and motorcoach drivers
All transfers
Depart the U.S. today on your flight to Bologna, Italy. Please refer to your personal air itinerary for exact departure and arrival times.

Arriving in Bologna, you'll be met at the airport and assisted to your hotel. Later, get acquainted with your Program Director—your guide throughout your entire vacation—and fellow travelers over a Welcome Drink.

This evening, dinner will be on your own. Consider one of the many restaurants serving handmade pasta and fresh sauces, including the meaty Bolognese which originated here.

For 3,000 years, red-roofed Bologna has been the heart of Northern Italy's Emilia-Romagna region. With miles of covered porticos snaking through the historical city center, and stone towers representing centuries of empire, Bologna's architecture is distinct and well preserved. You'll experience the timeless qualities of the city on a guided walking tour this morning.

Your tour includes the city's most famous institution: the world's oldest degree-granting university, founded in 1088. Students who attend University of Bologna today find themselves strolling down lanes walked by their predecessors almost a millennium ago, as will you.

After lunch on your own, enjoy free time to explore Bologna. Perhaps you'll visit the two "leaning" towers, Asinelli and Garisenda, icons of a twelfth-century building boom. If you feel hardy, you might climb the 500 steps of the Asinelli for views of the countryside from a 318-foot perch.

Tonight, gather with your fellow travelers for dinner in a local restaurant.

Day 4

Bologna • Optional Ravenna tour

Today, explore Bologna at your leisure. You might choose to immerse yourself in history and tradition by strolling the covered Portico of San Luca. A series of 666 vaults winding from ancient city gates to the Sanctuary of the Madonna di San Lucca, the two-mile arcade serves as the route of the annual procession honoring the Virgin Mother.

Or, join us for an optional tour of Ravenna, including visits to the Basilica San Vitale and the Mausoleum of Galla Placidia. You'll also enjoy an included lunch in a local restaurant.

Dinner is on your own this evening.

Day 5

Bologna • Cervia • Savignano sul Rubicone • San Marino

After breakfast this morning, set off for Cervia, a seaside town along the Adriatic known for its naturally dried sea salt, sale dolce.

While this translates to "sweet salt," the reference should not be taken literally: This salt is celebrated for its delicacy and lack of bitterness, and culinary enthusiasts rave that the salt offers flavoring without overpowering other ingredients. The salt has long been favored in Vatican City—it's often nicknamed "Pope's Salt" given its valued place in the papal kitchen. Upon arrival in the late morning, you'll learn about how sale dolce is produced during an included excursion, followed by the chance to enjoy some sprinkled atop your lunch at a local restaurant.

Then journey on to Savignano sul Rubicone, a small city linked by history and a famous idiom to its river. If you've ever used the phrase "crossing the Rubicon" to discuss passing a point no return, this is its origin: It references Ceasar's decision to cross the Rubicon River in 49 BC—a treasonous act that led to civil war and his eventual rule of Ancient Rome. You'll have your chance to cross the Rubicon on your own, but don't worry: Unlike Ceasar, you will have a chance to walk back.

You'll arrive in San Marino early this evening. After an orientation walk with your Program Director, your evening—and dinner—will be on your own.

Today you'll discover San Marino, the 24-square-mile microsite resplendent with castle-dotted hills and Old World beauty.

San Marino proudly proclaims itself the world's oldest surviving sovereign state and republic—it was founded in AD 301. At the time of its establishment, tiny enclaves like San Marino were more of the norm in what we now think of as Italy—but as time passed, most linked up to form larger republics and countries. San Marino chose to continue independently, and today largely follows the same governing practices outlined in its 16th century constitution, and its population of approximately 32,000 people enjoys one of the highest per-capita lifestyles in the world.

Your discoveries here will be based in the capital city—also named San Marino, but referred to by locals as Citta—a gorgeous mountainside municipality on the slopes of Monte Titano. Explore the city's winding cobblestone streets, some of which tuck around narrow stone buildings and shops as they make their way up the mountain. You'll see that while the microstate of San Marino boasts more cars than people, much of Citta's historical center is free of automobiles. Your Program Director will also point out the three towers—Guaita, Cesta, and Montale—that look over the land from Monte Titano's summits and are emblazoned on San Marino's flag.

After free time to continue discoveries on your own, rejoin your group for an exclusive Discovery Series meeting with a local crossbow association. Learn about how crossbow has evolved from the primary military element of San Marino's army into a beloved—and fiercely competitive—local tradition.

Dinner this evening is on your own.

Day 7

San Marino • Florence

Turn your sights back to Italy today as you journey to Florence, where you'll join your main group and discover The Rivieras. Along the way, however, you'll discover a pair of Italian comunes (townships): hilltop San Leo and Tuscan Anghiari, where you'll enjoy an included lunch. You'll arrive in Florence early this evening and begin your main itinerary.
Please note: This extension only available on select departures. Ask our Travel Counselors for details. Call 1-800-221-2610. Bologna is a pre-trip extension on the Florence to Cannes itinerary and a post-trip extension on the Cannes to Florence itinerary.