Italy: Florence, Lucca, Portoferraio • France: Bastia • Italy: Marina di Carrara, Porto Venere, Cinque Terre, Santa Margherita Ligure, Portofino • France: Nice, St. Paul de Vence, Cannes, Saint-Honorat Island
CRUISE COMFORTABLY IN SMALL GROUPS OF 25 ABOARD OUR PRIVATELY OWNED 50-PASSENGER M/V ARETHUSA
Personalize Your Adventure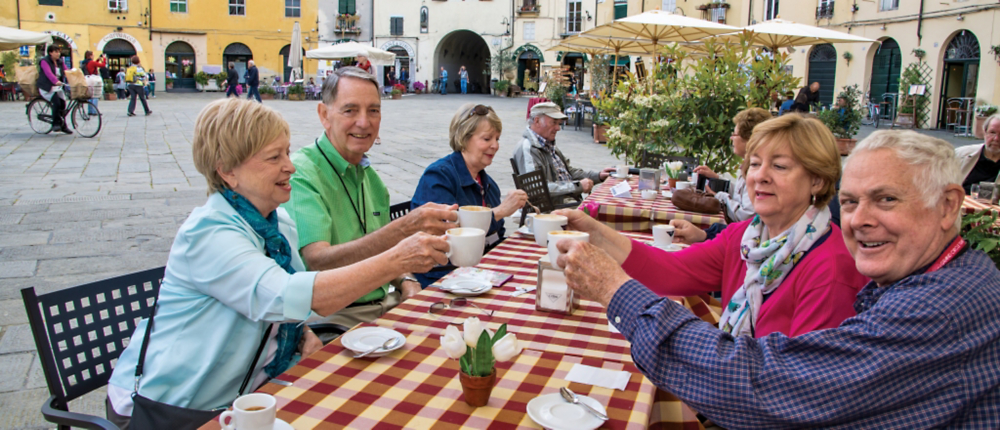 It's Your Adventure
Why not make it all that you've ever dreamed about? There are so many ways to make your travel experience with O.A.T. even more special—from choosing a preferred departure city to spending extra nights on your own in a favorite city. For the ultimate in exclusivity, you could gather a few close friends and create special memories on a private departure. Just let us know, and we'll make it happen. Here are some of your choices for personalizing your trip …
Air Options
Did you know that you have control over the way you want to fly with us? O.A.T's team of Adventure Specialists makes every effort to provide you with non-stop flights and acceptable connection times to and from your destination. You also have several other ways you can personalize your air itinerary, which include:
Choose your departure city and airline: We list the most popular gateway cities on our website, but not all of them. If you don't see yours listed, or there's one that better suits your needs, let us know. You can also tell us if you have an airline preference and we will try to accommodation your request.
Depart from one city and return from another: Just because your flight leaves from one city doesn't mean you have to return there. Maybe you flew out of Boston and wish to visit friends in Los Angeles after your trip is over. Tell us where you want to go and we'll do our best to get you there.
Upgrade your seat: We'll gladly arrange a flight upgrade to business or premium economy class if it's available.
Fly the way you want to: When you fly economy class, we'll do our best to see that you get your choice of seating preference or even add a special meal request if you have dietary restrictions or needs.
"Break Away" Options
You can extend your time abroad and "break away" anywhere you'd like to do more exploring on your own. Stay for a day, a week, or even a month in a favorite locale. Or consider arriving a few days early in Florence for a fresh start or spending more time at the end of your trip in Cannes. Our Travel Counselors can provide you with information on the accommodations we will use at the beginning of your trip so that you can make your own arrangements. That way, you'll know that you will be exactly where you need to be to meet your group.
Back-to-Back Adventures
Many of our travelers choose to take another trip directly after their first one ends. Think about it: If you're already overseas, why not see more of the region and avoid the expense and length of another international flight? Many of our travelers have taken two or three consecutive trips before returning home. One of the most common Small Ship Adventures combined with The Rivieras: Italy, France & the Isles is Italy's Western Coast & Islands: A Voyage from Rome to Valletta. And now you'll save an additional $250-$350 per person when you reserve two trips right after one another.
Extensions
Many Grand Circle travelers simply don't want their trips to end. With an array of pre- and post-trip extensions to choose from, you have the chance to experience more of the places you've traveled so far to see, including Bologna, Italy & San Marino and Torino & Lake Maggiore, Italy. Plus, you lower your average per-day costs because you're taking advantage of your already included international airfare.
Cabin Upgrade
Perhaps you'd like to be close to the elevator, dining room, or even your friend's cabin—we'll help you select the ship cabin or deck category that works best for you. Plus, when you upgrade to an upper deck cabin on many of our cruise vacations, you can enjoy your own private balcony.