Helsinki • Ivalo • 5-Night Coastal Cruise • Bergen • Oslo
Itinerary Overview
Travel to Norway and Finland on this Scandinavian vacation as you traverse a pristine landscape of steep, rugged mountains, narrow ocean inlets, and vivid blue fjords. During this comprehensive journey, you'll explore Finland's Lapland region—a realm of astonishing beauty—where you will encounter the enduring culture of the indigenous Sami people. Then, cruise through the Norwegian fjords by coastal ship for five nights near the top of the world, stepping ashore to discover small, colorful cities and quiet fishing villages. Once you disembark your ship, you'll visit Bergen, a maritime wharf of charming restaurants, gift shops, and museums. Then, wind down your explorations with two nights in Oslo, Norway's capital, a nature-lover's dream of 40 islands and more than 300 lakes. As you travel—by both land and sea—you'll experience Nordic cultures with enduring ties to nature's majesty.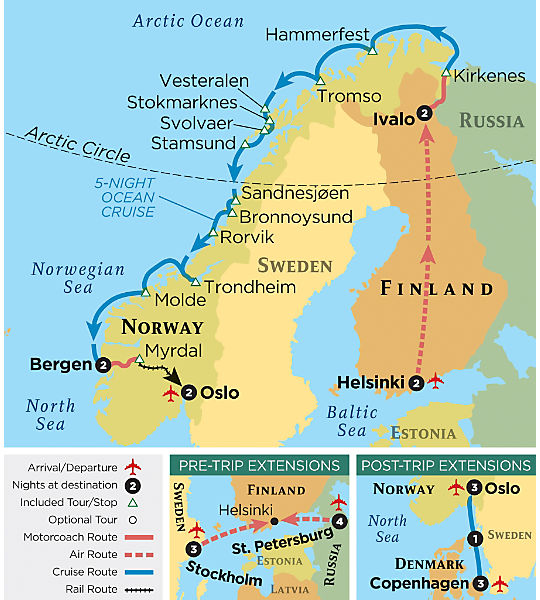 Day-to-Day Itinerary
PRE-TRIP EXTENSION:

St. Petersburg, Russia

4 nights from only $1095

93% of our travelers rated this extension "Excellent" in 2015

Designed around a series of canals, St. Petersburg is still very much a city on the water—rich with history and historic buildings that will bring you back into the great past of Russia. Art, architecture, music, and books are all celebrated in St. Petersburg, truly one of the grandest cities you will ever visit.

View Extension Itinerary

PRE-TRIP EXTENSION:

Stockholm, Sweden

3 nights from only $1095

Stockholm and Sweden
Produced by Small World Productions
This independent film features destinations you can visit on this pre-trip extension.

Old-World beauty, cutting-edge design, and an island-hopping layout—Stockholm is one of the world's most singular cities. Discover the regal palaces, modern art, and verdant parks of Sweden's capital and experience the vibrant cosmopolitan culture thriving in a landscape once home to the Vikings.

View Extension Itinerary
Travel to Scandinavia today as you depart on your flight to Helsinki, Finland. Please refer to your individual air itinerary for exact departure and arrival times.

Arrive in Helsinki today, where a driver will meet you at the airport and assist you with the transfer to your hotel.

Helsinki's historic center dates from the early 19th century, when Russia ruled Finland and designated this city as the country's new capital. As a result, the city has both a Russian look and a more modern layout than other European capitals. Graced with many buildings by noted Finnish architects such as Alvar Aalto, Helsinki today is a masterpiece of urban design.

Depending on when you arrive, you may also enjoy a guided orientation walk with your Program Director to give you the lay of the land in your Helsinki neighborhood. Tonight, get acquainted with your Program Director and your fellow travelers—including those returning from their pre-trip extensions to St. Petersburg, Russia or Stockholm, Sweden—over a Welcome Dinner at your hotel.

After breakfast and an orientation briefing, set off on an included Helsinki city tour this morning.

Among the highlights is Senate Square, where you'll discover many ornate Empire Neo-classical buildings, including the 19th-century Lutheran Cathedral, whose central tower dominates the city. Like Times Square in New York City, this is the place where residents gather for celebration of special occasions, such as New Year's Eve and Independence Day (December 6th). Admire the onion domes of Uspenski Cathedral, the most important Russian Orthodox church in Finland. As you wind your way through the city, you'll notice how the sea is an integral part of Helsinki; the city spreads out onto islands, peninsulas, and along coves among which boats of all descriptions navigate.

The afternoon is yours, and lunch and dinner are on your own today. If you want to explore Helsinki further, you'll find many attractive options within easy walking distance, or with a short ride on the city's convenient public trams. Stroll through Esplanade Park, which is flanked by a wide variety of shops, many of which feature distinctively Finnish products. Head for the National Gallery to see Finnish art from the 18th-20th centuries, take a boat excursion on the harbor, or head for the city's open-air folk museum.

After breakfast, depart for Ivalo in northern Finland—flying to Rovaniemi then completing the journey overland by bus (about a four-hour drive).

Ivalo is a gateway to Lapland, the home of the Sami, the indigenous people who have lived in northern Scandinavia since prehistoric times. Lapland, also called Samiland, spans northern parts of Finland, Norway, and Sweden. Although the Sami are a minority of today's population in northern Finland, their cultural traditions endure.

Enjoy an included dinner at your hotel tonight.

Day 5

Ivalo • Siida Museum • Home-Hosted Lunch • Sami family visit

After breakfast this morning, you'll ride north through Lapland to Inari. Here you discover more about Lapland's fascinating uniqueness at the Siida Museum, which focuses on Sami and northern Lapland culture and nature.

Then, get a taste of Finnish cuisine during a delightful Home-Hosted Lunch with a local family. Join your hosts for lively conversation over a meal of freshly-prepared, home-cooked lunch, for an up-close and personal encounter with everyday Finnish life.

Next, visit with a Sami family, where you'll learn about the importance of reindeer and their role in the life of the Sami. Enjoy another taste of local culture during this evening's included Sami-style dinner. Traditional Sami cuisine often features reindeer meat and woodland fruits, such as cloudberries, with cheese.

Day 6

Ivalo • Kirkenes, Norway • Embark ship

This morning, you'll travel to Norway through rural Lapland and cross the border to Kirkenes, a Norwegian port near the Russian border. Strategically significant for its iron ore resources and its location near the Russian port of Murmansk, Kirkenes was occupied by 100,000 Nazi troops during World War II.

Board your Hurtigruten Norwegian Coastal Voyages ship early this afternoon in time for lunch onboard. Shortly after you embark, the ship sets sail to begin one of the world's most scenic coastal cruises, with the islands and mountains of Norway as your constant companions. Your ship calls at many ports, and at some of them (definitely in Trondheim on Day 10) you'll have time to go ashore for sightseeing. However, this is a working vessel that also delivers cargo on a strict schedule, and some port calls may not allow you any time on shore.

Please note: On select departures, some Hurtigruten ship cabins feature double beds which cannot be separated. Please call our Travel Counselors for details.

Day 7

Hammerfest • Tromso • Coastal cruising

As you cruise along the coast of the Norwegian county of Finnmark today, you sail through a region filled with "northernmosts." First, the ship calls at Hammerfest, Europe's northernmost city, where the midnight sun shines from mid-May to late July.

Tonight—midnight—the ship also calls at Tromso, a city of more than 50,000 that sprawls across three fjord-indented islands. This is the largest city in northern Norway, and it has been the starting point for expeditions by famous Arctic explorers, including Norway's own Roald Amundsen, who in the 1900s became the first person to reach both the North and South poles. Tromso is also home to the northernmost university in Europe. The city comes alive during the long hours of summer daylight as the locals (including 13,000 university students) enjoy the Arctic's brightest season.

Day 8

Stokmarknes • Svolvaer • Stamsund • Coastal cruising

Cruise south today, reaching the Lofoten Islands, where towering mountain peaks rise sharply from the sea to form dramatic vistas in the arctic light. This is one of Scandinavia's scenic highlights, which has inspired generations of artists.

You'll step off the ship at Harstad for an included Grand Circle tour of Vesteralen's mountainous landscapes, as well as Stokmarknes, a small town located on the island of Hadsel, and home to the Coastal Express Museum. Museum exhibits feature photographs, model ships, films, and paintings displaying the history of Norwegian coastal steamer traditions.

The ship will then call at Svolvaer on the island of Austvagoy, beneath the two-horned mountain called the Svolvaer Goat (Svolvaergita). Explore the town during a discovery walk with your Program Director, during which you'll see an abundance of fish-drying racks, evidence of the importance of the historically rich fishing grounds in this area.

You'll then cruise to Stamsund, a small village known for its colorful rorbuer, traditional Norwegian fishermen's shacks.

Day 9

Sandnessjoen • Bronnoysund • Rorvik • Coastal cruising

From the Lofotens, your cruise takes you across the broad Vestfjord. This morning, you'll cross the Arctic Circle.

Call next at Sandnessjoen, located on the island of Alsten, with soaring views of the De Syv Sostre ("The Seven Sisters") Mountains. After a discovery walk on the island, you'll then cruise to Bronnoysund, a town that has seen a rise in economic growth in recent years—including serving as home to the largest limestone mine in Northern Europe, as well as prosperous industries like wood processing. You'll explore the town on an included discovery walk.

You'll continue south to Rorvik. The fjords in this area, like many along the cruise route, are a birdwatcher's paradise.

Day 10

Trondheim • Molde • Coastal cruising

Today, you'll call at ports displaying amazing contrasts between old and new. First, enjoy an included Trondheim city tour. Founded in AD 997, this was once the capital of Norway, as well as an important pilgrimage site for followers of St. Olav, a Norwegian king and Catholic martyr. The city's old veitene (narrow alleys) wind among its markets, Archbishop's Palace, Old Town Bridge, and historic 17th-century warehouses. You'll tour the city and get a look at the outside of the city cathedral before returning to the ship.

Resume your cruise by sailing out through the beautiful Trondheimsfjord.

The last port-of-call today is Molde, Norway's "City of Roses," scenically situated near the mouth of the Romsdalsfjord. Rebuilt in the aftermath of World War II, Molde today is well known among jazz aficionados for the international music festival it hosts each year in mid-July.

Day 11

Disembark ship • Bergen

Today is your last day of cruising. You'll enjoy your morning at leisure.

On the final leg of your cruise, you'll cruise past the mouth of the Sognefjord, Norway's longest and deepest fjord, as well as a beautiful archipelago of islands as you draw nearer to Bergen.

Disembark the ship and set out on a tour of Bergen. The Bryggen (Wharf) area contains the fascinating historical buildings that inspired UNESCO to declare the city a World Heritage Site. Built after the Great Fire of 1702, these old wooden counting houses and warehouses with their stately gables stretch along the harbor and narrow alleyway and once served as the headquarters for the Hanseatic League.

After you check in at your hotel, enjoy a walking tour of the area with your Program Director. Dinner is on your own this evening.

Day 12

Bergen • Optional Music of the Fjords tour

Enjoy a day to experience more of Bergen at leisure. You could explore the 13th-century Bergen Cathedral, the charming Old Town, and the Aquarium, known for its rare penguins.

Or, join us for an optional tour to discover the Music of the Fjords. Begin your exploration of Norway's musical legacy at the home of Edvard Grieg, one of the most important composers of the Romantic era of the 19th century. Grieg's works helped to launch Norway into prominence on the international scene, and to define the Romantic genre as a whole. Learn more about his legacy during a tour of his home (now a museum) and then be treated to a piano concert performed by a professional pianist.

Your introduction to Norwegian music continues at your next stop, where, after lunch, you'll attend a demonstration of the Hardanger fiddle, a unique stringed instrument reminiscent of the violin, which is centrally featured in the performance of Norwegian classical music. An expert fiddle player will introduce you to its unique sound during a short performance.

The remainder of the day is yours to explore more of Bergen independently. Dinner is on your own tonight.

Day 13

Bergen • Norway in a Nutshell tour • Oslo

Today, embark on an included Norway in a Nutshell tour, making discoveries by both train and motorcoach. Travel by train from Bergen to Myrdal early this morning. At Myrdal, you'll hop aboard the vintage Flam Railway for a spectacular ride across the steep and narrow Flam Valley. You'll admire waterfalls and glacier-carved ravines as you ride towards Flam, where you'll board a motorcoach that will take you to Oslo. Arrive in Oslo this afternoon and check into your hotel.

Dinner is on your own in Oslo tonight.

Please note: Your itinerary for the day is subject to change based on available train schedules.

Explore Oslo on an included tour after breakfast this morning, during which you'll stop at the Viking Ship Museum to see some of the best-preserved Viking ships in the world.

Enjoy lunch and the afternoon on your own. This evening, join your fellow travelers at your hotel for a Farewell Dinner to recount your favorite memories from your Norwegian vacation.

Day 15

Oslo • Return to U.S.

Today, you'll transfer to the Oslo airport for your flight home. Or begin your post-trip extension in Oslo, Norway, or Copenhagen, Denmark.
POST-TRIP EXTENSION:

Oslo, Norway

3 nights from only $695

Oslo and Norway
Produced by Small World Productions
This independent film features destinations you can visit on this post-trip extension.

Looking out over a bustling maritime scene—pleasure craft, cruise ships, and shrimp trawlers—at the head of Oslofjord, Scandinavia's oldest capital's limits include 40 islands and more than 300 lakes. With hills and forests at its back and the fjord as its front door, Oslo offers a wealth of delights.

View Extension Itinerary

POST-TRIP EXTENSION:

Copenhagen, Denmark

4 nights from only $1195

Copenhagen and Denmark
Produced by Small World Productions
This independent film features destinations you can visit on this post-trip extension.

92% of our travelers rated this extension "Excellent" in 2015

Copenhagen's native son Hans Christian Andersen rendered Danish life as a fairy tale, but you'll see plenty of evidence that the real thing is just as memorable. Revel in a three-night stay that allows you to explore the city at your own pace, following your own interests. After an overnight ferry ride gives you a taste of Scandinavian sea life, you'll benefit from an included Copenhagen Card that allows you access to historical sites and museums, and free transport in the city's extensive public transportation system.

View Extension Itinerary