Paris • Conflans • Vernon • Giverny • Les Andelys • Rouen • Normandy • Honfleur
ABOARD OUR PRIVATELY OWNED 120-PASSENGER M/S BIZET DESIGNED FOR AMERICAN TRAVELERS
13 Days from only $3195 including international airfare
FROM
$3195
13 DAYS
$246/DAY
including international airfare
12 DAYS FROM $2495 River Cruise Only
Pre-trip: Loire Valley, France
4 nights from: $895 Single Supplement: FREE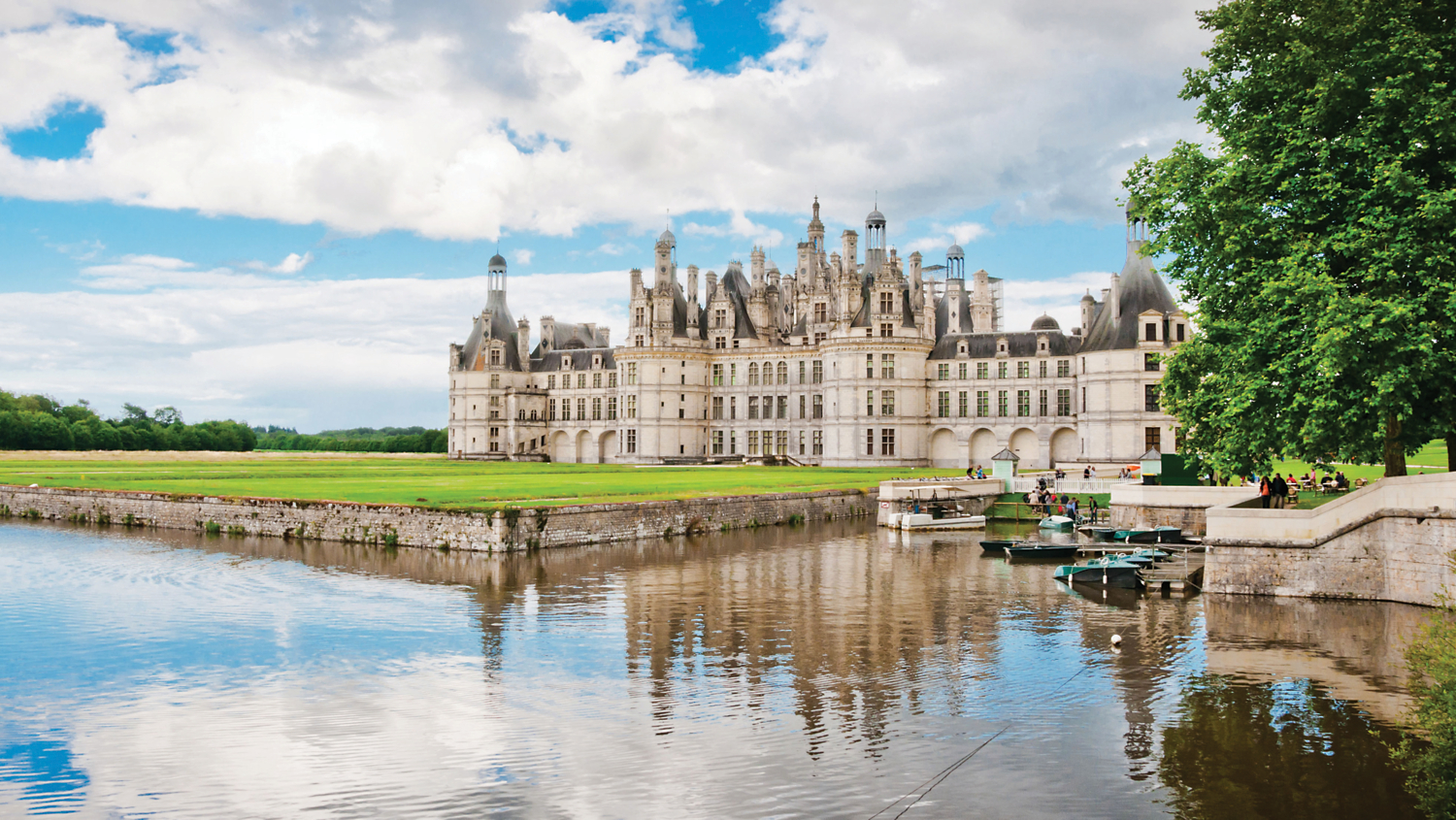 Extend your trip and discover France's delightful Loire Valley—known as the "Garden of France." Rich with architectural heritage and historic towns, the Loire Valley is home to world-famous castles and their surrounding gardens. Its many cultural monuments illustrate the influence of the Renaissance and the Age of the Enlightenment on Western European thought and design. And of course, it is also home to many first-class wines, including a wide range of Vouvray whites.
It's Included:

Accommodations for 4 nights
Daily breakfasts, 1 lunch, and 1 dinner
Included tours: Château de Chambord • Blois • Winery visit • Amboise
Dedicated services of a local Program Director
Gratuities for local guides and motorcoach drivers
All transfers
Depart today on your flight to France.

Arrive this morning or afternoon in France. You are met at the Charles de Gaulle Airport and transferred to your nearby hotel, in Roissy, located 18 miles from the Paris city center. You have the balance of the day to relax after your overseas flight.

Tonight, celebrate your arrival in France during a Welcome Drink and briefing. The remainder of the evening is yours to enjoy.

After breakfast this morning, you'll travel overland, taking in the lush scenery of the Loire Valley along the way. With more than 300 châteaux, from tenth-century castles to splendid mansions built a thousand years later, this "Garden of France" attracted Kings and nobility for its charm and beauty. And today, the fertile valley with its moderate climate continues to attract visitors.

Around mid-day, you'll stop in Chambord—home of the Loire Valley's largest château, which gleams like a great white stone in the middle of rolling pastureland. It was commissioned by King Francois I from 1519-1547 as a supposed hunting lodge, when really, he intended to secure refuge close to his mistress. As you explore the château this afternoon, be on the lookout for its marvelous double-helix staircase, rumored to have been designed by Leonardo da Vinci. And perhaps you'll come to understand why Henry James once remarked upon the rooftop by writing, "...The towers, cupolas, the gables, the lanterns, the chimneys, look more like the spires of a city than the salient points of a single building."

Afterward, you'll continue making your way to your next destination. You'll check into your hotel and then take an orientation walk with your Program Directorn.

Tonight, gather with your fellow travelers for an included dinner at a local restaurant.

Day 4

Blois • Optional Château de Chenonceau & Chaumont International Garden Festival tour

After breakfast, you'll take a guided tour of Blois, which includes a visit to the architecturally striking Royal Château. It combines four distinct wings around a single courtyard, each corresponding to a different architectural period and style. Married with 19th- and 20th-century restorations, these form a unique panorama of French design.

This afternoon, you may join an optional tour to the Château de Chenonceau and Chaumont International Garden Festival. Throughout the 15th to 20th centuries, the Château de Chenonceau changed hands several times, but as you roam the property today, you'll still find its grand arches spanning the River Cher and several delightful gardens. Afterward, you'll depart for Chaumont where you'll explore its International Garden Festival on your own. Here, art and nature poetically interweave: Contemporary installations emerge from flowerbeds and the surfaces of shallow pools.

Once you return to your hotel, your evening is free to make your own discoveries.

After breakfast, depart for the village of Angé, where you'll enjoy an included excursion to the Domaine du Clos Roussely, a family-owned vineyard. You'll wend your way atop chalky soil that makes for well-balanced Sauvignon Blancs and robust Cabernet Francs. You'll also take a tour of the estate's wine cellars. A lunch buffet will follow, where you'll be given the chance to sample some of the vineyard's vintages during an included wine tasting.

Then you'll depart for Amboise, where you'll enjoy a walking tour of its Old Town and view the facade of its sprawling château, which is recognized as a National Heritage Site by the French Ministry of Culture. Afterward, you'll have time to continue exploring the area on your own.

Once you return to your hotel, your evening is free to make your own discoveries.

After breakfast, transfer to your river ship to begin your Seine: Paris to Normandy River Cruise.