Belgium: Antwerp • The Netherlands: Willemstad, Kinderdijk • Germany: Bonn, Cochem, Trier, Bernkastel, Boppard, Speyer • France: Strasbourg • Switzerland: Basel
ABOARD OUR PRIVATELY OWNED 140-PASSENGER SHIPS DESIGNED FOR AMERICAN TRAVELERS
16 Days from only $3195 including international airfare
SPECIAL OFFER
View details
FROM
$3195
16 DAYS
$200/DAY
including international airfare
15 DAYS FROM $2395 River Cruise Only
Johannes Bauer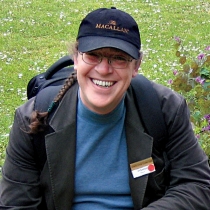 "I cannot sing Johannes' praises enough. He was the best Program Director I've ever had the pleasure of traveling with. He took care of all the travelers well and did his job excellently. He not only explains the what—he also explains the why. He is a jewel!"
Margaret Hitchman
17-time traveler from Charleston, West Virginia
Born

Augsburg, Germany

Resides

Augsburg, Germany

Languages

English, German, a little Dutch, some Japanese

Hobbies & Interests

Mountain hiking, reading

With us since

2006
Germany is not much different from the U.S. Growing up there was nice, as Germany is one of the wealthiest countries and there was neither war nor civil unrest. One difference is that I grew up when the Iron Curtain divided our country. I grew up in Western Germany and attended high school and university in my hometown of Augsburg in Bavaria, where I received my Master's degree in modern history. Before I was a Program Director, I worked for my hometown's municipal archive and the Museum of Textile Industry, and I was a local guide there, too.
I wanted to do something different from being in a dusty office, and that's when I decided to join Grand Circle Cruise Line. My love of history, traveling, and cooking helps me connect with my travelers, and I always make sure my groups have opportunities to taste local foods. One of my favorite places to recommend trying a local dish is the butcher shop in the Oberstrasse in Boppard, Germany. It's located just off the market square, opposite the Christmas store. The shop has a street-facing window, which sells delicious hot foods like sausages in bread rolls. However, when trying to get the attention of a waiter in a restaurant in Germany, never wave with a crooked finger like many Americans do. This is considered very impolite. Just raise your hand or show your wallet.
I particularly like to share the way Germany openly discusses its past and the crimes committed by Germans, such as the war criminals of the Nuremberg Trials, whereas in many other countries, past crimes are sometimes ignored. Once, one of my travelers told me that her deceased husband, who was Jewish, would have easily come to Germany had he only known how open and honest Germans are when it comes to discussing the horrors of the Holocaust.