Paris • Vernon • Rouen • Mantes-la-Jolie
ABOARD OUR PRIVATELY OWNED 120-PASSENGER M/S BIZET DESIGNED FOR AMERICAN TRAVELERS
Itinerary Overview
Delight in the warmth of the holiday season in France, beginning and ending in Paris, which is truly the "City of Light" at this time of year. As you cruise on a private Grand Circle river ship—our award-winning M/S Bizet—enjoy the convenience of unpacking just once, with ALL meals included, plus wine, beer, and soft drinks with lunch and dinner.
During your trip, you'll disembark to set off on included walking tours of Paris and Rouen, each city alive with the bustling magic of the season. You'll also experience exclusive Discovery Series events that bring memorable French holiday traditions to life, such as a Christmas concert at a Rouen cathedral and lively French cooking and language lessons onboard. Plus, make the most of your included international airfare by joining our trip extensions in Paris and charming Aix-en-Provence, France. Joyeux Noel, indeed!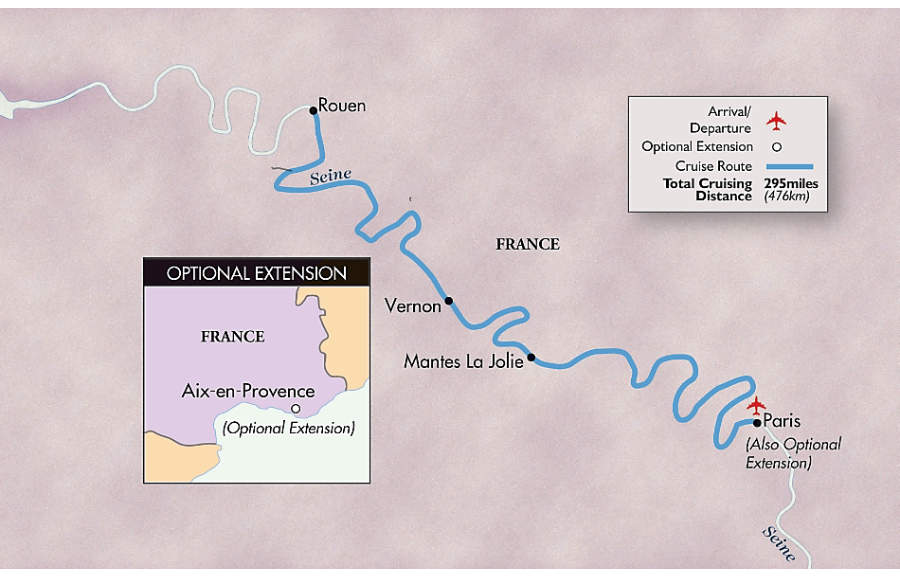 Day-to-Day Itinerary
PRE-TRIP EXTENSION:

Paris, France

3 nights from only $645

Join us on this extension for additional time to explore romantic Paris, the "City of Light." An included tour along its charming avenues and bustling boulevards will introduce you the city's history. You will also have plenty of leisure time to discover Paris on your own. Here, in the city often called the capital of romance, you will experience firsthand the wealth of cultural and historical attractions that have enchanted visitors for centuries.

View Extension Itinerary
Depart today on your flight to Paris, France.

Day 2

Arrive Paris, France • Embark ship

Arrive this morning or afternoon in Paris. You are met at the airport and transferred to your ship, the M/S Bizet. Please note: If you started your discoveries early with our pre-trip extension to Paris, you will meet up with the main group today.

Get acquainted with your Program Director and your fellow travelers this afternoon. Then this evening, attend a briefing about the ship and meet the crew. Your Program Director will answer any questions you may have. Later, celebrate your arrival in France with a Welcome Drink and enjoy dinner on the ship with your fellow travelers.

Day 3

Paris • Panoramic Paris tour

This morning, depart for an included panoramic tour introducing you to the classic highlights of Paris. View the Arc de Triomphe (commissioned by Napoleon in 1806 and completed in 1836) standing at the end of the famed Champs Elysees at the large central roundabout where twelve elegant, tree-lined avenues converge. You'll also drive by the magnificent Gothic Cathedral of Notre Dame and the Place de la Concorde.

Then, spend the afternoon making discoveries in Paris at your own pace. For example, head to the Louvre using public transportation, exploring its many galleries at your leisure. Or venture out to gilded Palace of Versailles to set eyes on its magnificent Grand Chambers and the Hall of Mirrors, where the Treaty of Versailles, ending World War I, was signed in 1919.

In the evening, you'll enjoy the Captain's Welcome Drink and the Captain's Welcome Dinner aboard the ship.

As you depart Paris this morning, get your camera ready as your ship passes La Roche Guyon, where Monet's close friend, the artist Pierre-Auguste Renoir, established a studio. Though known primarily for his portraits, Renoir also painted scenes of this beautiful area. As you cruise, admire the town's castle, built on the chalk cliffs overlooking the River Seine. This castle served as Rommel's general headquarters during World War II.

You'll also enjoy a French language lesson and presentation onboard about French food in an exclusive Discovery Series event. From escargot to foie gras, you'll learn about some of the country's most beloved and delectable treasures.

Arrive in Vernon early this afternoon. With only 25,000 residents, Vernon retains the Old World charm that has endured since it was founded as a royal town in the ninth century. After lunch onboard, you'll disembark for a walking tour of the city with your Program Director before having a bit of time to stroll around this lovely town.

Late this evening, your ship will set sail for Rouen.

Day 5

Rouen • Walking tour • Christmas Concert

Disembark in Rouen for a walking tour with a local guide this morning. Rouen is an important French commercial port city with a distinguished history dating to pre-Roman times. But it is more "infamous" as the city where Joan of Arc was imprisoned, tried for heresy, and burned at the stake in 1431. Here, you'll stroll through the Old Quarter, with its hundreds of timber-framed houses, and you'll also visit a small chocolatier for a tasty sample.

After lunch, gather at Rouen's Notre Dame Cathedral—a Gothic architectural treasure so inspirational to Monet—for a special Christmas concert. For at least six centuries, Choir Masters have trained students in liturgical music, some going on to become world-renowned conductors and composers. You'll revel in an inspiring concert of seasonal music here.

The rest of the afternoon will be yours to make your own discoveries. Then you'll enjoy dinner aboard the ship, which will remain docked in Rouen tonight.

Day 6

Rouen • Home-Hosted Visit • Mantes La Jolie

In the morning, visit a family at their home in Rouen, where you'll share both a lively cultural exchange and a few local treats. Please note: Due to holiday schedules, this visit will be subject to change for 12/21/18 departures.

After lunch onboard early this afternoon, your ship will set sail for Mantes La Jolie, arriving late this evening.

As you cruise, you'll enjoy an exclusive Discovery Series event, a French cooking lesson given by your Executive Chef.

Day 7

Mantes La Jolie • Optional Versailles tour • Cruise to Paris

This morning you'll have time at leisure to explore Mantes La Jolie on your own, being sure to visit its most beloved building, the Notre Dame Cathedral. Dating from the end of the twelfth century, Notre Dame replaced the church burned down by William the Conqueror in 1087, during a siege of the town that cost him his life.

Or, join an optional tour of the Palace of Versailles. This morning excursion to the palace includes a guided tour through its Grand Chambers, the Hall of Mirrors, and the Royal Chapel. You'll marvel at luminous decorations of marble, chased bronze, and gold leaf, with Rococo-style woodwork, and Italian-style painted ceilings—the home of 3,000 princes, ministers, and servants.

Early this afternoon, you'll enjoy lunch onboard and your ship will set sail for Paris. As you cruise, you'll enjoy an exclusive Discovery Series presentation about Monet and his work. Over the course of two years, Monet painted Rouen's Notre Dame Cathedral more than 20 times, capturing how variations in light due to weather and time of day changed the image he saw before him.

As you near your arrival in Paris, you'll enjoy a dinner onboard. Arrive in the city late this evening, and your ship will remain docked here overnight.

Please note: To take advantage of our optional tour, you must purchase it in advance, prior to your departure. This tour features sustained walking and standing, and we could encounter crowds.

Join an included tour to Montmartre, one of the most famous districts in Paris. A lively area that has attracted artists since the 1800s, Montmartre is located on the highest hill in Paris. Explore the romantic Montmartre area and the small streets that wind through it, perhaps capturing some of the ambiance from the time of Monet, Van Gogh, and Toulouse-Lautrec. You'll have free time for a stop at a cafe for a drink and do some holiday shopping. Please note: This tour features walking up and down cobblestone streets.

Discover Paris at your own pace this afternoon, perhaps visiting the Musee d'Orsay, housed in a notable building and known for its collection of Impressionist, post-Impressionist, and Art Nouveau works. In advance of the 1900 World's Fair, the architect Victor Laloux won a competition to build a new train station, which he gave a facade of a classic stone hotel, creating a structure that naturally integrated with its elegant neighborhood. The 1898 building served a number of purposes after 1940, when it was no longer suitable for modern trains. It was classified as a Historical Monument in 1976 and opened as a museum in 1986.

Tonight, gather with your fellow travelers for a Farewell Drink along with dinner aboard the ship.

After breakfast this morning, you are assisted to the airport for your return flight home. Or, begin your post-trip extension in Aix-en-Provence, France.
POST-TRIP EXTENSION:

Aix-en-Provence, France

3 nights from only $645

You'll be welcomed by the town of Aix-en-Provence, the heart and old capital of the beautiful Provence region, on this extension. Cultured, sophisticated, but always relaxed, Aix-en-Provence offers streets of honey-colored stone buildings and majestic fountains.

View Extension Itinerary