Chile • Patagonian Lakes • Argentina
13 Days from only $3795 including international airfare
FROM
$3795
13 DAYS
$292/DAY
including international airfare
12 DAYS FROM $2695 Tour Only
Itinerary Overview
Take this South American tour and discover a spellbinding blend of native cultures and international influences as you cross the continent from Santiago to Buenos Aires. Your tour begins in Santiago, Chile's Andean capital city, from which you can explore the captivating Pacific Coast. You'll then visit Puerto Varas, your jumping-off point for tours of the breathtakingly beautiful lakes region, and the perfect place to interact with locals and to savor delectable desserts with a surprising German influence. Next, spend an unforgettable day crossing into Argentina by bus and boat as you sail across the vast lakes of the Andes over the border into Bariloche for a taste of the Alps in the heart of Patagonia. Your tour concludes in the capital of Argentina, Buenos Aires, where included sightseeing, exclusive Discovery Series events, and your own wanderings will give you a fascinating glimpse of South American daily life.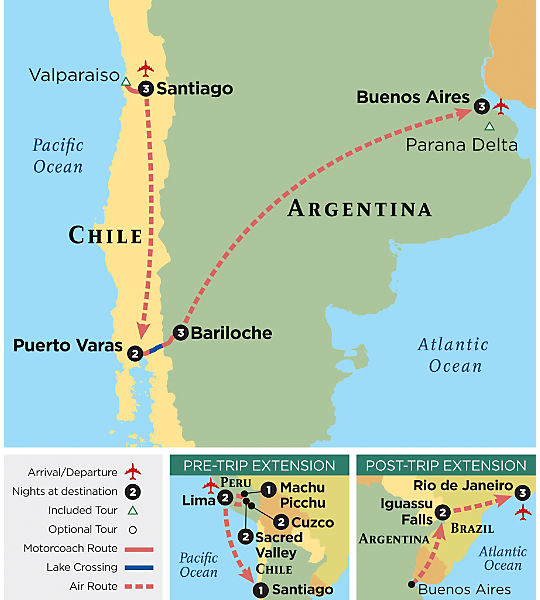 Day-to-Day Itinerary
PRE-TRIP EXTENSION:

Peru: Machu Picchu, Cuzco & Lima

8 nights from only $1595

95% of our travelers rated this extension "Excellent" in 2015

Lima, the "capital of the New World," encompasses the last five centuries of Peruvian history. Cuzco is your window into the life and culture of the Inca people. And then there's Machu Picchu, the Incan city in the sky that has only begun to reveal its mysteries since archaeologists began their explorations some 60 years ago.

View Extension Itinerary
Travel to South America as you fly overnight from the U.S. today.

Day 2

Arrive Santiago, Chile • Chilean family winery

You will touch down in the Chilean capital this morning to begin your South America tour, where a Grand Circle representative will meet you and assist with the transfer to your hotel. While you wait to check into your room, take part in a guided orientation walk, giving you the lay of the land in your Santiago neighborhood.

Early this afternoon, meet your travel companions, including those who took our optional pre-trip extension to Peru: Machu Picchu, Cuzco & Lima, and your Program Director. You'll then enjoy a Welcome Briefing, during which you'll learn some more details of what to expect from your upcoming discoveries in South America. Then, depart for a nearby family-owned winery, where you'll enjoy a tour on one of Chile's most famous exports. Here, you'll also sit down with fellow travelers for a delicious Welcome Dinner.

Day 3

Santiago • City tour • Chilean history discussion

This morning, embark upon a city tour of Santiago. Home to a third of Chile's 16 million people, Santiago rests at the confluence of the Mapocho and Maipu rivers, surrounded on all sides by Andean peaks. To be sure, it's a breathtaking setting for a capital that has witnessed a remarkable history—from settlement by conquistadores in 1541 to the Marxist, military, and finally, democratic governments of the 20th century.

This morning, pass through Providencia, a district of great tradition and strong commercial and social activity. Then begin your included city tour with a ride through the residential districts of Bellavista and Las Condes, where you will see beautiful homes and parks. As you continue, you'll see several historic monuments and buildings, including the Palacio de la Moneda, the current seat of the government. Stop for a stroll at the city's most important plaza, the Plaza de Armas, which has been the heart of Santiago since its origin in 1541. Ringing the plaza are many important buildings that are considered national monuments. Here you see the Correo Central (main post office), Iglesia Catedral (Cathedral Church), the Municipalidad de Santiago (City Hall), and the National Historic Museum. Nearby, you find the Mercado Central (Central Market), an elegant wrought-iron structure inaugurated in 1872 as the site of a National Exhibition. Now it is the city's central market, filled with colorful stalls and seafood eateries (called marisquerias). Here, you'll enjoy an included lunch.

Tonight, enjoy a discussion on Chilean history and the country's most controversial leaders: Allende and Pinochet.

Day 4

Santiago • Valparaiso tour • Graffiti Art of Valparaiso activity • Lunch in a local home

Today, set off to the Chilean northwest on a full-day tour to Valparaiso. Valparaiso is an important Chilean port city (and a UNESCO-designated World Heritage Site), where 17 hills tower over the "basin" district.

The city's distinctive features include meandering cobblestone streets and ancient ascensores—electric cable cars that climb into hillside neighborhoods and afford splendid sea views. You'll ride one of these ascensores up the hill for one of the many views of Valparaiso, then walk through the colorful streets, known for the colorful public art on the walls. Learn more about this cultural heritage, and make your own contribution to a work in progress, during an exclusive Graffiti Art of Valparaiso Discovery Series event.

Afterward, enjoy another exclusive Discovery Series event as you sit down for lunch with a local family before returning to your hotel.

Enjoy the evening and dinner at your leisure.

Day 5

Santiago • Puerto Varas • Angelmo Market visit • Mapuche discussion

After an early breakfast, transfer to the Santiago airport for your group's flight to Puerto Montt. You'll arrive in the early afternoon, then enjoy an exclusive Discovery Series visit to Angelmo Fish Market with your Program Director. Walk amidst the bustling stalls and browse some of the local seafood found in the nearby Chilean lakes. Perhaps sample the local curanto stew, a mixture of meat, seafood, and vegetable, and admire an array of dried shellfish.

Following your market visit, you'll transfer to Puerto Varas to check into your hotel, and then gather for an exclusive Discovery Series discussion on the Mapuche people native to this area. While the Mapuche only make up about four percent of Chile's total population, their traditions surrounding the extended family and their agricultural customs have had widespread influences.

Dinner this evening is included at local restaurant.

Day 6

Puerto Varas • Chilean rodeo demonstration & lunch

This morning, learn more about the German immigrant heritage of Chile during a visit to a German family collection. Then enjoy a taste of everyday, family-centered Chilean life as a guest at a local horse-breeding ranch. During this exclusive Discovery Series event, you'll see how a farm family lives and works—and witness a Chilean rodeo demonstration as well. For lunch, enjoy a tasty homemade meal at the ranch in the company of these welcoming people before returning to your hotel.

This evening, you'll have a presentation to prepare you for tomorrow's travel through the Andes. The rest of the evening is yours to seek out dinner and spend as you please.

Day 7

Puerto Varas • Petrohue Falls • Andean lake crossing • Bariloche, Argentina

Be prepared for an early start and a long—but very rewarding—day of travel today. First, depart for a morning tour of Petrohue Falls, where you can explore the lush setting surrounding the rapids. Petrohue Falls is located just a short distance downstream from Lake Todos los Santos, and the chute-like waterfall is supported by basaltic lava. Enjoy the views of Osorno Volcano in the distance.

Then, after a stop for an included lunch, you'll start your unforgettable journey across the border through the Andes from Chile into Argentina. Traveling in turn by bus, by boat, and back again, you'll travel overland through picturesque mountain roads and also sail across the shimmering waters of the vast lakes of the Andes, taking your time to admire the scenery as you go.

Four buses, three boats, and a camera's worth of memorable photos later, you'll arrive in Bariloche in the early evening and check into your hotel, where you'll enjoy an included dinner.

Day 8

Bariloche • Panoramic tour & visit to Campanario Hill • Local brewery

Today Patagonia bids you bienvenidos as you awaken in Bariloche. Officially called San Carlos de Bariloche, this city is a curious amalgam of cultural influences. Its buildings recall the Austrian Tyrol in their design. Many of the ranches dotting the outlying Patagonian plains remain English-owned and run, worked by Chilean peons from over the border. (Film buffs: This is the territory where Butch Cassidy and the Sundance Kid made their real-life last stand.)

Bookended by stark granite peaks and mirrored in 40-mile-long Lake Nahuel Huapi, Bariloche is, quite literally, a breath of fresh air. Discover this on a panoramic tour this morning, which includes a visit to Campanario Hill. You'll go on to take in breathtaking views of the lake. Ride a chairlift to the top of Campanario Hill for spectacular views of the mountains (if the weather is clear). The lake is studded with fir-tree-covered islands. After that, you will enjoy a visit to a traditional brewery, where you'll have lunch and learn how this family prepares local beer.

This afternoon, enjoy time at your leisure. Dinner is on your own tonight.

Day 9

Bariloche • Nazis in Patagonia discussion • Patagonian ranch visit • Optional Floating in the Limay River cruise

This morning, enjoy an exclusive Discovery Series discussion on the Nazi presence in Patagonia during World War II. Later, you'll depart for the Patagonian steppe for an exclusive Discovery Series event, where you'll be the guests on a Patagonian working ranch. You'll have the opportunity to tour the ranch and its grounds, learn about life in the windy Patagonian steppes, and enjoy a traditional lamb barbecue lunch.

The afternoon is free for your own discovery. Perhaps you will visit the Museo de la Patagonia, with its archaeological, historical and cultural displays, or enjoy a walk through the beautiful city center. Or you can join us for an optional Floating in the Limay River cruise, to enjoy the steppe landscape and fresh air while you float along by raft.

Dinner is on your own this evening.

Day 10

Bariloche • Buenos Aires • Argentina Today discussion • Home-Hosted Dinner

After breakfast, you'll have some time to bid Bariloche adios before transferring to the airport for your flight to Buenos Aires. You'll arrive in the late afternoon and continue to your hotel, where you'll attend an exclusive Discovery Series discussion on Argentina Today, highlighting the current state of Argentina's economy and political scene.

Later this evening, you'll experience another exclusive Discovery Series event that is likely to be one of the most memorable parts of your visit to Buenos Aires. Take a seat at the table of an Argentine family as you join them for a Home-Hosted Dinner, chat, learn about each other, and make new friends.

Prepare yourself for an evening seasoned with good conversation and fellowship.

Day 11

Buenos Aires Highlights tour • Tango lesson • Optional Tango Show & Dinner

After breakfast, set off on an included half-day tour of Buenos Aires. You'll see the city's elegant mixture of Spanish Colonial architecture and several traditional European styles. Visit Avenida de Mayo, which runs into Plaza de Mayo, where many buildings important to Argentine history are centered. See the Casa Rosada (Government House); the Metropolitan Cathedral; and the Cabildo, the first City Hall built during Spanish rule.

Next, you'll visit La Boca, Buenos Aires' first merchant and fishing port. You'll have time to visit the famous Caminito, an outdoor museum and art show where painters offer their tango pictures, or stroll along the renovated waterfront promenade.

Your tour passes by the beautiful Colon Theater. Built in 1908, this is one of the world's most famous opera houses, and international stars vie to perform here as they do at Milan's La Scala and Vienna's State Opera House. Continue on to the final resting place of Eva "Evita" Peron, the Duarte tomb at the Recoleta Cemetery. The cemetery is in the Recoleta district, an area of elegant homes, fashionable restaurants and shops.

Lunch is on your own. The rest of your afternoon is at leisure for you to discover Buenos Aires.

This evening, join a tango lesson and learn the basic steps of Argentina's fiery, passionate, signature dance. Before it was a dance, tango was a sound—a composite of rhythms and voices born out of the slums of Buenos Aires, where a diaspora of Europeans, Africans, and idle, discharged local soldiers congregated and sang their tales of solitude and struggle. From the music emerged the dance, and that unique and passionate mix came to encapsulate, in the opinions of many, the Argentine national character.

Interestingly though, the tango was not always the celebrated tradition it is now. Many Argentines viewed its humble origins and sensual stylings as unsavory at best—and vulgar at worst. The tango had to cross the Atlantic and become the red-hot rage of Europe before it found favor in its native land. And in recent years, it has undergone a revival, receiving an injection of modern energy from artists like Astor Piazzola and receiving broader national (and international) exposure through TV, radio, and touring tango troupes.

While your steps may not be as sure as the most seasoned tanguero, you'll learn the basics during this special lesson—certainly enough to impress the folks back home.

Now that you've learned the basics of the tango, you have the opportunity to see how it's really done. Tonight, watch some of the best tango dancers and musicians in Argentina perform at a sophisticated supper club during an optional tango show and dinner.

Day 12

Buenos Aires • Parana Delta ride • School visit

FOUNDATION VISIT

Today, experience a change of pace from city life as you take a tour of the area where the Parana River empties into the Rio de la Plata on its way into the Atlantic, forming a huge delta. This exotic landscape is just half an hour from the city but seems a million miles away. Traditional houses on pilotes (stilts) are surrounded by lush subtropical vegetation, and are built on islands that are separated by a twisting maze of waterways.

Enjoy a relaxing boat ride in this scenic area, which is one of Latin America's most amazing wetland environments. You'll sail through the many islands that populate the rivers of the delta, and take in the lush, subtropical scenery and plant life. Then, enjoy an included lunch, followed by a visit to a local school (when in session) supported in part by Grand Circle Foundation, where you'll have the opportunity to get to know students and teachers there.

This evening, toast your adventures and companions from your South American tour at tonight's Farewell Dinner at a local restaurant.

Please note: From December through early March, the school visit will be unavailable due to summer holidays.

After breakfast at the hotel together, enjoy a morning at leisure to explore Buenos Aires before lunch on your own. Tonight, fly back to the U.S. or continue on our Brazil's Iguassu Falls & Rio de Janeiro post-trip extension.
POST-TRIP EXTENSION:

Brazil's Iguassu Falls & Rio de Janeiro

5 nights from only $2095

More than 50% of our travelers have reserved this extension in 2016

Discover the dual nature of Brazil, a country of both impossibly pristine landscapes and cosmopolitan cities. On this post-trip extension, you'll fly to Iguassu Falls, a spectacular series of cataracts on the Brazil-Argentina border. Then fly to Rio de Janeiro, where you'll scale Corcovado Mountain to visit the city's iconic statue of Christ the Redeemer high above Guanabara Bay.

View Extension Itinerary