Calgary • Waterton Lakes • Banff • Jasper • Kamloops • Whistler • Vancouver
15 Days from only $3795 including international airfare
FROM
$3795
15 DAYS
$253/DAY
including international airfare
15 DAYS FROM $3195 Tour Only
Itinerary Overview
Discover some of nature's most stunning creations on this comprehensive Canadian Rockies tour. Journey through the flat prairies of Alberta's cowboy country to the dramatic mountainous landscapes of British Columbia and the Pacific Coast—exploring the grandeur of Waterton-Glacier, Banff, and Jasper national parks along the way. As you travel from cosmopolitan Calgary to Vancouver, British Columbia's sparkling city by the sea, visit an Alberta cattle ranch, embark on an exciting ride onto Athabasca Glacier aboard The Ice Explorer snowcoach, and uncover the proud heritage of the First Nations people as you visit their community at a Stoney Nakoda reservation.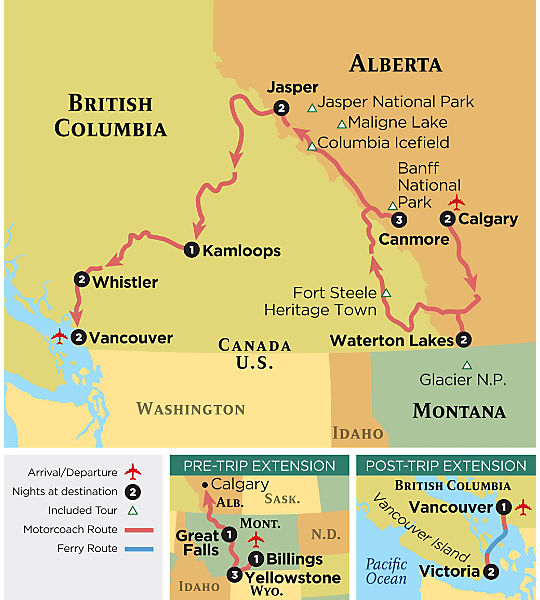 Day-to-Day Itinerary
PRE-TRIP EXTENSION:

Yellowstone National Park & Montana

5 nights from only $1545

Before setting off into Canada's wilds, explore one of the finest national parks in the United States—Yellowstone. Brimming with wildlife and bubbling with geothermal activity, this 143-year-old national treasure is a trove of natural wonders. Enjoy three days to discover the park's myriad highlights—as well as a chance to experience the town of Billings, Montana, and cruise the Upper Missouri Lakes to witness the Gates of the Mountains Wilderness.

View Extension Itinerary
Day 1

Arrive Calgary, Alberta

Travel to Calgary today to begin your Canadian Rockies tour, with your arrival time this afternoon depending on your departure city. This evening, meet your Program Director and fellow travelers, including those who took our Yellowstone National Park & Montana pre-trip extension, for a brief orientation walk of the neighborhood before dinner on your own.

Explore Calgary this morning, setting off on a city tour after breakfast and an orientation briefing.

Backdropped by the rugged, snow-capped Canadian Rockies, Alberta's largest metropolis has a distinctly Western flair—and was host to Canada's first Winter Olympics in 1988. An oil boom in the late 1940s ignited the city's economy and development, and by the 1990s, a series of downtown skyscrapers emerged that continue to characterize its skyline to this day.

After your tour, you'll have time on your own to explore Calgary independently and seek out lunch. Then return to your hotel for the rest of the afternoon at leisure.

This evening, gather with your fellow travelers at a local restaurant for a Welcome Dinner.

Day 3

Calgary • Ranch visit • Waterton Lakes

Travel to Waterton today, a quaint alpine village from which you'll explore Waterton-Glacier International Peace Park, a UNESCO World Heritage Site composed of both Waterton Lakes and Glacier national parks.

Depart after breakfast and stop along the way to see the local cowboy culture brought to life at a cattle ranch. During this exclusive Discovery Series visit, get a feel for daily life here from the ranch hands on a tour, then sample their rustic fare during lunch on the ranch.

Upon arrival in Waterton, you'll have the rest of the afternoon free to explore this charming village and its sublime surroundings—Waterton Lakes National Park. Set in the southwestern corner of Alberta, this tranquil area is a scenic convergence of prairies and mountains, set into stunning relief by the still waters of its sapphire lake. Dinner is on your own tonight.

Day 4

Waterton Lakes • Glacier National Park, U.S.

Depart after breakfast today across the Canadian-U.S. border, en route to Montana's Glacier National Park. A beautiful wilderness area of more than one million acres, Glacier was established as a U.S. National Park in 1910, then combined into the Waterton-Glacier International Peace Park by U.S. and Canadian governments in 1932.

Over millennia, glaciers carved out a rugged landscape of spectacular mountains and pristine lakes. Witness the breathtaking scenery during a panoramic morning tour of the park, departing from St. Mary Lake and traveling the switchback route of the Going-to-the-Sun Road as it ascends to Logan Pass. Return to St. Mary Lake after your tour and enjoy lunch on your own in this picturesque setting.

Head back to Waterton this afternoon, where dinner is on your own tonight.

Please note: As weather conditions are unpredictable in this region, the road to Glacier National Park can close unexpectedly at any time of year. Your Program Director will arrange an alternate day itinerary if that is the case.

Day 5

Waterton Lakes • Fort Steele Heritage Town • Banff

Travel north to Banff today, departing after breakfast. The site of Canada's oldest national park, Banff is nestled in a charming valley dominated by high mountains.

Choose a spot for lunch on your own in Fort Steele Heritage Town, a restored 1890s mining boomtown that is still alive with the sights and sounds of frontier life. Experience the spirit of the west through the town's scripted street dramas by joining tours aboard horse-drawn wagons, or by listening to costumed townsfolk in lively debate over the controversies of their day.

Continue on to Banff, arriving at the hotel late this afternoon. Dinner is on your own this evening, and your Program Director can offer suggestions on nearby restaurants.

Day 6

Banff • Banff National Park

This morning, discover Banff National Park, Canada's first and most popular national park and a UNESCO World Heritage Site. Your panoramic tour along the Tunnel Mountain Drive loop takes you to many of the park's scenic highlights, including Lake Minnewanka, Two Jack Lake, and the curiously shaped hoodoos—spires of eroded limestone and sandstone.

The rest of the day is yours in Banff. Arrive at your hotel in time for lunch on your own—perhaps strolling down Banff Avenue, the main street of this quaint town lined with boutiques and restaurants. Visit the Whyte Museum, uncovering the history here (Banff was created in 1885) through a collection of pieces and archived photographs. Walk to Bow Falls, a short but dramatic convergence of Spray and Bow rivers. Or continue your explorations in Banff National Park with recommendations from your Program Director; maybe you'll choose to witness the distinct blue hue of Peyto Lake or set off on one of the varied hiking trails.

Day 7

Banff • Buffalo Nations Museum

This morning, visit the Buffalo Nations Museum in Banff. Dedicated to the First Nations people, indigenous people who inhabited the Northern Plains and Canadian Rockies before the arrival of the Europeans, this museum spotlights their proud heritage and rich culture with a wide-ranging collection of arts, artifacts, and ceremonial pieces.

After your museum visit, you'll enjoy an included lunch at a local restaurant, followed by a day to spend at leisure in Banff. You may return to Canmore by bus when you choose. Dinner is on your own tonight.

Day 8

Banff • Columbia Icefield • Jasper

Your tour of the Canadian Rockies continues with a full-day journey to Jasper, an 185-mile trek across one of the world's most spectacular highways, the Icefields Parkway.

This morning takes you to Lake Louise, named for Princess Louise Caroline Alberta, daughter of Queen Victoria. When thawed, the blue-green waters appear almost tropical, though it generally stays frozen through mid-June. Commanding a spectacular view of the lake and surrounding mountains, the Victorian Chateau Lake Louise offers paths you can stroll between shoreline and cliffs. You'll have time to explore on your own and enjoy an early included lunch amidst the natural beauty.

Continue on over Bow Pass, which rises to an altitude of 7,000 feet. This Icefields Parkway route shows you the many glaciers of the Columbia Icefield, the largest body of ice in the Rocky Mountains—and the Athabasca Glacier, the largest accessible by road in the Canadian Rockies. Stop here for a ride aboard the Ice Explorer snowcoach onto the Athabasca Glacier, whose ice is almost 1,000 feet thick. Stepping onto the glacier's surface, don't fight the temptation to toss a snowball or two!

Arrive this evening in Jasper, an old trading post town located in the heart of Jasper National Park. Dinner is at a local restaurant tonight.

Day 9

Jasper • Maligne Lake

After breakfast, enjoy a free morning to relax and spend in Jasper as you please. The town of Jasper was founded in 1911 when the Grand Trunk Pacific Railway was built along the Athabasca River to the Yellowhead Pass, although a settlement here served as a trading post for fur trappers before the railroad came. Today Jasper is a quiet, friendly town set in the heart of a broad valley and framed by mountains.

In the afternoon, after lunch on your own, you'll embark on a cruise of Maligne Lake, passing by tiny Spirit Island—often featured in quintessential images of the Canadian Rockies. This 90-minute cruise on the turquoise waters is a golden opportunity to relax and experience the sheer majesty of the Rockies in all their unspoiled glory. Please note: The Maligne Lake cruise is only available from June-September.

Return to Jasper this evening, where the rest of the day is at your leisure. Dinner is on your own tonight.

Day 10

Jasper • Jasper National Park • Kamloops, British Columbia

Explore Jasper National Park this morning on a tour that takes you to two stunning lakes—Patricia and Pyramid. You'll also learn about the park's karst landscapes, a topography dotted with sinkholes and caves due to the dissolution of soluble rocks.

Then, travel to your next destination, the Canadian Rockies province of British Columbia (changing time zones) as you travel from Jasper to Kamloops today, enjoying an included bag lunch on the way. Set on the banks of the Thompson River, where two of its branches converge, Kamloops was a favored location for the Shuswap First Nation for its abundance of salmon fishing and ease of transportation, and also served as a fur-trading post the 1800s.

Arrive at your hotel with time to settle in before an included dinner.

Day 11

Kamloops • Kamloops Indian Residential School • Whistler

Head to Whistler this morning, stopping en route for an encounter with a controversial chapter of Canadian history during a visit to the Kamloops Indian Residential School. The school was created in 1893, and operated until 1977, with a mission to "Christianize and civilize" the native Secwepemc population. First Nations children were forcibly removed from their families and sent to the school, where they were forbidden to speak their native language or practice their religion. During your tour of the school, you'll learn from a local expert about the history of the First Nations people in this region, and about the challenges they continue to face looking toward the future.

After your school visit, you'll stop for an included lunch in the village of Cache Creek, a historic transportation junction, before continuing on to Whistler. Arrive this evening, with the rest of the day at leisure and dinner on your own in the village.

Defined by the imposing Whistler and Blackcomb Mountains, Whistler earned its name for the distinctive noise made by the area's population of marmots. One of the most popular ski resorts in the world—and home to the 2010 Olympic and Paralympic Winter Games—Whistler offers a delightful array of natural charms and mountainside restaurants and shops.

Explore Whistler this morning on a scenic drive and walking tour that takes you through the village then up to Blackcomb Mountain and to notable sites from the 2010 Olympics.

After lunch on your own, the rest of the day is yours to spend at leisure. Dinner is on your own tonight.

Day 13

Whistler • Vancouver

On your way to Vancouver this morning, take in the panoramic views of the Strait of Georgia and the British Columbia mountain ranges that line the scenic Sea to Sky Highway.

Set off on a city tour upon arrival in Vancouver, and see how the city's urban character is complemented by its proximity to the mountains, lush forests, and beaches. Visit Stanley Park, dedicated by Lord Stanley in 1889 for the "use and enjoyment of all people of all colors, creeds, and customs for all time" and dotted with majestic evergreen forests, a beautiful formal rose garden, and pristine beaches. You'll also see downtown, the epicenter of business and government, and Gastown, the historical center of the city. In 1867, a retired riverboat captain, John "Gassy Jack" Deighton, arrived and opened a saloon. Despite repeated attempts to give the district a more dignified name, it has maintained its nickname of Gastown. After its heyday, the area seemed destined for decline, but was rejuvenated in the 1970s and is now a charmingly restored district that was declared a Canadian National Historic Site in 1972.

Then cross the Burrard Bridge, connecting the downtown peninsula to the south, and make your way to Granville Island, which is nestled between the two. Enjoy time your own to peruse the Granville Island Public Market, an eclectic assortment of stalls offering homemade goods and fresh foods, and scout the variety of options for lunch on your own here.

Return to your hotel for an afternoon on your own, as well as dinner.

Experience Vancouver's exotic and expansive Chinatown, the second-largest in North America, this morning. The Chinese were among the first settlers of Vancouver, so while it's a relatively new city, Chinatown is one of its oldest neighborhoods.

Enter through the gaily painted pillars of China Gate, and once inside, find landmarks such as the Chinese Cultural Centre Museum and Archives and the Sam Kee building, the narrowest office building in the world. You'll notice that many of Chinatown's buildings date from Victorian times and have typically Chinese features. You'll also explore the Dr. Sun Yat-Sen Classical Chinese Garden, the first of its kind outside of China. As you wander the manicured grounds that evoke 15th-century China, learn about the Ming Dynasty through the architecture and horticulture you find here.

After time to explore on your own, regroup for lunch at an authentic Chinese restaurant. Then return to your hotel for an afternoon at leisure to make your own discoveries in Vancouver.

This evening, gather with your fellow travelers at a local restaurant for a Farewell Dinner.

Return home today, transferring to the airport after breakfast, or continue your Canadian explorations on our optional Vancouver, British Columbia extension.
POST-TRIP EXTENSION:

Victoria, British Columbia

3 nights from only $845

After experiencing the rugged allure of the Canadian Rockies, discover the charms of Victoria, the "Garden City." This sophisticated seaside community still has a British colonial feel to its streets and offers visitors high teas in the afternoons, but also a character that is distinctively Pacific Northwest. Explore its award-winning gardens and parks, walk rain forest trails, view galleries of local art, and stroll the flower-bedecked streets.

View Extension Itinerary