Rome • Chianciano • Sorrento
Itinerary Overview
When you travel to Italy, you'll explore a destination that combines history, romance, and architectural splendor with unparalleled serenity and grace. And no other travel company offers you as many in-depth discoveries—from cliffside towns to ancient monuments—at such a leisurely pace and tremendous value. Experience Tuscany and Amalfi from your base at these two charming locales—spending seven nights in the Tuscan spa town of Chianciano and seven nights in Sorrento on the Amalfi Coast—and enjoy a host of Grand Circle's included tours and exclusive Discovery Series events, including a Home-Hosted Lunch, an excursion to Pompeii, and a guided tour of Florence. As always, you'll have the freedom to explore your own interests during relaxing downtime.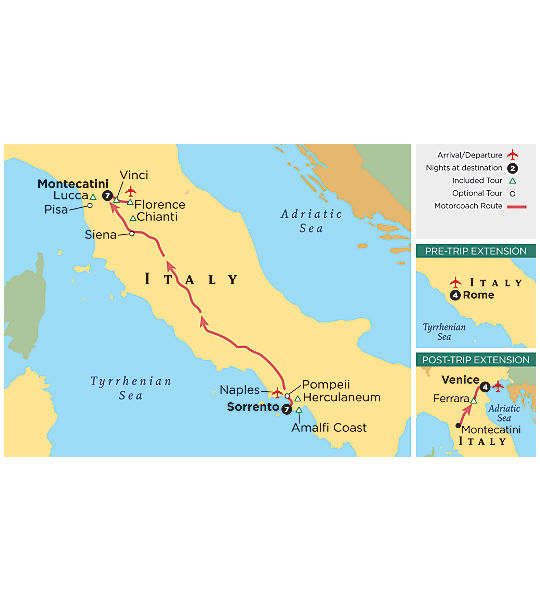 Day-to-Day Itinerary
PRE-TRIP EXTENSION:

Venice, Italy

4 nights from only $695

Moving Beauty of Venice
Produced by David Conover and Compass Light Productions
This independent film features destinations you can visit on this pre-trip extension.

More than a third of our travelers reserved this extension in 2016

Begin your travel in Italy by exploring Venice, an architectural masterpiece famous for its canals and numerous bridges. Venice instills in visitors an indelible fascination, from the elegance of the Piazza San Marco to the grandeur of the Basilica. Walking its streets or floating along in one of its gondolas, the sights you encounter cast a spell that is unforgettable.

View Extension Itinerary
Depart the U.S. this evening for Rome, Italy.

You'll be greeted at the airport by a Grand Circle representative who will assist you to your hotel. Gather with your fellow travelers this evening to meet your Program Director and enjoy a Welcome Drink. Dinner is on your own.

Day 3

Chianciano • Radicofani • Cheese maker visit • The Art of the Renaissance discussion

This morning, take an orientation walk in Chianciano, famous since the times of the ancient Etruscans for its thermal mineral waters, before traveling to Radicofani. Set in the shadow of a hilltop fortress first built in the tenth century, the town and its surroundings saw centuries of fierce political intrigue and conflict.

Explore the Old Town and visit the San Pietro Church, renowned for its splendid Della Robbia terra cotta sculptures, on a discovery walk. Then, visit a local cheese maker for an exclusive Discovery Series event, sampling local fare during a light lunch here as you learn about the importance of locally produced food to the heritage of the region.

Tonight, join us for a Discovery Series discussion on The Art of the Renaissance, followed by dinner at a local restaurant.

Day 4

Chianciano • Florence

Explore legendary Florence today, set on the banks of the Arno River. Florence came into its own as a commercial and cultural center during the 13th century, when merchants and tradesmen organized guilds that commissioned works of art to adorn their churches and palaces. It was this revival of interest in art and architecture that gave birth to the Italian Renaissance, an amazing outburst between the 14th and 16th centuries that completely changed the face of this Tuscan town. The names of the great artists of Florence define the Renaissance—Dante, Boccaccio, Fra Angelico, Donatello, Botticelli, Leonardo da Vinci, and Michelangelo.

Begin your exploration of Florence with a walking tour of the city, stopping to view the Duomo and its remarkable octagonal Brunelleschi dome, one of the most magnificent structures in Florence. While there, you'll also view the Gates of Paradise, impressive bronze doors that intricately depict scenes from the Bible. Continue on to the Piazza Signoria, the political center of Renaissance Florence.

Enjoy lunch and the afternoon on your own to make your own discoveries. You may wish to visit one of the many fine Florentine leather showrooms. The art of Florentine leather tanning has been passed down through many generations to the tanners of today. Although machinery has changed with improvements in modern technology, many of the old dyeing techniques have remained virtually unchanged. Or you might decide to visit the Accademia Gallery, home to Michelangelo's famous statue, David.

Tonight, dinner will be at your hotel.

Day 5

Chianciano • Pienza & the Orcia Valley • Taste of Tuscany discussion

A Renaissance jewel, the village of Pienza is the first example of town planning executed after the fall of the ancient Roman Empire twelve centuries earlier. It is also the only example of a city actually made from a prototype—designed by Bernardo Rossellino, the early 15th-century sculptor, for Pope Pius II. The plan for Pienza was commissioned by the Pope to celebrate the ideas of the Renaissance. Here you'll enjoy free time to explore on your own—and to discover the many food shops selling the excellent local export, pecorino cheese.

Pienza is a virtual standing museum: The focus of the town's design is its piazza, which is closed on one side by the cathedral and Palazzo Piccolomini on the other. Designed by Rossellino, the palazzo was the home to Pius's descendants until 1968 and is one of the places in the Orcia Valley where many scenes in the motion picture The English Patient were filmed. During the visit, you'll admire the vistas from the town overlooking the valley and a mountain peak that was once a volcano. You'll have lunch at a local restaurant in Pienza before we return to Chianciano.

This evening, gather for an informative and interactive Discovery Series discussion on the Taste of Tuscany, learning about two of Italy's defining passions—wine and olive oil.

Dinner is on your own this evening.

Day 6

Chianciano • Optional Siena tour

Spend the day exploring on your own. You may want to visit Montepulciano and discover the local wine cellars, or discover your own "favorite" Tuscan town—ask your Program Director for suggestions and assistance.

Or, choose to take advantage of our full-day optional tour to Siena. Discover this medieval walled city, built on three ridges and dominating the land between the valleys of Arbia and Elsa. Siena was a rich and powerful city during the Middle Ages, and from the twelfth century into the 16th century, its banking activities and trade in wool and textiles placed it in direct rivalry with Florence. Its influence decreased after that time, as it spent much of its energies in defense against foreign conquerors.

Today's Siena still retains the air of the Tuscan Middle Ages. The 334-foot slender Italianate tower of the Town Hall soars from the rim of the Piazza del Campo, an inclined, central square that is one of the most beautiful in all of Italy. Surrounding this square are numerous lovely palaces dating from the twelfth to 16th centuries. Here, and throughout the city, are some of the most splendid examples of Gothic architecture in Italy.

Automobiles are banned from the city center, and you'll enjoy a guided walk in town. You can view the beauty of the palaces, built in red brick with windows decorated by elegant Gothic frames in white marble. Our tour also takes you inside the cathedral, where you will also visit the Piccolomini Library, adorned with colorful frescoes by Perugino, the master of Raphael. You also have the opportunity to view the palace belonging to Monte di Paschi di Siena, a bank founded in 1472.

During our excursion, you'll have some free time to explore on your own before lunch at a local restaurant. You'll return to Chianciano in time for dinner. Please note: This tour involves walking over difficult terrain for extended periods of time.

Dinner is at a local restaurant this evening.


Day 7

Chianciano • Assisi

Explore Assisi today, a gem of Umbria perched on the side of Mount Subasio with pink granite stone buildings that seem to glow as you approach. The town remains forever linked with St. Francis of Assisi: He was born here in 1182 and renounced his family's wealth to found an order of preaching monks who lived simply and relied on begging to survive. Enjoy a guided tour of the 13th-century Basilica of St. Francis, where the saint is buried and which houses his shoes and tunic. Decorated with magnificent frescoes by Early Renaissance masters Cimabue and Giotto, the unique basilica is one of the most important examples of medieval architecture in all of Italy. Afterward, savor an included lunch with your fellow travelers, followed by free time to explore Assisi.

Dinner is on your own tonight.

Day 8

Chianciano • Cortona

FOUNDATION VISIT

After breakfast, visit Chianciano's Etruscan Museum, supported by Grand Circle Foundation. Here you'll learn about the Etruscan origins of Chianciano, and discover more about this mysterious civilization that preceded the Romans in this area.

Then explore Cortona, one of Tuscany's loveliest hillside villages, with both time to make your own discoveries and lunch on your own. Serenely situated at an elevation of 1,800 feet on the crest of Mont Sant'Egidio, Cortona offers unforgettable views of the Valdichiana Plain, the mountains of Siena, and expansive Lake Trasimeno—one of the widest and most harmonious vistas in all of Italy. One of the twelve Etruscan cities, Cortona's central neighborhoods look just as they did when it was a medieval city-state. The fortress overlooking the town was built by the Medicis in 1549, and it was home to noted artists Signorelli and Severini. Ancient tradition holds that the legendary Ulysses was buried here. Closer to our own forms of storytelling, it was here in Cortona that author Frances Mayes bought the home she restored in Under the Tuscan Sun, and the motion picture was filmed here, too, as was Academy Award-winner Life is Beautiful.

This evening, dinner is at your hotel.

Day 9

Chianciano • Sorrento

After breakfast, begin the ride to the cliffside town of Sorrento, stopping for a short visit to the hilltop town of Orvieto en route. Set upon the flat crown of a steep volcanic butte, Orvieto has been an impregnable town since the time of the ancient Etruscans. It was a major center of commerce and learning in the Middle Ages—Thomas Aquinas taught here—and its independent-minded leaders often squabbled with the Papacy. The construction of the 14th-century Orvieto Cathedral is distinctive in its use of basalt and travertine, a variety of limestone. Its three-gabled facade is exceptional, with vivid bas-reliefs, statuary, and mosaics. Also exceptional is the region's distinctive white wine.

Arrive in Sorrento early this evening, with dinner at your hotel tonight. With its romantic location on the cliffs over the Bay of Naples, Sorrento has long been the subject of songs and legends. It was here that the mythical sirens, with the beauty of their sweet singing, lured sailors to shipwreck on the rocks.

Day 10

Sorrento • School visit • Optional Sorrentine Farm Experience

Get to know Sorrentto this morning during a walking tour, which takes you to see the cathedral, Piazza Sant'Antonino, the Public Gardens, the town's typical little alleys, and its main square, Piazza Tasso. Amble along Corso Italia, the town's main street made for strolling, and along Via San Cesario, lined with picturesque shops offering food and handcrafts. You'll also have the chance visit children at Santa Maria della Pieta School (when in session), supported by Grand Circle Foundation.

Then enjoy an included lunch at a local restaurant of your choice with your Grand Circle meal voucher, which provides you with choice at no extra cost. Your Program Director will give all the details and suggestions for your meal.

Spent the rest of the day making your own discoveries. Or join us this afternoon for an optional Sorrentine Farm Experience. Head to the countryside to learn the secrets of local agriculture and what goes into the production of olive oil, fresh mozzarella cheese, and limoncello liqueur. Then, prepare and savor your own pizza, made in true Sorrentine fashion—topped with farm-fresh ingredients.

Day 11

Sorrento • Optional Herculaneum & Naples Archaeological Museum tour

Explore Sorrento on your own today. Or, join us on an optional excursion to Herculaneum and the Archaeological Museum of Naples.

Pompeii was not the only town to be destroyed by Mt. Vesuvius in AD 79. On this full-day optional tour, we'll first explore the ancient town of Herculaneum, which was buried in about 50 feet of ash and mud. It wasn't found again until 1709 when it was accidentally discovered by some workers. We'll explore Herculaneum's well-preserved ruins, which some claim are even more impressive than those of Pompeii. After lunch in Naples, one of the world's most beautiful seaports, we enjoy an in-depth exploration of the Naples Archaeological Museum, one of Europe's most valuable repositories, featuring the priceless Farnese collection of ancient Roman statuary and the many colorful treasures removed from long-buried Pompeii, Stabia, and Herculaneum. We'll have a panoramic tour of Naples from the bus as we begin our ride back to Sorrento. The cost of this optional tour includes lunch. Please note: This tour involves walking over difficult terrain for extended periods of time.

Tonight, take advantage of your Grand Circle meal voucher for an included dinner at your choice of a number of local restaurants.

Day 12

Sorrento • Amalfi Coast

After breakfast, depart for a full-day tour of the beautiful Costiera Amalfitana (Amalfi Coast), sure to be a highlight of your stay in Sorrento.

On this leisurely tour, discover what is perhaps Italy's most beautiful coastline, a UNESCO World Heritage Site richly imbued with centuries-old charm. Ride along its ruggedly stunning shoreline, decorated by colorful fishing boats and wondrous rock formations. Make a photo stop above Positano, and then continue to the town of Amalfi, romantically situated at the mouth of a deep gorge.

Enjoy some free time and an included lunch in nearby Scala, the oldest town in the Amalfi Coast with a history that stretches back 1,000 years. Perched roughly 1,200 feet above sea level, Scala overlooks the ocean and benefits from a year-round temperate climate.

This evening, enjoy a special dinner in the hotel. Gemelli, fusilli, orecchiette ... What does it all mean? Find out at our Festa Della Pasta dinner. Your Program Director will demonstrate how to prepare different types of delicious pastas and their accompanying sauces—and you'll indulge in the delicious results.

Day 13

Sorrento • Optional Paestum tour & mozzarella factory visit

After breakfast, enjoy a day on your own to make independent discoveries.

Or, join us for an optional tour of Paestum, an ancient Greco-Roman city in the Campania region of southern Italy. The site features three beautifully-preserved Doric Greek temples, the ruins of ancient homes, and a museum of artifacts—all of which you will explore with an expert guide by your side.

Nowadays, this region is known for its delectable buffalo mozzarella cheese. On your way back to Sorrento this afternoon, stop at a mozzarella factory to learn the secrets of how the iconic soft cheese is made, then enjoy an included lunch.

Dinner is on your own tonight.

Day 14

Sorrento • Pompeii • Home-Hosted Lunch • Italy and the Camorra discussion

This morning, we'll depart Sorrento for a half-day excursion to Pompeii. Totally buried by the eruption of Mount Vesuvius in AD 79 and not rediscovered until the 17th century, Pompeii's antiquities offer you an unparalleled view of Roman life. Explore Pompeii's most significant sites with your expert guide and learn how its people lived, built homes, and conducted business. The World Monuments Fund, to which Grand Circle Foundation has contributed $150,000 for preservation efforts across Europe, cites Pompeii as one of the world's 100 most-endangered sites.

You'll then enjoy a special Home-Hosted Lunch with a local family. Throughout this exclusive Discovery Series event, you'll become acquainted with Italian social life as you break bread with a family in their home and enjoy the meal from their authentic Italian kitchen. Traditional cuisine here often incorporates the freshest ingredients from the markets. Typical fare includes locally raised poultry accompanied by such homegrown vegetables as eggplant, tomato, and sweet peppers, and, of course, homemade pasta. You'll even sip wine from the family's vineyard.

This evening, partake in an exclusive Discovery Series discussion with a local expert on Italy and the Camorra to learn about this crime syndicate and their impact on the Campania region.

Day 15

Sorrento • Optional Isle of Capri tour

Explore Sorrento on your own today. Or, join an optional full-day tour of the beautiful Isle of Capri. Located only seven miles from Sorrento, Capri rises abruptly from the azure waters of the Mediterranean.

Set like a gem in the Bay of Naples, just opposite Mount Vesuvius, this fabled four-by-two-mile island has been a popular international destination since the times of the ancient Roman Emperors Augustus and Tiberius. Capri's natural and man-made attractions are unforgettable. The island abounds in hills, cliffs, olive groves, vineyards, and garden terraces overlooking the Amalfi Coast.

On today's optional tour, you'll be introduced to the charms of this miniature paradise and experience its unique way of life. After a short crossing by jetfoil, you'll ascend by minibus to the narrowest part of the island, where you'll visit the small town of Capri. Stroll through the chic shops and the picturesque whitewashed houses and reach the Gardens of Augustus, which overlook the bathing port of Marina Piccola, adorned by the famous Faraglioni rocks. After pausing to enjoy the expansive views of the Amalfi Coast, you'll continue to the highest point of the island and tour the village of Anacapri, which has spectacular views of the Bay of Naples and Mount Vesuvius. Next you'll enjoy a light lunch, and then be at leisure to explore further on your own or to indulge in some shopping or in a refreshing gelato. Return to the port of Marina Grande via the local funicular train (when in season) in time for our return boat to Sorrento.

This evening, gather with your fellow travelers at a local restaurant for your Farewell Dinner.

Drive northward to Rome today, stopping en route to visit the Benedictine Abbey of Montecassino for some free time. Set atop a rocky hill, this monastery was established by St. Benedict of Nursia in AD 529. It's one of the last remaining abbeys within the Catholic Church.

Enjoy a panoramic orientation tour of Rome upon your arrival, giving you an overview of the "Eternal City's" main points of interest.

Join your fellow travelers this evening for dinner at a local restaurant.

Day 17

Rome • Return to U.S.

After breakfast, transfer to the airport for your flight home. Or, continue on our optional post-trip extension to Rome, Italy.
POST-TRIP EXTENSION:

Rome, Italy

4 nights from only $595

More than 50% of our travelers have reserved this extension in 2015

From the Sistine Chapel's immortal frescoes to the countless masterpieces displayed in museums, there may be no other city that has as many legendary expressions of beauty as Rome. We think you'll agree with us that, when you travel Italy, additional time to explore the "Eternal City" in more depth is an opportunity not to be missed.

View Extension Itinerary