Germany • Poland • Czech Republic • Hungary
Itinerary Overview
When you travel to Eastern Europe, you'll peer behind the former Iron Curtain and find a region and people who are an integral part of contemporary European life. This is a vibrant world with its own deeply ingrained character and a 2,000-year-old cultural heritage that bridges the gap between the East and West. We've built into your Eastern European itinerary rare opportunities for you to meet the people where they live, work, and play. Dine in the home of a Polish family, meet with the son of an Auschwitz survivor, and learn about Hungary's political past and present during a discussion with a university professor.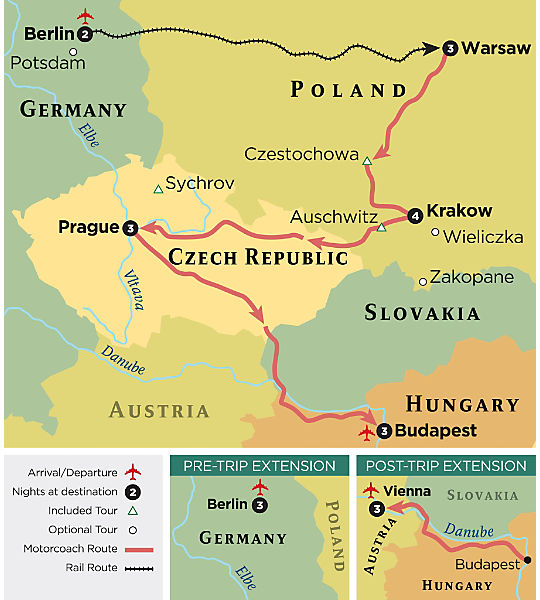 Day-to-Day Itinerary
PRE-TRIP EXTENSION:

Berlin, Germany

3 nights from only $545

Berlin
Produced by Small World Productions
This independent film features destinations you can visit on this pre-trip extension.

More than a third of our travelers have reserved this extension in 2016

During your three-night stay, you'll explore the city with your Program Director—and have ample time to make your own discoveries. Many of us never thought we'd see the Berlin Wall fall in our lifetime; here's your chance to see how the city has adapted to reunification over the past 26 years.

View Extension Itinerary
Travel to Eastern Europe today for your flight to Berlin. Please refer to your individual air itinerary for exact flight times.

Arrive this morning or afternoon in Berlin. A Grand Circle representative will meet you at the airport and assist with the transfer to your hotel, where you'll meet your Program Director and your fellow travelers (including those who took our Berlin, Germany pre-trip extension) and enjoy an orientation walk in the area surrounding your hotel.

Gather with your travel companions this evening for a Welcome Drink and briefing, followed by a Welcome Dinner at your hotel.

Day 3

Berlin • Optional Potsdam tour

Discover the city that once represented the Cold War and is now the face of the rebirth of Eastern Europe on an included city tour that will introduce you to Berlin's rich history and vibrant present. You'll visit the Brandenburg gate, a symbol of triumphant spirit which is perhaps Berlin's most recognizable landmark. You'll also discover Checkpoint Charlie, the most famous crossing between the two German states, and a powerful symbol of the divide between East and West.

The spirit of modern Berlin is also well represented in the new Reichstag building. The original structure was badly damaged by the Soviets during the battle for Berlin at the end of World War II. The reconstructed building now features an impressive glass dome on top of the building, to represent the openness and transparency of the German government for the modern age. You'll see the Reichstag building from the outside during your tour.

The afternoon is yours to explore on your own, or you may want to visit Potsdam, a UNESCO World Heritage Site, during an optional tour. You'll discover Glienicke Bridge, better known as the "Bridge of Spies" during the Cold War. Then visit the Cecilienhof Palace to discover the important role Potsdam played during the post-World War II era. Stalin, Truman, and Churchill met here to determine how to deal with a defeated Germany. You will also enjoy a walk through the gardens at Sanssouci Park, which offers a large selection of flowers across the sprawling landscape. The cost of this optional tour includes dinner.

Day 4

Berlin • Warsaw, Poland

After breakfast, depart Berlin for Warsaw, traveling by train.

Arrive in Warsaw late this afternoon. This evening, get acquainted with the area around your hotel on an orientation walk before dinner at a local restaurant.

Day 5

Warsaw • Home-Hosted Dinner

After breakfast this morning, set off on a half-day Warsaw city tour. Once a vibrant and glorious capital, Warsaw suffered heavy damage during World War II, and the Nazis virtually destroyed it after the Warsaw Uprising in 1944. Its rebirth and rebuilding since the end of the war is inspirational, as you'll see on your visit to the historic reconstructed Old Town, surrounded by 14th- and 15th-century walls. Located on the left bank of the Vistula, the "Queen of Polish Rivers," Old Town's narrow, winding streets, charming houses, churches, and cobblestone marketplace will enchant you. Your walk will be enhanced by the fact that the Old Town is closed to all traffic except pedestrians and horse-drawn cabs. Travel down the Royal Road, from beautiful Lazienki Park to the Royal Palace, and stand before the Heroes of the Ghetto Memorial, a large but simple slab of dark granite in the heart of the World War II Jewish ghetto.

Spend the afternoon at your leisure. This evening, you'll have a unique opportunity to see how the Polish people really live, and to get acquainted with a local family as you break bread and share conversation with them during an intimate dinner in their home. Your visit will give you invaluable insight into the daily lives of this region. During this exclusive cultural exchange, witness firsthand the proud traditions of generations past, gain an appreciation of the importance of family in this culture, and perhaps look into the eyes of Poland's future in its young adults and children. And, of course, a highlight of your visit will be a delicious, traditional home-cooked meal, and maybe even some of that famed Polish vodka.

Day 6

Warsaw • Auschwitz discussion • Optional Chopin piano recital

This morning, meet with the son of a former Auschwitz prisoner to learn about the strength and courage of a concentration camp survivor.

The rest of day is yours to relax or explore—or a little of both. You may want to revisit places that you saw on yesterday's city tour. Maybe you'll enjoy a bird's-eye overview of the city from the towering Palace of Culture and Science. From here, you can gaze across the Vistula River at the Praga, a former artisans' district.

Ask your Program Director for suggestions on where to dine on your own tonight. Warsaw is teeming with kawiarnia (cafes), which move outdoors in the summer. You may want to find one where you can enjoy your evening meal.

Or, in the early evening, you can attend an optional Chopin piano recital with dinner, enjoying the music of Poland's best-known and most beloved musician.

After an early breakfast, travel to one of Eastern Europe's cultural capitals, Krakow, during a 200-mile transfer that takes a full day (including stops). During the transfer, you'll pause for a visit to the shrine at Czestochowa. Religion and spirituality are an integral part of Polish society—deeply felt and solemnly celebrated. You'll experience this for yourself during your visit to the 14th-century Jasna Gora Monastery in Czestochowa.

Once a year, tens of thousands of pilgrims walk from Warsaw to Czestochowa to celebrate the Feast of the Assumption. It's a nine-day journey, one that dramatically symbolizes the religious devotion of the Polish people. What draws them is the legendary "Black Madonna," a Byzantine painting of the Virgin Mary that is housed in the hilltop Jasna Gora Monastery. The portrait, which is attributed to St. Luke, has several levels of significance to the Polish people. It became the eternal symbol of Polish nationalism in the 17th century when a small band of soldiers and monks successfully defended the sanctuary against a Swedish assault. Additionally, the portrait is said to have miraculous powers. The slashes on her cheeks are believed to have been wrought by a would-be thief who became enraged during his attempted theft when the painting mysteriously grew heavier and heavier, forcing him to leave it behind.

You'll find yourself among a community of devout Poles of all ages and classes, the monastery's religious populace, and the bustling market with religious statues, rosary beads, and mementos.

Please note: The shrine of Czestochowa is one of the most-visited religious sites, so travelers should expect large crowds and there is a chance you may not be able to see the Black Madonna, particularly during pilgrimage.

Upon your arrival in Krakow—the seat of Poland's oldest university and the capital of the country until 1596—join your Program Director for a vicinity walk to familiarize yourself with the area around your hotel.

Gather with your fellow travelers for dinner this evening and enjoy included entertainment during a folk performance.

Day 8

Krakow • Krakow in the Age of Copernicus discussion • Optional Wieliczka Salt Mines tour

In the fifteenth century, the legendary astronomer Nicolaus Copernicus studied at the University of Krakow, fostering a love of science, mathematics, and philosophy that would help to fuel his subsequent revolutionary scientific breakthroughs. You'll learn more about Krakow's role in the Scientific Revolution during a Krakow in the Age of Copernicus exclusive Discovery Series lecture this morning.

You'll then have the opportunity to explore Krakow's seven centuries of architecture during an included city tour. In 1978, the city was designated a UNESCO World Heritage Site. It's full of cathedrals, churches, and sacred art. Krakow survived World War II with little damage, and the city center stands today much as it did during its medieval days. You'll visit Market Square, the center of city life for more than 700 years. Admire the elegant plaza ringed with churches and regal medieval buildings, with the enormous Draper's Hall market as the focal point. You'll also explore the Old Jewish quarter of Kazimierz, and stroll through its narrow streets.

This afternoon, enjoy free time to make your own discoveries, perhaps taking in one of the city's many fine museums.

Or, join an optional tour to the Wieliczka Salt Mines this afternoon—working mines that have been in operation for more than seven centuries, producing about 700 tons of pure salt per day. These fascinating mines are considered one of Europe's great wonders and are protected by UNESCO as a historic monument. Here are more than 2,000 caverns of underground beauty on nine main levels—breathtaking chambers, galleries, and salt lakes. After exploring the mines, end the day with a typical Polish dinner in a local restaurant, accompanied by a sample of Zubrowka, the famous Polish vodka.


Dinner is on your own this evening.

Day 9

Krakow • Auschwitz

FOUNDATION VISIT

This morning may be an emotional one, as you visit Oswiecim, better known to Americans by its German name of Auschwitz. This is the location of the State Museum of Auschwitz-Birkenau, set on the site of the largest of the World War II concentration camps as a memorial to the millions of Jews, Gypsies, and "enemies" of the Nazi regime who were killed here. Grand Circle Foundation has donated generously to assist in the expansion of this educational center.

You'll visit the infamous concentration camp at Auschwitz and make a brief stop at Birkenau, often referred to as Auschwitz II. This was one of about 40 satellite camps built around Auschwitz.

You'll then return to Krakow and spend this free afternoon at leisure.

Day 10

Krakow • Optional Zakopane tour

Enjoy a full day to discover the treasures of Krakow on your own. Or, join us for an optional full-day tour to Zakopane, a lovely town in the foothills of the Tatra Mountains. Zakopane offers a look into the richness of Polish folk culture, as well as some of the region's most striking wooden architecture. Once there, you'll enjoy a tour of the town known as the "winter capital of Poland," including a horse-drawn carriage ride through the village streets, as well as the forests of nearby Tatra National Park. You might also be tempted to try some local delicacies, like oscypek—a rustic, smoked cheese usually made of sheep's milk—over dinner, which is included with the cost of the optional tour and is accompanied by colorful folk entertainment.

Day 11

Krakow • Prague, Czech Republic

After an early breakfast, begin your transfer to Prague, stopping en route in the Czech city of Olomouc for lunch. Upon arrival at your hotel in Prague, enjoy an orientation walk, followed by a Welcome Drink and dinner.

After breakfast, set off this morning on a tour of the city, soaking in the spell cast by palaces, churches, and museums in this "City of a Hundred Spires." Prague's regal beauty spreads on both sides of the winding Vltava River, connected by 16 picturesque bridges. Like Rome and San Francisco, the city is built over a series of hills and its varied architecture spans many centuries.

Enjoy time to discover Prague on your own this afternoon. Tonight, enjoy an included dinner with accompanying polka dance entertainment.

Day 13

Prague • Czech Republic's Past & Present discussion

After breakfast, learn about current economic and political situation, as well as a historical overview to put it into context, during an exclusive Discovery Series Czech Republic's Past & Present discussion.

Spend the rest of the morning and early afternoon exploring at your own pace followed by an included tour of Sychrov Castle, an 18th-century aristocratic residence built in Neo-Gothic style. Dinner is included at a local restaurant tonight.

Day 14

Prague • Budapest, Hungary

After an early breakfast, begin your day-long ride to Budapest (about 300 miles). You'll stop for an included lunch in Bratislava. The capital of Slovakia, Bratislava has a history dating to Celtic and Roman times. Though the Czech Republic and Slovakia were united as Czechoslovakia for nearly 75 years, they each have distinctive personalities, languages, and landscapes. You'll get a taste of Slovakian fare during lunch here, along with a lovely walk with your Program Director in the Old Town of Bratislava.

After checking into your hotel in Budapest, enjoy a Welcome Drink. Dinner is on your own this evening.

Day 15

Budapest • Hungary's Political Past & Present discussion • City tour

After breakfast, enjoy an exclusive Discovery Series discussion of Hungary's Political Past & Present, led by a professor from Budapest University. Then, embark on a tour of Hungary's lovely capital, situated on both sides of the magnificent Danube River. In Buda, on the right bank of the Danube, you'll view a grand panorama of the entire city and visit Matthias Church, where the Hungarian kings were crowned. Cross over the Danube bridges and see how the imposing Parliament Building dominates Pest, on the other side of the river.

From the Elisabeth Bridge, the tour takes you to Heroes Square, with monuments to all the Hungarian kings.

Your afternoon is free to explore on your own. Perhaps you'll want to return to Vaci Utca, the shop-lined, pedestrian-only street where you'll find excellent Herend porcelain, peasant embroidery, and other souvenirs of Hungary. Or you may want to visit Castle Hill, encircled by ramparts that protect the massive castle complex. Destroyed during World War II, the palace has been restored to its original splendor and is now a vast museum complex where remains of the original structure are displayed.

After dinner on your own this evening, regroup with your fellow passengers for a scenic evening cruise down the legendary Danube River.

You have the full day at leisure to explore Budapest on your own. The city was made for walking, and you may want to stroll along the Danube. You can visit the 19th-century National Museum, perhaps Budapest's most famous monument.

This evening, join your fellow travelers for a special Farewell Dinner.

Day 17

Budapest • Return to U.S.

After breakfast, transfer to the airport for your flight home. Or begin your optional extension in Vienna, Austria.
POST-TRIP EXTENSION:

Vienna, Austria

3 nights from only $695

Vienna may not enjoy the international prominence of its Imperial era, but it nonetheless exudes a sense of enduring elegance and dignity, an aura that greets you at virtually every turn. Conclude your Eastern European discoveries in this extraordinary city of Strauss and Freud.

View Extension Itinerary