Italy • Switzerland • Austria • Germany
Itinerary Overview
Tucked in the valleys of the Alps lie some of Europe's most charming villages, which you can discover on our comprehensive Alpine Europe tour. Each has a style all its own—you can unwind in graceful Stresa, Italy's garden-filled resort on the shores of Lake Maggiore. Relax in Interlaken, a Swiss vacation spot set amid two picturesque lakes and surrounded by stunning Alpine peaks. Enjoy the Mittel-European charm of Seefeld, in Austrian Tyrol. As you journey across international and cultural borders, our exclusive Discovery Series events will enhance your explorations, with discussions about food, heritage, and history.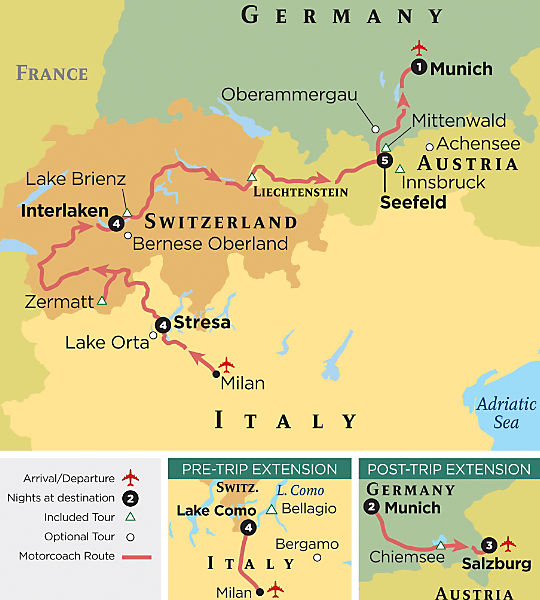 Day-to-Day Itinerary
PRE-TRIP EXTENSION:

Lake Como & Milan, Italy

4 nights from only $895

More than 50% of our travelers have reserved this extension in 2016

Discover one of Europe's most beloved lakes, and one of its most sophisticated cities. On this pre-trip extension, explore Lake Como, the picturesque Alpine gem with a beauty that has drawn noted philosophers, composers, leading men, and poet laureates. You'll also feel the excitement of Milan—a historic city that is brimming with culture and style.

View Extension Itinerary
Depart today on your flight to Italy.



Arrival times vary throughout the day, depending on your city of departure. You'll be met at the Milan airport and driven to your hotel in Stresa to begin your Alpine vacation. Take an orientation walk of your neighborhood, and this evening, join your Program Director and fellow travelers, including those who took our Lake Como & Milan, Italy pre-trip extension, for a Welcome Drink and introduction before a dinner at your hotel.

Day 3

Stresa • Taste of Italy discussion

After breakfast and an orientation briefing at your hotel, you'll have the opportunity to sign up for optional tours that interest you.

Then set off on a walking tour of scenic Stresa, your home base for the next three nights. This township of roughly 5,000 residents is one of Italy's jewels, sitting on the shores of sparkling Lake Maggiore. A fishing village since the 15th century, Stresa has always been a beloved resort town for the region's well-to-do.

During your walk, you'll learn about the Taste of Italy during an exclusive Discovery Series event. Some of the world's most beloved cuisines comes from Italy, from wines to olive oils, breads and pastas. The rest of the day is yours at leisure before you gather this evening for a Welcome Dinner in a local restaurant.

Day 4

Stresa • Borromean Islands

After breakfast, depart for a private boat cruise to explore the Borromean Islands. Your first destination is Isola Bella, where you'll spend the morning discovering the fairy-tale–like Palazzo Borromeo, renowned since construction began in the 1600s for its Neoclassical ballroom, gardens, and artificial grottoes, with both an included tour and time to stroll the grounds your own.

Your next stop is Isola Pescatori, a charming fishing village where you'll enjoy a light lunch at a local restaurant as well as a discovery walk with your Program Director before cruising to Isola Madre. The largest of the islands, Isola Madre features a magnificent, English-style botanical garden.

Return to Stresa this afternoon for dinner and the evening on your own.

Day 5

Stresa • Optional Treasures of Lake Orta tour

Spend today at leisure, or join an optional tour to discover the Treasures of Lake Orta.

Take in this picturesque sub-Alpine lake during a panoramic drive. In Orta, the lake's namesake village, you'll find a hidden gem that many visitors have yet to discover. Discover the Sacro Monte with a local guide, one of nine northern Italian churches intended as pilgrimage sites, and a UNESCO World Heritage Site. Your optional tour also includes a private boat ride to San Giulio Island, and a discovery walk there with a local guide before gathering for a light lunch at a local restaurant. You'll return to Stresa in the late afternoon, and have the balance of the day to spend as you choose. Dinner is on your own tonight.

Day 6

Stresa • Zermatt, Switzerland • Interlaken

This morning, you'll say goodbye to Stresa—and Italy—as you depart for Interlaken, Switzerland. You'll stop at the Simplon Mountain Pass for a chance to take photographs—one of the most famous mountain routes in the world, this pass offers commanding views of the snow-capped Swiss Alps and the many villages that dot the valleys below.

Then, board a train for a short ride to Zermatt, a high-altitude (about 5,300 feet) town perched on the Alpine mountainside. A beloved ski resort town, Zermatt has been attracting outdoorsy travelers and athletes since British mountaineers hiked here in the 19th century. Its name derived from the same root as the nearby Matterhorn—Matten being German for "meadows," of which Zermatt has optimal views.

Explore Zermatt on a walk with your Program Director before lunch on your own. In the early afternoon, you'll continue on your scenic journey to Interlaken.

Arrive in the early evening, with dinner tonight at your hotel.

Day 7

Interlaken • Switzerland Today discussion • Woodcarving museum • Home-Hosted Dinner

After breakfast, learn about modern life in Switzerland Today during an exclusive Discovery Series discussion.

You'll then embark on a walking tour of Interlaken, an idyllic Swiss Alpine town, with your Program Director. You'll explore the Flower Clock, a flat garden shaped into the figure of an iconic Swiss clock, as well as the local promenade and 35-acre park.

This afternoon, visit Lake Brienz for an exclusive Discovery Series tour of a local woodcarving workshop. Woodcarving is one of Switzerland's heritage crafts, and this region is the heart of production for these works of art. Learn how woodcarving (and in particular, the local specialty of chip carving) became emblematic of Swiss craftwork, and meet the artisans still producing such pieces today.

Tonight, visit a local Swiss family for a Home-Hosted Dinner. Always a memorable experience, these evenings provide you with an opportunity to visit a typical home and sample home-cooked food of the region. Your Swiss hosts will be delighted to tell you about their culture, and introduce you to family traditions and foods.

Day 8

Interlaken • Farm visit

This morning you will discover Swiss bucolic life. A local family will welcome you to their farm in the Brienzerland countryside, one of the most traditional areas in central Switzerland. In the surrounding pastures, where cow graze in the high green meadows, you will get an insight of the everyday life of a real Swiss farmer. Your hosts will also offer you a taste of local cheese.

After lunch on your own, the remainder of the day is yours to discover more of Interlaken. Located on the Bodeli, a strip of land on the Aar River connecting Lake Thun and Lake Brienz, Interlaken has an abundance of green mountain views and, at an altitude of approximately 1,800 feet, a crisp Alpine climate. Take in the stunning scenes that abound, sample regional specialties, spot Alpine creatures like the marmot or ibex, or perhaps venture up to Harder Kulm for a dramatic summit panorama.

Day 9

Interlaken • Optional Bernese Oberland tour

Take today at your leisure to explore more of Interlaken, or join our optional Bernese Oberland tour.

The Bernese Oberland encompasses the German-speaking highlands of the region of Bern. Tour the Trummelbach Falls, unique glacial waterfalls that are accessible underground. You'll also see the Lauterbrunnen Valley, or "The Land of 72 Waterfalls" (the name literally translates to "many fountains"), and hear the thunder of all the waterways that crash down in this scenic valley. Take a ride on the Jungfraubahn, a train that runs to the highest rail station in Europe. Disembark at Kleine Sheidegg to witness views of the surrounding area from nearly 7,000 feet, and enjoy lunch in a local restaurant before descending the mountain to return to Interlaken.

Tonight, dinner is on your own.

Day 10

Interlaken • Liechtenstein • Distillery visit • Seefeld, Austria

Today, transfer to Seefeld, Austria—stopping on the way in the tiny landlocked nation of Liechtenstein. At a mere 62 square miles, Liechtenstein is sixth-smallest microstate in the world with a population of more than 37,000. Stop in its capital, Vaduz, which was founded circa 1322 and is home to Liechtenstein's Parliament, as well as the seat of the Roman Catholic Archbishop. A compact city with much political history, Vaduz makes for a pleasant discovery walk with your Program Director. Then, enjoy an exclusive Discovery Series visit a local distillery in Triesen, just south of the capital, where you'll enjoy a guided tour and light lunch, as well as the opportunity to sample local spirits during a tasting.

Complete your journey with an overland crossing into Austria, arriving at your hotel in Seefeld in the early evening. Tonight, enjoy an included dinner at your hotel.

Day 11

Seefeld • Optional Austrian Afternoon tour

Set off on a walking tour of Seefeld after breakfast. A Tyrolean town founded as a farming settlement in 1022, Seefeld offers Old-World Germanic charm and a landscape of snowy mountains, wooden church spires, and the Karwendel Nature Reserve. Lunch is on your own, but with many cozy taverns you won't have any difficulty finding somewhere to sit and perhaps taste the regional specialty of speck, a delicately flavored fatty ham.

If you are looking to learn more about the landscape you've just entered, consider joining our Austrian Afternoon tour.

On this optional tour, you'll take a ride on an open-air narrow-gauge cog train built in 1888. This nostalgic train will deliver you to the shore of Achensee Lake, the largest lake in Tyrol and one which is noted for its incredibly clean and deep blue water. You will take a ferry to Scholastica, on the lake's northern shore. After a short walk along the lake, you'll enjoy a traditional Tyrolean dinner featuring local flavors.

Return to Seefeld this evening. Dinner is on your own for those travelers not participating in the optional tour.

Day 12

Seefeld • Innsbruck • Women of World War II discussion

This morning, take a train to Innsbruck, the capital of Tyrol. This city offers a truly spectacular look into European history, having been continuously inhabited since the Stone Age. The massive, white Rennaissance Ambras Castle overlooks the city from its hillside perch, and the Baroque Innsbruck Cathedral looms imposingly over the central Domplatz (Cathedral Square). Spend the morning exploring these sites and more on a walking tour with your local guide before lunch at a local restaurant.

After lunch, learn more about the many important roles women play in times of war during an exclusive Discovery Series discussion on the Women of World War II. You'll then enjoy time for independent exploration in this fascinating city before returning to Seefeld. Dinner is on your own tonight.

Day 13

Seefeld • Optional Bavaria tour

Today is yours to enjoy as you wish. Or, join an optional tour to learn more about Bavaria, a German state in the southeast of the country.

This fascinating region has a proud cultural identity, separate from that of the rest of Germany, and some of Germany's finest architectural wonders trace their identity to Bavarian builders. Visit the town of Oberammergau, where you'll tour the theater where the Passion Play is performed—the story of the life of Christ, performed every ten years since the people of the town were spared from the bubonic plague. This play takes seven hours to perform and involves more than 2,000 people, making it a significant artistic and spiritual undertaking for all involved. After lunch on your own and free time, head to Linderhof Palace, the former home of King Ludwig II that was inspired by the construction of France's Versailles. The rococo decorations of this impressive palace are offset by a precisely designed garden outdoors, and both the interior and exterior are rich with symbolism that your local guide will point out.

Dinner is on your own tonight in Seefeld.

Day 14

Seefeld • Mittenwald, Germany

Enjoy a leisurely morning with breakfast at your hotel. Perhaps you'll take this time to explore one of the many scenic pathways that have made this town such a popular destination (it even hosted the Nordic events for multiple Winter Olympics).

Lunch will be on your own, before a mid-afternoon departure for Mittenwald. This Bavarian town has long been a vital transportation hub for the region, lying as it does on a low route through the Alps. But the town has also made significant contributions to the arts, as it is a major producer of fine violins, violas, and other string instruments. The Geigenbaumuseum (Violin Museum) of Mittenwald is home to a permanent exhibition of locally made classical stringed instruments, which have been produced in the town for more than 300 years. You'll learn about luthiers, or stringed instrument-makers, and have the chance to ask questions about the cultural legacy of this work in the region.

This evening, you'll feast at a memorable Farewell Dinner with your fellow travelers, complete with traditional Tyrolean-style music.

Day 15

Seefeld • Munich, Germany

After breakfast, depart for Munich Germany—arriving in time to enjoy an included lunch at a local restaurant, followed by a discovery walk of the city with your Program Director. This evening, reminisce about your Alpine memories with your fellow travelers during dinner at your hotel.

Day 16

Munich • Return to U.S.

This morning, transfer to the airport for your flight home. Early departures will be given a box breakfast to take along. Or, extend your European vacation with our optional post-trip extension to Munich, Germany & Salzburg, Austria.
POST-TRIP EXTENSION:

Munich, Germany & Salzburg, Austria

5 nights from only $1495

Munich and Bavaria
Produced by Small World Productions
This independent film features destinations you can visit on this post-trip extension.

Immerse yourself in Bavaria's most famous and festive city, and enjoy the Alpine charms of Mozart's birthplace on this 5-night extension. Discover Munich's many palaces, churches, and museums, not to mention sampling some of the city's best brews. And experience Salzburg—famed home to Mozart and the Von Trapp family—from the charming lanes of Old Town to the exalted might of Hohensalzburg Fortress.

View Extension Itinerary