Johannesburg • Kruger National Park • Swaziland • Hluhluwe • Port Elizabeth • Knysna • Cape Town
Itinerary Overview
When you take a South Africa tour with Grand Circle Travel, you'll discover cultural and natural wonders at a relaxed and leisurely pace. You'll follow exotic wildlife on game-viewing drives through Kruger National Park and the Hluhluwe-Umfolozi Game Reserve ... enjoy visits to charming coastal towns along the famed Garden Route ... and explore cosmopolitan Cape Town, South Africa's "Mother City." You'll marvel at the country's diverse landscape rife with verdant, grassy savannahs, balmy, white-sand beaches, and tranquil, flower-ringed lagoons. And everywhere you go, you'll connect with the people of South Africa, encountering a veritable kaleidoscope of cultures and creeds—evidence that the nation has indeed become, as Nelson Mandela envisioned, "a rainbow nation at peace with itself and the world."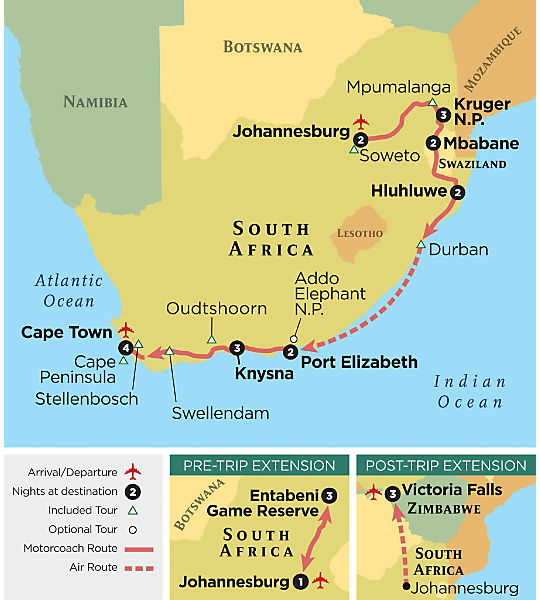 Day-to-Day Itinerary
PRE-TRIP EXTENSION:

Big Five Bush Safari, South Africa

4 nights from only $1195

96% of our travelers have rated this extension "excellent"

Begin your South African discoveries with three days in Entabeni Game Reserve, an 85-square-mile private reserve located in South Africa's UNESCO-protected Waterberg Biosphere—the perfect setting for a unique and enjoyable safari experience. You'll spend your days searching for the legendary "Big Five"—Cape buffalo, elephant, lion, rhino, and leopard—and your evenings sleeping under the thatched roof of your comfortable tented chalet. It's the perfect introduction to your South African experience.

View Extension Itinerary
Board your overnight flight to Johannesburg, South Africa.

Day 2

Arrive Johannesburg, South Africa

A Grand Circle representative will meet you at the airport and help you transfer to your hotel, where you'll meet the Grand Circle Program Director who will accompany you throughout your trip, and fellow travelers, including those who have just finished our optional pre-trip extension, Big Five Bush Safari, South Africa. Settle in, and get to know your surroundings.

Day 3

Johannesburg • Soweto tour • Apartheid Museum

This morning, you'll drive to Soweto, enjoying scenic views of Johannesburg en route. You'll see the city skyscrapers, including the Carlton Centre, which is the tallest office block in Africa, as well as the Nelson Mandela Bridge.

Soweto, a former shantytown on the city's outskirts, is both a bustling center of black South African life and a poignant symbol of the struggle to end apartheid. Here, after an included lunch, you'll set off on a walking tour, where you'll enjoy the opportunity to immerse yourself in local culture as you connect closely with the township's residents, visiting them in their homes and where they work.

After your walking tour, depart for the Apartheid Museum, where you'll confront one of the 20th century's greatest injustices. The history of nearly 50 years of unequal rights affecting more than 20 million black South Africans is recounted here, in 22 exhibits spanning print, photo, and film. It's a fascinating and moving examination of an era that has since been replaced by a constitutional democracy that celebrates diversity.

This evening, get to know your fellow travelers during a Welcome Briefing, and enjoy a Welcome Dinner with wine at your hotel.

Day 4

Johannesburg • Mpumalanga • Kruger National Park

After breakfast, set off for Kruger National Park. Along the way, marvel at breathtaking views of the Klein Drakensburg escarpment, with its densely wooded canyons, sheer sandstone cliffs, and sparkling waterfalls. You'll stop for lunch on your own en route to your hotel in the province of Mpumalanga.

You'll travel the Panorama Route through Mpumalanga, where you'll look into God's Window—a spot with stunning views—and the Bourkes Luck Potholes at the mouth of the Blyde River Canyon.

Tonight, check into your hotel, where dinner will be served.

Day 5

Kruger National Park • Intimate African Safari game drive

Embark on a full-day Intimate African Safari game drive, during which you will explore Kruger National Park aboard a small, open-air vehicle. Perhaps you'll see one of the elusive "Big Five" safari animals during your journey. A packed lunch will be provided by the hotel.

Kruger is one of the largest and most notable among African game parks. Transvaal President Paul Kruger saw the need to protect the wilderness and its animals and first proclaimed it the Sabie Game Reserve before it became a national park in 1926. It is known for the chances it offers for spotting the Big Five—always elusive, but certainly present here: lion, elephant, leopard, Cape buffalo, and rhino. In addition to game animals, Kruger boasts an avian population of almost 500 species, some of which are found nowhere else in South Africa.

Tonight, enjoy dinner at your hotel.

Day 6

Kruger National Park • Full-day game drive • Optional Intimate African Safari

After breakfast, you'll board a coach for a full-day game-viewing drive.

Or, choose to take advantage of a second Intimate African Safari on our optional full-day outing. Today, you'll venture further afield to some of the park's most remote areas aboard 4x4 vehicles to discover South Africa's wildlife in a smaller group. Please note: A minimum of six participants is required to operate this tour.

Dine tonight at your hotel.

Day 7

Kruger National Park • School visit • Mbabane, Swaziland

This morning, spend time with the children of George Mhaule Primary School (when in session), supported by Grand Circle Foundation as part of the World Classroom initiative. After your visit, cross the border into the Kingdom of Swaziland, entering through its mountainous northwest. As you travel, admire a landscape of sloping hills and sugarcane plantations.

A fully independent nation since 1968, this African kingdom originated in the early 19th century and maintained its cultural identity as a British protectorate—never absorbed into South Africa—through much of the 20th century. Today, Swaziland has a population of about 800,000 and is a peaceful, agricultural country where ancient and modern ways mingle. Arrive at your hotel, near the capital city of Mbabane, in the mid-afternoon with a bit of time to explore the area or relax before dinner.

Day 8

Mbabane • Swazi Cultural Experience

FOUNDATION VISIT

Today you'll enjoy a full day of a Swazi Cultural Experience. First, peruse the produce, local crafts, and wares of the Swazi people at the Mbabane Craft Market. Continue on to a local workshop to observe the artistry and precise techniques of glassblowing.

Then, behold the craftsmanship of local candle-makers as they work their magic in wax—using an age-old process—at a local workshop and market. Enjoy lunch here before making a short stop at the memorial built in honor of King Sobuza, who brought Swaziland to independence in 1968. Crowned king at less than a year old, King Sobuza holds the record for the longest monarchial rule—more than 80 years.

This evening, dinner is on your own—your Program Director can offer suggestions about where you can savor the local flavors.

Day 9

Mbabane • Hluhluwe, South Africa • Afternoon With the Zulu

As you cross the border back into South Africa today, you'll enter Hluhluwe, a small town within the Kwazulu-Natal province. Here the great warrior-king Shaka unified many clans in the early 19th century under the name Zulu, which was the name of his own clan. Though mostly ceremonial today, the Zulu monarchy continues as a proud symbol of a living culture.

While in Hluhluwe, you'll spend an Afternoon With the Zulu during an exclusive Discovery Series event. You'll visit an authentic re-creation of a Zulu uzumi (homestead), where you'll meet modern-day warriors and witness fighting formations. You'll also enjoy lunch, take part in traditional activities such as beer-brewing and bread-making, and discover some of the secrets of the mystical nyangas (herbal healers) and the Sangoma (a priest-diviner).

Tonight, dinner will be served at the hotel.

Day 10

Hluhluwe • Hluhluwe-Umfolozi Game Reserve • Optional Hluhluwe-Umfolozi afternoon game-viewing drive

After breakfast, set off for a game-viewing drive through the Hluhluwe-Umfolozi Game Reserve—the oldest park in all of Africa.

Thanks to the efforts of conservationists, the once-threatened rhino population has soared—the park is now home to the largest concentration of white rhinos in the world. Be on the lookout for their signature horns, along with spottings of the "Big Five," and the more obscure sightings of yellow-, pink- and orange-throated longclaws.

Later, after lunch on your own, you can spend the rest of the day at leisure. Or, if you're eager for another look at the exciting wildlife of the Hluhluwe-Umfolozi Game Reserve, you can opt to join a second tour in the afternoon. You'll enjoy another opportunity to climb aboard a 4x4 game-viewing vehicle to seek out the residents of the reserve, seeing the animals in a new light at a different time of day.

Tonight you'll return to your hotel aboard a motorcoach for some leisure time before dinner.

Day 11

Hluhluwe • Overland to Durban • Fly to Port Elizabeth • Port Elizabeth City tour

This morning, after an early wake-up, you'll drive to Durban. From here, you'll fly to Port Elizabeth—a major seaport set along the beautiful shores of Algoa Bay.

Enjoy a tour of the city's historical attractions, including St. George's Park and Settler's Park—both known for their cultivated and natural gardens. The afternoon is at leisure for you to explore the shimmering beaches and colonial history of "the Friendly City." This evening is at leisure.

Day 12

Port Elizabeth • Optional Addo Elephant National Park tour

Spend the day and evening as you please in Port Elizabeth. The city has many historical attractions—including the Donkin Heritage Trail, which allows visitors to follow in the footsteps of the British settlers who arrived in 1820. The trail, which is several miles long, winds past more than 40 historical sites and architectural gems in the Old Hill area of central Port Elizabeth. You might also choose to stroll through St. George's Park, home to the world-famous Port Elizabeth Cricket Club. Lunch and dinner today are on your own.

Or join an optional motorcoach tour of Addo Elephant National Park, where you'll enjoy another chance to see South Africa's most celebrated safari animals. The park houses more than 450 elephants, 400 Cape buffalo, nearly 50 endangered black rhino, and a variety of antelope. You may even see lion and spotted hyena, which have been re-introduced to the area in recent years.

Day 13

Port Elizabeth • Garden Route to Knysna

After breakfast this morning, you'll embark on a scenic journey along South Africa's famous Garden Route, the magnificent stretch of coastline that has served as an inspiration for artists and writers for centuries. View lofty mountains edging toward some of the best golden-sand beaches in the country ... vast forests of giant yellowwood, pine, and eucalyptus trees ... colorful wildflowers ... pristine, amber-colored lakes, and tumbling waterfalls ... coves and lagoons peeking out from behind a ridge of sand dunes ... and charming tiny villages.

This evening, you'll arrive in Knysna, known as the "Pearl of the Garden Route." Dinner is yours to enjoy at a local restaurant tonight.

Day 14

Knysna • Oudtshoorn Ostrich Farm

Today, get closer to the world of exotic animals in Oudtshoorn during a visit to the Safari Ostrich Farm.

Ostrich farming began in the late 1880s, when European demand for ostrich feathers prompted a boom in ostrich farming worldwide. By the early 1900s, only gold, diamonds, and wool ranked higher than ostrich feathers in terms of exports. In Oudtshoorn, the center of the industry, ostrich farmers built lavish sandstone mansions to showcase their wealth.

On the farm you'll view large flocks of the flightless bird, still highly prized for its feathers, leather, and meat. Experienced guides will reveal the life cycle of the ostrich, and you'll also learn how products such as handbags and feather dusters are produced. Perhaps you'll even observe and participate in an ostrich derby! After lunch at the farm, you'll have more time at leisure to explore Oudtshoorn.

You'll return to Knysna tonight in time for dinner on your own.

Day 15

Knysna • Featherbed Reserve Nature Walk

After breakfast, depart for Knysna's famed lagoon, which is protected from the open water by two giant sandstone cliffs known locally as "the Heads." A ferry takes you across the lagoon for an included tour of Featherbed Nature Reserve. On your guided nature walk, keep an eye out for a glimpse of the blue duiker, Africa's smallest antelope (named for the blue sheen of its back) and other wildlife.

After lunch outside under the reserve's milkwood trees, the remainder of the day is yours to explore Knysna. You can delve into the town's history at the Millwood House Museum, which displays items once owned by Knysna's founder, George Rex (reputedly an illegitimate son of British King George III). Or browse through the many quaint shops with their unique offerings.

Dinner tonight is on your own.

Day 16

Knysna • Swellendam • Cape Town

Ride to Cape Town after breakfast this morning. En route, you'll stop in historic Mossel Bay, where Portuguese explorer Bartolomeu Dias became the first European to land in South Africa in 1488. For more than 400 years, this was a spot where passing mariners dropped off their letters as their voyages took them around the Cape of Good Hope. You'll learn more about the legacy of this explorer, as well as about the culture and ecosystem of Mossel Bay, at the eponymous Dias Museum on an included tour.

You'll also stop at the town of Swellendam, where you'll enjoy lunch at a local restaurant, before continuing on to Cape Town, where you'll arrive this evening. Enjoy dinner on your own tonight.

Day 17

Cape Town • Cape Town City tour • Optional Cape Town Townships tour • Home-Hosted Dinner

Today's included city tour features a cable car ride up Table Mountain (weather permitting), a 3,563-foot sandstone mountain that is remarkable for its flat top. Enjoy the ocean views from the summit.

This afternoon, enjoy leisure time to explore Cape Town on your own.

Or perhaps you'll join our optional tour to Cape Town's vibrant townships—Langa, Guguletu, and Bonteheuwel. Learn about the traditions and daily way of life here through a tour—guided by a township resident—and a home visit.

Tonight, join a local family in their home for dinner. Enjoy a warm welcome, authentic local fare, and lively conversation during this exclusive Discovery Series event.

Day 18

Cape Town • Cape Peninsula

Departing after breakfast, head along the coast, with majestic Table Mountain rising in the distance. Your route follows the spectacular coast road, the Atlantic Ocean's crashing surf endlessly splashing the rocks below. Soon you reach the Cape Point Nature Reserve, with its wild fynbos landscapes, beautiful flowers, elusive bontebok, baboons, and ocean views.

Contrary to popular belief, the Cape Peninsula is not consistently where the Indian and Atlantic oceans meet. Because of shifting currents, that distinction is shared with lesser-known Cape Agulhas, 100 to 200 miles east of the Cape Peninsula. Nevertheless, when you get to the tip of the Cape Point Nature Reserve, you'll see Cape Point, the technical "Cape of Good Hope." Rapidly changing climactic conditions and the Indian Ocean currents coming from Cape Agulhas make it a particularly dangerous spot for ships. Your Program Director will tell you that more "sightings" of the legendary ghost ship, the Flying Dutchman, are reported here than anywhere else in the world. Who knows what you'll spy on the distant horizons as you gaze from the Cape Point viewing platform? You'll also explore some of the fascinating vegetation and more remote corners of this nature reserve, as well as the lush Kirstenbosch Botanical Gardens, before stopping for an included lunch at a well-known local seafood restaurant.

On the return trip to Cape Town, a stop along the False Bay coastline offers a chance to see the penguins at Boulders Beach. Arrive back in town in the early evening, after passing through Simon's Town and Fish Hoek.

Dinner is on your own tonight.

Day 19

Cape Town • Stellenbosch

Venture to South Africa's wine-producing region on an included excursion to Stellenbosch. You'll visit a wine estate and sample their delicious offerings. A scenic river valley of rolling hills, quaint farms, and mountain vistas, this area is also the heart of Cape Dutch culture. You'll see fine examples of traditional architecture while learning about the history of early settlement here. Lunch will be on your own in Stellenbosch.

Tonight, share your impressions of South Africa with your fellow travelers during a Farewell Dinner at a local restaurant.

After breakfast, you'll have the morning at leisure to do a little more exploring in Cape Town, or to simply relax before you begin your journey back to the U.S. this afternoon. Or begin your optional extension in Victoria Falls, Zimbabwe.
POST-TRIP EXTENSION:

Victoria Falls, Zimbabwe

3 nights from only $1445

More than 50% of our travelers reserved this extension in 2015

Extend your discoveries of Africa's wonders with this optional extension to thundering Victoria Falls. You'll have ample time to view the Falls, twice as high as Niagara and one-and-a-half times as wide, perhaps taking an optional helicopter flight to witness its full grandeur. You'll also experience local culture at a traditional boma dinner and cultural show. During this extension, you'll have a variety of optional tours to choose from, including an all-day excursion to Botswana's celebrated Chobe National Park.

View Extension Itinerary