The Leader in Solo Travel
Freedom. Independent. Liberating. Alive. These are a just a few of the words solo travelers use to describe what it feels like to travel on their own. When you do, your adventure becomes your own: You don't have to worry about accommodating another person's schedule, interests, or needs. You can decide what you want to do when you want to do it. Whether you're traveling independently for the first time, or you're already a seasoned solo traveler, we will take care of all of the details—as O.A.T. has been since 1978—making it affordable, easy, and more enjoyable for you to see the world on your own. And if single spaces are sold out on your preferred departure, there are other ways for independent travelers to join us: bring a friend along to share a room, or try our Roommate Matching Program where we will try to match you with a same-gender roommate.
Most Popular Solo Adventures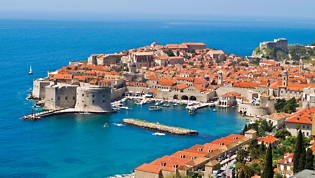 Crossroads of the Adriatic: Croatia, Montenegro, Bosnia & Herzegovina, and Slovenia
Croatia: Dubrovnik • Montenegro: Kotor • Bosnia & Herzegovina: Sarajevo • Croatia: Karanac, Zagreb, Plitvice Lakes, Opatija• Slovenia: Ljubljana
Read Traveler Reviews
View Itinerary
Ultimate Australia
Australia: Melbourne, Adelaide, Alice Springs, Uluru, Great Barrier Reef, Palm Cove, Sydney
Read Traveler Reviews
View Itinerary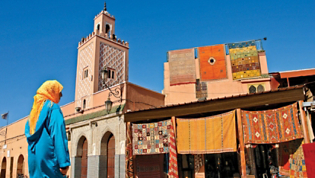 Morocco Sahara Odyssey
Morocco: Casablanca, Rabat, Fez, Sahara Tented Camps, High Atlas Mountains, Marrakesh, Casablanca
Read Traveler Reviews
View Itinerary
The O.A.T. Solo Travel Experience
Meet a solo traveler who shares her reasons for exploring the world with Overseas Adventure Travel.
Free or Low-Cost Single Supplements
O.A.T. is committed to supporting our solo travelers explore the world, so we offer FREE Single Supplements on all O.A.T. adventures and pre- and post-trip extensions and FREE or low-cost Single Supplements on our Small Ship Adventures. However, we can no longer give additional savings—including last minute travel deals and offers—to our solo travelers without impacting the overall price of adventures for all of our travelers. Those taking advantage of our free or low-cost Single Supplement benefit can still receive additional savings with our Vacation Ambassador referral program, Frequent Traveler Credit program, multiple trips benefit, and Good Buy Plan.
Solo Traveler Stories

Hear from our travelers—in their own words—about what it's like to join O.A.T. on their own.

Why Travel Solo With O.A.T.?
Local Trip Leaders
You'll have a dedicated, expert Trip Leader by your side throughout your entire trip. He or she will guide you through the streets of your destination, provide suggestions on where to explore or eat, and translate the local dialect. Plus, you can depend on their resourcefulness and skills in group dynamics to help bring like-minded travelers together.
Comfort & Security
With 36 regional offices around the world, you can rest assured that your safety and security is our first priority. Our regional associates have helped plan every detail of your itinerary—so they know your adventure inside and out. Plus, they will be ready to help you and your group at a moment's notice.
Travel Amongst Friends
Our small groups—8 to 16 travelers (with an average of 14) on O.A.T. adventures and no more than 25 on our Small Ship Adventures—are the ideal size for fostering camaraderie with your fellow travelers. One out of four O.A.T. travelers explore independently—and 85% of our solo travelers are women—so you are sure to forge special bonds as you experience unforgettable moments together.
Recent Solo
Travel Awards
"Best Tours"

Presented by Solo Traveler
Best in Solo Travel
Kiplinger's Personal Finance 2016 "Best List"
"This was my third trip with O.A.T.—always as a solo traveler. The small group ensures you don't get lost in the crowd and I've met many wonderful people."
8-time solo traveler
The Villages, FL
"I booked this trip with my roommate from the first trip that O.A.T. had matched me with. We got along so well we decided to travel together some more!"
4-time solo traveler
Fresno, CA
Frequently Asked Questions
Yes. Please visit our active online "Community" section of our website to connect with other travelers within our Travel Forum, and join us on Facebook.

You'll be in the hands of our dedicated, local Trip Leaders, who strive to make all of our travelers—but particularly our solo travelers—feel welcome, comfortable, and included. Whether you need help ordering a meal at a local restaurant or wish to pursue special interests, your Trip Leader will be happy to assist you.

Each O.A.T. itinerary is different and includes a mix of included tours, activities, and free time. You have the freedom to make your trip your own—whether that means participating in all activities and optional tours with your fellow travelers, or spending time exploring a destination independently. Your Trip Leader will be available to offer suggestions based on your interests, as well as provide recommendations on restaurants, museums, local shops, and more.

Whether you purchase airfare through O.A.T. or arrange your own flight and our airport transfer, you will be met upon arrival at the airport by your Trip Leader or an O.A.T. representative who will help transport you to the hotel. For included meals, the group will dine together. You can choose to spend as much or as little time as you want with the group. Our solo travelers share that they always feel included in the small group and have made lifelong friends on their adventures with us.

Yes. When you take advantage of our FREE Roommate Matching Program, we'll help you find a same-gender roommate. And if we're unable to find a match, your Single Supplement is FREE.

Travelers who take advantage of our FREE or low-cost Single Supplements may not combine this benefit with any other special savings, including last minute travel deals and offers. We are committed to supporting our solo travelers in exploring the world, but we can no longer give additional savings to our solo travelers without impacting the overall price of adventures for all of our travelers. While travelers taking advantage of FREE or low-cost Single Supplements may no longer combine this benefit with any other special savings, please keep in mind that you may continue to receive additional savings with our Vacation Ambassador referral program, Frequent Traveler Credit program, multiple trips benefit, and Good Buy Plan.
Recharging My Batteries in India
Kathleen Brose, 6-time traveler, Seattle, Washington
I lead a pretty busy life: As the mother of an adult child with high-functioning autism, and sharing the responsibility of caring for my mom with my sister, most of my time is devoted to others. I love my family, but sometimes the task of caring for them can drain my body and my mind. Because our business doesn't allow for my husband and I to take many trips together, he encouraged me to take some time away for myself and travel somewhere I'd always wanted to go to recharge my batteries. I wanted adventure and to get lost in another culture—and I knew India would provide me with both. I also wanted to explore a destination that would give me an attitude adjustment: to remind me to be grateful for what I have, and not what I wish I had.
Since I normally travel with my family, I didn't realize that this adventure gave me the opportunity to be completely selfish—something I don't normally get to be when I'm at home. I almost forgot what it felt like to not have to worry about anyone but myself.
Did India help me to recharge my batteries and remind me to cherish what I have? Absolutely. I came home with a fresher mind: I wasn't on edge and didn't get upset about the little things.
Today, when I find myself trudging through the mundane tasks of everyday life, and I begin to feel drained, I remember strolling down that Varanasi street sipping chai tea … and I remember how lucky I am that I was able to experience such amazing memories, and to cherish the wonderful blessings I already have.
Learn More About This Adventure:
17
Heart of India
Delhi • Jaipur • Ranthambore • Agra • Khajuraho • Varanasi
Discovery and Friendship in Morocco
by Patricia Calzia, 20-time traveler, Brighton, Colorado
People were surprised to hear that I was traveling solo to Morocco. They'd ask me who was going with me—who'd be looking out for me. I told them I'd be with 15 friends; I just hadn't met them yet. On O.A.T. trips, the rest of the group is so welcoming that it never feels like you're alone. Married couples don't act like they're joined at the hip. They bring others into their circle, and we become a community for a little while. It's always possible to find someone else who wants to do what you want to do, even during your free time.
What made Morocco so good was the combination of a fantastic itinerary and Aziz Kebiri, our Trip Leader. He was a natural-born storyteller. That's how he taught us about his country—through stories. Every single day, there was something interesting to learn, something that made us rethink what we thought we knew. Aziz had told us that Morocco wasn't like other Muslim countries, and it was just like he said. It was everything I expected, and nothing like I'd anticipated.
I bought a piece of alabaster from one of the local craftsmen; I like to bring home things that are iconic to the regions where I travel. Aziz was able to do the translating for me, and I could tell that this little old man I was buying the piece from was so pleased to be making the sale. I could hear it in his voice, and see it in the careful way he wrapped the item for me. He wasn't just excited for the money—he was thrilled to see something that he'd made, something representing his country, going to America, where other people would see it and admire the craftsmanship.
Camping for two nights in the Sahara Desert was something I'll never forget. It was absolutely amazing to go out at night and look at the stars in that vast blackness. You'd hear voices, because people would sit in the chairs in front of their tents and chat. You're with like-minded people, and, in that safe setting, it gives you the freedom to do what you want to do. In the Sahara, you could just sit on your own and be quiet, or you could join others, talking and pointing out the constellations together. It was just spectacular.
I'm already planning future travel. I'm going to the Galápagos later this year with three ladies I met in Morocco. We didn't know each other beforehand, but we became close during the trip. That's how it is with these groups. Not only do you have your Trip Leader, but you suddenly have 15 new friends looking out for you, too.
Learn More About This Adventure:
16
Morocco Sahara Odyssey
Casablanca • Rabat • Fez • Sahara Tented Camps • High Atlas Mountains • Marrakesh • Casablanca
Going it Alone
by Irene Bass, 4-time traveler, Las Vegas, Nevada
As a seasoned traveler, I am now interested in the more off-the-beaten-path destinations, like Sicily, and I would have a hard time finding someone with the time and interest to go with me to these faraway places. My husband prefers not to do this kind of travel anymore, with the early mornings and all-day exploring, but doesn't mind if I go alone. We had traveled as a couple with O.A.T., and noticed that solo travelers were looked after by the Trip Leaders and their fellow travelers—so I figured it would be fine for me to travel as a singleton. I just want to enjoy the group meals and explore the sights and take my pictures and read my books.
I found Sicily to be far more enchanting than I even thought possible, and I never felt foolish because I was alone. Two couples who were traveling together invited me to dine with them several times and to share conversation. We had a lot of common interests, including opera. I enjoyed them a lot. I don't need or want a lot of supervision, and the Trip Leader must have sensed this and left me alone; yet made sure I was comfortable at the same time. That's a real skill, for sure.
I would never have been able to experience Sicily without doing it as a solo traveler in a small group. O.A.T provided me the opportunity to see places that have been on my bucket list for a long, long time. I could do as I wished without regard to what a traveling companion wanted to do; I was entirely free. It was very self-indulgent and I loved it for a change!
Learn More About This Adventure:
15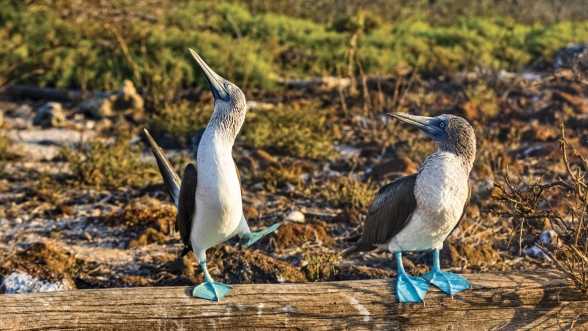 Take the Plunge: You'll be Surprised
by SJ Avery, 7-time traveler from Brooklyn, New York
I live in a world where my role is pretty defined, and it's sort of like "Yeah, that's something SJ would do." Traveling solo on the Machu Picchu & The Galápagos trip—and most of my other trips with O.A.T.—allowed me to break out of that and go into a place where nobody knows your background. They only know what you choose to tell them; who you are is how you present yourself. You don't get a lot of chances to reinvent yourself in a way unencumbered by what your general behavior has been.
As you get to be my age, I always feel a certain "newness" traveling solo. There's always a touch of nervousness about meeting new people, but to me, the other side of that is the excitement of doing it. Plus, I never feel I'm traveling alone because I have always met very interesting people on my trips.
Whatever your situations is, whether you're a widow or widower, or just want to strike out on your own, O.A.T. is about travel, not about your status. I think it is great to travel in a context where not having a partner with you doesn't make you less of a person. People are solo travelers for a wide variety of reasons, and you shouldn't think you're going to be stereotyped because you're traveling solo.
My Trip Leaders are also great, always being very aware of who is traveling solo and acting accordingly. If it turns out that you're at a table by yourself because you got in late, the guide comes in and will sit down and talk to you about your trip.
It's amazing to think about how such popular places like Machu Picchu can be so intimate with O.A.T. You get to Machu Picchu toward the end of the day when you first go there, so most of the day trippers have left. It's not like there are hundreds of people there: You really have the place to yourself and it's really an awe-inspiring location.
Another major highlight of the trip was the Galápagos Islands. I think finding and photographing the blue-footed boobies was really exciting. I also found snorkeling around the edges of the island to be terrific.
In short, I choose to go solo because of the sense of adventure and the people I meet. For me, it's a special kind of fun; it's getting out of your own normal safety net, being in a new situation. I travel solo, I don't travel alone.
Learn More About This Adventure:
16
Call us to reserve your next vacation
1-800-221-2610