The Leader in Enriching Cultural Experiences since 1958
You're receiving this message because your web browser
is no longer supported
We recommend upgrading your browser—simply click the button below and follow the instructions that will appear. Updating will allow you to accept Terms and Conditions, make online payments, read our itineraries, and view Dates and Prices.
To get the best experience on our website, please consider using:
Safari (for Mac or iPad Devices)
Update Browser

uruguay
Get the Details On Our Uruguay Trip
Compare Trips
Find the Adventure That's Right for You
Our Activity Level rating system ranks adventures on a scale of 1 to 5 to help you determine if a trip is right for you. See the descriptions below for more information about the physical requirements associated with each rating.
Travelers should be able to climb 25 stairs consecutively, plus walk at least 1-2 miles over some uneven surfaces without difficulty. Walks typically last at least 1-2 hours at a time. Altitude can range from zero to 5,000 feet.
Activity Level 2:
Moderately Easy
Travelers should be able to climb 40 stairs consecutively, plus walk at least 2-3 miles over some uneven surfaces without difficulty. Walks typically last for at least 2-3 hours at a time. Altitude can range from zero to 5,000 feet.
Activity Level 3:
Moderate
Travelers should be able to climb 60 stairs consecutively, plus walk at least 3 miles over some steep slopes and loose or uneven surfaces without difficulty. Walks typically last for 3 or more hours at a time. Altitude can range from 5,000 to 7,000 feet.
Activity Level 4:
Moderately Strenuous
Travelers should be able to climb 80 stairs consecutively, plus walk at least 4 miles over some steep slopes and loose or uneven surfaces without difficulty. Walks typically last for 4 or more hours at a time. Altitude can range from 7,000 to 9,000 feet.
Activity Level 5:
Strenuous
Travelers should be able to climb 100 or more stairs consecutively, plus walk at least 8 miles over some steep slopes and loose or uneven surfaces without difficulty. Walks typically last for 4 or more hours at a time. Altitude can range from 10,000 feet or more.
Hide Acivity Level
PRICE
including international airfare
HIGHLIGHTS & ACTIVITIES IN URUGUAY
*This information is not available for our trip extensions. You must reserve the main trip to participate on this extension.
**This information is not currently available for this trip. Please check back soon.
Uruguay: Month-by-Month
There are pros and cons to visiting a destination during any time of the year. Find out what you can expect during your ideal travel time, from weather and climate, to holidays, festivals, and more.
Uruguay in December-March
Weather can get very warm and dry this time of year. However, due to the dip in temperatures at night, wearing layers is advisable. This is Uruguay's summer and the most popular season for visitors. Check out the less crowded, more rural destinations like the wineries north of Montevideo or Cavalcades Valiceras Rocha, where you can ride on horseback along the coast.
Holidays & Events
January 6: Epiphany, a Christian day of feasting, is also known as "little Christmas."
March: Fiesta de la Patria Gaucha, a festival that celebrates the folklore of the gauchos, or Uruguayan cowboys, with traditional music and parades.
Spring: Semana Santa, or Holy Week.
Must See
Mid-January marks the beginning of Carnival, an exuberant two-month celebration that's largely characterized by brightly colored costumes and dance. The streets come alive with African drum beats and parades. Numerous energetic street parties across the country make up the festivities.
Uruguay in April-May
This is Uruguay's autumn, which brings slightly cooler temperatures than those at the beginning of the year. Travelers begin to clear out, leaving the major cities like Montevideo and Punta del Este open for exploration and giving you more opportunities to interact with the local people. The weather is still perfect for heading to the beach, so this is a good time to take advantage of the low crowd density and explore the shore.
Uruguay in June-September
Although this is winter in Uruguay, don't count on seeing snow. June and July are the coldest months, and temperatures typically don't drop lower than the mid-40s. This is an opportune time to travel to avoid large crowds of tourists, but some businesses may be closed for the season.
Holidays & Events
June 19: Natalicio de Artigas celebrates the founding father of Uruguayan independence, Jose Gervasio Artigas, with parades and street parties.
August 25: Independence Day
Uruguay in October-January
October brings Uruguay's spring, and with it restaurants, shops, and hotels begin to open their doors once again. This is a fantastic season to visit because while the temperatures are warm and perfect for spending time at the beach or on the many countryside trails, these destinations won't be inundated with tourists.
Holidays & Events
Nov 1: Dia de Muertos (Day of the Dead)
Must See
Every year in October, it's time to tango. Viva el Tango takes place in Montevideo and dancers and musicians pay tribute to this cultural phenomenon. There is also a competition to decide who performed best, an accolade that's highly sought after among this community.
Average Monthly Temperatures
Uruguay Interactive Map
Click on map markers
below to view information about top Uruguay experiences
Click here to zoom in and out of this map
Montevideo
Montevideo is the capital city of Uruguay where over half of its population, nearly two million people, is concentrated in the greater metropolitan area. The city is known for its surprisingly laid-back attitude which sets it apart from other major cities in South America. However, less hustle and bustle doesn't mean that this city is without exuberance. In fact, the diversity of cultural influence that decorate its eateries, open-air markets, tango bars, theaters, sky scrapers, and ocean front properties make Montevideo one of the most popular destinations for vacationers from Argentina and Brazil.
Montevideo's oldest barrio (or neighborhood) of Ciudad Vieja, which directly translates to "Old City," is a little more nuanced than its name indicates. It does boast an interesting history, constructed in 1527 and rebuilt after being wiped out by a massive flood. Until 1829 it was fortified by a city wall and citadel, the gateway of which still exists today. Today, the district comes off as anything but old. Ciudad Vieja has undergone huge changes in recent years that have turned it into the go-to spot for for traditional Uruguayan fare. Just a ten-minute walk away lies Mercado del Puerto, a market with a 130-year history, where the smell in the air is unmistakable: barbecued meat. This is where hungry locals and travelers alike come to get a juicy, tender steak and a glass of wine. The neighborhood also serves as a hot spot for nightlife in Montevideo.
Experience Montevideo with us on:
Colonia del Sacramento
Colonia del Sacramento, Uruguay's first UNESCO World Heritage Site, is a must-see treasure for history buffs. Located in the southwest of Uruguay, the colony was founded in 1680. The region sits on a peninsula surrounded by the Rio de la Plata and is home to countless old buildings and authentic cobbled streets. Many of these elements were left behind by the original 17th-century Portuguese settlers. The remains of the city wall and fortress built in the 18th century, or Porton de Campo, lead to the Barrio Historico, the region's main attraction. This area contains eight museums that highlight different aspects of Portuguese colonial culture. For travelers looking to enjoy a little more modern history, this region is known to some as an 'unintentional museum' of antique cars.
In 1855, the Colonia del Sacramento lighthouse was posed as a solution to the amount of ship wrecks on the Rio del Plata. A tax was enacted on the folks who moored their boats in the city's port, and enough money was collected to turn this idea into a reality. Today, visitors can ascend to the top of the well-preserved lighthouse to see the beauty of the river, the historic old town, and the landscapes that surround them.
Experience Colonia del Sacramento with us on:
Featured Reading
Immerse yourself in Uruguay with this selection of articles, recipes, and more
ARTICLE
When Roosevelt was elected, he dreamed of a link between the Atlantic and Pacific oceans. See how his dream came to life.
From Sea to Shining Sea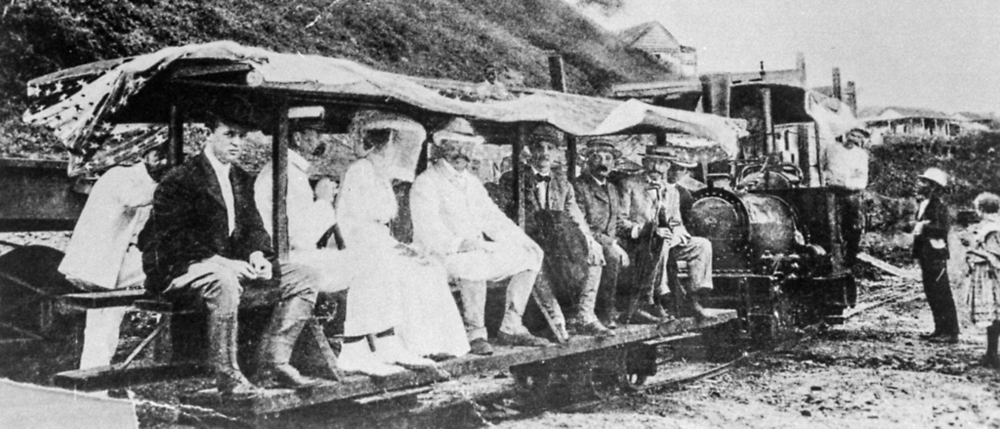 American influence in the Panama Canal
by Alison Rohrs, for Grand Circle
When Theodore Roosevelt was elected president of the United States in 1901, he dreamed of a link between the Atlantic and Pacific oceans that would improve trade and send a message of American power to the world. The French had previously tried to construct a water passage on the Isthmus of Panama in the 1880s, but they abandoned the project after eight years and 20,000 casualties. Yet in an age of growing national confidence and engineering breakthroughs, Roosevelt believed Americans could accomplish what others considered impossible.
The Panama Canal is arguably the greatest engineering feat of the 20th century, but the legacy of its construction extends far beyond its man-made shores. The process of carving the 51-mile waterway catalyzed the formation of a new nation, launched a campaign to eradicate yellow fever, and introduced the U.S. as an international power for the first time in history.
For the Americans, political obstacles arose before engineering challenges. In the early 1900s, Panama was a small province of Colombia, which had strict sovereignty rules. Colombia rejected an American treaty for the isthmus because Roosevelt didn't just want to create a canal—he wanted to control it. As Matthew Parker, author of Panama Fever, put it, "Roosevelt felt that the United States should be leading the way in improving the world, even if bits of the world didn't necessarily want to be improved."
To circumvent the Colombian government, Roosevelt offered support to a group of Panamanian elites who were eager to have their own nation. On November 3, 1903, Panama declared its independence. The presence of U.S. Navy ships and bribes to Colombian soldiers prevented a battle in Colon, and a country was born in a bloodless revolution. A few weeks later, the U.S. gave the new nation $10 million for the right to rule and manage a 500-square-mile "Canal Zone," which bisected the country.
The next year, the Americans had to contend with nature. Original plans called for a sea-level canal to run from the Caribbean though dense jungle, the flood-prone Chagres River Valley, and the steep Culebra mountain range before reaching the Pacific. Roosevelt tasked the canal's first chief engineer, John F. Wallace, with the famous order to "make the dirt fly." Without adequate time for surveillance and testing, Wallace set to work with steam shovels and makeshift railways to remove rubble. Within a year, he was overwhelmed by the scale of the project, the high abandonment rates of workers, and the escalation of diseases like yellow fever and malaria.
The next chief engineer, John Stevens, demanded time to address underlying issues before digging. Declaring worker health his priority, Stevens called in Dr. William Gorgas, who had wiped out yellow fever in Havana, Cuba, by killing the mosquitos that carried it—despite widespread disbelief that insects spread illness. Gorgas drained swamps, treated still-water sources, and screened in hospital beds. By 1905, he had officially eradicated yellow fever in the Canal Zone, silencing the naysayers and saving countless lives.
Stevens recognized the difficulty of carving a sea-level canal through steep mountains. After months of lobbying Congress, he gained approval to create a revolutionary "lake and lock" canal. His design would dam the Chagres River to form Gatun Lake, while a series of locks (gated enclosures in the canal) would fill and drain to maneuver vessels over the mountains. The locks that Stevens envisioned were nearly three times longer than any that had come before.
Even with the locks, a staggering 100 million cubic yards of rock still needed to be removed from the Culebra Range. The ensuing dynamite blasts and frequent landslides made for incredibly dangerous working conditions. However, the mountain cut also required a huge amount of manpower: more than 20,000 employees.
Some 5,000 jobs were reserved for white Americans. For the harsh physical labor, Stevens turned to workers from the nearby West Indies, who would accept as little as ten cents an hour. By 1906, 70% of the Canal workers were West Indian, who largely handled the backbreaking and often deadly work. Of the 5,600 casualties during the American construction, 80% were black.
Stevens made tremendous advancements with digging and damming, and the visible progress helped to improve the workers' morale. In 1906, Roosevelt further inspired workers and rallied American goodwill for the canal by personally visiting Panama. His trip marked the first time a U.S. president had traveled abroad while in office.
Nonetheless by 1907, Stevens was exhausted. When he resigned, Roosevelt appointed Lieutenant Colonel Thomas Goethals to finish the canal. Goethals offered a deep understanding of hydraulics and the rigid discipline of the U.S. Army. He initiated around-the-clock construction and mercilessly quashed worker strikes. Under his direction, laborers built the colossal locks, and in May 1913, steam shovels burst through the final barrier in the Culebra Range. After a decade of work, the Panama Canal officially opened on August 15, 1914.
Nearly a century later, the canal remains an engineering marvel. It still transports about 16% of all trade bound for the U.S. Meanwhile, the political consequences of the construction continue to shape U.S. relations with Central America. Panamanians have long objected to continued American control of the Canal Zone. In 1977, Jimmy Carter signed a pair of treaties transitioning ownership of the Canal over a 22-year period. On December 31, 1999, the Canal Zone officially became part of Panama, finally uniting the country that connected the world's largest oceans.
American influence in the Panama Canal