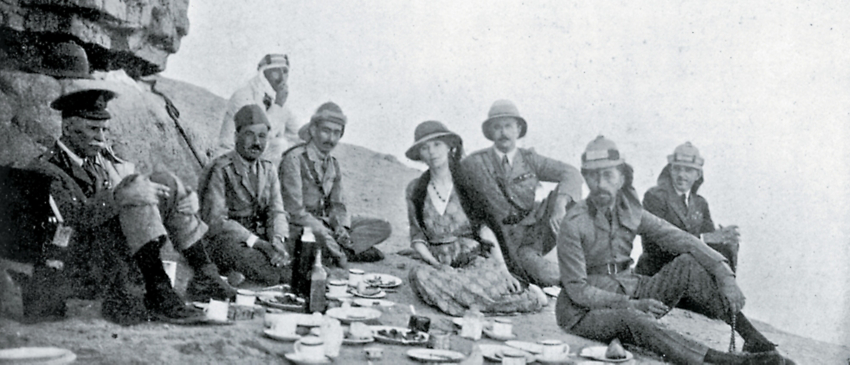 Question: I may not be as well-known as my compatriot, T.E. Lawrence, but as the so-called "Mother of Iraq," my legacy is arguably far more lasting. Who am I?
Answer: Gertrude Bell
I was born in Yorkshire, England, on July 14, 1868, to a wealthy industrialist family—but despite creature comforts, my childhood was far from ideal. My mother died when I was three, just weeks after giving birth to my brother.


As a result, I grew up with a deep attachment to my father, Hugh—a liberal politician and businessman committed to social justice and free enterprise. I constantly sought his advice and approval.


In 1876, my father remarried. I worried our bond would be threatened—but I came to embrace his new wife, Florence, as "Mother." She saw in me a "child of spirit and initiative," and encouraged my scholastic aptitude despite the conventional wisdom of the day.


I studied at Lady Margaret Hall, the first women's college at Oxford University, and became the first woman to earn a first-class degree—in just two years instead of the usual three.


After graduating, the world became my classroom. During visits to the French and Swiss Alps, I became an accomplished mountaineer. I famously survived a sudden storm on an exposed cliff face without shelter, and the peak still bears my name.


Wardrobe was never an impediment: To make my ascents, I would strip off my skirts and climb in my underwear.


In 1892, while traveling in Persia with my aunt, I met Henry Cadogan, a British diplomat. We fell in love over a shared love of horseback riding, Persian poetry, and the stark beauty of Mesopotamia. I ended the relationship (probably due to family pressure), but never got over it. While I would have other romantic attachments, I never married or had children.


In 1900, I found my true calling at the age of 32. I journeyed to Jerusalem to visit a friend, and fell completely in love with the region's landscape and culture. I determined to leave no stone unturned in uncovering the mysteries of "the East."


I traveled extensively, photographing and documenting my adventures in a series of books, which I later published. I became fluent in Arabic, and worked on high-profile archaeological excavations in Syria, Baghdad, and Turkey.


During a dig on the border between Turkey and Syria, I met a fellow Oxford grad named Theodore Edward Lawrence, who was 20 years my junior. We would remain connected for the rest of my life. He admired my willingness to tackle dangerous expeditions, observing that, "No danger or exploit was too much for her to face … I do not think she knew what fear was."


At the onset of World War I, the British government, suspicious of Germany's involvement in the Middle East, sought to uncover as much intelligence as possible on the region's people and politics. Lord Cromer, High Commissioner of Egypt, posited that I knew "more about the Arabs and Arabia than almost any other living Englishman or woman." In 1915, I was asked to join the Arab Bureau, the British Foreign Office outpost in Cairo—becoming the first female officer in the history of British intelligence.


My gender offered a distinct advantage, as a woman was far less likely to be suspected of espionage. I could travel more freely than my male counterparts, and gained information through "idle gossip" when invited to a sheik's tent for coffee.


Through my intelligence, the Cairo sought an answer to the "Arab Question": Could Arabs be persuaded to band together and rise against their Ottoman rulers? Both T.E. Lawrence and I believed that such an uprising was possible, and we both worked tirelessly to ensure its success: me behind the scenes, and him on the front lines.


To gain support among Arab leaders, the British government offered a tantalizing reward: an autonomous existence at the war's end. While some British power players had little intention of following through on this promise, both Lawrence and I were wholly committed to the cause of Arab independence. I had a profound appreciation for the people of Arabia, confiding to my father that "the East has wound itself round my heart till I don't know which is me and which is it. I never lose the sense of it."


When I was transferred to Baghdad at the end of the war, I drew the physical boundaries of Iraq and helped write its constitution. Yet I was mindful that uniting so many disparate Arab tribes would not be easy—and I was uncertain of the outcome. I could only hope that "the people at home may be rightly guided and realize that the only chance here is to recognize political ambitions from the first, not to try to squeeze the Arabs into our mould…"


In 1921, I was called on by Winston Churchill to attend the Cairo Conference and help devise a plan for future governance in the region—the only woman among some 40 experts.


In 1925, I returned briefly to England—but it was an unhappy homecoming. My family's fortune had declined, my brother had died of typhus, and I was diagnosed with lung cancer after years of heavy smoking. I returned to Baghdad, and was found dead on July 12, 1926, from an overdose of sleeping pills. While it will never be known, many have speculated that this was not accidental.


Given the conflicts that have plagued modern-day Iraq, I have had more than a few critics question my genius. But no matter how complicated my legacy, there is no question that I deeply loved the Middle East and its people. "Someday I hope the East will be strong again and develop its own civilization, not imitate ours," I wrote, "and then perhaps it will teach us a few things we once learnt from it and have now forgotten, to our great loss."
Experience just one of the many lands of "the East" that so enthralled Bell during Ancient Egypt & the Nile River.