Question of the Month: December Women's Edition
Have you made an unforgettable connection with a local woman in your travels?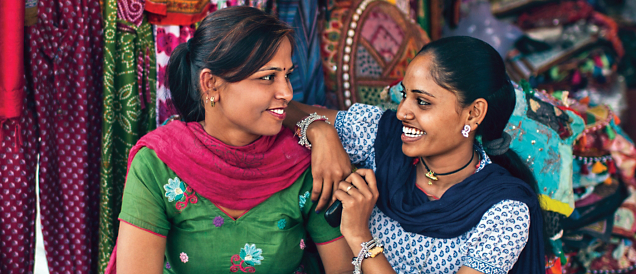 When we travel, it's fascinating to see how another culture's female experience differs from our own—and to appreciate the commonalities we share. From a new friendship with a Trip Experience Leader to acts of kindness received from local women, these travelers created extraordinary connections during their adventures.
Win-Win Relationship
My husband and I went to India in 2014 where we met Mrs. Rachna Dushyant Singh. She talked about wanting to help women and children in her village through a program she started called ANKURI (Agency for Non-Konventional Urban and Rural Initiatives). As a result of our conversation with her, my husband and I created student internships for her, to be implemented at her home in the Himalayan foothills, northeast of Delhi. We help fund students from our universities—Clarke University in Dubuque, Iowa, and the University of Michigan in Ann Arbor— to intern with her over the summer. Mrs. Singh utilizes the interns primarily to teach English to elementary schoolers and assist with organic farming and knitting. In turn, she teaches them about life in India and organizes field trips for them. Thanks to her efforts, this win-win program has aided her community. About three dozen American students have all returned saying she gave them a life-changing experience. Learn more at www.ANKURI.org.
Thanks to: Mary J., 1-time traveler from Ann Arbor, MI
Mama Renae's Recipe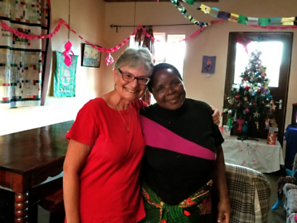 Following my O.A.T. safari in Tanzania in 2015, I returned to that country as a volunteer at the Rift Valley Children's Village near Karatu. I was assigned to Tarangire House, with a family of 10 boys, and my house mama, Renae. Renae spoke almost no English, and I spoke about the same amount of Swahili. Each morning we greeted each other with a basic language lesson accompanied by lots of laughter. Before my three weeks were up, I asked one of the boys of my house to transcribe a cabbage recipe that Mama Renae cooked on a weekly basis. Her directions were wonderful, and the closing statement was "Don't overcook it or you will destroy it!" Mama Renae touched my heart, and she will be with me always.
Thanks to: Debby N., first-time traveler from Citrus Heights, CA
New Facebook Friends
I had an amazing Trip Experience Leader in New Zealand named Gabrielle Kershaw. Because of circumstances, we had to keep in touch via Facebook. We have remained Facebook Friends, and I watch for items of interest to share with her about New Zealand or Australia. She has shared her family, and I've shared mine with her. I'd love for her to come to the U.S. for a visit, and maybe someday, O.A.T. or Grand Circle will be able to help with that.
Thanks to: Jeanne P., 8-time traveler from Reno, NV • Enhanced! Pure New Zealand
Sharing is Caring
A very long time ago (1993 to be exact) my husband and I traveled with O.A.T. to Nepal. One of our first nights was spent tent-camping on a field in a village—it may have been a sports field, but I don't remember exactly. I ventured to the pump in the village to wash a few items and encountered a local woman who was bathing. It amazed me that she was able to wash herself, it seemed quite thoroughly, around and under the sarong she was wearing without ever exposing herself—of course, it wouldn't have mattered—no one was watching what she was doing.
When she finished and had done a little laundry she began to walk away and I approached the pump. She must have noticed how totally unprepared I was because she came back and offered me the bowl she had been using as a laundry basin. I demurred (all this in sign language, of course) and she insisted—repeatedly moving the bowl in my direction. I took it and made quick work of my laundry so that I could return it to her. Her smile showed how pleased she was to have helped me and the look we shared was wonderful. It was an "I understand—we're all in this together" moment. All these years later I remember that meeting so warmly and think about how kind she was. Opportunities to meet local people and share the many things that we have in common—continents apart—is one of the things that keeps me traveling.
Thanks to: Margaret M., 14-time traveler from Medford, NJ
Grateful for a Guide
While traveling in Ethiopia visiting the rock-hewn, monolithic churches in Lalibela, I had my regular guide and also a step-on guide for further explanations. I was traveling alone so they also supplied me with a local woman who was to help me through small crevices and steps and also helped me with taking my shoes off and on while going in and out the magnificent structures. I am so sorry I do not know her name but throughout four hours together she never said a word—I could understand her life through her eyes. She lived in the area and had two children and would come each day hoping for a job, but they seldom came. As our time together came to an end, I was completely overcome with gratitude for her and lost all composure as we held each other in mutual respect. I made it clear to my guides I wanted her compensated at the same value.
Thanks to: Kathy S., 22-time traveler from Mission Hills, KS • New! Ethiopia: Cultural Discoveries in an Ancient Land
Sally's Story
Every afternoon before the game drive, our group would gather in the camp's lounge area for a "learning experience." Someone might talk about the locale and its wildlife, or maybe about tribal customs, etc. One particular afternoon, we settled on the couches at the Lufupa Tented Camp in Kafue, Zambia, while enjoying O.A.T.'s Ultimate Africa adventure. The view of the river before us was spectacular, but our distraction with it was short-lived, when Tinashe, our Trip Experience Leader, introduced us to Sally, who would be telling us about her life.
This attractive young woman with an engaging smile, began by informing us of her background. She was proud to say that she was an excellent student, and her village life was going well. Until, that is, she found herself pregnant in high school. Village elders make most of the decisions for their community, even the personal ones. Sally knew that it would mean she would have to leave school without completing her education. And, in the villages, there's no second chance!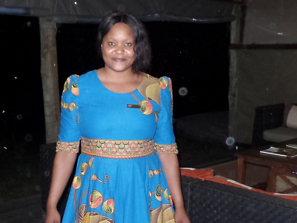 It didn't take long for one to realize that Sally was indeed a good student. Not only was she smart, but she was without a doubt the most articulate young person I've ever met. I couldn't imagine sharing such a personal story with a group of mostly elderly strangers; however, she relayed her experiences so beautifully that the more she spoke, the more she touched my heart. Thinking back, I know now that she was determined to change her life, and it probably took a lot to convince her family to allow her to have her baby and return to school—to get that second chance.
Following completion of her education, Sally found herself working in the tourism business. Eventually, she became Lufupa's camp manager. But that wasn't easy either because now a young woman was overseeing all the staff—most of which were men. The young men were too macho to be directed by a woman, and the older men didn't like taking direction from someone younger, not to mention a woman. Being genteel, gracious, thoughtful, and wise beyond her years, Sally brought everyone together by showing them her respect, and in return, they gave her theirs.
Aside from dealing with sometimes drastic weather conditions and the occasional intrusions from wildlife who are not held at bay by fences, staff members are away from home up to three months at a time, and they work very long hours, seven days a week. As camp manager, Sally would be on 24-hour call. Leaving her baby, who was now in the care of her mother and grandmother, Sally said she cried herself to sleep nightly for months. Every three months, she's allowed to return home for a month, but leaving the family is a continuous heartbreak.
I spoke with Sally after her talk, and I said that I was amazed at how well-spoken she was and how she relayed her story without any hesitation (I was thinking of all the "and like" or "uh" we generally hear at home). Afterwards, I told Tinashe how impressed I was with Sally and all the strength and determination she showed in making a better life for herself and her son. She was a real role model for all women.
Personally, I don't have anything in common with Sally. My life has been easy, and I've been blessed to travel around the world for more than fifty years. But in all my travels, I never met anyone who left as deep an impression as this lovely young woman … Sally.
Thanks to: Bonnie M., 6-time traveler and 1-time Vacation Ambassador from Clearwater, FL • Ultimate Africa: Botswana, Zambia & Zimbabwe Safari
You don't need to wait for a new Question of the Month to tell us a story. Email us any time at [email protected]. To read more stories from your fellow travelers, check out our archive of Traveler Insights from previous editions of The Inside Scoop.
See the answers to previous Questions of the Month here.