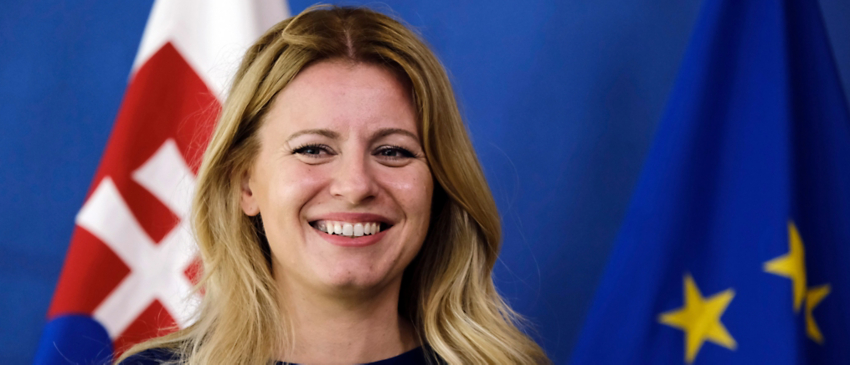 Question: I was compared to Erin Brockovich before becoming Slovakia's first woman president in 2019, campaigning under the slogan "Stand Up to Evil"—and appealing to both sides of a divided country. Who am I?
Answer: Zuzana Caputova, President of Slovakia
I was born in 1973 in Bratislava, Czechoslovakia, and grew up in nearby Pezinok while the country was under communist rule. My family environment was very open-minded, and I would say (much later) that I never believed communism—"a time of schizophrenia and two-facedness"—would last.


I studied law at Comenius University in Bratislava. Initially, I had planned to study psychology, but the department rejected me because I forgot my paperwork.


After I graduated in 1996, I worked at the Pezinok mayor's office before moving to the non-profit sector, where I worked with neglected and abused children.


My most famous public campaign began in 2006, when I sought to prevent the building of a landfill in my hometown of Pezinok. Since the 1960s, we'd been dealing with toxic runoff from a waste dump built just 500 feet from a residential area. I kept my windows closed to protect my two young daughters from the stench, and saw two people close to me diagnosed with cancer within the same week.


The landfill was planned despite a 2002 ordinance banning them within city limits—so I used my legal expertise to take action. I mobilized the entire community to join me in peaceful protests, and gathered 8,000 signatures in a petition to the European Parliament.


Behind the scenes of the grassroots campaign, I was busy mounting a legal challenge, which reached the Slovakian Supreme Court. The court ruled the new landfill to be illegal, and ordered both the shuttering of the existing dump site and the withdrawal of the new proposal.


In 2016, for my leadership and "relentless campaigning" in the case against the Pezinok landfills, I was awarded the Goldman Environmental Prize, also known as the "Green Nobel." My persistence on behalf of the environment and the people of Pezinok earned me comparisons to the American activist Erin Brockovitch.


In February 2018, a tragedy occurred that would change the course of my career. An investigative journalist named Jan Kuciak, who had been investigating politicians with ties to the Italian mafia, was murdered in his home along with his fiancée. Marian Kocner, a Slovak businessman who appeared in several of Kuciak's damning articles, would eventually be charged with ordering his killing.


Before the murder, Kuciak had gone to the authorities because Kocner had threatened him, but the police dismissed the incident without even granting Kuciak an interview.


The incident sparked massive protests throughout the nation, the largest since the Velvet Revolution. Eventually they prompted the resignation of Prime Minister Robert Fico, as well as other top government officials.


The intense frustration of my fellow Slovakians prompted me to run for president under the Progressive Slovakia party. My campaign slogan was "stand up to evil"—a response to the rampant corruption and cronyism amongst Slovak leaders.


Throughout the campaign, I refused to engage in personal attacks on opponents, saying, "There needs to be a change in the way politics is done, and the tone with which people approach debates." Even when I was attacked by right-wing media and fellow candidates for being too liberal, I maintained my stance.


The key to my victory was my ability to disagree with the populist platform in a way that didn't threaten the values of this conservative country. For example, when asked whether they agreed with adoption by same-sex couples—which is still illegal in Slovakia—other candidates dodged the question. I replied that any loving parents, regardless of sexual orientation, would be better for a child than an orphanage. While I worried the answer would be political suicide in conservative Slovakia, my honesty and openness appealed to voters—whether they agreed with my positions or not.


My polling numbers steadily grew until I became a clear favorite. I won the election in March of 2019 with 58% of the vote, and took office in June.


In August of 2019, I was awarded European Prize for Political Culture, in recognition of my commitment to democratic values. The press release announcing the award lauded me as "the new face of hope for Eastern European EU countries."


While the presidency in Slovakia is a largely symbolic role, I still have the power to appoint certain officials—including six new constitutional judges since I took office. The role also gives me a powerful platform to defend human rights—in particular those of women, the LGBQT community, and minorities—and to support activists and whistleblowers in the fight against corruption.


I try to meditate every day and practice Zen yoga—which might contribute to my remarkable ability to maintain calm under pressure.


In addition to being named "Person of the Year" by several European media outlets, in December, POLITICO included me in its Class of 2020: "28 people shaping, shaking, and stirring Europe."


In an interview with The New Yorker, I described what makes my role such an enormous responsibility: "I must be a carrier of hope," I said. "But that hope must be rooted in reality. That means that, if I see negative things happening in this society, I need to name them and spell them out, while offering solutions or potential pathways to solutions."
Meet the people of Slovakia and perhaps ask them about their opinions of Zuzana Caputova when you join O.A.T. for Jewels of Bohemia: Czech Republic, Slovakia & Hungary.