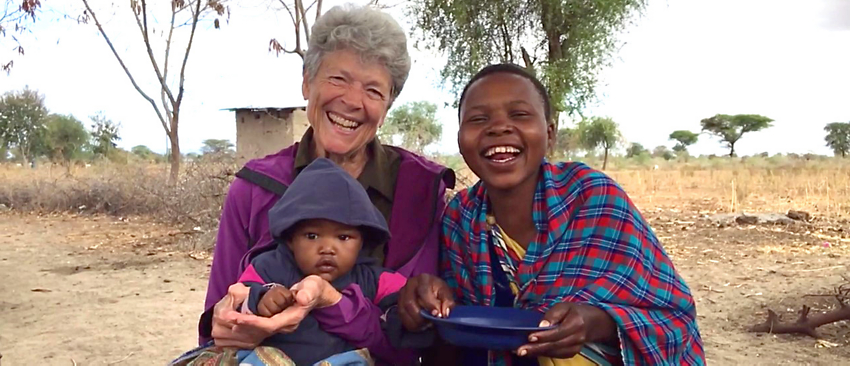 We received this story in response to our first Women's Edition Question of the Month: Do you believe women approach travel differently than men? If so, how and why? You can read more answers here.
By Pat H., first-time traveler from New Hampton, NH
My recent (and first) O.A.T. adventure on Safari Serengeti was truly a transformative experience! And I'd like to share my story as a woman, mother of four adult children and Oma to seven grandchildren, in response to your query: Do you believe women approach travel differently than men? If so, how and why?
What a transformative trip of connections and sense of belonging to different members of our human family and to the beauty of Mother Earth! The opportunities to make deep connections with local people was well planned by O.A.T. and our amazing guide Emanuel Edward, but it also happened spontaneously and authentically. Our interactions with the Maasai community were built on the relationship O.A.T. has maintained over the years. But the Day in the Life experience where we sat down with village women and talked about intimate topics like birth, death, and female genital mutilation was exceptional.
My deep connection came with a young Maasai mother. We were making beaded bracelets and speaking with our eyes. Over the course of an hour she showed me her baby, allowed me to play with her baby, and then placed her baby in my arms. I was overwhelmed with joy and gratitude for the trust she shared with me and her most precious 8-month old baby. It was a deep bonding of mothers across cultures and generations! Our eyes filled with tears of love and hope for future generations. The feelings of this moment will continue to inspire me for the rest of my life.
Being an elder of my multi-cultural family tribe, I am also a long-time educator now working with elders to awaken us more fully to the Third Act of our lives. One of the passions I see and experience especially in women is their love for Mother Earth and their actions to be caretakers of our abused planet. The opportunity to learn about, purchase, and distribute ceramic water filters to Maasai women was that female spirit in action. Being of service to future generations through providing them with clean water was another high point for our whole group.
Yet one thing really alarmed me about the water situation in Tanzania and a possible negative affect of our American O.A.T. travels. And that leads me to my question for you: Seeing the pollution of discarded plastic water bottles in towns, roadsides and parks, what can/should/must we do to alleviate this trash in Tanzania?
[Editor's Note: While our team in East Africa is struggling with logistics, O.A.T. is working to eliminate single-use plastic bottles on all our adventures. You can read more here.]
Perhaps you are addressing this problem. If so I would be willing to volunteer my time and energy to work with you on possible solutions. Thank you for considering it.
From one woman to another, I send affection and appreciation, to you and O.A.T.
Meet with Maasai women and learn about their lives when you travel on O.A.T.'s Safari Serengeti: Tanzania Lodge & Tented Safari adventure.