Where Had I Seen That Before?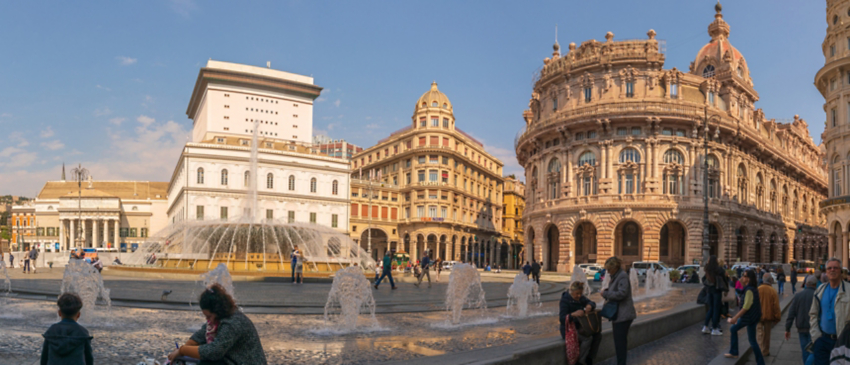 By Bob Brady, 18-time traveler from Braintree, MA
As a long-standing Sir Edmund Hillary Club member, I've had some travel experiences that surprisingly linked a current trip to a past O.A.T. adventure. Usually, these déjà vu moments initially are a bit unclear due to a mind fogged by the passage of time and the usual struggle to reset a body's jet-lagged internal clock in a foreign country. However, the nagging question of how a present encounter related to a seemingly unassociated event on a previous trek eventually would be resolved, even if it required me to delve into old travel diaries and O.A.T. Final Document Booklets that I've saved. A recent example serves to illustrate this unusual ongoing "Hillary experience."
I elected to take the pre-trip extension on O.A.T.'s new Northern Italy trip. It would take me to Genoa and Cinque Terre before joining the main component's participants in Milan. After a long flight over the Atlantic Ocean and a connection in Munich to Genoa's Cristoforo Colombo Airport, I arrived at our centrally located hotel on Genoa's harbor and met our Trip Experience Leader, Eleonora. After a brief get-together with our fellow travelers and a short walk along the waterfront, we retired for the night hopefully to catch up on some sleep and prepare for the next day's orientation walk through the old quarter of Genoa.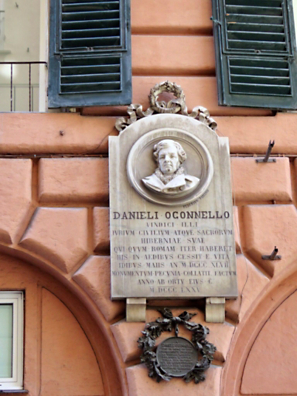 The following morning, we traversed streets of the port city that brought us to many of Genoa's attractions. While walking down the narrow Via Al Ponte Reale, I happened to glance up towards a building featuring two commemorative plaques—one in Latin and the other in Italian. These memorials were dedicated to "Danieli Oconnello" and also featured his image. My initial reaction was that the Genoese seemed guilty of what American travelers are often accused of—attempting to transform alien words into a local language by simply adding a vowel to their endings (usually an "o" or an "i"). Once that thought dissipated, I struggled to recall where I had confronted the original Irish version of that name. I questioned Eleonora as to why this memorial had been placed on a wall of this structure but she was unable to provide an immediate answer.
It didn't take long to come to the realization that "Danieli Oconnello" was Daniel O'Connell, the famed 19th century Irish nationalist leader who has been dubbed "The Emancipator" and "The Liberator" in the Emerald Isle. Through his efforts, restrictions on Irish Catholics in Great Britain were reduced or eliminated. O'Connell also led efforts to repeal a law that had united England and Ireland and sought to gain independence for the country of his birth.
Although in declining health, O'Connell embarked upon a pilgrimage to Rome in 1847 but failed to reach his destination, passing away in Genoa on May 15 at age 71. The plaques were affixed to the building where he died, which was then a hotel.
My original exposure to this Irish patriot came a few years back during the Dublin post-trip extension on O.A.T.'s Irish Adventure: Dublin, Belfast & the Northwest Counties. Our hotel was conveniently located a short distance from O'Connell Street, the capital city's main thoroughfare. A large monument with a statue of the nationalist leader is situated at the lower end of the street, just before the O'Connell Bridge that spans the River Liffey. It's no wonder that the Italian version of his name in Genoa had registered in my mind!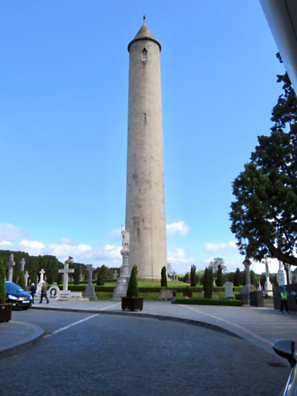 Perhaps, my Northern Italy trip encounter was predestined. My Ireland trip group had paid a visit to Dublin's Glasnevin Cemetery where O'Connell's tomb resides adjacent to the country's tallest round tower (170 feet and 198 steps to its top) that bears his name. Glasnevin was opened as Ireland's first nondenominational final resting place thanks to O'Connell's efforts. We were fortunate enough to find a representative who provided us with access inside the ornate family crypt. O'Connell's dying words can be observed in gold on the wall: "My heart to Rome, my body to Ireland, my soul to Heaven." There are a number of portals in his sarcophagus that permit the viewing and touching of O'Connell's lead-lined Irish oak coffin. We were informed by the cemetery guide that touching the coffin would bring good luck. Whether it was a bit of "Blarney" or not, I extended my hand into the void to comply with the legend. I now wonder whether that gesture somehow led to my fortuitous encounter in Genoa!
Explore more of the fascinating history that Genoa offers when you travel on the Italian Riviera, Genoa & the Cinque Terre pre-trip extension to your Northern Italy: The Alps, Dolomites & Lombardy adventure.