Ultimate Africa, Ultimate Adventure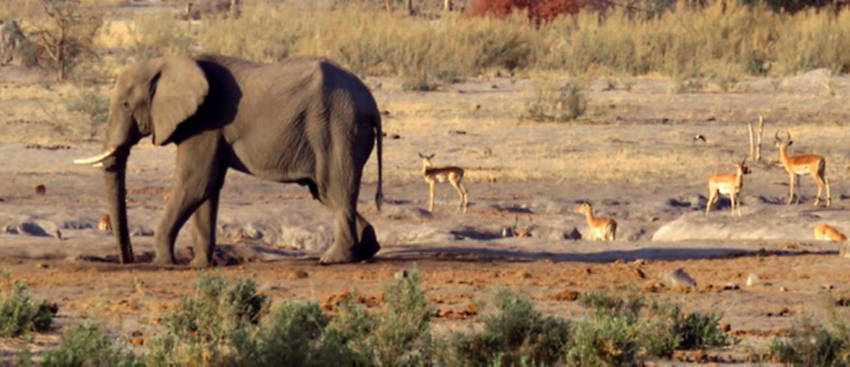 By Elena Cunningham, 16-time traveler from Palm Coast, FL
It is said that Africa gets in your blood once you go. For me, that has proven to be true! I went for the first time in 1988, and have been back another eight times. And, I have just finished my fifth—yes, fifth—Ultimate Africa trip. It has been quite a memorable trip filled with amazing animal encounters and experiences.
I choose Ultimate Africa over and over because staying in a tent gives you the experience of being in the bush and a feeling that you are part of the whole bush environment. At our first camp in Hwange, I spent an entire morning just sitting quietly up at the lodge watching the comings and goings of birds, reptiles and small animals at two bird baths. It had been severely dry over there, and water was sadly scarce. You just can't even imagine how much I saw! Several plated lizards, skinks, birds of all colors, mongoose, squirrels, and even the very elusive klipspringer! This diminutive antelope actually jumped onto the edge of the birdbath as I sat there, still as a stone, and watched in amazement. Two others had come with him or her, but they were too shy to come up to drink. It was an African Dream kind of morning for me. There is so much wildlife right around the camps, you just have to look for it.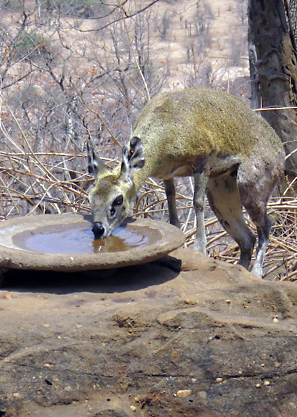 I saw birds I had not seen before, and certainly, the large plated lizards were new to me as well. They varied in size, but the larger one could have been a foot long. The mongoose I saw was so very tiny! I had seen mongoose here before, but none as small as this one. One of the staff told me it was a dwarf mongoose. But, honestly, the most amazing thing to me was how all these creatures shared the water with each other. I have photos of lizards and squirrels and birds and the mongoose drinking at the same time. The phrase "peaceful kingdom" kept running through my mind. Because that is exactly what it reminded me of. Talk about heaven! It was wonderful!
Our next animal adventures took place at Lufupa in Kafue National Park. This camp is right at the confluence of the Lufupa and Kafue rivers. So, of course you are going to see plenty of animals around. But, the star of the show and the one who calls the shots, is the resident elephant. He hangs around the camp grounds, munching on the trees, going down to the river, and often impeding traffic between the lodge and the tents. If he is in your vicinity, you are not going anywhere for a while.
One afternoon, I realized I did not know where my phone was! Did I lose it during a game drive? Oh no! I was starting to panic. I needed to get right down to the lodge to ask someone if perhaps I had left it in the jeep during our morning game drive. Do you think I could get to the lodge? No! The elephant chose this very time to mosey on down the very path I needed to use to get to the lodge. I couldn't pass him! No way! There is an alternate path that runs along the front of some of the tents that we often used when this big guy was blocking the path, but trying to use it wasn't working very well. He could still see me between the tents.
So, long story short, it probably took me 20 minutes to get to the lodge. Happy ending though—my phone was found in the jeep! But, what a great story to tell. This same elephant also visited the swimming pool to the delight of most of my group who happened to be down there when he needed a drink. I don't think anyone got a picture though ... too bad! I wish I had been there to see that and to get the photo!
Every time we had to walk to or from the lodge, we had to be very aware of where this elephant was, if he was around the grounds. He did seem to have a preferred path he chose for going down to the water and for stopping to munch on certain trees and bushes. He often kept the occupants in the two tents along his way from being able to leave until he wandered off somewhere else. I was not in one of those tents, so it wasn't much of an issue for me most times. But, I just loved the idea that there was an elephant that resided at our camp! You could often look out your tent and see him passing by. During the night, you might just hear him munching on the trees and bushes close to your tent. Ah, that feeling of being part of the bush!
And, speaking of camp residents, our camp at Chobe had a resident group of baboons who would spend the night up in the trees above our tents. I never saw much of them during the day, but at some seemingly indiscriminate time of the night or early morning, some kind of baboon drama would occur. There would be screeching, barking, grunting and incredibly loud, scary noises echoing around the camp.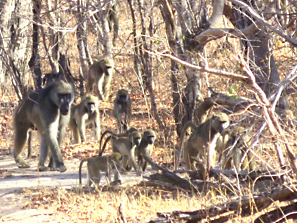 During these events, the baboons often would run across the roofs of the tents and one morning, our next door neighbors even had a crime scene on their front porch! We heard a lot of terrible shrieking and screeching early one morning. It sounded like a large baboon was chasing around a smaller one. We don't exactly know what on earth happened, but our friends woke up to find drops of blood on their front porch as a fight seems to have taken place there. Just about every morning, there would be some sort of baboon drama going on that we would hear inside our tents. Look at us all being part of the bush experience!
Ah, but our last camp, in the Okavango Delta, had the best bush experience by far! The camp is also in an extremely dry area, and there is a bore hole providing water for the animals right out in front of the camp. You can see it from the lodge areas and from some of the tents. Almost all day long, there is a steady parade of elephants coming and going. Mothers, babies, teenagers, huge, medium-sized, small and even teeny tiny nearly new babies. Everybody comes to the watering hole. And, when they are down there, you know it's because there is lots of trumpeting and growling. We have watched them chase other elephants away, seen others taking dust baths, spraying themselves with water, taking mud baths, and enjoying the spare amount of water there.
No matter what time of day or night, you have to look before you walk! Elephants are so incredibly quiet on their giant, padded feet, that you really don't even hear them coming. If you start away from your tent or the lodge, you might just run right into one or several. That is why it was so important there to continuously watch your surroundings. Often, people had to go back inside their tents due to elephants coming just as they were about to leave. I know because it happened to all of us at one time or another.
One afternoon, I had left the lodge to go to my tent to get something. I had intended to go right back to the lodge. At about the same time, an elephant decided to munch on the tree that is right beside the path leading to the lodge. I had come out of my tent and had started to proceed up to the lodge when I spotted him. I waited for a few minutes to see if he would move. He didn't. But, in the meantime, on those silent, padded feet, came three elephants on a different path and heading my way! They hadn't been there just a moment ago! I ran back to my tent as quick as my legs would run and waited for them to pass. A few minutes after that, the elephant blocking my way to the lodge moved on and I was able to once again head to the lodge.
I absolutely loved the experience of seeing elephants walking right past my tent, coming and going, all day and into the night. Not only elephants came to drink, but also impalas, kudus, warthogs, baboons, and even lions!
Several nights we listened to lions roar and growl and grunt, and elephants trumpet and growl. Sometimes it was hard to tell an elephant growl from a lion growl! Our very first night, there were three lions around the watering hole area. And, apparently, they visited every evening because we would see them at dusk and begin to hear them in the dark. We began to understand that they could certainly be out there. And, each morning seemed to bring a fresh set of lion tracks around the camp. One morning, there were even leopard tracks in the area.
One night late, a noise woke me up. I had never heard it before. My first thought was that it was an alarm call. But, it was very persistently repeated. And this creature called out as it moved from one end of camp to the other. As I listened, it sounded so plaintive, I was sure it was a baby impala calling for its lost mother. I was getting more and more certain there was a sweet baby impala out there looking for its mother while the lions lurked in the darkness. It began coming back toward our end of camp again, and it eventually sounded like it was right beside our tent. I got up to look, but it was so dark, I just couldn't see a thing. Then, finally, after more than an hour, it stopped abruptly.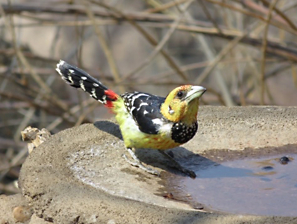 So then I thought well, maybe it's a bird, not a baby impala. But, it was a bird I have never heard before. During the time this unknown creature was beside my tent calling, I took a video of the dark with this alarming call repeating throughout. I played it for several of the camp staff the next morning, and all agreed it was a jackal! I never would have guessed that! So, thankfully, not a poor abandoned baby impala!
Another night when the lions were especially vocal, I went to the front of our tent to listen and to peer out into the darkness. I heard a lion roar nearby, and then heard it once again, but much closer. The next time I heard it roar, it sounded like it was right outside my tent! Oh! Oh! I hurriedly got myself back into my bed under the mosquito net. It was scary, but quite exciting!
During our immersion into the bush environment, this trip provided us with amazing sounds at night and wonderful animal encounters during the day. It is incredibly exhilarating to feel as one with this environment. Seeing animals roaming around camp and hearing them during the night is the ultimate bush experience. In fact, this Ultimate Africa trip may have been the most Ultimate of all. We are already thinking ahead to when we will go back!
Experience your own breathtaking encounters with the wild animals of Africa when you join O.A.T. on our Ultimate Africa: Botswana, Zambia & Zimbabwe Safari.