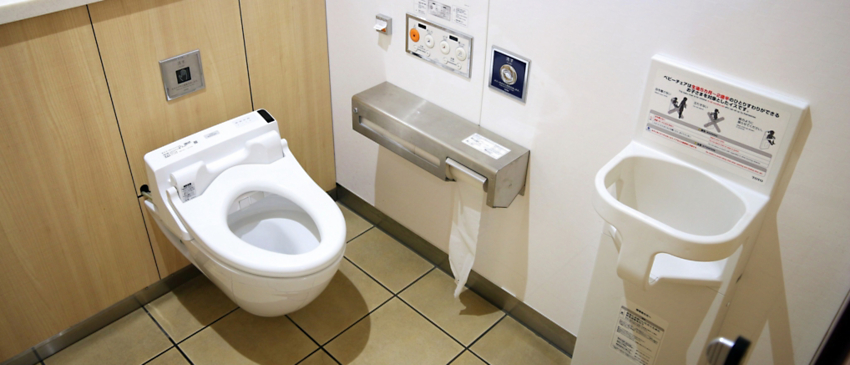 By Stephen C., 13-time traveler and 2-time Vacation Ambassador from Pinole, CA
The modernization of Japan can be seen in a variety of ways. I was last here in 1959 with my family, roughly fifty-nine years ago, a mere lad. In so many ways, the society and culture is similar to my earlier experience, but in other ways Japan has changed greatly. In the first place, Americans used to look upon Japanese products as vastly inferior to American manufactured products, from cars to appliances, heavy machinery to technical devices. Oh, the Japanese excelled in cameras and binoculars, their sharp and sophisticated lenses being the result of wartime Germany sharing with Japan the formulas for optics. But in 1959, cameras and other optical devices were the exception; most Japanese products were the butt of American jokes.
I remember, for example, using a toilet on a Japanese train in 1959 and watching through the toilet seat the railway tracks pass swiftly beneath the train and feeling the lively breeze buffeting my bottom as I did my business in the restroom. Or there were the traditional Japanese toilets which were literally holes in a flat concrete floor. The accuracy of prior users wasn't always good. Such restrooms were shared by men and women so that all involved could appreciate, at least peripherally, the styles and techniques of multi-age and multi-gender squatting. It was not polite to stare, of course, but that didn't seem to reduce the embarrassment, pardon the pun, of trying to defecate without inadvertently soiling your clothing while doing so.
For the most part, all that business has changed in the intervening years—men and women now having separate restrooms. What has not changed is the toilet paper. There is very little long-strand fiber available in Japan from which to make toilet paper, so the gossamer sheets they call toilet paper would barely qualify as onion skin stationery elsewhere in the civilized world. By contrast, we Americans live in the lap of toilet luxury with thick pads of toilet tissue capable of withstanding the worst of our hygiene habits.
But the big change in toilet science is in some ways indicative of the vast change in Japan's overall economic development during the last fifty-plus years. Consumer needs have been engineered into what Japan's industries sell. So they have thought of how toilets are used, what would make them more consumer friendly, and in turn they have developed devices that seem to meet those needs in ways that truly surpass all other countries in the world.
One leaves a modern Japanese restroom convinced that the Japanese understand toilet science in ways that go far beyond some tawdry concept of luxury and superfluous adjuncts to their machines. We in America have focused upon cute, chic, bold design, bigger seats, and powerful flushes. We add things like a built-in bidet or sprayer, perhaps adding a separate spray device in another nearby bowl. The Japanese toilets incorporate all sanitary devices into one machine with accessible and easily understood electronic controls. You can order up a small underside shower of varying intensities and spray patterns. That water is heated, by the way. You can select a more traditional bidet, in the French mode. The seat is heated also, the degree of heating controlled by a simple dial or up/down controls. There are pre-flushes as you sit down to start to whole process. And there are delays in the flush cycle to allow you time to close the "soft close" seat and lid before the bowl is flushed and scoured of your effluent. In short, the Japanese have elevated the art of toilet craft to a level unsurpassed by the rest of the world's capital economies.
I should add that when all the washing and rinsing is completed, in some machines an air-drying warm breeze from below finishes the clean-up job. You are left, at your option, to "tidy up" with a small length of their bio-degradable toilet tissue, dabbing here and there in spots only you would know you need.
Economists who study the wealth of nations tell us that every country should aspire to become competitive in the areas they are good at producing. The United States, up to now, seems to have specialized in building ingenious weapons systems, for example. We also do a pretty good job of growing food. Japan builds very good cars, rivaling the best produced in Europe and the United States. Japan also builds very good toilets.
Superlative quality in toilets is probably not necessary for national survival. Cleanliness in toilet practices might help in a public health kind of way, certainly reducing the fecal-oral contamination route problem. But I suspect the refinement of Japanese toilets is more a statement of the Japanese character to remain tidy, clean, and delicate, even when handling those bodily functions which are in and of themselves rather less tidy, clean, and delicate.
So as we near the end of our trip to Japan, as we contemplate returning to our wonderful house in California, as we imagine how our Japanese experience might improve our own living at home, we think about the toilets. Practical as always, I think of cost, but as expensive as Japanese full-function toilets are, we could definitely justify that cost in terms of an investment in our hygiene and general satisfaction.
Then I think about needing to add an electrical outlet in the wall near the base of the toilet. Would that have to be a GFIC-equipped plug (ground fault interrupted circuit)? Probably, given its proximity to a water-driven appliance. Okay, that will need a city building permit. Would California code permit such a thing, and if so, what are the wiring requirements? Then there will need to be a hot water line run to the toilet. After a while it occurs to me, what if I had to call a repair person to work on the Japanese toilet? Must I fly such a person in from Japan, give him taxi-fare, food, and lodging during his stay, hire a translator, and ship the necessary parts from Japan?
Maybe I'm jumping the gun. Maybe there are American-made toilets that will do the same thing. Maybe I need to do more research on the Internet. Or, maybe I'll just go back home and get used to using my old toilets, then make up my mind if the change to better Japanese-style toilets is worth it.
Isn't that why we travel, after all? It puts what we do and live with every day in better perspective. Besides, we have better toilet paper at home. That is sure to wipe away a multitude of unpleasantness, whatever the temperature of the seat and the pattern of the warm spray from below.
Compare the differences in Japanese culture to your own when you join O.A.T.'s Japan's Cultural Treasures adventure.