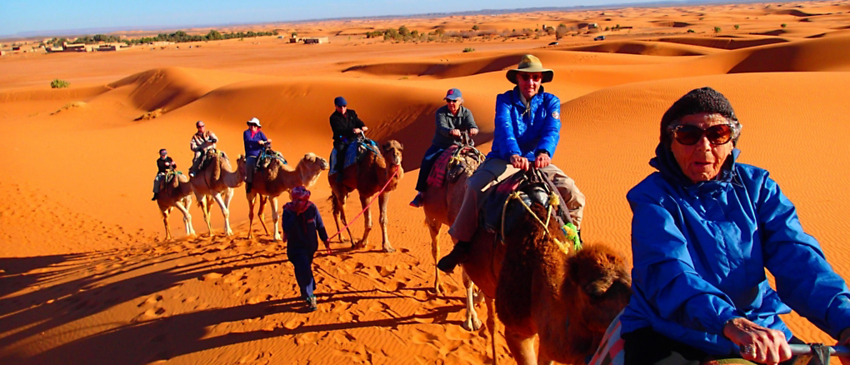 Mother-daughter duo Anne L. and Laura L. each have their own opinion on why their travels together are so special—so we're sharing both points of view in a dual Traveler Insight.
By Anne L., 27-time traveler & Laura L., 24-time traveler, both from Camarillo, CA
Laura: My mother Anne is 93, but she doesn't let her age slow her down. After a battle with cancer, she is determined to live life to the fullest. She's been on 29 trips (including 18 solo trips). She went to Bhutan on her own earlier this year, and she even climbed up to Tiger's Nest Monastery—all 700 steps on her own! She always leads the pack in any group she's in.
On our recent trip to Morocco, my mother was—in typical fashion—the life and soul of the group. Her joy for life makes everybody enjoy themselves more. In the Sahara, she named her camel Barack (like the former president). Our Morocco guides loved that! She can be feisty, but she has a childlike excitement that is contagious. Sometimes she drives me nuts—like when our group is leaving at a certain time and my mother wants to stay out exploring until the very last minute. But traveling with her pushes me to see and do more than I might on my own. She never wants to miss out on the next discovery.
Anne: I usually travel by myself, and have always had wonderful experiences with other O.A.T. travelers. But sometimes it's nice to travel with someone you know. My daughter Laura and I have similar interests, and we both like to take advantage of free time on our trips—usually by going shopping!
Laura and I love to shop. Every spare minute we get, we sneak off to go shopping. In Morocco, in the old medinas and markets, I bought several beautiful, colorfully beaded necklaces. I also bought a lovely bedspread made from red and yellow silk. It's fun traveling with my daughter.
Laura: Morocco surprised me. I was nervous that, as a Muslim country, it would be challenging to travel there as a woman. But the Moroccan people were so friendly and outgoing, and really embraced us. Sometimes, I've found, it's actually easier to travel abroad as a woman. Locals gravitate more to chitchat with women.
When my mom and I went off on our own—to visit a flea market, or just wander around a medina—we would strike up conversations with local women. I don't think they would have been as friendly if I were traveling with my husband. He doesn't really like to go off wandering down side streets and little alleys the way my mom and I do, anyway. It's a different experience traveling with another woman versus traveling as a couple.
One funny thing that happened while we were in the Sahara: Our local guide—who was 70—kept joking that he wanted to marry my mother! She politely declined.
Anne: In Casablanca, we visited the Hassan II Mosque. It was outstanding. I've never seen anything so beautiful in my whole life. It was very meaningful for me to get to share that moment with Laura.
Sometimes, like during our mosque tour, I have trouble hearing things. But when I travel with Laura, she is by my side to explain things to me. She helps me, and I help her. It's nice to have a companion while traveling, in case you forget to pack a charger or you just want someone to do the navigating during free time.
Laura: While we were in Morocco, my mom told me how lucky she felt to have me there with her. But really, I am the lucky one. Not everyone has parents who are willing or able to travel, and some people don't have parents anymore. I was proud to introduce my mom to the other travelers in our group, and to tell them how old she is and all the places she's traveled to.
Getting to experience Morocco with her was truly special. We had lots of laughs, and we made so many memories that I already look back on fondly.
Perhaps you'll bring someone special along when you join O.A.T. for Morocco Sahara Odyssey.