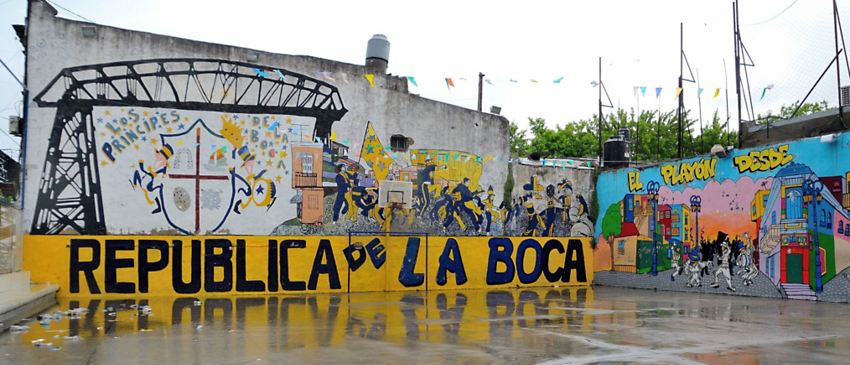 By Howard A., 26-time traveler and 11-time Vacation Ambassador from Ashland, MA
One of the most unique areas in Buenos Aires, Argentina is the section known as "La Boca," located in the southeast near the port. Consisting of brightly painted houses, old pedestrian streets, small cafes, restaurants, galleries, tasteful graffiti and the like, it is here where you will find the Caminito—the "little walkway" or "little path". The Caminito is the birthplace of the tango and is so named as it provided the artistic inspiration for the musical score for the famous tango "Caminito", composed in 1926 by Juan de Dios Filiberto. This Caminito is the epicenter of tango in Buenos Aires. It is here where all things tango live, breathe, and grow. As lovers of dance, my wife and I looked forward to visiting La Boca and watching tango performed by those who can truly do this expressive art form justice.
The morning of our trip to La Boca dawned overcast with drizzling rain—unfortunate, but not a showstopper. We arrived and waited patiently in our vehicle for the rain to stop. Soon it slowed to the point where a light rain jacket or umbrella was all that was needed to enjoy and be comfortable. The dance Gods of Argentina had smiled upon us. We walked the neighborhood absorbing a personality of Buenos Aires different from others that we had so far encountered. Although only a few square blocks, La Boca is unique and exudes a warm enchanting feeling.
Our first stop was an old two-story home where tango was taught, practiced, debated, discussed, and the like. We were treated to an educational discussion about the dance, its origins, history, and evolution. The tango has changed significantly over the years and has been taken to new heights by talented and gifted dancers who like all artists, are seeking to push limits and boundaries. After a discussion and question and answer session, we watched students, adults, senior citizens and semi-professional dancers display different styles and interpretations of the dance. Each person in our group who wanted to give it a go was paired up with an instructor. My wife and I accepted the invitation. Although we all showed some aptitude, it was clear that Dancing with the Stars was not in our future. To understand the rudiments of the dance is one thing, but to execute them is quite another. This however gave us a context for and greater appreciation of this 135-year-old art form.
Our next stop was another two-story house which was next door to the first. This is where the big dogs play, so to speak. No lessons or lectures are given here—just first-rate professional dancers, both young and old. This is as good as it gets. We watched as pairs of dancers of all ages performed, each couple adding their own signature style and nuances to the dance. It was fascinating to see how the basic steps and maneuvers can be interpreted and enhanced to create what appears to be both a different dance yet is clearly still the tango. When professionals dance, they are so fluid and graceful that it looks effortless.
In a small room on the second floor we had the opportunity to watch the best two dancers there that morning—both commensurate professionals and well known in the tango circles of Buenos Aires. I watched, mesmerized, as they danced with motions totally fluid, yet crisp, and exact in timing and transitions. Without warning the couple moved through our group, literally danced their way down two flights of stairs as we followed and viewed in awe, wondering how it was possible to dance on a staircase? They had little room for error, and although at any moment I expected to see them crash, it was not to be. They were completely engaged in their performance and never even looked at the stairs as they descended as one form. This unique part of their routine had been practiced and perfected through countless iterations. They had done this staircase dance so many times that the staircase "map" was kinesthetically imprinted in their brains. There was no need to look at feet or surroundings. They could do this blindfolded.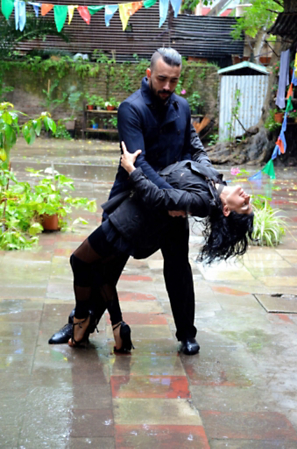 As they reached the ground floor the rain was now coming down much heavier. Its drumming on the tin roof added a soundtrack dimension to their performance. At the bottom of the stairs they continued their dance uninterrupted into the outside courtyard in the now pouring rain. Hypnotized, we followed like puppies into the downpour. I could feel the cool and clean Argentinian air heighten my senses as the fresh smelling rain streamed down my face. I listened to the "rain song," smelled the summer flowers, and observed the colorful flora that only South America can offer. I smelled jasmine, lavender, and mint, and marveled at the intense colors of orchids large and small. I was lost in my own world of sight, sound and smell, hypnotized, as the tango dancers performed flashy moves before my eyes that defied physics and gravity. They danced with both grace and power with rain dripping off their faces and their clothing soaked. They had become one with their tango—in their own world. Their breath-taking performance was mesmerizing and left me speechless.
That night my wife and I danced the tango together. We were brilliant—confident, strong, daring, flowing, and graceful. We moved as a single entity—totally in the zone. The lesson of that morning had taken effect big time! Every person in the room watched us in amazement and encouraged us with ooh's and ah's as we flawlessly performed electric moves adding our own style and interpretation; our eyes locked together. I was in a blissful state when my rapture was suddenly interrupted by my wife's voice. "Howie—get up—time to get out of bed"—and I awoke. Of course, I was dreaming. But reader, you already guessed that.
Witness the magic of the tango in Buenos Aires when you join O.A.T. for Exploring South America: Rio, Buenos Aires, Patagonia & Chilean Fjord Cruise.