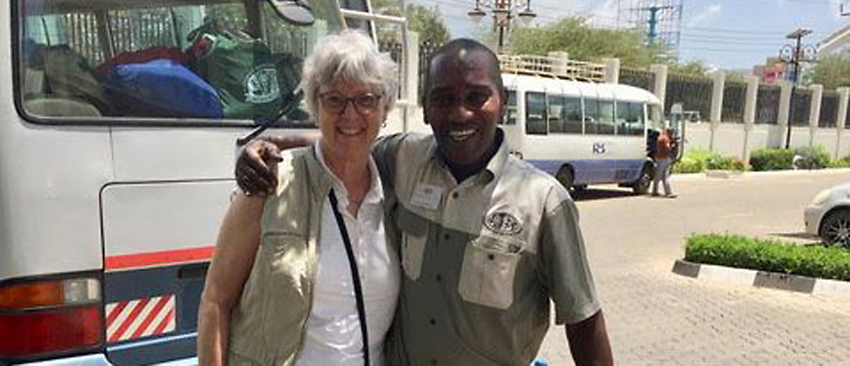 By Jane P., 16-time traveler from Ann Arbor, MI
Last year I had the pleasure of traveling to Tanzania again on my "umpteenth" O.A.T. trip. The first experience was a Tanzanian safari in July of 2011. The second trip was a Kenya and Tanzania safari in late February of 2018. Though Tanzania was overlapping again, it all seemed different and new to me.
One thing that appeals to me about O.A.T.'s adventures is the careful planning and the friendly and knowledgeable tour guides. The attention to detail is outstanding. But sometimes, the guides go above and beyond the call of duty to please their guests! I had such an experience.
On my first tour, Exaud "Eki" Sarumbo was my guide. He had such unbounded energy and a great smile. I will never forget what a great experience he showed our group during our safari. I took the required multitude of photos thinking that I might not pass this way again and I wanted to remember all the little nuances. After each trip with O.A.T., I have made a photo-journal book depicting my experiences and telling a story of my excursion. I find them easier to access when I want to reminisce or share my adventures.
My next Kenya/Tanzania safari was with Tom Kinyanzui as my main tour guide. He, too, was very affable and knowledgeable. We proceeded to tour Kenya first, then continued to Tanzania. There is so much to take in when touring Africa that it is hard to absorb it in one experience. I was happy and privileged to be able to visit Tanzania again. As they say, "Everything old seems new again." I continued enjoying my safari all over again as a completely new experience with new travel buddies.
During the vehicle rides, I got to thinking of Eki again and just wondered if my present guide, or his assistants, knew of him or had ever met him. I mentioned my great safari that I had with him in 2011 and what a great host he was. They told me they knew him and he was still with O.A.T. I was thrilled to hear that and said to say "Hi" to him for me. I never expected anything else, but thought it would be good to meet up with him again. I left the topic at that. It was wishful thinking and I just thought it was good that I could tell my present guide what lasting impressions they leave on the groups they lead. Many of us really bond during these travel times sharing our life experiences, humor, and friendship with one another.
While on the road one day, we stopped for a scheduled rest stop in a small shopping mall. When I was about to exit the vehicle, my guide said, "There is someone here to see you." I said in disbelief, "Me?"
I wondered why someone wanted to see me. Tom and Ishmael had arranged (behind the scenes via some phone calls)—unbeknownst to me—a chance meeting with Eki whose present group was stopping at the same place. I had no idea I'd ever see him after just mentioning his name. It was such a pleasant, and totally unexpected, delight! They pulled off an amazing feat. I had some photos of us together taken quickly so I could include him in my new photo-journal book about this trip. It was a surprise encounter, but left me with a warm feeling that life is really good sometimes!
Explore the wilds of Tanzania with a knowledgeable and dedicated Trip Experience Leader during O.A.T.'s Safari Serengeti: Tanzania Lodge & Tented Safari.