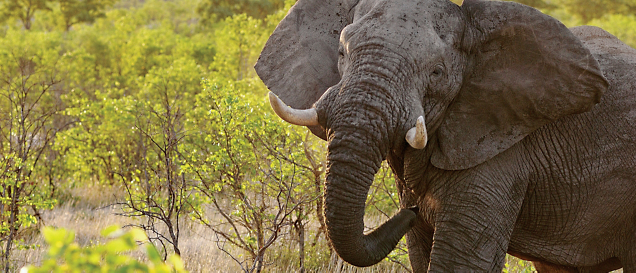 On an African safari, wild animals occasionally make their way into camp. Kathleen handled her close encounter like a pro.
We received this story in response to our May Question of the Month: What's the bravest thing you've done in your travels? You can read more answers here.
By Kathleen B., 12-time traveler & 4-time Vacation Ambassador from Huntington Beach, CA
A test of my courage came in Botswana when my friend and I had come to a new camp on The Okavango Delta.
Our Trip Leader gave us our tent assignments and gave each a small whistle to wear around our necks. This was to blow to warn the others if we encountered a stray animal on the path. I set off alone, a little ahead of the group, to find our tent. As I rounded a corner, guess what? There came toward me a huge male elephant (all the females stay with the herd but the males wander freely), and I was all alone facing him from a distance of about 20 feet! I stopped and blew on my whistle but out came only a faint peep! No human could possibly have heard that pathetic, weak, peeping attempt at warning the Trip Leader and group that I was in big trouble!
I decided to do what I knew about animals in order to avoid alarming the elephant. All my instincts told me I wanted to turn and run back to our group, but I stood perfectly still as the beautiful beast and I stared at each other. "At least elephants aren't carnivores," I told myself. Neither of us moved at all so I started slowly taking steps backward. The elephant stayed still, evidently not perceiving me as a threat.
After what seemed like an eternity, but was actually only about five minutes, our Trip Leader and group came along and the Trip Leader took us all safely on an alternate route to our tents, avoiding the elephant.
I felt very proud that I hadn't panicked and had kept my cool! I will never forget this experience!
Encounter Africa's wildlife—from a safe distance—with O.A.T. during Ultimate Africa: Botswana, Zambia & Zimbabwe Safari.