Snippets & Snapshots of Peru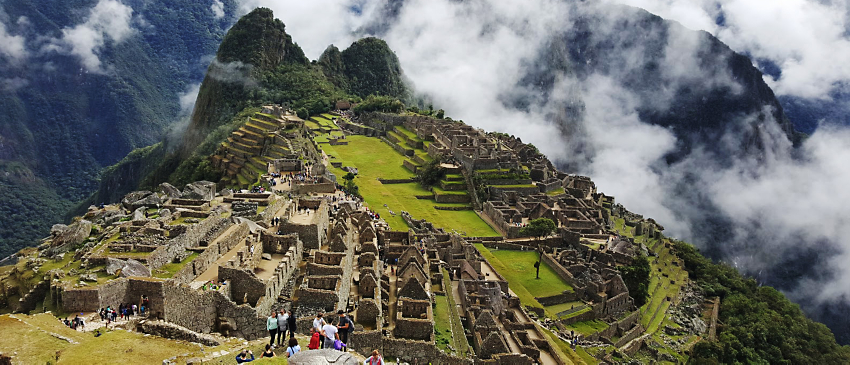 This story features excerpts from Niel and Hermine's blog, "Travels and Adventures." Do you create blogs based on your travels? We'd love to consider your writing for a future edition of The Inside Scoop. Email a link to [email protected].
By Neil & Hermine Thomas, first-time travelers from Kamuela, HI
Sacred Valley
Herm's bucket list is getting this destination checked off this week when we head this morning for the Andean city of Cuzco and two days later, Machu Picchu. We see nothing of the scrum that greeted us at Lima airport last week when we left for Iquitos, and the flight into the Andes is spectacular with high mountains, snow-capped peaks, and long vistas in every direction.
Cuzco is at 11,000 feet elevation and everyone has been stressing with fear of altitude sickness. Some have prescription medications from the U.S. while others have herbal solutions, and the locals are providing coca leaves and the same in tea bags. By the end of the day, when we arrive at our first-night lodging at 9,000 feet in Urubamba after crossing a 12,500-foot-high mountain pass. Nobody seems worse for wear.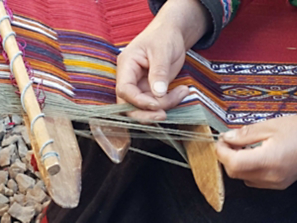 High in the area of the pass, we stop for a demonstration of weaving. The women show every step of this process that uses hair of the llama and alpaca. We learn that especially soft material woven from "baby alpaca" is not from baby animals. It's the hair of the first cut of an animal of any age. They wash the oils from the hair with soap made from the root of some plant. They show how the different dramatic color dyes come from different plants, and several of our group get to do it. Others from the group follow directions to spin the yarn and then we watch the weavers make the garment with hand looms.
Our alert bus driver next spots something worth stopping for. Two farmers have brought potatoes and the dried product of a bean grown only in the Andes. He's threshing the beans from the chaff by hand with a stick. She is treading on the potatoes to squeeze the water out, a first step in a process that makes it possible to store them for many months.
The accommodation in Urubamba is unexpectedly beautiful. We are surrounded by these high peaks as we are at the eastern end of Sacred Valley, where Machu Picchu is at the other end. The idea is to spend two nights here getting used to the altitude before ascending higher for our days at Machu Picchu.
A Day in the Life
A Day in the Life is an O.A.T. hallmark. Spend a day with locals and get a feel for how they live by interacting with them. Our guide Patty begins at an elementary school, where we do lessons with the kids, they sing to us, and we sing ("The Hokey-Pokey") in return. The kids are really welcoming and many of them seem to form a momentary attachment when the time comes for them to choose whom they want to do a project with.
The songs they sing are in Spanish and a native language; we sing "Hokey-Pokey" in English, of course, and all join in. The classic moment begins when we reach the line "you push your butt to the right, you push your butt to left, and you shake it all around".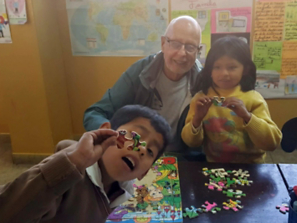 After this taste of school, it's off to the farm market. Produce of all kinds including some of the largest squash I've seen since Alaska. Guide Patty tells us about many of the products and their English equivalent without hinting what's next. Then she pulls out some coins, breaks the groups into pairs, and tells each pair which vegetable or product is ours to find. It's up to us to know what our "da kine" is, which vendor sells it, and how to communicate and pay for it. Fortunately for each pair, we come back with what was assigned, unlike some of her groups, she says, where everyone came back with rice.
Ready with lunch ingredients, we need a noontime drink first. Patty gives us some coins and tells us to take a cab to town square and meet up at this bar. The cabs are all like what we saw in Iquitos—enclosed motorcycles. We squeeze in and at the bar learn about a local lightly fermented corn drink and how locals gather there to socialize.
On the bus again, we get to the private residence of an Urubamba family for lunch. The gals pitch in to mix the batter for a deep-fried corn biscuit and we take our seats for guinea pigs (from the pen in the yard we noticed on the way in) with all the trimmings. Every dish is unique, local, grown organically on the property, and wonderful.
Today is our anniversary—three couples in this group are having an anniversary in a different week—and O.A.T. surprises us with a cake. Quite moved and grateful, we slice and distribute to all. Our gift to ourselves is a clay bull, the creature that appears on the roofs of many homes to protect the residents. I "gift wrapped" it in the aluminum tin for yesterday's lunch, safely protected inside paper napkins, the plastic wrapper from the sandwich, and the Lay's potato chip bag.
Dinner is at the private home that doubles as an art studio for a couple who hosts groups like ours. The menu is chicken barbecue and local vegetables, among others, and Herm and I and another guest supply the wine. Most interesting was the art we saw, many precious pre-Inca items, and a quick look outside where there was no light pollution. The Milky Way, Southern Cross, Alpha and Beta Centauri, and Jupiter (which the host insisted was Mars!) were clearly visible.
Machu Picchu
We leave for Machu Picchu this morning. Before our departure, and to prepare us for the experience, a local healer leads us in a ceremony to pay respect to the land.
The bus takes us to Ollantaytambo, a gateway community in Sacred Valley from which the train leaves for Machu Picchu. We tour this pre-Incan city which has terraces and original foundations that predate the Incas by over 500 years and will return here after two days in Machu Picchu to tour the Incan city that they did not complete because of the Spanish conquest.
The train route follows the river that is Sacred Valley. The surrounding mountains remind me of treeless mountains in Alaska. About 2/3 of the way, the surroundings suddenly turn green as we enter the rain forest and arrive in Machu Picchu village, officially known as Aguas Calientes, noted also for its hot springs.
Machu Picchu is Hermine's bucket list achievement and it doesn't disappoint. The Inca's built it in 1450 and it isn't clear why they left 100 years later. The Spanish conquerors missed it, so theories range from tropical disease to a belief that the Spanish would eventually come, so best to move on. Overgrown, it was forgotten for 400 years. Hiram Bingham, a Yale scholar who was looking for a different city in the area, happened upon it because some locals in 1911 told him people occasionally lived in some buildings at the site. Not even those folks know all that was there.
Much of the city has been reconstructed, and guides do a fine job of explaining the different buildings and parts of the city used for religious purposes, farming, and the drainage system. The park limits entry to 400 people at a time. Visits are limited to four hours. There are several established routes through the park. A good proportion of the visitors have guides, mostly with groups of fewer than 20.
Llamas and alpacas appear at some points. Patty quickly disabuses us of the idea these are wild animals. They have been trained to hang around to entertain visitors, and the park staff guides them back to where they live in government housing at the end of the day. "I can't compete with a llama [pronounced 'yama' in Spanish]," says Patty.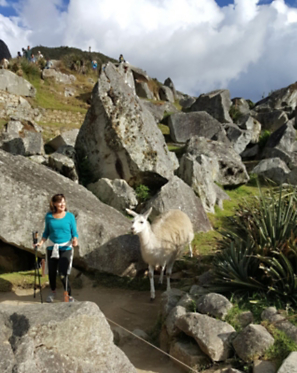 For some of us with fear of heights, it's a bit daunting in many places. The routes consist of stairways of original or reconstructed boulders. Many are two or three times the rise of normal stairs. Few have handrails. Climbing up with poles works well, but I find it hard to look straight down these long straight pitches and not get dizzy and scared.
We are blessed with beautiful weather and temperatures approaching 70. At one stop, we can see all the way to the valley floor below whence we came and hear a train whistle taking visitors back to Ollyantaytambo. Our group has totally bonded, and now bursts into song: "She'll be comin' round the mountain when she comes …"
It's time to leave and re-board the bus for the switchback journey down the mountain. We'll be up early tomorrow to beat the crowds and get back on the bus for another visit to Machu Picchu.
Discover Sacred Valley and Machu Picchu for yourself when you join O.A.T.'s Machu Picchu & the Galápagos Small Ship Adventure.