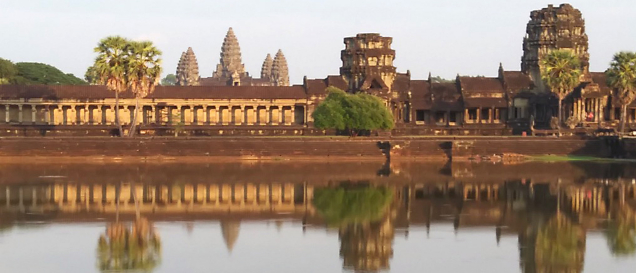 Petra fantasized about visiting Angkor Wat since she was young, and in 2017 she finally realized her dream.
Petra G. kept track of her adventures in Southeast Asia on our Traveler Forum. These are just a few snippets of her journey, but you can read the entire thread here.
By Petra G., 6-time traveler from St. Simons Island, GA
I am getting ready to explore Ancient Kingdoms: Thailand, Laos, Cambodia & Vietnam with O.A.T., including the pre-trip to Myanmar and the post-trip to the hills of Northern Thailand.

I will try to describe the adventure, sights, and accommodations as accurately as possible. Hopefully this report will bring back fond memories to those of you who took this trip already as well as help fellow travelers with their planning.
Yangon, Burma
We made our way to a park in the city center which is surrounded by lots of British colonial-era buildings. Unfortunately lots of the formerly exquisite looking mansions are pretty run down and in desperate need of repair and TLC. A heritage society is trying to raise funds to restore the buildings to their original glory.
Before lunch we also visited the house where Aung San Suu Kyi was detained under house arrest for 15 years, and then stopped to see the 200-foot-long Reclining Buddha who is resting on his side. After lunch, the whole group participated in the optional tour to Dala, a rural village not far from Yangon. We took the ferry across the river with all the locals and then rode for about one hour in the sidecar of the local trishaws. It was great fun and we were able to experience life in a small town up close and personal. It made me feel more grateful for things we usually take for granted, like water and electricity. The local people have to collect all their water from a lake with buckets and carry it to their homes. They only have one hour per day to do this and were rushing around to get their water supply fully stocked for the next day.
After returning to Yangon, we visited a Chinese food market, where we could sample delicacies like fried crickets, pork intestines, fried quail eggs, and Burmese pancakes.
This whole day was a treat for my photographer's heart! I truly enjoyed interacting with the friendly, always smiling locals and learning about their culture. Job well done, O.A.T.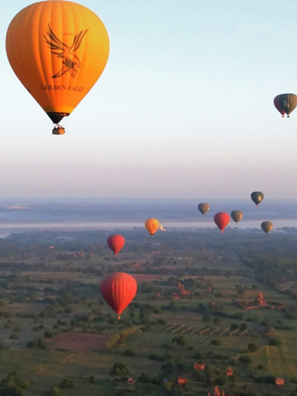 Bagan, Burma
We had two exciting days of well planned activities here in beautiful Bagan. It really does not get much better than this. We left the noisy city behind and landed just 70 minutes later in laid-back Bagan. The surroundings are absolutely stunning! 2,200 brick pagodas of different sizes are spread out amongst fields and acacia trees. We used a horse cart to visit several of them and to get a better feel of the area. In the evening we experienced a beautiful sunset while cruising the mighty Irrawaddy River.
We also learned about the local lacquerware and palm sugar productions and visited a vegetable market. One evening we enjoyed a special dinner with a puppet show and performance. For me the highlight of the trip so far was our early morning hot air balloon ride! We were gliding quietly above small villages and many pagodas while getting a stunning bird's-eye view of the whole area. It was breathtaking!
Mandalay, Burma
In the late afternoon we set out to see U-Bein Bridge, the longest teakwood bridge in Burma. We arrived right around sunset and four of us chartered a rowboat to get a different perspective of the bridge from the lake. The others walked the whole length of the bridge (3/4 of a mile), while our boat dropped us off at the bridge's halfway point and we walked back ashore. We experienced a glorious sunset at the end of another fabulous day.
Bangkok, Thailand
On our last day in Bangkok, most of us took the optional trip to the floating markets. What a great day it was! It was a little overcast and not quite as hot—perfect traveling weather. On the way to the floating markets we stopped at a salt production company. During the dry season they are able to produce salt from the evaporating ocean water that gets pumped into very shallow holding ponds. The whole process takes only 23 days. We also passed several fish farms.
The floating market is a very unique experience. Yes, nowadays it is very touristy, but you can still imagine how the locals used to buy their goods while gliding through the channels in the rowboats. You can buy your lunch, a drink, clothes, and of course any souvenir imaginable while floating by the vendors. We were dropped off right in the middle of the action and had about 40 minutes to explore everything on our own. As a street photographer, this was heaven for me!
Luang Prabang, Laos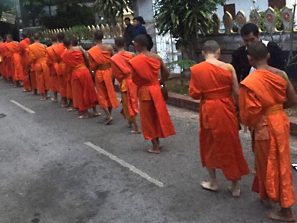 We had a very early start to an exciting and emotional day today. We experienced the alms giving ceremony in Luang Prabang, where hundreds of monks from the local monasteries walk around town starting around 6am to collect their food for the day. The residents of the town await them every morning and are happy to give and share.
We had to take our shoes off and were given a small footstool to sit on while waiting for the monks. They arrive in a long line and stop in front of each person. We put a small amount of sticky rice in each monk's collection pot while they walked very quietly from person to person. It was a very humbling experience!
It is considered impolite to take photos of the monks while the photographer is sitting in front of them and giving alms. As soon as we ran out of rice, we could get up and move across the street to take pictures from a distance.
After the ceremony we had a typical Lao breakfast with very, very strong coffee and donut-like pastries, and then had to buy groceries for our lunch at the local market. It was a lot of fun to learn about all the different kinds of fruits and veggies of the area as well as to see the meat selection in an open-air market setting.
After a second breakfast at the hotel, we drove about 45 minutes to a village for our school visit! This is always a highlight! The kids were so happy to connect with us!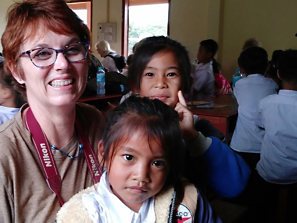 Afterwards we walked through the village and got to meet several families of the Hmong hill tribe. We were invited into the house of the shaman who patiently answered lots of our questions. We then had lunch at the mayor's house, prepared with the ingredients we purchased earlier at the market.
We got back to the hotel around 2:30 and I decided to go off on my own again to do some photography in the rice and vegetable fields of the area. The locals working the fields were extremely welcoming and I truly enjoyed my outing! Some members of our group are attending a classical dance performance tonight, while I decided to reflect on a wonderful day enjoying a glass of wine while writing this report.
Siem Reap, Cambodia
What a wonderful day it was today! Ever since I was a small child I dreamed of visiting Angkor Wat and today was the day...
Angkor Wat is absolutely breathtaking. We entered the massive complex from the east early in the morning and were just mesmerized by the wonderful architecture and beautiful sandstone carvings. A French naturalist coincidentally discovered this masterpiece of the Khmer empire in 1860 while searching the jungle for plants. He stayed for several months to record everything about this magical place, but died of malaria and his findings were lost again. Three years later, the French found his notes and set out to find the temple complex. We only had to wait for a little while to climb up to the third level and see the structure from high above as the king would have.
After lots of photos, we emerged on the western side and had time to do some explorations on our own. The crowds were getting larger and by 10:30, we left Angkor Wat for the Bayon Temple or the Angkor Thom with its 216 faces looking down on us. It is truly magnificent!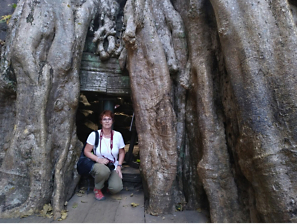 It was getting really hot by now and some fellow travelers were having issues due to the heat. After lunch and a short break to cool off, most of us returned to discover Ta Prohm, the jungle temple, which got its fame through Angelina Jolie's movie Tomb Raider. The large roots covering the temple ruins are a great sight. A feast for me as a photographer!
For sunset, we again returned to Angkor Wat were we sat on the wall of the moat across from the east entrance, a drink in hand, toasting to an absolutely brilliant day. Life is so good! Thank you O.A.T.!
I returned to Angkor Wat in the morning by myself for sunrise. It was a wonderful experience even though a few hundred other visitors had the same plans. I arrived early enough to secure a front row spot by the reflection pools.
After sunrise my remok driver took me back to Angkor Thom, where we arrived at 7:15, about 15 minutes prior to the official opening time. To my surprise, the guards let me pass through and I had the whole complex to myself for about 15 minutes before only very few other visitors trickled in. It was absolutely incredible! It will probably take me several weeks to sort through all my photos ...
I headed for Ta Prohm next and again there were only about eight others there exploring the site this early. I actually asked a guard to take my picture since there was no other tourist who could "assist" me. By 9:20 I was back at the hotel, just in time to enjoy a late breakfast. I can highly recommend this adventure on your free morning. It was so much cooler, the lighting was soft and great for photography, and only very few others are obviously early risers! You will not regret sacrificing a few hours of sleep. It was so worth it for me.
Saigon, Vietnam
We spent the first full day in Saigon visiting the presidential palace and learned about its significance during the war. Afterwards we walked through a typical Vietnamese neighborhood. To reach the small two-story houses, we had to walk through narrow alleyways, which opened up into courtyard-like open spaces where Vietnamese life takes place. The houses have no window openings at all. The front door is cracked open for ventilation. The laundry is hanging out in the open to dry and people are sitting in the shade enjoying tea or their strong coffee. Dogs and chickens are guarding the sidewalks. A feast for photographers! I am hoping to return here on my own during our down time.
We took a night tour of Saigon by pedi-rickshaw. It was fabulous and thrilling at same time to be out in the chaotic traffic and experiencing the beautifully illuminated buildings while sitting in front of a bicycle.
After 45 minutes we stopped at a local sports bar for beer and appetizers … duck tongues, delicious … right!
Mekong Delta
Today we left the busy city behind and ventured out to the Mekong Delta. We passed lots of rice fields and briefly stopped at a coffee place for local scooter drivers. Hammocks are inviting them to stretch their legs for a few minutes while enjoying some coffee before climbing back on the scooter.
After 90 minutes, we reached a small village on the delta. The hectic and busy life in Saigon seems far away and people are a lot more relaxed. The properties and houses are a lot larger and vegetable gardens and banana plantations are dominating the landscape. We used a sampan, the boat the locals use on the river instead of buses, to reach a family-run coconut candy factory.
The Golden Triangle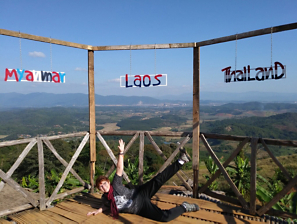 We spent our Christmas Eve exploring the Golden Triangle. We first visited a temple overlooking the three countries and then went to the Hall of Opium Museum, where we learned a lot about the tribes who used to grow the poppies as well as about the distribution by the warlords. All of us then hopped onto a farm truck and enjoyed a very scenic ride passing pineapple and banana plantations in this beautiful mountainous area.
After lunch we were transported by a 4WD truck up a very, very bumpy and steep mountain road (not for travelers with back issues!) to reach an absolutely wonderful lookout point at an Akha hill tribe village.
We were able to meet and photograph several of their senior ladies wearing their traditional, stunningly beautiful garb. Definitely one of the highlights of this trip so far!
Embark on your own Southeast Asian adventure when you join O.A.T. for Ancient Kingdoms: Thailand, Laos, Cambodia & Vietnam.