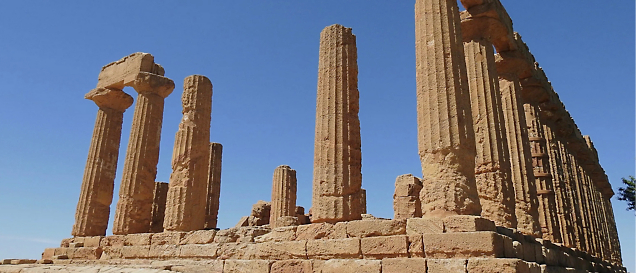 A visit to the ruins at the Valley of the Temples near Agrigento was just one highlight of Phyllis' adventure in Sicily.
Phyllis N. is an 11-time O.A.T. traveler who documents her journeys—with and without us!—on her website, pnethercot.com. We're sharing excerpts from her robust coverage of our Sicily's Ancient Landscapes & Timeless Traditions adventure. Do you document your travels on a website or blog? Email us a link at harriet@gct.com.
By Phyllis N., 11-time traveler & 2-time Vacation Ambassador from Tulsa, OK
Sicily is an island that lies about two miles off the toe of Italy. It has a very rich and diversified history thanks to being at the crossroads of Mediterranean trade and exploration. The many archaeological sites that lie among Sicily's vineyards and olive groves provide a visual reference to the cultural influences of the Greeks, Phoenicians, Romans, Byzantines, Arabs, and Normans that settled on this small island. Even today Sicily has become home to many refugees from Tunisia, Eastern Europe, and the Middle East. The museums hold immense collections of statues, pottery, mosaics, tools—the art of Sicily's cultural past.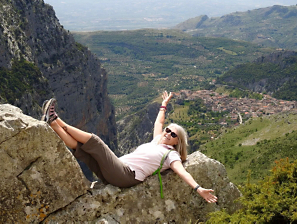 The tour of Sicily began in Palermo and ended in Catania. Along the way, we visited Baroque churches, climbed up lava-strewn Mt. Etna, savored the fresh cuisine, gazed upon the dead in the catacombs of Palermo, listened intently to a son of a former Mafia boss, and hiked dusty roads surrounded by wildflowers and vineyards. We raced through the narrow, winding streets in vintage Fiat 500s, visited amazing archaeological museums, and sat in a dark replica WWII "bunker" complete with the sounds of sirens while "bombs" shook the structure.
WOW, what a journey...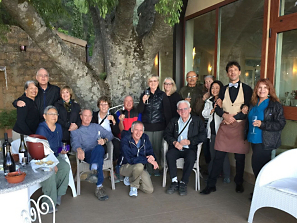 Our Family
It's the best adventure when like-minded travelers come together and become a family. That's exactly what happened on this journey through Sicily and Calabria. Although only myself and one other person were "outsiders" (not from California), everyone knew at least one other person in the group. From the very beginning, it was evident that this was going to be a family that would explore, discover, laugh, and eat and drink our way through the days and nights. Grazie, Angelo, our "pater familias," who led us on many adventures, kept us in line (well, sometimes, and even then not all), told us stories about his life and family (The General, Amanda, and Tessa), made us laugh (always), taught us to play Sicilian cards, and so much more. The local guides were amazing as they pointed out the sights and shared the history and culture of their unique home. We also met a number of locals, some watched us from balconies, others danced with us, some were nobles, some farmers, but all shared their life stories with our inquisitive family.
Sights of Sicily
For 13 days and nights I wandered through the streets, countryside, and homes of Sicily. I gazed upon mosaics made of gold covering the walls of a church, walked through red and yellow wildflowers blooming in the fields, climbed steps to castles, admired ancient art and architecture, ate homemade ricotta cheese and bread fresh from the oven, drank local wine, climbed up the lava-strewn slopes near a volcano, visited fascinating museums, and laughed with new friends. All the while, I tried to take as many photos as possible so that I would never forget this amazing island.
Mazara del Vallo: This port was founded in the ninth century by the Phoenicians. Situated in a prime location for Mediterranean trade, it was inhabited by Romans, Arabs, and Normans. Today, it is an important fishing port and home to a 7-foot bronze statue (circa 4 c BCE), retrieved from the sea floor by a local fishing boat in 1998, known as the Dancing Satyr. The historic Arab quarters, the Casbah, is home to about 3,000 largely Tunisian inhabitants, although other refugees and native Sicilians live here as well. We walked through the labyrinth of narrow streets looking at the decorative ceramic murals and tiles adorning the walls and brightly colored pots full of plants. Several locals shared stories about their daily life in the Casbah, including a man shelling peas on his rooftop and a Bosnian refugee. Our local guide, Antonio, took us to the opera house where he serenaded us with "Volare" and "New York, New York." What a surprise! We also had a special visitor show up. One of the fishermen who discovered the Dancing Satyr, shared his very animated tale with us. A wonderful walk in a charming town.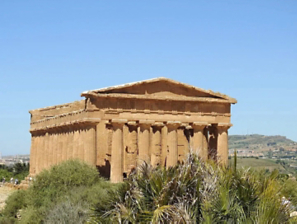 Valley of the Temples: On the road again to visit the Valley of the Temples near Agrigento, eight Greek temples built between 510 and 430 BCE. The most impressive was the massive, well-preserved, Tiempo della Concordia. We had lunch with the family of Raffaela La Scala, a master cart builder in his time. His son, Marcello, is carrying on the tradition of building carts and showed us several handmade and intricately painted carts. They were absolutely beautiful.
The day wouldn't be complete if we didn't stop for a little wine tasting of the region's Marsala wines. A bottle of Marsala sirac to go, please.
Ragusa and Modica: In 1693, a devastating earthquake struck the southeastern side of Sicily. Ragusa and Modica were two of the towns destroyed. Where to rebuild Ragusa was debated, and the conclusion was a compromise: a new town, Ragusa "Superiore," was built in the hills above the original site, while Ragusa Ibla was rebuilt in its original location. Ragusa Superiore is the larger "modern" city, while Ragusa Ibla is smaller and has more "charm."
Modica is another hill town that was devastated by the 1693 earthquake. The town was rebuilt, but in 1902, the buildings in the lower part were destroyed by raging flood waters and many people were lost.
Modica is famous for its special dark chocolate. It is made following an ancient Aztec recipe brought back by from the New World by the Spaniards. Today, you can find Cioccolato di Modica flavored with chili, vanilla, orange, pistachio, lime, etc. There are special chocolate liqueurs, biscuits, and probably gelato, although I didn't find one. Of course, we had a chocolate sampling stop and it was DELICIOUS! So are the treats I brought home with me.
What a thrill to be in a vintage open top Fiat 500 as it winds its way down the narrow, steep and winding streets in Modica. Wind blowing through our hair, horns beeping as we take the curves, stopping suddenly as we come upon a truck blocking our way, fingers crossed that no one steps in front of us, children waving from their doorway as we whiz by.
A Day in the Life: A fun day at the dairy farm making ricotta cheese, milking a cow, walking through a field full of wildflowers, drinking fresh squeezed orange juice, kneading bread in the traditional way, eating a delicious lunch complete with farm fresh produce, cheese, olives, and homemade wine and ending with an original song for our hosts.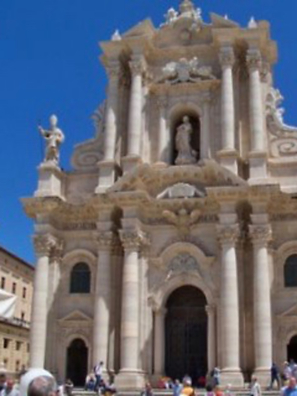 Siracusa and Ortygia: Founded by Corinthian colonists circa 734 BCE, Siracusa became one of the largest cities of the ancient world and was the most powerful city in the Mediterranean. After crossing the short bridge between Syracuse and the island of Ortygia, Valeria guided us through the maze of streets heading toward the Piazza Duomo. Ortygia is home to a number of ancient Greek and Roman ruins as well as the Fountain of Arethusa, Syracuse Cathedral, Chiesa di Santa Lucia alla Bada, and the Temple of Apollo. After a delicious lunch of pizza, salads, and pasta, we finished our tour with a boat ride around the tip of Ortygia and a view of the Castello Maniace, 1239 CE.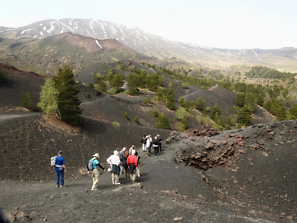 Catania, Taormina and Mt. Etna: A walking tour of Catania, founded in the eighth century BCE, took us to the Piazza del Duomo. The Norman Cattedrale di Sant'Agata faces the square, while a smiling black lava elephant, known as Liotru, carrying an Egyptian obelisk are opposite. The tomb of Catanian composer Vincenzo Bellini is found in the Cathedral while ancient Roman baths lie beneath. Catania is famous for its noisy fish market, La Pescheria. Buckets of mussels, clams, and snails, tables of octopus, eels, heads of swordfish, and other squirmy, smelly, but fresh fish are in abundance.
Of course, the most famous site in the area is nearby Mt. Etna, 10,900 feet of active volcano. It continuously emits smoke and last erupted March 16, 2017, pelting tourists and a BBC news team with rock as they were running for their lives down the slope. We walked in an area covered with lava rock and viewed the peak of Mt Etna from a safe distance (although, I must admit it would have been interesting to be close to the crater).
Ciao!
I hope you have enjoyed my trip to Sicily and Calabria. It really was the best trip and full of fun-loving and wonderful new friends. I hope we travel together again soon. Angelo was the best tour guide and will be always remembered.
Experience all Phyllis described—and more—when you join O.A.T. for Sicily's Ancient Landscapes & Timeless Traditions.