Rite of Passage
One traveler's account of "the Drake Shake" in Antarctica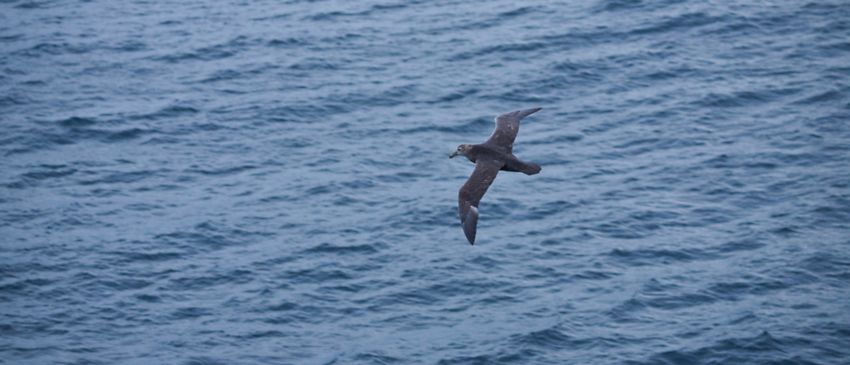 Joyce H. prefaced this story by saying, "Antarctica was truly the 'Trip of a Lifetime.' We were like kids playing in the snow surrounded by the pristine beauty of nature's simplicity in ice, snow, water, clouds, and sky. We never felt so insignificant." But as anyone who has visited Antarctica knows, you can't get onto "The Ice" without enduring a true adventurer's rite of passage. Fortunately for Joyce, she approached it with a sense of humor. In fact, we daresay she thought it was fun.
By Joyce H., 8-time traveler from Westminster, MA
In the dining room it was clever how they saturated the tablecloths with water so the plates wouldn't slide, and they had racks in the middle of the table for glasses to prevent spills. Also, the chairs were strapped to the floor.
It was cool to look out the window to your left and see the clouds, while simultaneously to the right you were looking down into the water. Four to five seconds later it was just the opposite.
The beds in our cabin were perpendicular to port and starboard, so it was like sleeping on a seesaw. First your head was higher than your feet, and then your feet were higher than your head. Your body sort of slid up and down the mattress on your sheet and your head alternately pushed up into your pillow and then was drawn back down again.
That's how we rock and rolled for the two days to the South Shetland Islands.
It was a fantastic passage with seas calmer than usual. The sun shone and the sky was blue. Albatross glided on the upward drafts from the waves and constantly swooped in close to the bow to get a closer look at us.
It was a little rougher on the way back. Tied-down chairs and wet tablecloths didn't always do the trick. My husband almost lost his soup when my chair tilted sideways onto two legs and I fell into his lap. I wasn't the only one, and his soup bowl wasn't the only piece of china in motion.
I asked "What do you do when it really gets rough?"
The answer: "Cancel the meal—we just can't with dishes flying all over."
Also, it was quite comical as people tried to move about the ship. Colliding with others was common no matter how hard you tried not to. You went side to side down the corridors in a zigzag fashion downhill, hanging onto the handrails. It was impossible to get your body to go uphill—you just had to hang on for the four to five seconds or fall backwards.
Kevin fell out of bed.
And this was a "normal" crossing.
Find out why "the Drake Shake" is well worth it with Grand Circle Cruise Line on Antarctica's White Wilderness.