By Katherine Dong, 6-time traveler from Evanston, IL
The sun felt deliciously warm on my back, and I lowered my camera to pause and soak in the indescribable beauty of Machu Picchu. "This is why I travel," I thought to myself. Our Trip Leader, Kerry Chirinos, was simultaneously pointing out highlights of the site while responding to calls and text messages. Suddenly, Kerry motioned our group to the side interrupting my reverie. She explained that the Peruvian President would be making a speech about Covid-19 later that night, and it was predicted that the train from Machu Picchu would stop operating. Kerry recommended that we cut our visit short by a day and journey via train and bus back to Cusco that evening. Without complaint, our group of twelve agreed with Kerry's plan.
Following a wonderful dinner, a rather subdued group set off for Cusco. Our scheduled trip to Ecuador and the Galápagos had already been cancelled due to the pandemic, and our pre-trip to Peru was almost over. At about 10pm, the bus lights abruptly came on. Kerry informed us that the borders to Peru would be completely shut down beginning at midnight the next day. Anyone who was still in the country would need to remain in quarantine for fourteen days. Instead of spending the next day touring Cusco, we would be trying to get home. We arrived at our hotel at midnight, but no one really slept. Unable to purchase tickets, Kerry recommended that we meet the next morning at 4:30am and go to the airport. Arriving there, we found a line of cars waiting to enter. In the terminal, there were thousands of people lined up trying to arrange for flights. Although crowded, I was impressed by the lack of pushing and panic. The airline started calling people on the standby list. The people at the front of the line started repeating the names which were then picked up by people further in back until the lucky person heard his name. They usually responded by jumping up and down as if they had been picked to compete on "The Price is Right." After about three hours of standing in line, my name was called. All six people remaining from our pre-trip had seats on the 9am flight from Cusco to Lima. With tears in my eyes, I thanked Kerry and went through security.
Arriving in Lima an hour later, I was relieved to see Jose holding a yellow sign that said "Overseas Adventure Travel." If anything, Lima was even more crowded than Cusco. Jose suggested that we should go and stand in a line with hundreds of people to get to an airline counter and see what flights were available. In the meantime, we took out our phones to try and purchase tickets. I was ecstatic to find a seat to Miami. Unfortunately, the website would not allow me to complete the purchase. It quickly became apparent that the airline websites were crashing, and we would not be able to purchase tickets that way. We walked outside the terminal to find the end of the line for the ticket counter. Jose was stopped by a young man who said he represented a travel agency and would be able to get us tickets. Feeling like we had nothing to lose, we agreed to walk across the street with him. Little did we know that it would involve carrying all our luggage up and down a flight of stairs because the only way to cross the busy street was via a pedestrian bridge.
The travel agent quickly told us that there were no tickets available for the U.S. Almost desperately, we suggested other options. "Could we fly to Canada? How about Panama?" The travel agent suggested a possible flight to Bolivia, but only if we had visas for that country. By any chance, did we have them? Just as we were about to give up and head back to the lines at the airport, Jose and the travel agent conferred. There was a fight that went to Colombia, and we could possibly get flights to the US from there. Should they look into it? The answer was a resounding yes. Jose collected our passports and disappeared into another room.
We sat on folding chairs in the travel agency for about an hour. We were hoping that we hadn't made a mistake in giving our passports to a stranger. A young woman from Australia sat on the floor quietly crying. Jose bounced back into the room with the welcome news that the Boston office of O.A.T. had arranged for flights for us on a flight from Peru to Colombia and then from Colombia to Miami.
Feeling considerably relieved, we returned to the terminal searching for food. As we walked through the terminal, we snapped pictures of the stores that were empty and locked up. There was no food available, but a small store was open so I was able to purchase a bag of plantain chips and a bottle of lukewarm water. Our group passed the rest of the day chatting, playing games on our phones, doing crossword puzzles, and checking the monitors to make sure our flight was still scheduled. Our trip leader Kerry texted everyone the details of their final connecting flights from Miami. Things were looking up!
At about 8pm, we thanked Jose for his help and went through security. We watched airport employees in HazMat suits screening arrivals and taking temperatures. The plane scheduled at our gate was about an hour late in departing due to the increased security measures. I began to get nervous, thinking that if our flight was delayed by an hour, we would not make the midnight deadline. My worry was unfounded, and our plane pushed off at 10:45pm for Colombia.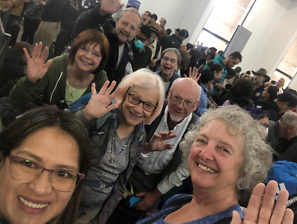 A relieved group of six arrived in Bogota the next morning. We went to check the monitor for information regarding our Miami flight, but nothing was listed. Puzzled, we went to the airline office and were told that the flight had been cancelled. As that particular office only dealt with lost luggage, they could not advise us. We decided to go to the gate where our airline had an early morning flight scheduled. Once the airline employees arrived, they were easily able to schedule us for the next Miami flight. In retrospect, I should have been more worried about that cancelled flight, but my exhaustion must have prevented worry. We had a delicious breakfast and waited for our flight.
I had heard horror stories about persons waiting hours to clear customs and health screenings upon return to the U.S., but I was through customs in about fifteen minutes. I checked my bag, ate lunch, and walked to my gate for my final flight. As I sat waiting, I realized that my final flight would be full of people coming back from cruises. This might be the most dangerous part of my journey! On the flight to Chicago, I sat quietly not touching the arm rests or tray table and declining drinks. By 8pm that night, I was sitting at home, having showered and eaten and with a travel story I would never forget. As the days passed, I read stories that estimated 1,500 American citizens were stranded in Peru. I realized that I easily could have been one of them if not for the planning and teamwork shown by the O.A.T. team in Boston and Peru. Seeing sights like Machu Picchu is why I travel. The support and kindness shown during this stressful situation is why I travel with O.A.T.
Experience the hard work of our Trip Experience Leaders during the Peru pre-trip extension to our Ultimate Galápagos Exploration & Ecuador's Amazon Wilds Small Ship Adventure.