Recalling the Battle of the Bulge
Posted on 11/7/2017 12:00:00 AM in Traveler Insights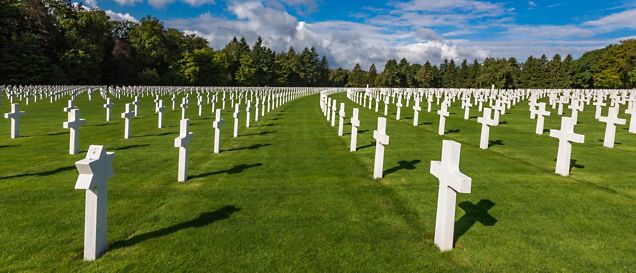 At the Luxembourg American Cemetery and Memorial, more than 5,000 white crosses mark the graves of American service members, most of whom died during the Battle of the Bulge.
By Gary B., 11-time traveler from Hinckley, OH
In the winter of 1944, Corporal Hitler decided to make a last ditch effort to separate the Allied forces. His idea was to drive his army from Germany to the sea separating American and British forces. This battle became known as the Battle of the Bulge. Over 19,000 Americans died in this battle.
December 16, 1944, Dale Breckenridge was a toddler and Gary Breckenridge was a bun in the oven. Private Breck Breckenridge had been sent to Europe as part of the U.S. Army. Personal histories of war are seldom written down, talked about, or remembered by future generations. There are some personal remembrances of those times.
Europe was experiencing one of the coldest winters in history. Heavy cloud cover made air support impossible. As the Americans had advanced rapidly, being resupplied and getting replacements was very slow and often delayed. Some of the problems facing the American soldier were a lack of adequate clothing, ammunition, and rations. Frostbite and death by freezing were everyday problems.
Somewhere along the line, Breck had picked up a calf skin which he used as a sleeping pad in foxholes or a ditch at night. Wet feet could become a deadly problem. The best way to counteract this was with dry socks. Army issue wool socks had to be washed, tied together with a string, and worn around the neck under a shirt until dry.
One time coming out of a shooting skirmish and returning back from the front lines, his squad came to a Red Cross Canteen selling doughnuts. This led to a lifelong contempt for the Red Cross.
In a small town, a Nazi sniper took out one of the members of Breck's squad. After breaking into the upper floor room where the sniper hid, a sergeant cut the man in half with a Tommy gun.
The Nazi soldiers sometimes used the phrase, "Blood and Iron," from Otto von Bismarck. The American soldiers in a form of dark comedy said, "Yeah, our blood and their iron."
One day leading a small patrol ahead of the Allied Lines in what is called no man's land, Breck spotted a long column of Nazi soldiers marching along the road. Confronting them with basic infantry rifles, the M1 carbine, would have been futile. They dropped to the ground and silently watched an entire column move down the road.
One day marching along a road, they came over the horizon and from over a mile away, they knew something was very wrong. It was a small concentration camp. They handed out all their water, rations, and chocolate bars. They were ordered to move out. People moving up from the rear would take over this situation.
At twilight on the front lines, a lieutenant ordered Breck to pick some men and go capture a prisoner to interrogate. They captured a Nazi colonel and as Breck spoke German, he was told to interrogate the officer. The officer replied he would not talk to a lowly private. Breck's buddy encouraged the colonel to talk by bringing down his rifle butt one time.
Many soldiers didn't like white phosphorus grenades. If Breck was required to carry them, he would promptly pull the pin and throw them into a field to get rid of them.
In the confusion of war, mail was getting to the front lines, but mail was not going out from the front lines and home. Breck's wife Betty had no idea if Breck was alive, a prisoner, or dead.
After the Germans started retreating deeper into their homeland, Breck's unit moved east into Germany. Here he shot a deer which supposedly belonged to Hitler. He took it to a small farmhouse and offered it to the family. They accepted the venison and a lasting friendship was formed. Somehow, wine and potatoes appeared. Many years later, Breck had the opportunity to revisit this farmhouse and catch up with his old friends.
July 2016, Gary Breckenridge had the opportunity to visit the Battle of the Bulge Memorial in Luxembourg. There are over 5,000 graves. Breck has friends buried here. Some of these graves hold remains of soldiers that were never identified. This is a somber and sobering place. None of the visitors here are big, bad, and brave. The big, bad, and brave are under the ground.
While wandering around the cemetery, Gary found a Private Breckenridge from Indiana. Gary put a single white rose on the cross.
Pay your respects at the Battle of the Bulge Memorial during Grand Circle Cruise Line's Romance of the Rhine & Mosel River Cruise.