Plenty of Magic to Go Around
By Elena C., 15-time traveler and 2-time Vacation Ambassador from Palm Coast, FL
If I had to picture what heaven would look like, it would resemble almost any day I have ever had in Africa. Sometimes it is sitting quietly, observing a small group of giraffes grazing in nearby trees, silent and serene. Others might include watching a lion lying lordly atop a small hill, seeming to be oblivious and totally unconcerned about the fact that there are ten pairs of eyes and camera lenses upon him. But, some of my most magical, heavenly moments have come while watching a herd of elephants frolicking in the Chobe River. That is something to see!
My first Ultimate Africa trip was in the fall of 2003. I have a photo of me standing on a hill, and down below me, you can see many elephants in the river. It seems there have always been elephants congregating at the Chobe River on each of my trips. It is always a highlight to be there to listen to their calls and trumpeting, and to watch them having such a wonderful time, throwing dust over themselves, little ones playing in the shallow water.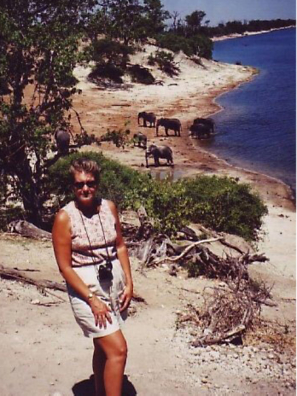 However, on my husband's very first Ultimate Africa trip, we didn't have the experience of seeing all the elephants at the river. Having heard me telling over the years about the thrill it is, this was a part of our trip he was truly looking forward to. But when he went for the first time in the fall of 2014, there were no elephants gathering at the river! The rains had already begun and we were told they were able to find water at watering holes in the bush. We never thought about that happening! And, in fact, on that trip, we mostly saw small groups of elephants, or even solitary ones here and there. Needless to say, my husband was disappointed. But like I love to tell people, every day in Africa is an "anything can happen day." You just never know!
Now, fast forward to our next Ultimate Africa trip in the fall of 2016. It was much drier that fall and the rains had not started in earnest yet. We were very hopeful of having the whole experience of seeing elephants in the Chobe while staying at Baobab Lodge. One of the afternoon game drives brought many surprises. As we wound our way down to the banks of the Chobe River, we had to come to a stop as hundreds of Cape buffalo paraded past our jeep on their way up from the river. Hundreds of them! It was quite a sight to see. They just kept coming and coming! All sizes, right in front of our jeep! Talk about amazing experiences! Once the last of them had passed, we continued our drive down to the river.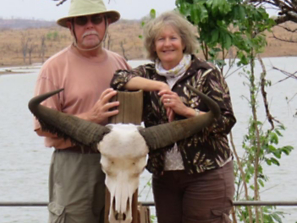 As we got down there, we did see a few elephants in the river. This was getting exciting now! Our driver/guide parked the jeep a safe distance from the river and the elephants, and we all sat there watching with pure delight. As we sat, suddenly, we witnessed a whole parade of elephants coming out of the bush and heading to the river! One after another, they came. There were probably a hundred or more.
With happy faces, we watched them catching up sand in their trunks and then tossing it over their backs. We saw babies and smaller elephants frolicking in the shallows and in the mud. Elephants were everywhere—some in the water, others in the mud, and a group off to one side in a different part of the river.
Every one of us in the group was entranced by the antics of all these elephants. Their vocalizations were absolute music to the ears. And they just kept on coming. We sat for quite a good, long time enjoying the show and feeling a part of something magical. I don't think anyone felt nervous or afraid to be this close to so many elephants. We certainly were a safe distance away, but close enough to see and hear them. I know that my husband will never forget that incredible afternoon and neither will I.
We are headed back for our fifth (and third, for my husband) Ultimate Africa trip this October. While it is true that we certainly cannot count on getting a ticket to this fabulous elephant show, we are keeping our fingers crossed and hoping for the very best of luck while we are exploring the Chobe River area. Remember, every day, you never know what is going to happen! And that is one of the wonderful things about being in Africa. There is plenty of magic to go around!
Keep an eye out for the elephants around the Chobe River when you join O.A.T. for Ultimate Africa: Botswana, Zambia & Zimbabwe Safari.